Tesla has been revolutionizing the automobile industry with its cutting-edge electric cars, and the Model 3 is no exception. With its sleek design, top-of-the-line features, and impressive performance, the Model 3 has become a highly sought-after vehicle among car enthusiasts.
This post is based on the latest video review by Out Of Spec featuring the Tesla Model 3 standard range, the most affordable vehicle in Tesla's lineup, and the base model of Model 3.
It's the ideal choice for those looking for a budget-friendly option from Tesla. Equipped with an LFP battery pack, this variant comes highly recommended for all prospective buyers.
Even better news for those seeking to purchase a Tesla Model 3 as there are now more new and used Model 3s available on the market. Why? They are incredibly popular and for many good reasons.
In this review, we will take an in-depth look at the base model of the Tesla Model 3, examining its performance, features, and cost-effectiveness to help you make an informed decision when purchasing the new 2023 Model 3. Is it worth it?
Tesla Standard Range Review
Kyle Conner talks about why buying the base version of the Tesla Model 3 might be the best decision to buy your Tesla in this YouTube video. Kyle and his father Dave talk about the specs of the Model 3. Having owned a total of four Model 3s including the latest 2023 base model along with numerous Model S and Model X vehicles, Dave and Kyle have vast experience when it comes to electric cars.
To get the complete picture, it's recommended that you catch the Out of Spec review video, which lays the groundwork for the 2023 Tesla Model 3. In the earlier video, Dave shares how he made the tough decision to sell his 2021 Tesla Model S to Carmax a mere five months after purchasing it to purchase his fourth Model 3. By adding this context to the mix, you'll be able to fully appreciate the experience that Dave shares in the video.
According to them, the Model 3 RWD sets the gold standard for electric vehicles. It's so impressive that even the once highly-rated BMW 3 Series can no longer compete with its features and performance!
Specs
The Model 3 Standard Range Rear Wheel Drive with arrow wheels, black interior, and white paint may not have any added options, but it still comes packed with features straight out of the box.
The design of the wheels has undergone some improvements, resulting in a better overall exterior appearance. Moreover, the quality of the camera has been enhanced and both the driver and passenger benefit from the installation of double-paned windows, providing improved soundproofing and insulation.
Range
The Environmental Protection Agency (EPA) estimates that the base Model 3 offers an impressive driving range of 272 miles. Tesla boasts its ability to accelerate from zero to 60 mph in just 5.8 seconds and reach a top speed of 140 mph.
The Model 3 RWD is an exceptional car that boasts high efficiency, averaging 3.9 miles per kWh. However, by driving efficiently without overusing climate controls, it is possible to get an impressive 5 miles out of every kWh. With so many new affordable or entry-level EVs entering the electric automobile market, it is important to compare them with the Model 3 RWD.
If no other vehicle cannot match the specs of this impressive car, it simply makes sense to purchase it. From efficiency to overall performance, the Model 3 RWD stands out as a top choice for any driver who values quality and innovation.
Battery Pack
With a battery pack capacity of approximately 60 kWh and 57 kWh usable, Model 3 offers a solid 272 EPA range. A standout feature of the EV is the LFP batteries. An advantage of these batteries is that you can charge them to full 100% without significant battery degradation. Most EVs opt to charge between 20% to 80% to increase the longevity of their batteries.
Furthermore, the LFP batteries exhibit very little voltage difference, meaning that no matter how you treat them, they offer better cycle life than other types of batteries. All things considered, the LFP batteries are a great selling point of this impressive vehicle.
Compared to NCM batteries, LFP batteries may not be as energy dense. However, the longer lifespan of LFP batteries is a significant factor to consider when purchasing an electric vehicle.
Cost
At present, the Model 3 RWD qualifies for a $7,500 tax credit, and many U.S. states offer additional tax credits that can help further reduce the vehicle's cost. As a high-quality daily driver, the Model 3 RWD is ideal for many daily tasks, and its battery pack is robust enough to handle various demands without wearing out quickly.
Looks like the 2023 Model 3 is playing hardball as it's nowhere cheap. At a starting price of $42,990, this vehicle may not be very affordable for the base model. And while it's technically eligible for the full $7,500 US federal tax credit, there's a catch. That credit might be disappearing faster than a donut in a break room.
Model 3 comes equipped with Autopilot, a feature that other automakers charge thousands of dollars for. With so many impressive features, this electric vehicle is an excellent choice for anyone in the market for a reliable and efficient vehicle.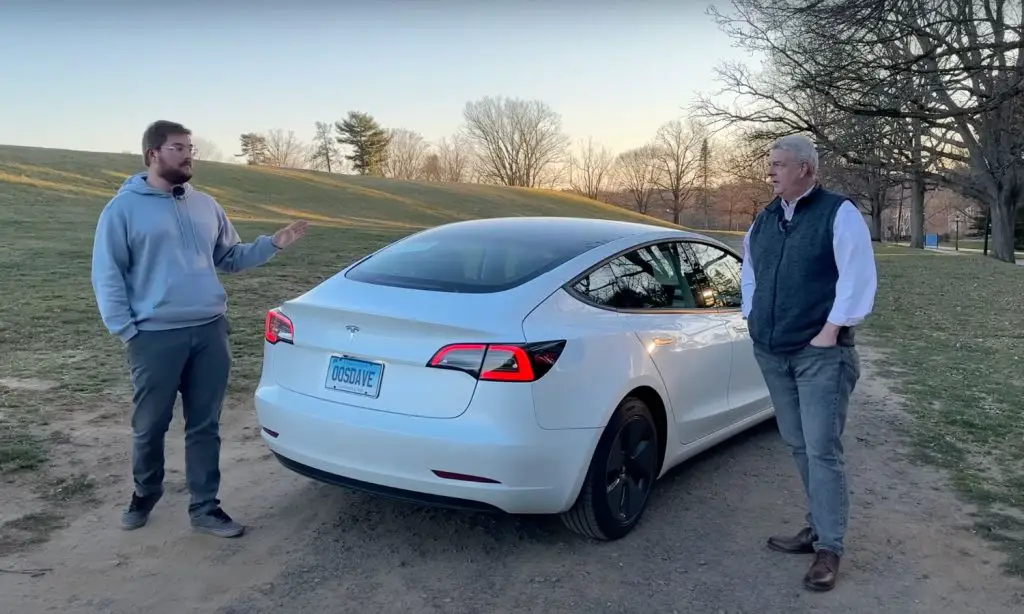 Why Does Buying the Tesla Model 3 Make Sense?
LFP (Lithium Iron Phosphate) batteries offer several advantages over other types of lithium-ion batteries. First and foremost, they are known for their enhanced safety features. LFP batteries are more resistant to thermal runaways, which means that they are less likely to overheat and catch fire, making them a safer choice for electric vehicles. Moreover, they have a longer lifespan compared to other types of batteries. They can also withstand high temperatures, meaning they can function well in both hot and cold environments.
LFP batteries charge quickly and efficiently, and they also offer high power density, making them an excellent choice for electric vehicles. Also, LFP batteries are more environmentally friendly than other battery types as they are made with environmentally safer materials, which means they are easier to recycle and dispose of.
While there is a minor downside that the LFP batteries may charge slower in colder weather and may be less efficient in these conditions, the benefits of being able to charge to 100% and the overall efficiency of the battery technology greatly outweigh this limitation.
What To Expect In The Future?
In 1979, Dave's dad purchased a BMW 320i, an upscale car that ignited the awe and envy of passersby. People would often flash their headlights as a gesture of admiration towards this rare and exotic vehicle on the road. This particular 320i was a white, four-speed rear-wheel drive model that most were unfamiliar with at the time. However, it later became the epitome of luxury and style, and the car everyone aspired to own.
The same gold standard is set by Tesla Model 3, its popularity is such. However, Tesla is set to release an affordable electric car in the coming years, specifically aimed at the mass market. The car is currently dubbed the "Model 2," but the official name has yet to be revealed.
Details about the car remain mostly speculative at this point. However, Elon Musk, the CEO of Tesla, has promised that the car would offer a range of over 200 miles and be priced at around $25,000. That might change the game for the company as that would be the most affordable Tesla EV.
The coveted Model 2 is also expected to benefit from Tesla's battery technology and autonomous driving features. With Tesla's reputation for high-quality electric vehicles, the Model 2 has the potential to be a game-changer in the electric vehicle market and make sustainable transportation accessible to a wider range of consumers.
The Chevy Bolt is the only electric vehicle on the market today that can compare to the Model 3 RWD. However, it falls short in terms of range, performance, and software compared to the Model 3 RWD. Although the Bolt is relatively cheaper, it cannot match the impressive capabilities and features offered by the Model 3 RWD.
The Model 3 RWD is a high-quality car that is known for its smooth driving experience. LFP Model 3 vehicles are manufactured in Fremont, further highlighting the car's impressive engineering standards. Moreover, 100% charging is a new and innovative feature in electric vehicles that is now possible with NCM batteries.
In fact, the manual for this car recommends charging to 100% at least once a week to calibrate the battery and ensure optimal performance. Plus, if you have a CCS Tesla adapter, there will not be any issue charging the EV. Overall, this car is an excellent choice for those who value reliability and advanced features in their vehicles.
Bottomline
Despite its simplicity, there are numerous benefits to this model over even more expensive Model 3s. With its sleek design and impressive range, this car provides a reliable and affordable Tesla EV option.
Plus, its lack of additional features means there's less to distract the driver, resulting in a safer and more focused driving experience. Ultimately, choosing this no-frills version of the Model 3 may prove to be a smart and practical move for those in the market for a new car.
Elon Musk, CEO of Tesla, announced earlier that Tesla is planning to release an affordable electric car aiming to target the mass market. Musk claimed that the new EV would cost around $25,000 and come with autonomous driving capabilities. However, there is no concrete news on the launch or there was any reveal at the recent Tesla Investors Day.
Right now, the base variant of Model 3 is definitely the best choice among the available Tesla cars. If you're a fan of Tesla, chances are you've been waiting for the announcement of the new "Standard Range" Model 3. And now that it's here, you might be wondering if it's worth the investment. Please share your views with us.
By sharing your thoughts, concerns, and questions, you can gather valuable information and get a better idea of what the Model 3 can offer. And if you're still on the fence about buying the new model, hearing from others might just be the push you need to take the plunge!