Tesla has been at the forefront of electric motor development with their innovative designs that have taken the industry by storm. The revolutionary electric motors have been touted for their unparalleled performance, longevity, and low maintenance. However, just when you thought Tesla's technology couldn't get any better, Elon Musk has once again pushed the limits of what's possible.
Recently, Tesla unveiled its latest motor, which has already caused quite a stir in the industry thanks to its cutting-edge design and unparalleled performance capabilities. With this new innovation, Tesla is once again proving that it is indeed the undisputed leader in the world of electric motor technology.
The recent investor call from Tesla had investors eagerly anticipating the unveiling of a new, smaller electric car. However, to everyone's surprise, Tesla made no mention of the new car during the call. Instead, Tesla's CEO Elon Musk assured investors that the company would continue to deliver "exciting, compelling, and desirable vehicles" but that the new car would be revealed at a later date.
As of now, there is little information available about the elusive new car, with the only clue being a cryptic image. Despite the lack of information, Tesla fans and investors are eagerly anticipating what promises to be an exciting addition to Tesla's already impressive lineup of electric vehicles.
What is making the rounds in the tech ally is the fact how stringently Tesla working on its tech with the new motor design and the use of rare materials in the coming future. Let's find out what all we know about the latest innovations at Tesla.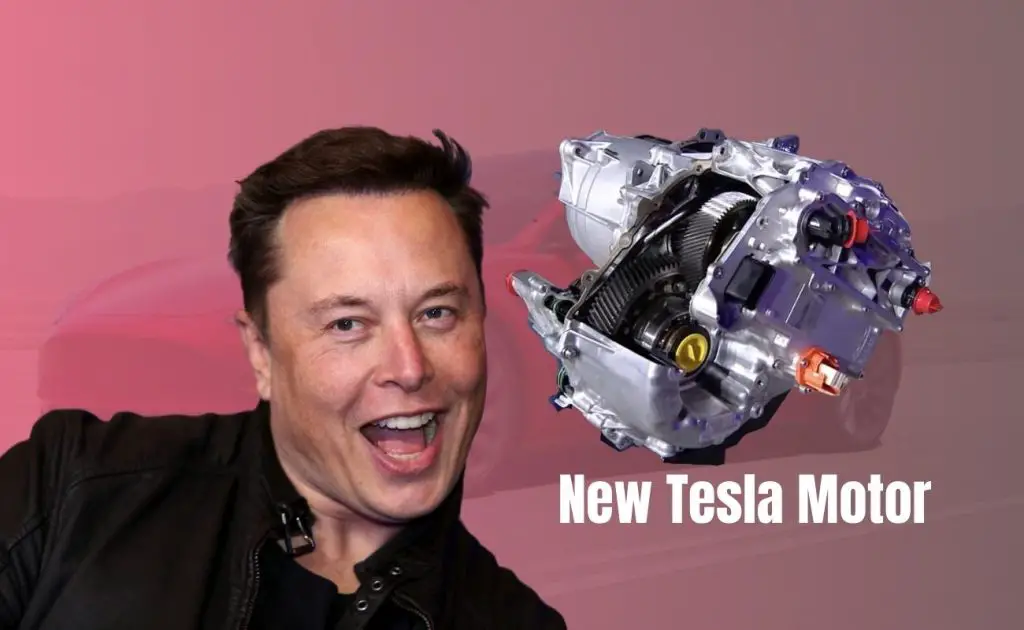 Tesla Drive Unit Over The Years
The time has finally arrived to behold the groundbreaking Tesla Drive Unit that is expected to shake up the industry and change it forever. This innovative new Tesla technology promises to revolutionize the way we view electric transportation and is a testament to Tesla's unwavering commitment to sustainable energy.
Tesla's CEO, Elon Musk, has led the charge since the company's inception, and their recent unveiling showcases his leadership and foresight. With their own team of innovative designers and engineers, Tesla has spent years perfecting this technology, and the Drive Unit is evidence of their success. This is a major achievement for sustainable energy and a step towards a greener future for all.
Tesla's innovative approach to engineering and manufacturing has allowed it to remain at the forefront of the industry. The company's commitment to designing and building its own drivetrains, batteries, and software has led to groundbreaking advancements in electric vehicle technology.
Launched almost two decades ago, the original Roadster had Power Electronics in a Drive Unit constructed and designed by Tesla, but they licensed the technology from AC propulsion, which was the proof of concept back then.
Tesla's foresight to bring the Drive Unit completely in-house with the release of the Model S in 2012 was a critical turning point that enabled them to fully control every aspect of their vehicle's performance.
This commitment to innovation and attention to detail has helped Tesla establish itself as a leader in the automotive industry, shaping the future of transportation as we know it.
Tesla's New Motor
Tesla's revolutionary contribution to the development of electric motors cannot be overstated. His invention of the induction motor over a century ago provided a new level of efficiency and reliability for industrial applications.
The induction motor works using electromagnetic induction to produce rotary motion, and it has become an industry standard for applications ranging from electric fans to machinery. In recent years, Tesla has also developed permanent magnet motors that provide even greater energy efficiency and performance.
Permanent magnet motors, also known as PM motors, have an advantage over induction motors as they have a fixed magnetic field which results in higher efficiency and less heat generated during operation.
These motors utilize strong magnets to create rotational motion and are commonly used in electric vehicles. This makes them an ideal choice for use in electric vehicles where efficiency and reliability are paramount.
With less heat generated during operation, the lifespan of the motor is also increased. Tesla, a renowned electric vehicle manufacturer, has built multiple generations of both types of motor over the years. However, the company typically uses a combination of both motor designs in each of its vehicles to achieve optimal performance and efficiency.
In the world of electric vehicles, the choice of motor is crucial to achieve maximum performance and efficiency. In rear-wheel drive setups, a permanent magnet motor is used to power the rear wheels. However, for dual motor versions, Tesla adds an induction motor to the front wheels, allowing the power to be shifted between the two motors to optimize performance.
Induction motors are better suited for high torque applications such as acceleration or hill climbing, while permanent magnet motors are optimized for efficiency during highway driving.
By utilizing a combination of permanent magnet and induction motors, Tesla is able to create an electric drive train that delivers power and efficiency across various driving scenarios.
For Tesla's plaid vehicles including Model S, X, and semi, Tesla takes things up a notch by using three carbon-wrapped permanent magnet motors, providing an exceptional power curve that distributes high power even at high speeds.
Elon Musk's latest reveal indicates that Tesla's upcoming next-generation motor will take a different direction by focusing more on an extreme scale.
Tesla's ongoing commitment to innovation and sustainability has made them a leader in electric motor technology and a driving force in the transition towards a renewable energy future.
Use Of Rare Earth Metals
Rare earth elements, such as neodymium, dysprosium, and praseodymium, are essential components in many electronic products, including electric vehicle (EV) motors. However, the supply chain for these elements is a source of controversy in the EV industry.
A vast majority of the world's production of these rare earth elements is either sourced or processed in China, creating concerns over supply chain security. This dependence on China has led to rising prices and concerns over potential geopolitical tensions. Therefore, EV manufacturers are actively working to secure alternative sources and develop more sustainable supply chains for rare earth elements to avoid any potential disruptions.
And Tesla is not behind in that race!
Tesla presented a comparison slide between its current and potential next-generation permanent magnet motors regarding rare earth usage during its Investor Day presentation. The specific elements used in the Model Y permanent magnet motor were not disclosed, as Tesla considers this information a trade secret. However, it is speculated that Neodymium is the first element used, while Dysprosium and Terbium may be among the others.
The specifics of the future motor are somewhat unclear at this point. According to Tesla's graphic, the upcoming permanent magnet motor will not utilize rare earth elements, but beyond that, further details remain elusive.
Neodymium-based permanent magnets have long been the go-to choice for various applications, but recent research over the past decade has explored alternative materials that could potentially replace it. Even though Tesla has not revealed which alternative material it plans to employ, the company seems to be nearing a decision or, at the very least, exploring the possibility of sourcing a more optimal solution in the near future.
As the push for more sustainable and eco-friendly production choices continues to dominate the industry, finding alternatives to rare earth elements like neodymium may be an essential component of a more sustainable supply chain for electric vehicles.
What To Expect In The Future?
Despite what some people may think, there are many misconceptions surrounding rare earth elements and their use in electric cars. Contrary to popular belief, lithium-ion batteries used in electric cars typically do not contain any rare earth elements. Although they do contain other "critical minerals" as defined in the Inflation Reduction Act.
Rare earth elements are actually a group of elements outlined in red on the periodic table, including lanthanides, scandium, and yttrium. These elements are not as rare as their name implies, with neodymium being about two-thirds as abundant as copper.
In the latest motor design, Tesla aims to use the new motor in its upcoming unknown EV, Cybertruck, or/and probably Roadster. This new motor is a single-piece casting which will make it simpler and more efficient to manufacture in-house for Tesla.
It will also include a new type of cooling system that reduces the dependence and usage of rare-earth materials. Rare-earth materials are used in permanent magnet motors and their mining can potentially lead to environmental damage in due time.
The Model 3 motor is utilized in all Tesla vehicles, and the company has made substantial progress in trimming costs associated. From 2017 to 2022, Tesla has achieved significant breakthroughs, such as a 25 percent reduction in rare earth metals, a 20 percent weight drop, and a remarkable 75 percent reduction in the factory's size required to produce these motors.
As a result of these advances, Tesla was able to cut costs by an impressive 65 percent.
Tesla's unparalleled success in the automotive industry can largely be attributed to their advanced software capabilities. Their in-house built high-level chips have been deemed unmatched in the industry, with Sandy Monroe (who's popular for dismantling numerous Teslas in comparison to other vehicles) attesting to their superiority.
However, it's not simply enough for Tesla to rest on their laurels; instead, they continue to push the boundaries and take their chips to the next level, maintaining their position as an industry leader. For Tesla, software innovation is at the heart of their success and plays a pivotal role in keeping them ahead of their competitors.
Bottomline
Tesla's innovation goes beyond visible features that customers appreciate such as power, acceleration, low energy consumption, and efficiency. A significant innovation that often goes unnoticed is their cost-cutting measures.
Tesla has made great strides in reducing their manufacturing and operational costs, a critical factor that contributes to making their products more affordable for customers. This unthought Tesla innovation is "cost reduction". Just as noteworthy as their advancements in power and efficiency.
Tesla's new design moves away from the use of rare-earth materials and hence is a more sustainable option. With the use of this new motor, Tesla hopes to set a new benchmark for efficiency, power and sustainability in the automotive industry. Let's wait and watch to see what Elon brings to the Electric industry!!