Tesla is a brand name that does not require any introduction. It is known for its quality, performance, and features. As the saying goes, "There is always a better alternative." There definitely is with the newly launched Shenlan SL03 from a joint venture of Changan Automobiles, Huawei, and CATL. Yes, the same trio working on Avatr as well.
The Shenlan SL03 liftback-sedan, an electric car manufactured in China, gives tough competition to Tesla with its three variants covering all bases. Shenlan SL03 is available as an EV a conventional electric automobile, a series hybrid, and FCEV an electric vehicle with a hydrogen electrochemical generator as well.
Changan Shenlan SL03 Overview
China's electric vehicle market is booming, and Tesla's Model 3 is one of the most popular vehicles. But if you can't afford a Tesla, there are now plenty of cheaper options. The SL03 EV is priced at around $25,000, which is not half the price of a Tesla Model 3 in China but is significantly cheaper. It has a range of about 320 miles on a single charge. The bigger battery pack variant gives enough juice to do about 438 miles on one full charge.
The resemblance is no coincidence that Tesla's design chief Franz von Holzhausen used to work for Mazda, and the SL03's design team includes former Mazda designers. The recent news that a Chinese company may have been caught copying Tesla's design for electric cars has been met with a mix of reactions.
It sure does resemble Model 3 and some people are outraged, saying that this is just another example of China stealing intellectual property from the West. Others are more sanguine, arguing that imitations are the sincerest form of flattery, and we totally agree.
Changan Automobiles came up with their latest tech kid on the automobile block with Shenlan SL03. The automobile company also refers to the prototype model with the name Changan C385.
The most interesting feature of the Shenlan SL03 is its price tag. The starting price of the car is just $25,416, which is much cheaper than the Tesla Model 3 which still stands at a $46,990 sticker price for RWD. However, the performance trim starts at $62,990.
Shenlan SL03
Shenlan SL03, also known as C385, is launched by the joint venture of Changan Automobiles with CATL and Huawei. The base model sticker price of Shenlan SL03 begins at 168,900 RMB (23,343 USD), and the top model comes with a whopping leap to 699,900 RMB (96,732 USD).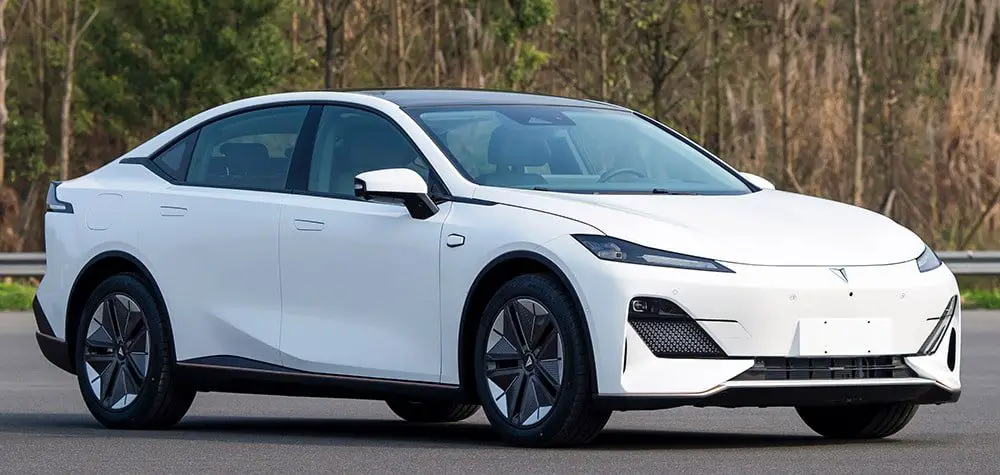 Changan Automobiles says the Shenlan SL03 is RWD and comes with adaptive control algorithm upgrades. The four trim levels from Changan are sure to catch the attention as they got enormous responses from their customers. Two of them are pure-electric, and the other two are hybrid and hydrogen variants:
Shenlan SL03 EV:
515 miles trim is priced at $25,416
705 miles trim is priced at $29,839
Shenlan SL03 EREV is priced at $23,350
Shenlan SL03 FCEV is priced at $96,732
Shenlan SL03 is 106mm longer than Tesla Model 3 with dimensions of 4820/1890/1480mm and a 2900mm wheelbase. All Shenlan SL03 come with a standard electric motor on the rear axle meaning they are RWD only.
The modern yet chic design interior aesthetics boldly speaks of the minimalistic look of the Tesla Model 3 design. 14.6-inch infotainment screen and quirky flat-bottom steering wheel compliment the interiors. Moreover, the screen can tilt 15 degrees in either direction. The sunroof is 1.9 square meters adding to the Model 3 resemblance.
Autonomous driving modules on Shenlan SL03 are based on real-time road conditions and a dynamic system. Qualcomm supplies them with the Automotive Development Platform computer chip powering the driving system.
The interiors are equipped with industry-standard airbags, Sony speakers, wireless charging, and other advanced features. The Shenlan SL03 comes in three powertrain options, and we'll discuss them all to understand them in detail. Let's dig deeper.
Shenlan SL03 EV
The electric vehicle version of Shenlan SL03 comes in two pure-electric variants. The cheaper one is priced at around $25,416, and the other one is roughly $29,839. The EV's higher trim version comes with 190kW offering 258hp and 320 torque and can go from 0 to 100 in under 5.9 seconds only. Shenlan SL03 EVs have an impressive range of 515km consuming only 12.3 kWh/100km.
The other 160kW variant is a less powerful version of Shenlan SL03 with an output of 218 horsepower with 320nm torque. Accelerating from 0-100 in only 6.9 seconds, and offers a 705km range.
Shenlan SL03 EREV
Shenlan SL03 EREV is the cheapest entry-level model from Shenlan with a price tag of $23,350 (168,950 RMB) approximately.
EREV version comes with an auxiliary power unit that works as a range extender to Shenlan SL03. The EREV comes with a 1.5-liter petrol engine that offers 95 horsepower and can go about 1,200km or 745 miles with the range extender. However, the pure electric range of the LFP battery is 200km on this one.
The electric motors produce 218 horsepower and 320 torque. The ternary battery fixed in the EREV version is also made by Changan New Energy. 0 to 100 is an impressive 7.5 seconds.
Shenlan SL03 FCEV
Shenlan SL03 is a new type of fuel cell electric vehicle FCEV trim as well. It is powered by a hydrogen fuel cell and has a range of over 700km on a single tank. 28.39 kW LFP battery and a power output of 160kW offer 218 horsepower with 0.65kg/100km hydrogen consumption.
The upcoming rise in the hydrogen sector with the latest deals and infrastructure expansion has given a boost to hydrogen cars. The FCEV powertrain is the costliest trim from the Shenlan SL03 fleet priced at $103,665. The hydrogen trim of Shenlan SL03 will bring down the cost per km down to a mere $0.03 only. However, shelling out such huge money would be an extravagance as you can buy four all-electric Shenlan SL03 with that kind of money.
Does SL03 Resemble Tesla?
Shenlan SL03 might have a strong look and feel like Tesla Model 3, but the powertrain, range, and sensors are not the same and are somewhat better than the Tesla Model 3. Shenlan SL03 comes with 34 unique sensors that include a 4D LiDar sensor as well.
The looks of it do matches to Tesla Model 3, and that is evidently obvious the minute you would look at it. However, the unique powertrain and trims set Shenlan SL03 apart.
What To Expect In The Future?
Shenlan brand is a product of a joint venture of CATL, Huawei, and Changan New Energy to jointly work on automobile projects. Shenlan SL03, based on the EPA1 platform is expected to go into production by the end of this year.
The Shenlan SL03 liftback sedan is available in three variants: a conventional electric automobile, a series hybrid, and an electric vehicle with a hydrogen electrochemical generator. The Shenlan SL03 became a phenomenal success with 10,000 preorders in under 33 minutes of its launch. With its sleek design and powerful electric motor, the Shenlan SL03 EREV is sure to become an excellent choice for those seeking an electric vehicle with long range and plenty of power under the hood.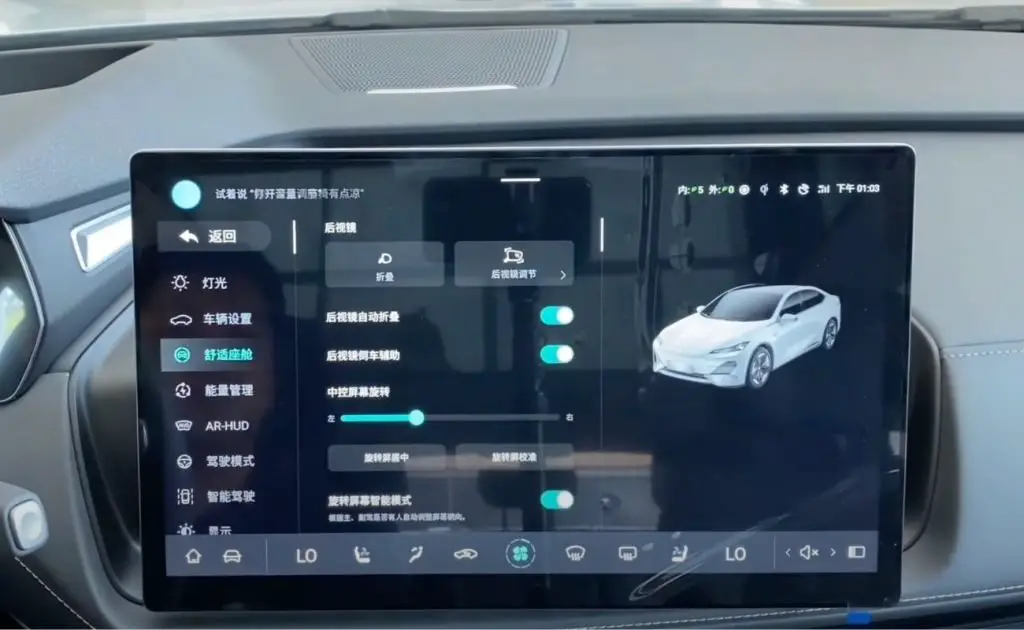 The exterior looks remarkably similar, and the interiors too are copied from Model 3 aesthetics. Can Shenlan break the fanfare of Tesla? Well, we don't think so! 3.1 seconds to 60mph makes it one of the quickest EVs. Moreover, the impeccable minimalistic and future-ready tech might make more sense to people. Shenlan has managed to do a lot more with a lot less price tag, but except for the design, there is still a big gap to fill. Let's wait for more such miracles from China.
Do you think Shenlan SL03 is a Tesla Model 3 knock-off or Tesla clone too? Please share your views in our comment section!