Tesla has announced sweeping price cuts for its popular Model 3 and Model Y. Effective immediately, these reductions bring the cost of some of Tesla's most sought-after models to all-time lows. The timing of this announcement is particularly intriguing, coming as it does amidst a competitive EV market and rising inflation rates. This bold step could be part of Tesla's broader strategy to maintain its market dominance and make electric vehicles more accessible to a wider audience.
With these price cuts, Tesla not only shakes up its own lineup but also sends a clear message to competitors: the electric vehicle giant is doubling down on its commitment to affordability without compromising on quality or performance. Read on to find out the specifics of these price changes and what they could mean for you as a consumer.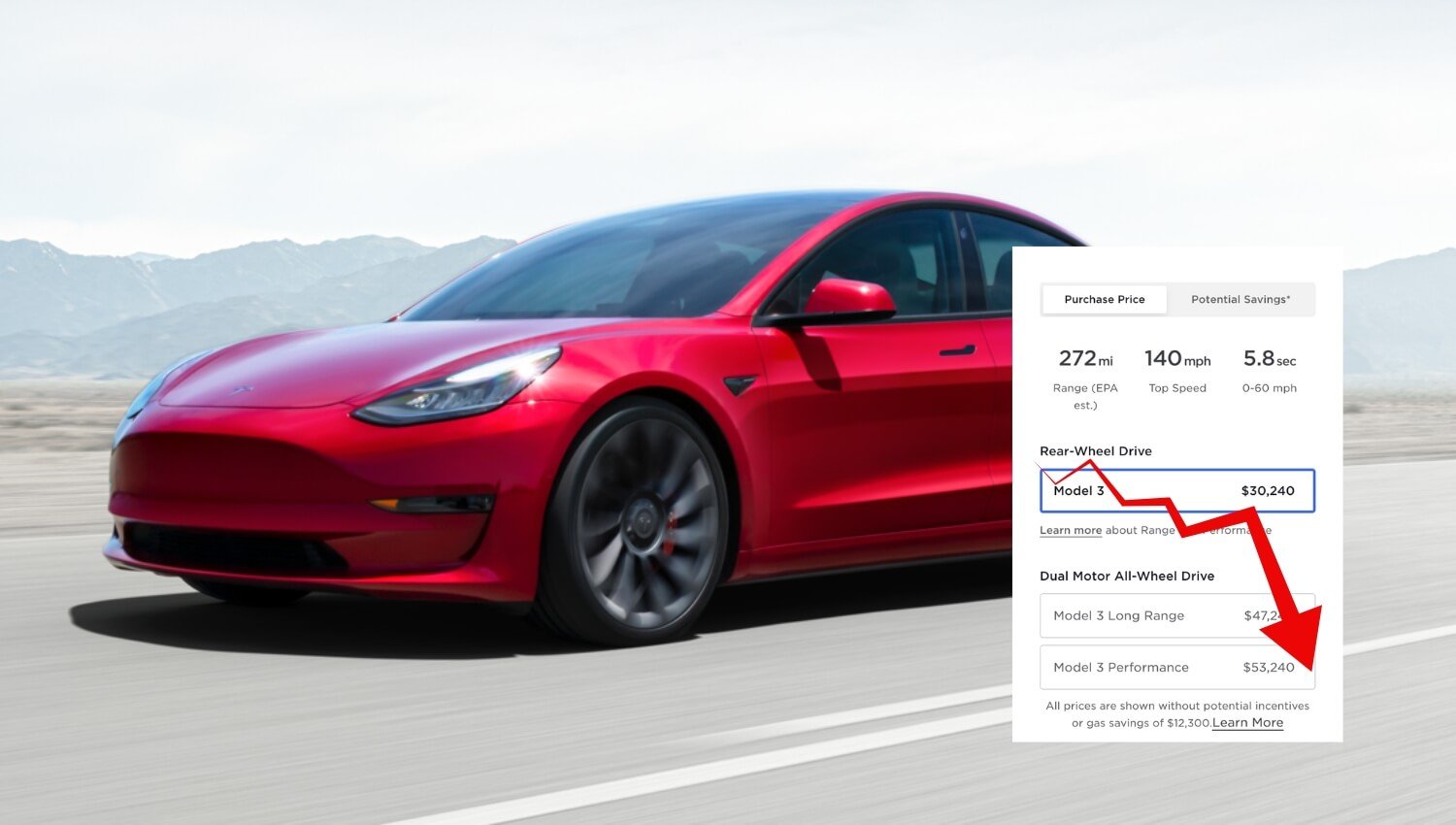 Tesla Model Y Price Drop
Tesla has rolled out significant price reductions for its Model Y lineup, specifically targeting the Long Range and Performance variants. The new prices are as follows:
Model Y Long Range: Reduced to $48,490 from the previous $50,490
Model Y Performance: Now priced at $52,490, down from $54,490
It's worth noting that the price of the Base Model Y Rear-Wheel Drive (RWD) remains unchanged at $43,990.
The price drop is even more striking when we consider the historical context. In December 2022, the starting price for the Model Y Long Range was a whopping $65,990. Fast forward to October 2023, and the price has plummeted to $48,490 – a remarkable reduction of approximately 25%.
While the Long Range and Performance variants have seen price cuts, the Model Y RWD has maintained its price point. This could be a strategic move by Tesla to offer a stable, budget-friendly option amidst the fluctuating prices of its other models.
Tesla Model 3 Price Drop
Not to be outdone by its sibling, the Model 3 has also seen a series of price cuts that make it an even more attractive option for those looking to go electric. Here are the new prices for the various Model 3 variants:
Model 3 Rear-Wheel Drive (RWD): Now priced at $38,990, down from the previous $40,240
Model 3 Long Range: Reduced to $45,990 from the earlier $47,240
Model 3 Performance: A significant cut brings it to $50,990 from the previous $53,240
But the financial incentives don't end with the base price. The availability of the $7,500 Federal EV tax credit can bring the cost of the Model 3 RWD down to an astonishing $31,490. This makes the Model 3 one of the most budget-friendly electric vehicles on the market today, especially when you consider its range, performance, and the suite of features that come standard with any Tesla vehicle.
By adjusting the prices of its Model 3 lineup and coupling that with existing federal tax incentives, Tesla is making a strong push to bring electric vehicles into the mainstream. Whether you're new to the EV scene or a Tesla veteran, these price changes offer compelling reasons to take a closer look at the Model 3.
Tesla's Price Drop in 2023
This table will compare the prices of Model Y and Model 3 all variants from Q4 of 2022 till Q4 of 2023.
| | | | | | |
| --- | --- | --- | --- | --- | --- |
| VEHICLE NAME | Q4 of 2022 | Q1 of 2023 | Q2 of 2023 | Q3 of 2023 | Q4 of 2023 |
| Model Y (Standard) | $64,990 | $49,990 | $46,990 | $47,740 | $43,990 |
| Model Y (Long Range) | $67,990 | $54,990 | $49,990 | $50,490 | $48,490 |
| Model Y (Performance) | $69,990 | $57,990 | $53,990 | $54,490 | $52,490 |
| Model 3(Standard) | $44,490 | $40,240 | $39,990 | $40,240 | $38,990 |
| Model 3(Long Range) | $55,990 | $47,240 | $47,240 | $47,240 | $45,990 |
| Model 3(Performance) | $61,990 | $53,000 | $53,240 | $53,240 | $50,990 |
Performance and Battery
While the price cuts are certainly headline-grabbing, it's crucial to note that Tesla has not compromised on performance. The Model Y Long Range still offers an impressive range of up to 330 miles on a single charge, and the Performance variant can accelerate from 0-60 mph in just 3.5 seconds. Similarly, the Model 3 variants continue to deliver top-notch performance, with the Long Range version offering up to 358 miles of range and the Performance model boasting a 0-60 mph time of 3.1 seconds.
The LFP Factor in Model Y RWD
Interestingly, the price of the Model Y RWD, which features a Lithium Iron Phosphate (LFP) battery, remains unchanged at $43,990. LFP batteries are known for their safety and cost-effectiveness, although they generally offer slightly lower energy density compared to other types of lithium-ion batteries. The decision to maintain the price for this particular variant could be Tesla's way of offering a stable, budget-friendly option that balances both performance and affordability.
Market Implications
Tesla's latest price cuts are more than just a temporary sales tactic, they're a strategic move aimed at reshaping the electric vehicle market. By making their high-performance, feature-rich vehicles more affordable, Tesla is not only expanding its customer base but also taking a significant step toward achieving its long-term sales goals.
Tesla's recent price cuts are not just a boon for consumers; they're a strategic move that could have far-reaching implications for the electric vehicle market. By making their vehicles more affordable, Tesla is positioning itself to capture an even larger share of the rapidly growing EV market. This could put pressure on competitors who are already struggling to match Tesla's blend of performance, range, and high-tech features.
Tesla's 1.8 Million Goal
Tesla has set an ambitious goal to reach 1.8 million vehicle sales, and these price cuts could be a pivotal step in achieving that target. Lower prices make Tesla's vehicles accessible to a broader demographic, potentially driving up sales volumes. It's a win-win situation: consumers get high-quality electric vehicles at more affordable prices, and Tesla moves closer to its sales objectives.
These price reductions could also trigger a ripple effect across the industry, forcing other manufacturers to reevaluate their pricing strategies. As more consumers turn to electric vehicles, affordability will become an increasingly important factor, and Tesla's aggressive pricing sets a new benchmark for the industry.
Conclusion
Tesla's recent price cuts on the Model 3 and Model Y mark a significant milestone in the company's journey to make electric vehicles more accessible. For consumers, this means owning a Tesla is now more attainable than ever. Whether you're a first-time EV buyer or looking to upgrade, Tesla's new pricing structure offers compelling options across the board.
Tesla's aggressive pricing strategy is a clear indication of its commitment to lead the electric vehicle revolution. While the immediate impact is a win for consumers and a challenge for competitors, it also sets the stage for what we can expect in the future. As Tesla inches closer to its sales target of 1.8 million vehicles, we can anticipate further innovations, possible new models, and maybe even more price adjustments.