Tesla has unveiled remarkable reductions in the prices of its highly sought-after Model 3 and Model Y. With this ongoing trend of price revisions, Tesla's vehicles are gaining traction as the preferred choice among buyers, solidifying the company's position as a frontrunner in the electric vehicle (EV) segment. This marks a compelling development for consumers on both sides of the border, fostering a growing affinity for Tesla's models.
Presently, the standard variant of the Model Y commands a competitive price tag of $47,740, laying the foundation for affordability. Likewise, the Model 3 has undergone a significant reduction, now available at an attractive $40,240 for the month of August. (These prices don't include the tax incentive of $7,500). You'll be surprised to note that the EV industry has seen a hike in demand by 18%
This strategic pricing adjustment has resonated deeply with consumers, making Tesla's third quarter unveiling a watershed moment in the company's journey. As we go deeper into the article we will discover the reasons behind these price reductions and how is it impacting the EV industry as a whole.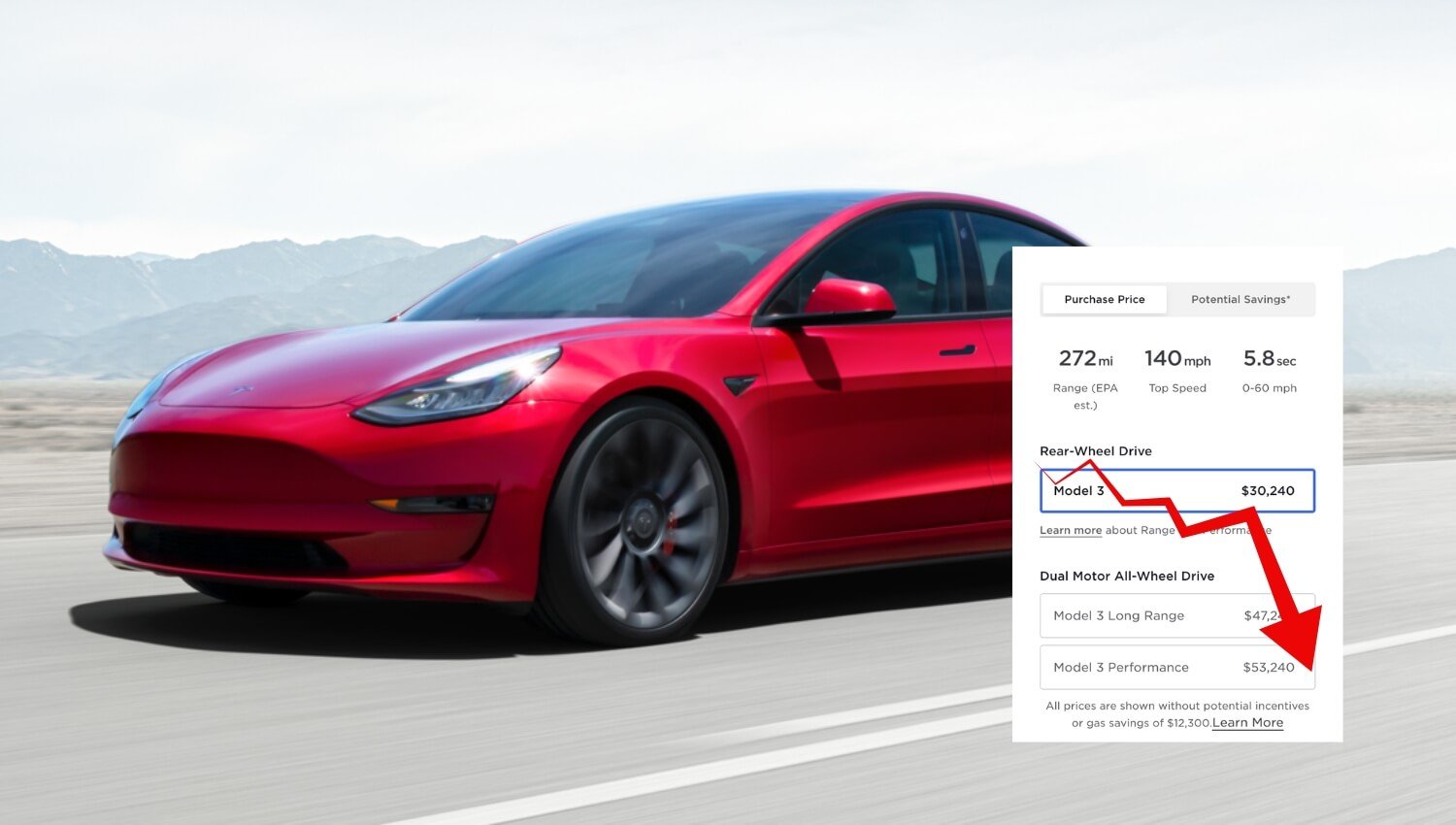 Tesla's Price Drop in 2023
Tesla a world's renowned electric car manufacturer took a leap of faith and reduced its prices by 20% in the span of just one year. That's exactly what Tesla has accomplished, leaving industry pundits both surprised and intrigued. This move isn't just about numbers; it's a testament to Tesla's commitment to making sustainable transportation more accessible to the masses. As a result, the streets are now teeming with more affordable Teslas, creating a ripple effect in the electric world.
This table will compare the prices of Model Y and Model 3 all variants from Q4 of 2022 till Q3 of 2023.
VEHICLE NAME
Q4 of 2022
Q1 of 2023
Q2 of 2023
Q3 of 2023
Model Y (Standard)

$64,990

$49,990

$46,990

$47,740

Model Y 

(Long Range)

$67,990

$54,990

$49,990

$50,490

Model Y (Performance)

$69,990

$57,990

$53,990

$54,490

Model 3

(Standard)

$44,490

$40,240

$39,990

$40,240

Model 3

(Long Range)

$55,990

$47,240

$47,240

$47,240

Model 3

(Performance)

$61,990

$53,000

$53,240

$53,240
Federal Tax Incentive for Tesla
Since assuming office, President Joe Biden has taken decisive steps to bolster the adoption of electric vehicles (EVs), including the introduction of two significant bills aimed at expanding EV usage. One of these bills notably earmarked funding to greatly enhance the nation's EV charging infrastructure.
Federal Tax credit that was signed in August 2022, setting the sum equivalent of $10,000 for purchases of Electric Vehicles in the US below $55,000.
The second legislation is popularly called the "Build Back Better Act". This bill offered revisions to the federal tax credit for $7,500. Finally signing took place in August 2022 and it was implemented on the sales of EVs post-December 31st 2022. Not only this but the bill became a part of the Inflation Reduction Act. However, we have to bid farewell to the tax credit in December 2023.
Why Did Tesla Reduce Price?
Tesla has been reducing the price of its models across different countries and this is not confined to just the US market. People in countries like China, Mexico, and Europe have been lured into this price trap and this has resulted in a sustainable increment in the bookings of Tesla models among its four models, Model Y is the best-selling among all the models offered by Tesla.
Let's find all the potential reasons why Tesla has been slashing the prices of its models
A Strict Regime of Federal Tax Incentive
This new law can be a reason behind when the price of Tesla's model's price reduction because this incentive is applied only to those cars that have their vehicle prices below $55,000. Earlier Tesla offered its model at an average of $60,000
Beat the Competitors in Sales
By reducing prices Tesla intends to create a demand for its sophisticated vehicles. This makes the price cut of Tesla by 19.9% in one year. The month-on-month reduction seen by Tesla is 0.8%. Tesla holds a 7.3% share of BEV in the US Market making it the best electric vehicle in the US market. Deutsche Bank conducted an evaluation that suggested a substantial price reduction for Model Y when factoring in tax credits. This move, as estimated by the bank, could position the Model Y at approximately $18,000 below the price of its counterpart, Ford's Mustang Mach E.
Inventory Backlog of the Tesla Models
Tesla's inventory at the end of Q2 was 99,615 as compared to the Q1 2023 orders of 86,926. Even after delivering 4,66,140 vehicles, Tesla was left with huge bulk in Q2 and so to sell these remaining models, Tesla might have reduced the prices.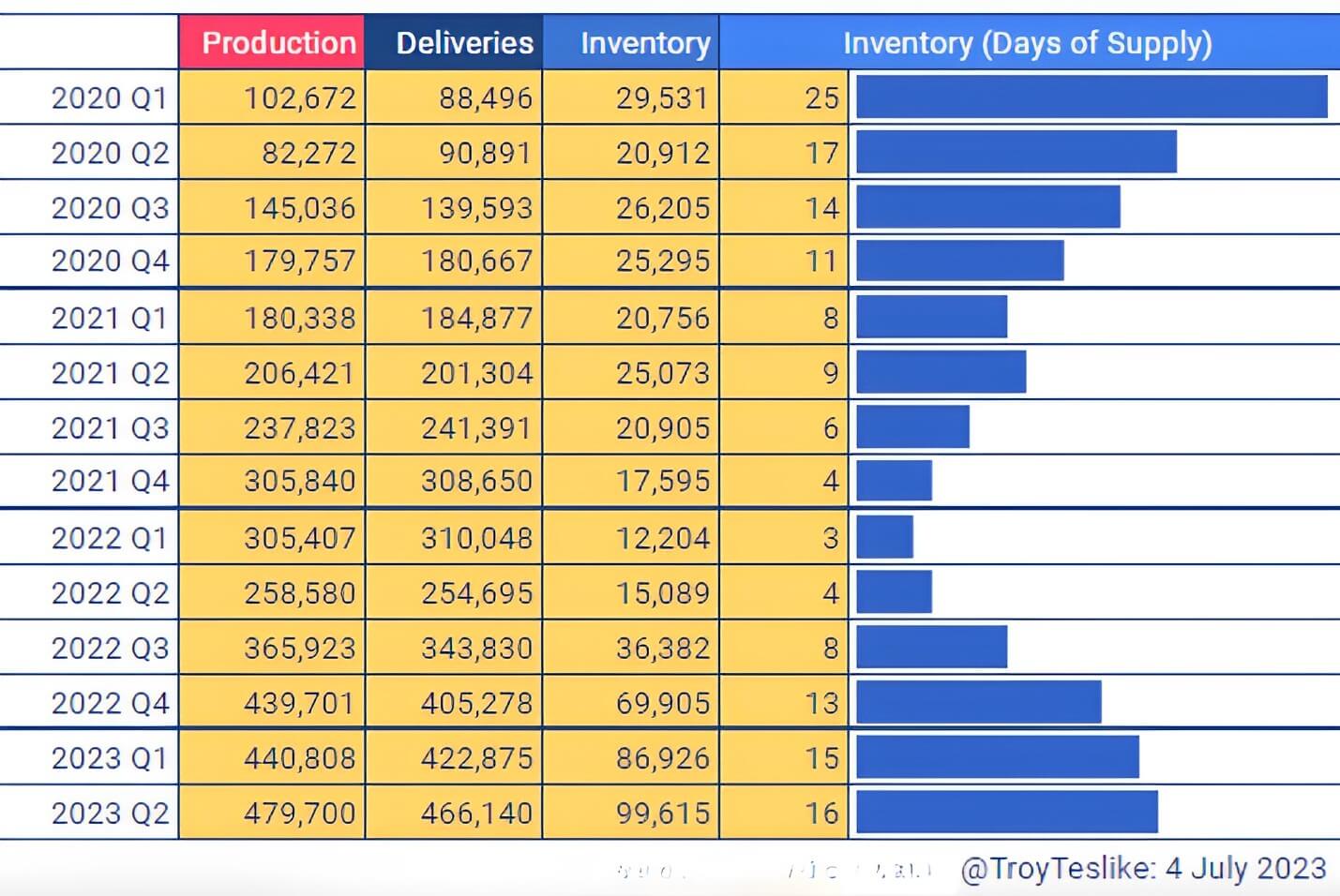 Tesla Model 3 and Model Y Demand
Tesla's top-performing Models among its wide range of portfolios are Model 3 and Model Y. Therefore to maintain a competitive advantage over these two models, Tesla keeps on modelling their prices and hence makes them the star of the market.
Fall in the Stock Prices of Tesla
Tesla's stock took the biggest dip in January 2023 at $108.10 when the company missed the delivery targets. But since then the stock has recovered however the recovery isn't 100% given the fact that the company is targeting more EV sales in comparison to profits which is the biggest reason for the fall. In a nutshell, this unique combination of financial inputs has prompted discussions surrounding the sustainability and composition of this earnings beat.
Global Geopolitics and Interest Rate in the USA
Musk's cautionary stance was rooted in the anticipation of a recession and the potential impact of higher interest rates. Consequently, Tesla is considering the option of reducing prices to drive growth, even if this comes at the expense of short-term profit margins. Tesla has been reducing prices in every market-leading from France, Germany, Austria, Switzerland, and China.
Launch of Tesla Model 3 Highland and Model Y Juniper
This launch made headlines after the registration of Model 3 Highland and Model Y Juniper aired in the Chinese market. Both models will offer state-of-an-art technology that will make them irresistible. According to sources, Model 3 Highland will offer a range of 380 miles with 87kW and Model Y Juniper might be offering an exciting range close to the updated vogue among the competitors.
What Can We Expect?
The electric vehicle (EV) market is once again witnessing a downward trend in prices, with Tesla, the frontrunner in the industry, leading the way. In the month of July, the average price of EVs, also known as the Average Transaction Price (ATP), registered at $53,469. This figure marked a decrease from the preceding month's ATP of $53,682, and a notable drop from the ATP figure recorded in January, which stood at over $61,000.
During the same period, incentives offered for EVs amounted to 6.7% of the ATP, equating to an average of $3,755. This incentive framework aligns with the ongoing strategy to encourage EV adoption by reducing the immediate financial burden for consumers.
Tesla's influence and proactive strategies play a pivotal role in reshaping the landscape of electric mobility and fostering greater consumer interest.
Conclusion
Tesla's triad of price reductions for the Model 3 and Model Y heralds a bold stride toward democratizing electric vehicle ownership. This strategic maneuver stands as a testament to Tesla's innovative spirit, its commitment to sustainability, and its dedication to reshaping the automotive industry's landscape. As the story continues to unfold, these unprecedented price cuts will undoubtedly serve as a catalyst, propelling electric mobility into the mainstream and reshaping consumer perspectives on sustainable transportation.