In a move that has caught the attention of both consumers and investors alike, Tesla has recently announced a significant price cut on its Model 3 inventory in the United States. The electric vehicle giant is offering discounts of up to $5,500, making it an opportune time for potential buyers to make their move. What makes this price reduction particularly intriguing is its timing; it comes just on the heels of rumors that Tesla is gearing up to unveil a 2024 Tesla Model 3 (Model 3 Highland).
This has led to a flurry of speculations and questions about the company's motives behind these substantial discounts. Is Tesla simply clearing out inventory, or is there more to the story? As we delve into the details and implications of this price cut, we'll explore these questions and more.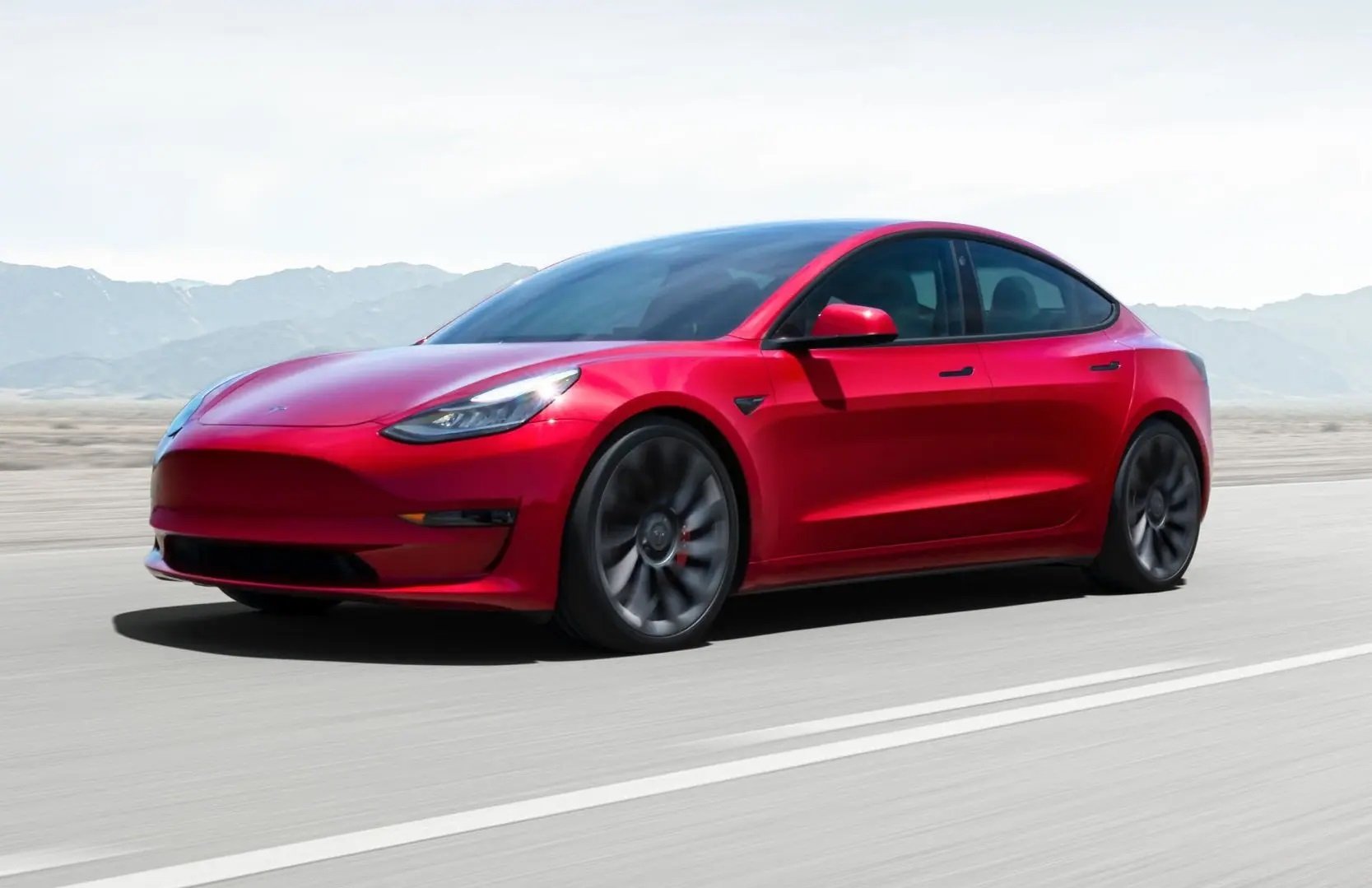 Tesla Price Cuts
These price cuts, combined with the existing federal tax credits, make it an opportune time to invest in a Tesla Model 3, regardless of the variant you're interested in. With options to suit various needs and budgets, Tesla's latest pricing strategy opens the door for more consumers to join the electric vehicle revolution.
Tesla Model 3 RWD
The Rear-Wheel Drive (RWD) variant of the Tesla Model 3 has seen a significant price reduction, now retailing for as low as $37,120. This is a substantial drop from its original price, making it an attractive option for those considering an entry-level electric vehicle. But the financial incentives don't stop there. When you factor in the federal tax credit of $7,500, the effective price of a new Model 3 RWD can go down to under $30,000. This makes it one of the most affordable electric vehicles in its class, offering unparalleled value for the features and performance it delivers.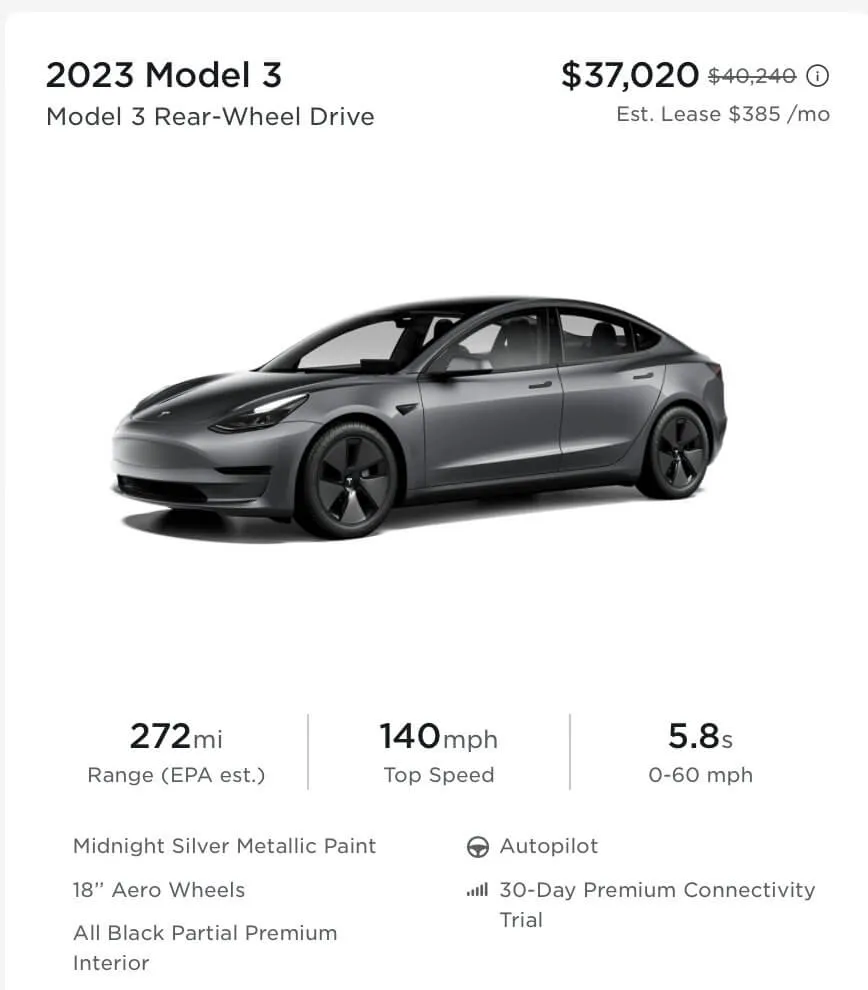 Tesla Model 3 Long Range and Performance
The discounts extend beyond just the RWD variant. Tesla's Long Range and Performance versions of the Model 3 have also received price cuts, making these higher-end models more accessible than ever. For instance, some Long Range models have seen discounts of over $5,000, while the Performance variant has been discounted by more than $5,500 in certain cases.
When comparing the discounts across different variants, it's evident that Tesla is making a concerted effort to make the entire Model 3 lineup more appealing to a broader range of consumers. Whether you're looking for an entry-level electric vehicle or a high-performance machine, these discounts offer something for everyone.
Tesla State Incentives
While the federal tax credit and Tesla's recent discounts make the Model 3 more affordable, diving into state-specific incentives can make the deal even sweeter. A recent tweet highlighted just how low the price of a new Model 3 RWD can go when you factor in federal, state, and local EV incentives, along with Tesla's referral credit.
State-by-State Breakdown
Here's a quick look at the potential prices for a new Model 3 RWD across various states:
Colorado (CO): $24,000
Connecticut (CT): $24,750
Massachusetts (MA): $25,500
Maine (ME): $25,500
Vermont (VT): $26,500
Pennsylvania (PA): $27,000
Delaware (DE): $27,000
New York (NY): $27,000
California (CA): $27,000
Important Note on Eligibility
It's crucial to note that there are income restrictions for various local state EV incentives. For instance, you could get a Model 3 RWD for as low as $21,500 in Maine if you're eligible for all levels of incentives, although this will be the case for very few buyers. The prices listed above are more realistic and widely applicable.
I looked into all local state EV incentives. Here's how cheap you can get a new Model 3 RWD right now (including fed & local EV incentives & referral credit):

• CO: $24,000
• CT: $24,750
• MA: $25,500
• ME: $25,500
• VT: $26,500
• PA: $27,000
• DE: $27,000
• NY: $27,000… pic.twitter.com/2U6EPfairo

— Sawyer Merritt (@SawyerMerritt) August 31, 2023
Why Is Tesla Reducing Their Car Prices
The timing of Tesla's significant price cuts has led to a wave of speculation and curiosity. Why would the company choose to slash prices right now, especially when a refreshed version of the Model 3 is on the horizon? Let's explore some of the theories that aim to answer this question.
Imminent Model 3 Refresh (Project Highland)
One of the most compelling reasons behind the timing of these discounts could be the imminent launch of Tesla Model 3 Highland, often referred to as Project Highland. Rumors suggest that this updated version will feature a redesigned front end, a revised rear with vertical LEDs, and a tweaked interior to enhance the overall driving experience. The new Model 3 is expected to be unveiled on September 1 in China, adding another layer of intrigue to the timing of these price cuts. Could Tesla be trying to make room for this new arrival by clearing out the older models?
Clearing Inventory
Another plausible explanation for the timing of these discounts is Tesla's intent to clear its existing inventory of Model 3 vehicles. This theory gains credence when considering that Gigafactory Shanghai has reportedly been producing the refreshed Model 3 for over a month now. By offering these substantial discounts, Tesla could be aiming to sell off its current stock more quickly to make way for the new models rolling off the production lines in China.
Market Impact
The ripple effects of Tesla's recent price cuts on the Model 3 have not been confined to the consumer market; they have also made waves in the stock market. Tesla's stock has shown some volatility, raising questions and concerns among investors. Let's delve into how the financial markets are reacting to these changes.
Tesla's Stock Reaction
Tesla's stock has been trading well off its post-earnings levels, indicating a level of investor backlash against the company's aggressive price reductions. The stock ended a recent trading day down by 0.11% at $256.90, a noticeable dip that has caught the eye of market analysts.
Investor Concerns and Speculations
The primary concern among investors seems to be the impact of these price cuts on Tesla's profit margins. Aggressive price reductions could potentially erode the company's profitability, a risk that investors are evidently weighing. Additionally, there is a growing fear that these price cuts might signal a demand problem for Tesla. The speculation is that if Tesla vehicles were selling well at their original prices, there would be no need for such drastic reductions.
Moreover, investors are worried that potential buyers may hold off on purchasing a Tesla, anticipating even lower prices in the future. This could create a cycle where Tesla would need to continue lowering prices, further impacting their margins and stock value.
Conclusion
For consumers eyeing a Tesla Model 3, the timing couldn't be better. The significant discounts across various Model 3 variants make it an opportune moment to invest in an electric vehicle. When combined with federal tax credits, these price cuts offer unprecedented value, potentially bringing the cost of a new Tesla Model 3 to under $30,000.
This opens the door for a broader range of consumers to make the switch to electric vehicles, aligning with Tesla's mission to accelerate the world's transition to sustainable energy.
While the discounts are a win for potential buyers, they also raise several questions about Tesla's broader strategy. Is this a tactical move to clear out inventory ahead of the refreshed Model 3 launch, or does it signal deeper issues such as a demand problem? The timing of these price cuts, just before the expected release of a new Model 3 version, adds an additional layer of complexity to these questions.
The market and consumers alike are keenly watching Tesla's next moves. The company's pricing strategy has implications not just for its stock but also for the broader electric vehicle market. If these price cuts are a sign of things to come, we could see a more competitive and accessible electric vehicle market in the near future. However, if they are indicative of underlying issues within Tesla, that could spell challenges ahead.