In a world where technological boundaries are ceaselessly pushed, Apple stands as a pioneer, looking to consistently revolutionize the landscape of technology for customers. From iPhones that redefine communication to MacBooks that hold power and elegance, Apple's legacy is one of updated innovation, elegance, and user-centric design. However, this is not the agenda for our discussion today, as the rumour mill buzzes and anticipation reaches new heights, A new chapter is being written in Apple's book of innovation – Drum Rolls, please!! This chapter is about the enigmatic and highly anticipated Apple Car.
This project is supposed to be developing under the hidden name of "Project Titan" So what is this Project Titan and how far along has the company reached in achieving the milestone? These sorts of questions will be answered in this piece and therefore I request you to fasten your seat belt because this ride is about to get a lot more interesting.
Top Features of the Apple Car
Self-driving feature.
The car could be built in collaboration with various Automobile giants like Porsche, BMW, Lamborghini, and Amperex Technology (for battery technology), and the list is very long. Some of them are still on the boat, while some have taken the lifeboat and sawn to the shore due to the long waiting time of the car.
Next-generation features like road hazard lighting, LiDAR sensors, and whatnot!
These are just the same bits that we'll discuss in-depth as we go ahead. So let's first look at the exterior looks of the Apple Car.
Apple Car: Exterior Updates
Let's start with the Sunroof, It is expected that Apple Car might have a gliding sunroof but this isn't the end. The car will have a multi-segmented sunroof which will allow you to open different sections of the roof just like in a symphony. Not just this, the car will have a next-gen indicator that will communicate the road hazard by lighting up a particular section of the road that can be a potential threat.
The next best feature of Apple Car is the windshield, it will have an anti-glare system, designed to block the blinding light coming from another vehicle.
Have you ever thought of talking to your car? Well, Apple Car talks with a simple wave of your hand the super cool camera stuff lets you run the show without touching a button. Yep, you heard that right – your car, your rules, all with just a friendly wave!
Rearview Exterior Features
Many times it happens that the driver in another car doesn't get to know your intentions like whether you are going to make a U-turn or reverse. So what Apple has done is it will introduce a display that will portray your thoughts on the back of the car. It's like your car's giving a friendly nod to say "Hey, I'm turning!" Along with that, the Rearview cameras below the beltline replace side mirrors, making your view more explicit while giving the car a sleeker look. Less drag, better aesthetics.
Apple Car: Interior Updates
The lighting in the cabin will be built with the amalgamation of TrueTone and a Fiber optics system that will improve the visibility inside the cabin. Also, say goodbye to boring seatbelts, the Apple Car has self-illumination seatbelts, that will guide you on how to adjust them for maximum comfort. After getting comfortable in your seating, you can experience the AR/VR feature inside the car. The Apple cars will also have an AR/VR system. Our expectations are certain given the fact that Apple hired NASA engineer Mark Rober to develop the VR system.
Another feature of the Apple car is the keyless entry into the car that can be accessed with your iPhone or iWatch. Long road and heartfelt conversation is the core idea of Apple, therefore they might introduce a Face-to-face feature where people sitting in the back of the car can have a more clear discussion, Yes, you read it right. Some people are even claiming that Apple might share the same interior as Canoo cars.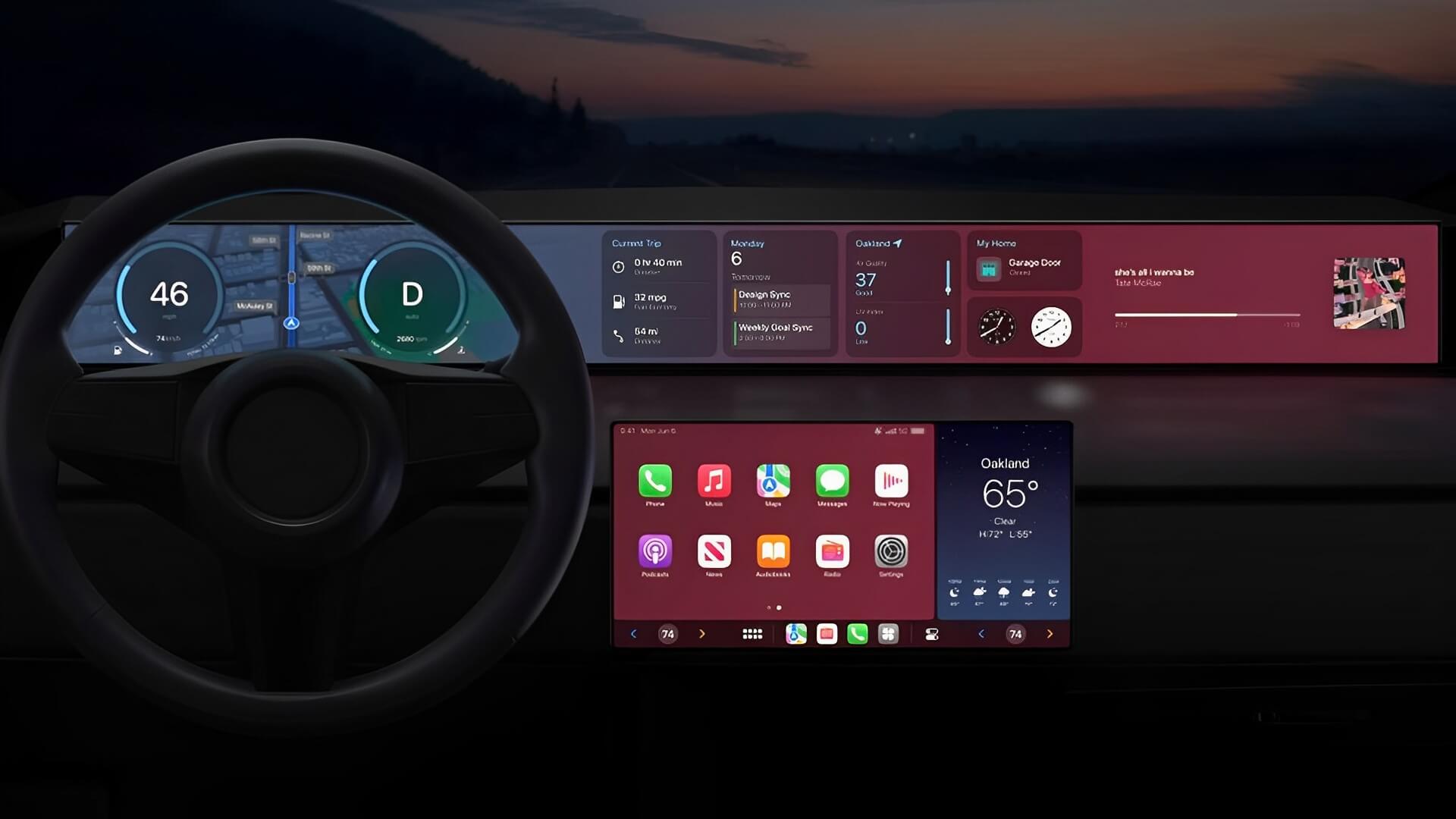 Front Deck of Apple Car
The Dashboard can be anywhere between 36-40 inches or the whole front deck can have a digital look and touchscreen. Yes, I know the words ringing in your ears, it's exactly Apple's CarPlay. The steering wheel will be rectangular/square in shape. Did you know, earlier it was thought that the Apple Car would have a face-to-face driving feature but due to navigation errors and the design being too futuristic. The idea was eventually dropped and now they'll have a normal steering. But this can be updated in the future you never know.
Additional Features of Apple Car
It is also speculated that the Car will have automatic cooling and warming features for targeted body parts. For example, a driver's hands are exposed to the sun's rays while driving, so the cooling function will work there and keep the rest of the body within normal temperature. The best part about the Apple car is the tandem between LiDAR sensors, cameras, and radar sensors that empower the car with autonomous driving capabilities on freeways. It's like giving the car its own eyes and instincts to navigate the open road.
Apple Car Battery Innovation and Powertrain
Apple is trimming away the extra space, bringing those cells closer like buddies. The result? More power, less wasted room. And you know what that means? More juice without the extra bulk. These are popularly called Mono-cells. This will also prove cost-effective since the battery can be charged without needing a lot of power to juice up.
Apple car innovators are out-of-the-box and this is evident with the system of common charging. Just as the squad of vehicles stops on seeing the red light, they can share power, optimizing energy usage for a more efficient journey. Another aspect of this is the plug-in system, where a small robot beneath the car will plug in the charging cables, making you free from the cumbersome task of plug-in and plug-out.
(At this point we cannot talk about the charging time, but given that it's Apple the charging time for 0-80% can be anywhere around 30 minutes, given Lucid Air Dream takes 46 minutes).
Powerful Powertrain
Apple's teaming up with LG Magna e-Powertrain to introduce some awesome cars to the world. But there's a twist – they're not going full speed ahead. Nope, they're starting small, like dipping their toes in the water to see how things go. It's just like they are testing everything beforehand so that consumers get an impeccable piece of ride.
Apple Car Price and Range
The range of the car hasn't been made official so it is our expectation that the range will be higher than 500 miles because see, Tesla the biggest competitor of Apple is offering a range of 405 miles on the basic model and it was launched in the year 2021. Now if we compare it with the Lucid Air Dream Edition, the range is 520 miles so Apple has to suit itself between this range so that it can attract people.
Now coming to the most crucial part, i.e., pricing. We can expect Apple's Apple Car to be somewhere between $100k-$150k (this is our expectation). Again, comparing the prices of Apple Car with Lucid Air Dream Edition is placed between $140k-$170k.
Apple Car Release Date
We know you've been waiting for this like it's the holiday season. When's the curtain going up? But we have broken your heart by telling you that this Apple car will come to life in 2027. At least this is what we expect from the company.
Apple Car Partnerships and Collaborations
Below is the list of significant collaborations:
Drive.ai
Back in June 2019, Apple supercharged its self-driving endeavors by acquiring Drive.ai, a promising startup in the self-driving field. Apple confirmed the move, welcoming a whole team of skilled individuals from the company, along with their fleet of vehicles and other valuable assets. While the exact numbers remained hush-hush, Drive.ai had garnered a valuation of around $200 million in 2017. So we speculate that the prices of the car were somewhere around this for Apple.
Tesla's Engineering VP
Apple has been hiring a fleet of Tesla employees by offering them lucrative prices and making them jump ships. In March 2019, Apple welcomed Michael Schwekutsch on board. Before signing with Apple, Schwekutsch had been a key player as an engineering VP at Tesla. His track record shines in powertrain development, and with this addition to the team, Apple's drive forward got an extra boost.
Lamborghini
The unsung hero of Lamborgini's sports cars engineer Luigi Taraborrelli was rumored to be boarded by Apple as he left Lamborghini in May 2022. So we can expect some visionary concepts of cars like Huracan, Urus, and Aventador added to Apple Car with some extra loaded features.
Will Apple Car Break Tesla's Dominance?
See, for now saying anything will be like making castles in the sky, but this can be said given the past performance of Apple that they know how to be market leaders because before Apple there were still mobile phones offered by Blackberry and Samsung but Apple came and cleaned the name of these brands off the street.
If Apple is taking time to build something then we can sure be ready to get surprise elements from them. It is a fact that Tesla is now the world leader in automobiles but we never know what Apple has in store. It wouldn't be wrong to say that Apple has lost the first-mover advantage in becoming the leader of electric cars but it's never too late. No matter what the company comes up with, Tesla will have a hard time coming to terms with Apple's creativity and innovation.
The tug-of-war between Tesla and Apple is clear from the fact that Tesla has decided to cut Apple Play out of its payment. Since the commission charged by Apple was skyrocketing. So we can conclude that Apple and Tesla are much like the Korean brothers who have the same product but different audiences.
Apple Car Update: Timeline From 2014 to 2023
It is not wrong to say that in the realm of automotive technology, the mysteries of the Apple car have captivated the world. The saga has been going on since 2014, speculations and hints have swirled around Apple's potential entry into the electric vehicle arena but no living proof has been made public.
While the veil of secrecy remains intact, we're here to bring on all the updates, rumors, and developments surrounding the Apple Car from 2014 to 2023.
2023
August
Custom MicroLED displays considered for iPhone, Vision Pro, and Apple Car.
July
Apple expands its Autonomous Vehicle (AV) Test-driving team once more.
February
As per Patently Apple, there are patents for movable sensors measuring vehicle speed, location, weather, and environment, smart headlights, and adjustable exterior lighting patents.
2022
December
Apple adjusted its self-driving vehicle plans, pushing the car's expected launch date to 2026 and scaling back some ambitions.
August
Ex-Apple employee Xiaolang Zhang pleaded guilty to stealing trade secrets from Project Titan, facing up to ten years in prison, CNBC reported.
July
Apple hired a 20-year Lamborghini veteran Luigi Taraborrelli.
May
Former longtime Ford engineer Desi Ujkashevic left Ford to join Apple's car project, as reported by Bloomberg.
March
Porsche's CEO hinted at potential joint projects with Apple during the company's annual press conference.
February
Designers experimented with a rising trunk compartment for easy access and automatic lowering.
Discussions included large seat-back screens that could be raised and lowered.
Former Apple design chief Jony Ive advised embracing the vehicle's unique design.
Apple aimed for safety regulation exemptions to release a vehicle without a traditional steering wheel and a brake pedal.
January
The Information published a report detailing Apple's struggles with the self-driving electric vehicle project.
The report described the latest design, featuring four inward-facing seats for passenger interactions.
2021
September
Apple was reportedly in talks with Toyota and Korean partners, aiming for production to commence in 2024.
August
An industry source revealed Apple's efforts to build its supply chain in Korea.
February
Hyundai and Kia confirmed they were not talking with Apple about car development.
Apple hired Dr. Manfred Harrer, former Porsche VP of Chassis Development.
Apple was rumored to be discussing the Apple Car project with Japanese car companies, with Nissan publicly stating it was not involved.
January
Hyundai engaged in early discussions with Apple about jointly developing self-driving electric cars.
Apple held talks with EV startup Canoo, exploring various options from investment to acquisition.
Apple announced engineering changes, sparking speculation about Dan Riccio's role.
2020
December
Bloomberg reported that John Giannandrea, Apple's AI lead, assumed responsibility for Apple Car development after the retirement of former lead Bob Mansfield.
Reuters disclosed that Apple was actively working toward a possible 2024 launch date, as shared by two unnamed insiders.
2019
July
Apple hired former Tesla engineering VP Steve MacManus, a seasoned auto industry veteran, with the position of "senior director."
It was likely that MacManus was part of the "Titan" team, although his specific role remained undisclosed.
June
In June 2019, Apple completed the acquisition of the autonomous vehicle startup Drive.ai.
April
Apple advanced its self-driving car project, discussing LiDAR sensors with potential suppliers.
These discussions aimed to secure more petite, more cost-effective LiDAR components for the next generation of self-driving vehicles.
Apple explored partnerships with at least four LiDAR sensor suppliers while also developing its own hardware.
The focus was on creating a "revolutionary design" for these components, making them more discreet and effective within the vehicle.
March
In March 2019, Apple expanded its team by bringing on board Michael Schwekutsch, who previously held the role of Engineering VP at Tesla.
February
In 2019, the DMV's assessment of Apple's self-driving technology ranked it lowest among 28 companies in California.
Apple's system had a higher rate of "disengagements," requiring human intervention.
January
In January 2019, Apple took steps to enhance the security of its project, resulting in the arrest of employee Jizhong Chen.
Chen was found with photographs taken within a classified work area, and a subsequent investigation unveiled his extensive collection of manuals, diagrams, and schematics associated with the project.
During the same month, Apple made strategic decisions related to their 'Project Titan' autonomous vehicle team, leading to the layoff of more than 200 employees.
2018
December
Apple welcomed seasoned designer Andrew Kim, previously at Tesla and Microsoft, signaling the company's commitment to top-tier talent for its automotive ambitions.
October
Apple achieved a significant milestone for its automotive endeavors in October 2018 by securing a 10-year lease for an expansive warehouse facility in Milpitas.
September
Regulatory filings in September 2018 indicated that Apple had secured the third-highest number of autonomous vehicle permits in California, with a total of 70, trailing behind GM's Cruise (175) and Alphabet's Waymo (88).
August
In August 2018, Apple appointed Doug Field, formerly Tesla's senior vice president of engineering, as the new leader of its Titan team.
During road testing on August 24, 2018, one of Apple's autonomous vehicles was involved in a rear-end collision while stationary, awaiting a merge into traffic approximately 3.5 miles from Apple's Cupertino headquarters.
In the same month, reports surfaced about an Apple patent detailing a system designed to provide warnings to passengers about the actions of autonomous cars, aiming to reduce the discomfort of unexpected maneuvers.
July
On July 7, 2018, the FBI arrested a former Apple employee, charging them with stealing trade secrets related to Apple's self-driving car project.
This incident revealed insights into Apple's clandestine self-driving research, which involved approximately 5,000 disclosed employees at that time.
May
In May 2018, The New York Times they have revealed Apple's collaboration with Volkswagen to develop an autonomous employee shuttle van using the T6 Transporter platform, converted into electric autonomous versions at VW's Italdesign subsidiary in Turin, Italy.
January
In January 2018, Apple took steps to keep its self-driving car endeavors discreet by registering 27 autonomous vehicles with the California Department of Motor Vehicles.
2017
November
Apple employees Yin Zhou and Oncel Tuzel published a paper on VoxelNet, introducing a system for three-dimensional object detection using lidar.
Reports suggested Apple was recruiting talent for autonomous systems and discreetly leasing a former Fiat Chrysler proving grounds site in Surprise, Arizona.
The New York Times hinted at a shift away from Apple developing its own self-driving car. In response, Apple CEO Tim Cook publicly acknowledged their involvement in autonomous car technology during that year.
August
Reports surfaced of the car project shifting towards autonomous systems, with plans to test technology via an inter-campus shuttle service between Cupertino's Infinite Loop campus and Silicon Valley offices, including Apple Park.
Around 17 former Titan team members, including Detroit-experienced braking and suspension engineers, joined the autonomous vehicle startup Zoox.
June
Tim Cook's Bloomberg TV interview clarified Apple's focus on autonomous systems, emphasizing their interest in converging autonomous systems, electric vehicles, and ride-sharing services.
April
Apple gained attention in mid-April with reports of authorization for autonomous vehicle tests in California.
2016
September
On September 9, The New York Times reported a series of layoffs within the project, signaling an attempt to restructure, possibly from a team that was still around 1,000 strong.
During the following week, reports surfaced suggesting that contract vehicle manufacturer Magna International had a small team stationed at Apple's Sunnyvale lab.
July
Apple convinced Bob Mansfield, a retired senior hardware engineering executive, to return and lead the Titan project.
Later in the month, they hired Dan Dodge, founder of QNX, BlackBerry Ltd.'s automotive software division, indicating a shift toward prioritizing software for autonomous vehicles while still pursuing their vehicle development.
May
Reports emerged in May, suggesting Apple's interest in electric car charging stations.
January
Tesla Motors CEO Elon Musk remarked that Apple was likely working on an impressive electric car, citing the extensive hiring of over a thousand engineers for the project.
2015
November
Various websites reported the presence of a suspected Apple front company, SixtyEight Research, at an automotive conference in Europe, fueling speculations regarding Apple's interests in the automotive realm.
Speculation continued when an undisclosed electric vehicle startup, Faraday Future, announced a $1 billion project to build a factory in the United States. This led some to speculate on its potential connection to Apple's secretive car project.
Apple took practical steps by enlisting Torc Robotics to retrofit sensors onto two Lexus SUVs in a project internally referred to as Baja, demonstrating progress in the field of autonomous vehicle technology.
October
Tim Cook emphasized the forthcoming transformation of the automotive industry, highlighting the growing significance of software, the ascent of autonomous vehicles, and the shift from internal combustion engines to electrification.
September
It was reported that Apple engaged in discussions with self-driving car experts affiliated with the California Department of Motor Vehicles.
As per The Wall Street Journal, Apple's project was envisioned as a battery electric vehicle initially lacking complete autonomous driving capabilities, with the possibility of an unveiling around 2019.
August
Reports surfaced regarding Apple's meetings with officials from GoMentum Station, a facility dedicated to testing connected and autonomous vehicles, located within the confines of the former Concord Naval Weapons Station in Concord, California.
May
Apple investor Carl Icahn projected that Apple would enter the automobile market in 2020, envisioning the car as the "ultimate mobile device."
February
Speculation intensified as reports indicated that a significant contingent of Apple employees had been dedicated to an electric car project. During this period, Apple was reportedly luring talent from Tesla to join their ranks.
According to The Wall Street Journal, the envisioned product bore a closer resemblance to a minivan than a traditional car, with the possibility of production commencing as early as 2020.
Apple board member Mickey Drexler disclosed that Steve Jobs had harbored intentions to design and build a car, with discussions on the concept dating back to Tesla Motors' debut in 2008.
2014
November and December
Reports circulated suggesting that Apple CEO Tim Cook had given the green light to the automotive project, tasking Vice President Steve Zadesky, formerly an engineer at Ford, to lead the initiative.
Key Takeaway
It is not a matter of what but a matter of when, Apple has hyped the market since 2008 when the news got aired, that they wanted to get into the Automobile field but it's been 15 years since anyone has seen the Apple Car. The dates of the launch have also been shifted many times, earlier it was 2020, then 2022. Now rumor has it that they'll showcase the case by 2026 or 2027. Well, we hope it better gets the hold of customers' expectations. You know when they say that fruits of labor are the sweetest so shall be?
To put it simply, it's not just a car but a canvas painting with the Innovation of the 21st century. So, what's the catch? Why aren't they flaunting their car? Here's the twist: if they drove an "Apple Car" that Apple designed, the surprise would fizzle before the launch. They're holding their cards close, not giving rivals a free ticket to copy their homework.
See, Apple's not just about gadgets; they're cooking up a whole new ride. From patent teasers to real road tests, their journey's a rollercoaster of surprises. We are as excited about this car as you are and hence we'll keep you posted about all the updates of the car.