Apple announced early collaborations with automakers while giving a CarPlay vision sneak peek at Apple WWDC 2022 event.
It looks like the Apple car is not happening anytime soon but Apple would still have a foot in the door with the CarPlay future version.
iPhone maker Apple is no doubt one of the very famous and successful companies on the face of the earth.
However, not all those quirky automakers seem to be getting to wrap their heads around the new cool CarPlay features. (Read multiscreen. Yup, on the speedometer screen too!)
Think of it as a clean iPhone kind of interface that syncs seamlessly with different screens of desktops and iPads but does that in your car.
While Apple's CarPlay may be the latest buzz in the automotive industry, BMW and Tesla might not see the need to jump on board.
Both auto companies have established their own advanced infotainment systems that offer similar features to CarPlay, such as integration with smartphones and voice controls.
BMW & Tesla, both take pride themselves in being technology leaders in the automotive world. Which is why they may not want to rely on a third-party system.
Apple did say that these automakers were excited to be on board with the new vision the CarPlay would bring.
Ultimately, it's up to the consumer to decide which infotainment system they prefer in their car. But for now, BMW and Tesla are content with their own technology offerings.
Apple CarPlay Vision
Apple CarPlay's upcoming version would boast a ton of new features changing the dynamics of in-car infotainment.
The New CarPlay version will connect to your car and adapt to cover every screen including the infotainment system, instrument cluster, AC controls, etc.
Apple's CarPlay vision is all about bringing the seamless integration of your iPhone to the car dashboard. With a sleek interface and easy-to-use features, you can access your music, make calls, send messages, and even navigate with Apple Maps or other onboard apps all while staying focused on the road ahead.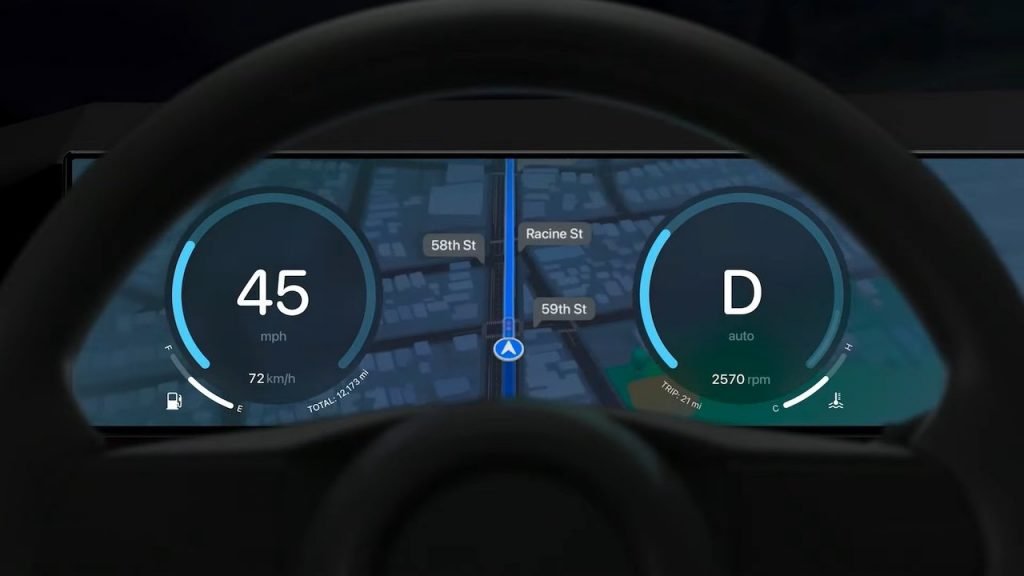 Siri voice control adds to the package as you can control all of these features hands-free. Apple's clean and chic design is most celebrated among people globally.
But what is the deal with the new CarPlay vision?
Simply put, the new version (expected to come sometime in 2023) would change the entire in-car display appeal as the CarPlay would now be covering all screens of the car.
And you can access everything from your iPhone (Android people: this post is not for you!) on these screens without taking away from your driving ahead.
Call. Text. Navigate. More! Everything on CarPlay.
First launched in 2014, CarPlay was more of a niche software to most people. The popularity spread like fire over the coming years since then though.
To put it clearly, CarPlay is widely supported by carmakers, and you'll be hard-pressed to find a modern car that doesn't have it.
More than 600 automobile models support CarPlay but the upcoming version would need more than just support. Until then enjoy the good old excellence of CarPlay in a split-screen or as compatible with your car.
The next-generation CarPlay debut came as a sneak peeks at Apple's annual event WWDC (World Wide Developer Conference).
Apple was elated to announce several traditional auto giants like Ford, Mercedes-Benz, Honda, etc. are looking forward to coming with the upcoming CarPlay version.
Polestar too joined the list to include trending CarPlay 2.0 upcoming version running on Android Automotive till now.
However, Two big automaker companies' names were nowhere mentioned in that excited-for-famous-Apple-interface-automakers list.
Tesla and BMW
Tesla has an altogether different game plan (that doesn't account for Apple or Android) for a connectivity package that costs just $10 per month.
Whereas, BMW supports the CarPlay current version starting from 2017 but stays mum on opening its arms for the upcoming version.
Beemer lovers and the Elon Musk clan might have to wait longer to enjoy in-built CarPlay infotainment in their vehicles.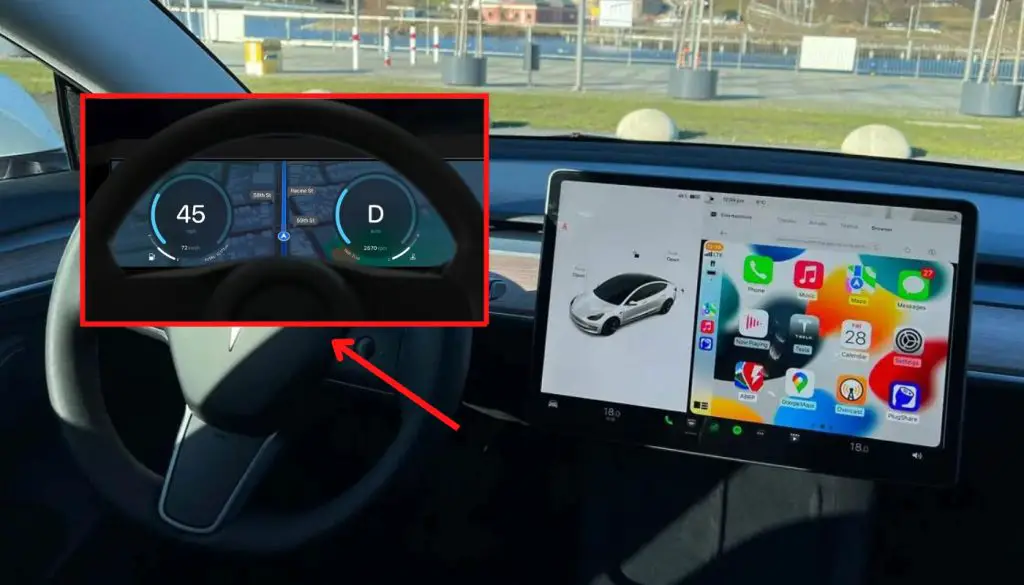 Tesla on CarPlay
Well, it's no secret that Tesla and Apple have a bit of a rivalry going on. So, it's not surprising that Tesla chooses not to support Apple CarPlay in their vehicles.
But, let's be real – do you really need it when you've got Tesla's own infotainment system, which is constantly being upgraded and updated over the air with the latest features and technology?
Plus, isn't it just more fun to say "Hey Tesla" instead of "Siri"?
Maybe or Maybe not!
While some may argue that Tesla's own infotainment system, complete with internet browsing and streaming music services, is enough for any driver, having the option to access phone features through the car's central display may be convenient for some.
Though Teslas are advertised as being cutting edge and ahead of the competition, they lack a (commonly desired) feature found in most new automobiles Apple's CarPlay and Android Auto.
If you were to believe the stats Apple is extremely famous among the masses even without any production model or proposed concept car in tow. Apple tops the automobile industry chart with its secret weapon.
Popularity
Tesla writes its own software that includes an in-car infotainment system. The ultimate reason why they do so is the fact that they don't want any other tech companies to get into coding.
Hence, no CarPlay or Android Auto!
The problem here is iPhone users (which is a majority), like that seamless user experience. Tesla is missing on that front avidly. Moreover, the fact that Tesla won't be the only trending EV maker in the coming future can take away a lot of market share.
Think about it, Tesla might top the list of the best automobile company in EV cars today but how long that is going to stay like that?
What will happen when the new shiny toys lose their uniqueness and become practically wane or obsolete? Apple CarPlay might come to their rescue then to revive the unique quotient.
CarPlay would allow Tesla drivers to use newer, more popular audio, messaging, and streaming apps.
The Apple and Google ecosystems have the advantage of having millions of developers, a resource Tesla doesn't have and is unlikely to ever acquire.
Got to be a thing right?
But, Tesla refuses to come to terms with the change and it might not ever include CarPlay on board. We could just wait for the best.
Although, it won't hurt to have Apple's seamlessly chic interface inside your edgy Tesla.
BMW on CarPlay
Beemer people, you might have to do without CarPlay. BMW seems to be unsure of how they would use the futuristic CarPlay 2.0 version.
BMW has always been lukewarm on Apple CarPlay. Even before the feature was available, company execs said that their vehicles wouldn't support it.
BMW was the tardily big name in the automobile industry to include CarPlay compatibility. 2016 and before cannot use CarPlay in their BMW cars. Sigh!
Whatever the reason may be, we're just happy that BMW has finally hopped on the CarPlay bandwagon. Now, drivers can have the ultimate driving experience with the combination of BMW's luxurious vehicles and Apple's cutting-edge technology.
BMW kind of lost senses and started charging $80 for CarPlay but had to soon retract the clause as customers were unhappy. Why?
No one wants a cry for money for the infotainment system. That's just unfair.
Being a slow appraiser of CarPlay, BMW somehow was the first one to support Apple for its CarKey system Don't know what went wrong when it comes to CarPlay.
But imagine if BMW could do with Apple CarKey unlock using iPhone why won't they be willing to allow their customers to use CarPlay features on their cars?
Turns out, BMW did not learn the lesson and went slow with CarPlay integration. The Verge states that BMW would first investigate the use of CarPlay features before announcing its support for the future version.
It might be a good strategy for luxury automobile company BMW in some way but if they follow suit would eventually welcome the CarPlay cover-all-screen interface down the road.
We can't wait to see how this partnership evolves in the future.
But until then, happily cruise down the highway with existing CarPlay in your BMWs. Cheers to that.
Why Automakers Are Not All Happy With CarPlay? What Is The Problem?
Apple's CarPlay may seem like a dream for tech-savvy drivers because not all prominent automakers are on board with the visionary system.
The issue? CONTROL.
CarPlay allows Apple to control the interface and functionality of their system, leaving automakers feeling limited in their ability to differentiate themselves and offer unique experiences to customers.
Moreover, there are concerns about privacy and data-sharing with Apple. Ultimately, it seems that for now, automakers are hesitant to fully commit to CarPlay and prefer to pursue their own in-car technology solutions.
CarPlay may be convenient for iPhone users, but don't expect every car on the road to offer it just yet.
Who knows, maybe we'll see an "Android Auto vs CarPlay" rivalry in the future.
Until then, it's up to individual automakers to decide whether they want to play by Apple's rules or strike out something even unique on their own.
Bottomline
The automobile industry has always been known for its slow adoption of new technology. But with the introduction of Apple CarPlay vision with version 2.0, that's all about to change.
Not only does CarPlay offer a safer way to use your iPhone while driving (no more fumbling around with your phone!), but it also brings all the convenience and functionality of your iPhone straight to your car's dashboard.
Imagine being able to easily access your music, make hands-free calls and texts, get directions, and even listen to your favorite podcasts – all without taking your eyes off the road.
And it's getting better, you can access all the good things on all screens inside your car.
Plus, let's not forget about Siri – having a personal assistant at the touch of a button can definitely come in handy during those long road trips.
Overall, the integration of Apple CarPlay into the automobile industry could be a phenomenal game changer and will undoubtedly lead to a better driving experience for all.
Tesla & BMW owners: CarPlay access in the future – your car (and your sanity) might thank you!