Xiaomi has recently made a significant leap into the electric vehicle market. This strategic move marks a bold diversification for Xiaomi, aligning with the global shift towards sustainable and innovative transportation solutions.
The Xiaomi SU7, the company's first foray into the world of electric vehicles, stands as a symbol of this new chapter in Xiaomi's story. The SU7 not only embodies Xiaomi's vision for the future of personal transportation but also demonstrates the company's capabilities in creating high-tech, sustainable solutions.
The announcement of the Xiaomi SU7 has garnered significant attention in the automotive industry, positioning Xiaomi as a new but formidable player in the EV space. The SU7 is more than just a vehicle, it is a statement of Xiaomi's growing influence and its ability to disrupt established markets with innovation and user-centric design.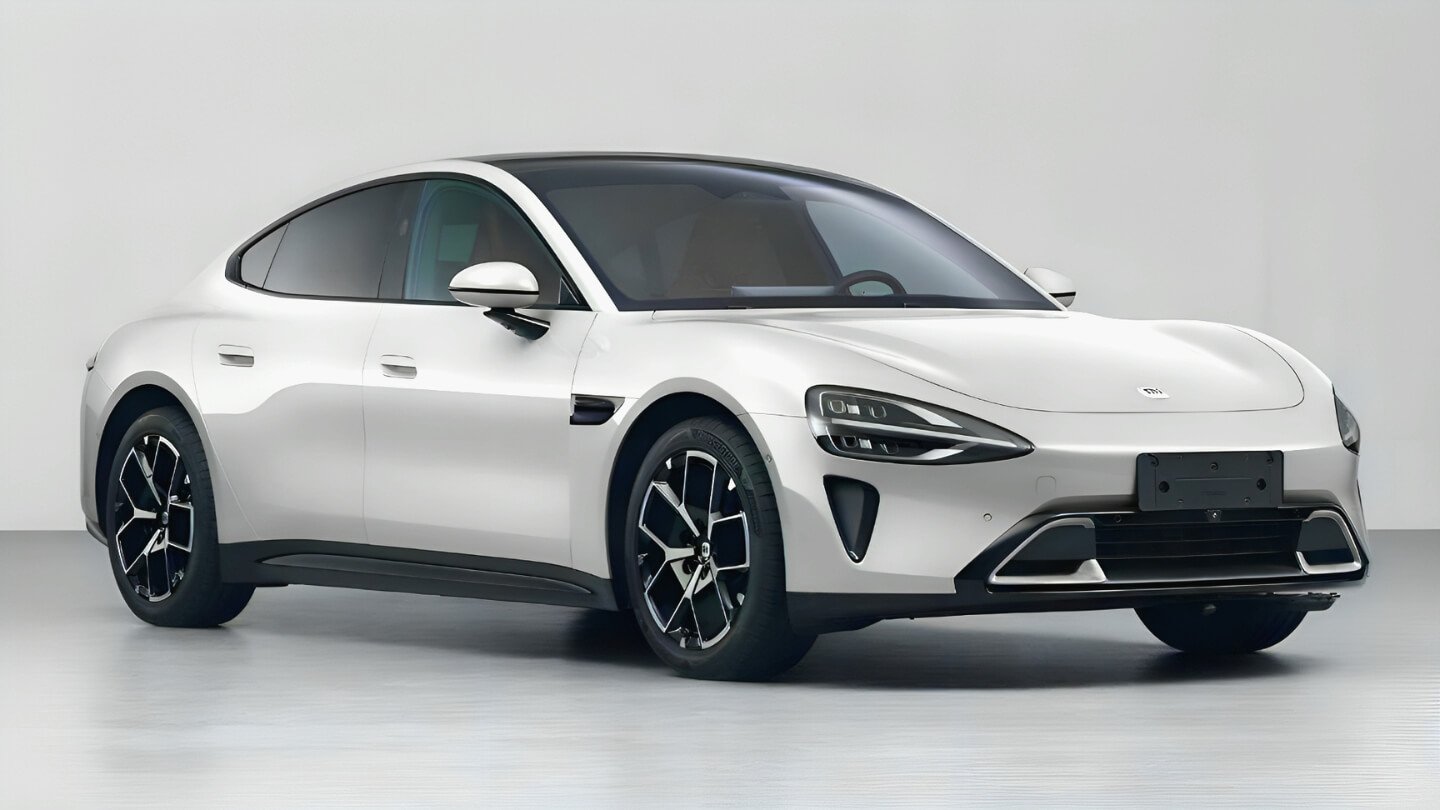 Xiaomi SU7 Updates
In 2021, Xiaomi made a groundbreaking announcement that signaled its entry into the EV industry. This move was not just a diversification of their product line but also an indication of the company's forward-thinking strategy. Recognizing the potential in the burgeoning EV market, Xiaomi committed to a substantial investment to fuel its automotive endeavors.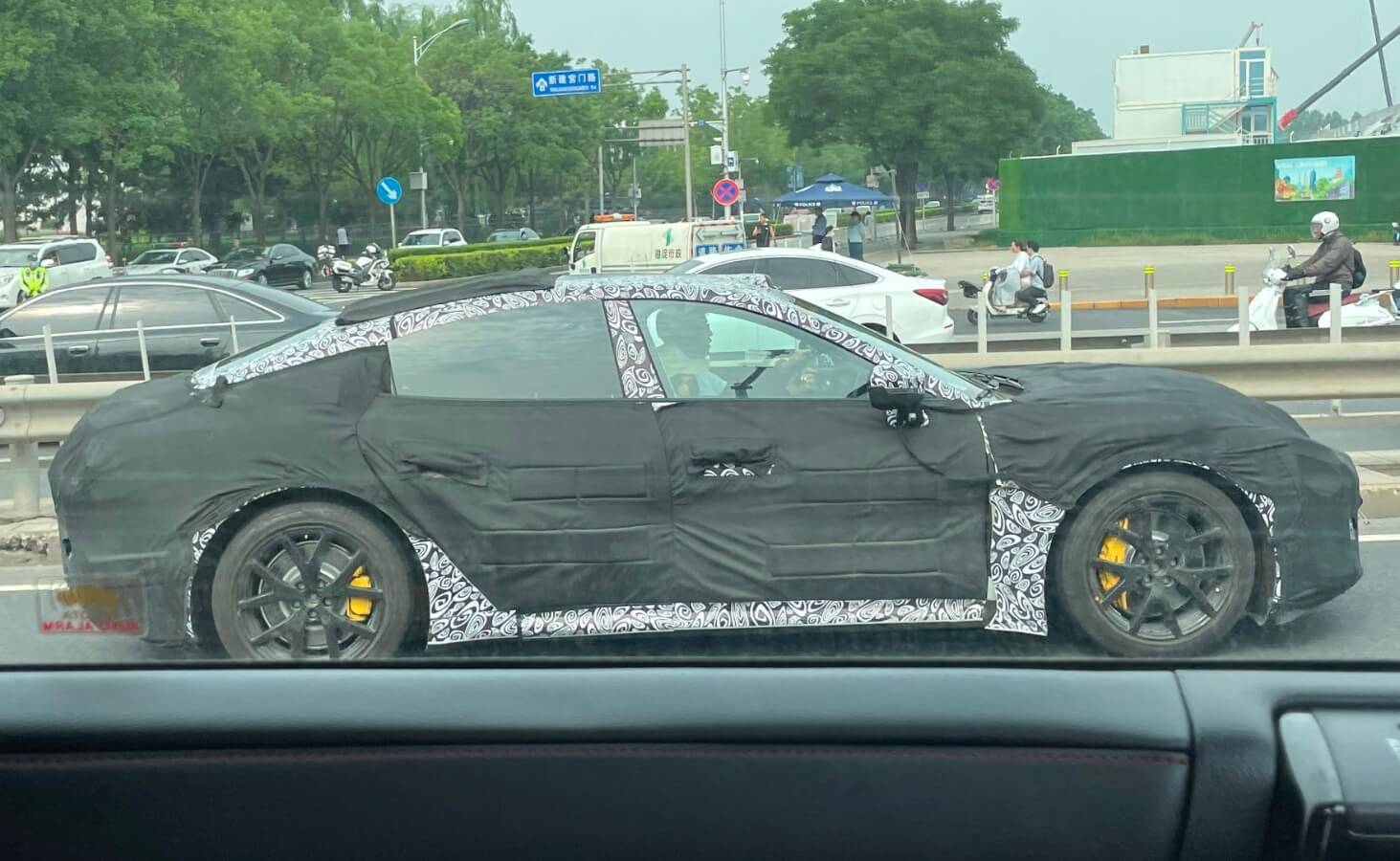 The initial investment was announced to be 10 billion yuan (approximately 1.4 billion USD), part of a broader plan to invest a total of $10 billion over the next decade. This significant financial commitment underscores Xiaomi's seriousness in establishing a strong foothold in the EV sector.
Development and Production
For the manufacturing of its first EV, the Xiaomi SU7, Xiaomi formed a strategic partnership with Beijing Automotive Industry Holding Co. Ltd (BAIC). This collaboration is crucial as BAIC brings extensive experience and expertise in automobile manufacturing to the table. The partnership allows Xiaomi to leverage BAIC's well-established automotive production capabilities while focusing on its strengths in technology and innovation.
The choice of BAIC as a manufacturing partner also indicates Xiaomi's approach to align with experienced industry players to navigate the complex automotive landscape.
Sales License and Regulatory Approval
A critical step in bringing the Xiaomi SU7 to market is obtaining the necessary sales license and regulatory approvals. In China, where the EV market is heavily regulated, every new vehicle must undergo a rigorous homologation process. This process involves approval from the Ministry of Industry and Information Technology (MIIT), a key regulatory body in China.
Xiaomi's application for a sales license for the SU7 is a significant milestone in this journey. The inclusion of the SU7 in MIIT's latest batch of models for public comment marks the final stages of the regulatory process, paving the way for the vehicle's official launch.
Xiaomi SU7 Exterior Design
Xiaomi's SU7 exterior design leans towards a fastback sedan style. It features a low-set nose with triangular headlamps, a prominent central air intake, and small side vents. The design is modern yet understated, focusing on sleek lines and aerodynamic efficiency. The vehicle's sides showcase soft lines with notable flares around the front fender and rear haunches, adding to the car's dynamic appearance. A potential sensor module hidden in the B-pillar suggests advanced locking and unlocking mechanisms like facial recognition or NFC-based technology.
The rear of the SU7 includes a full-width tail-lamp design and an active rear spoiler integrated into the rear deck. The raked C-pillar flows into an integrated spoiler element at the boot lid's tip, and the tail-lamps are edge-to-edge units. The lower bumper sports a faux diffuser look, and the rear deck features a deployable rear spoiler, adding to the car's sporty allure.
A noticeable hump on the roof indicates the presence of LiDAR technology, hinting at advanced autonomous driving capabilities. This inclusion of LiDAR aligns with Xiaomi's commitment to leading-edge technology and safety features in its EV offerings.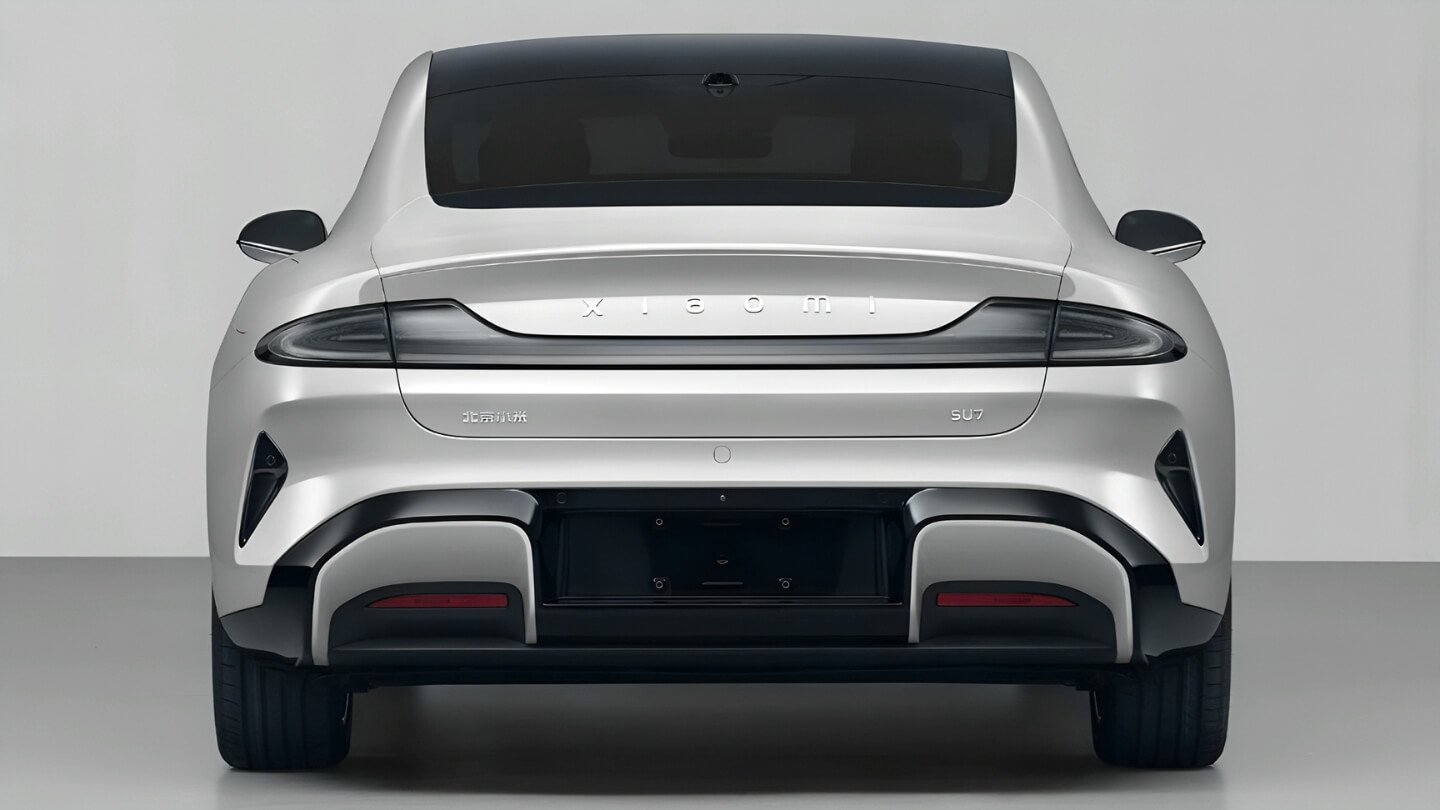 Dimensions
The Xiaomi SU7 sets a new standard in the electric vehicle (EV) design paradigm, with a sleek and modern aesthetic. It stands out with its larger dimensions compared to its contemporaries, the Tesla Model 3 and Nio's ET5. The SU7 measures 4997 mm in length, 1963 mm in width, and 1455 mm in height, and it sports a substantial wheelbase of 3000 mm. This size not only gives it a commanding presence on the road but also translates to a more spacious interior, potentially offering greater comfort and a more luxurious feel than the Tesla Model 3 and Nio's ET5.
Xiaomi SU7 Interior Design
The interior of the Xiaomi SU7 is characterized by a large central control screen, indicative of Xiaomi's focus on a digital-heavy interface. This screen serves as the main hub for the vehicle's infotainment and navigation systems, aligning with current trends in modern EV design. The steering wheel of the SU7 is distinctively styled with a three-spoke design and a flat bottom, equipped with two functional knobs. This design choice not only adds to the aesthetic appeal but also suggests a focus on ergonomics and driver comfort.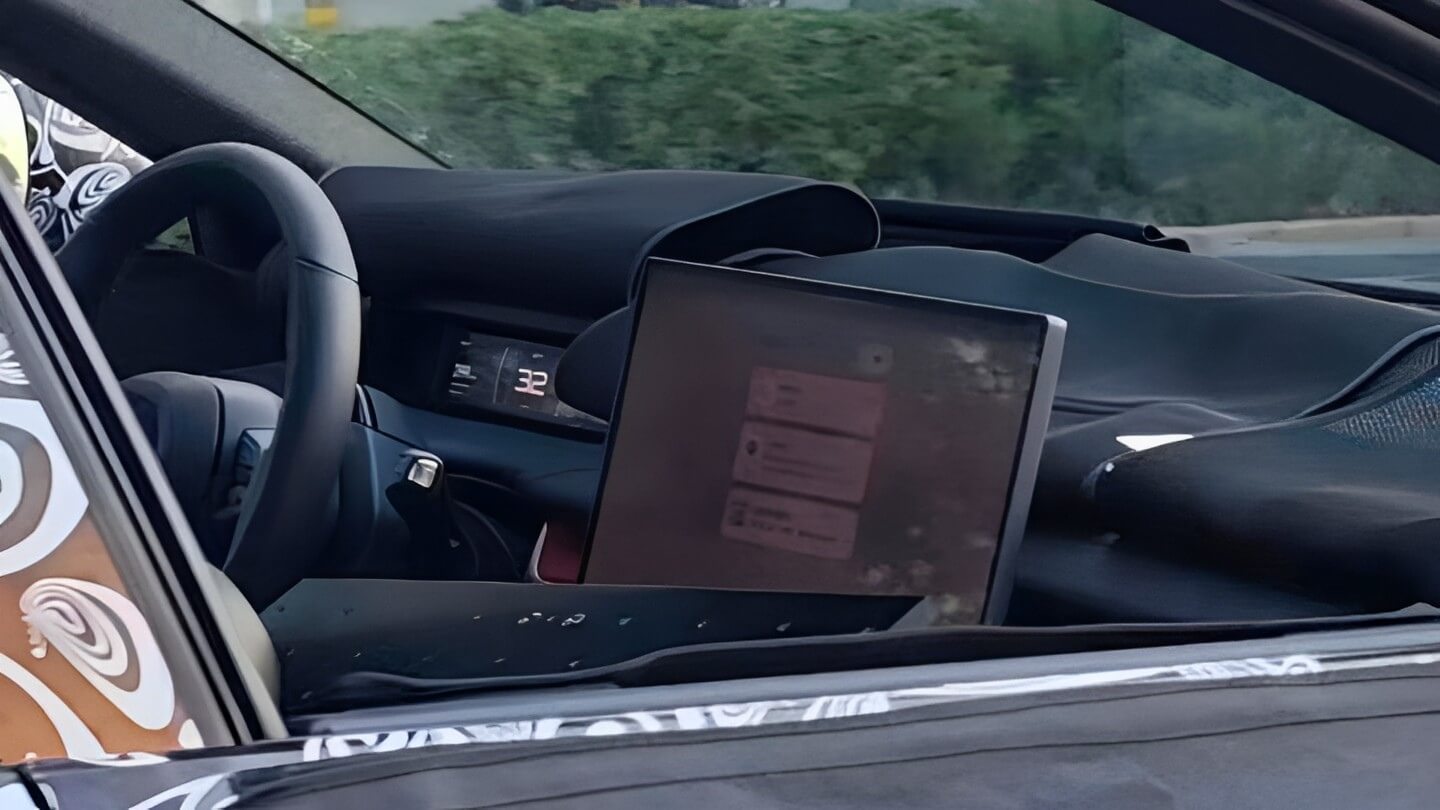 Powering the in-car system is Xiaomi's HyperOS, an operating system developed in-house for both smartphones and cars. This integration demonstrates Xiaomi's strategy to merge its expertise in smart technology with its automotive ventures.
Xiaomi SU7 Performance and Specs
The Xiaomi SU7 comes equipped with two distinct powertrain options, catering to different driver preferences and needs. The base model features a single-motor setup with a peak power of 220 kW, suitable for those prioritizing efficiency and smoother city driving. For the performance-oriented driver, the SU7 also offers a dual-motor model, combining a 220 kW motor with a 275 kW one, delivering a more robust and dynamic driving experience.
The battery technology in the SU7 also varies according to the model. The base model is powered by lithium iron phosphate (LFP) batteries sourced from BYD, known for their safety and longevity. On the other hand, the higher-end models, the SU7 Pro and Max, are equipped with Li-ion ternary batteries provided by CATL, a leader in battery technology. This diversification in battery suppliers ensures that Xiaomi can offer a range of options to suit different customer preferences and budgets.
Xiaomi SU7 Features
Xiaomi's prowess in technology is prominently showcased in the SU7. One of the key features is the integration of LiDAR technology, enhancing the vehicle's autonomous driving capabilities and safety. This cutting-edge technology positions the SU7 at the forefront of the EV market in terms of driver-assist features.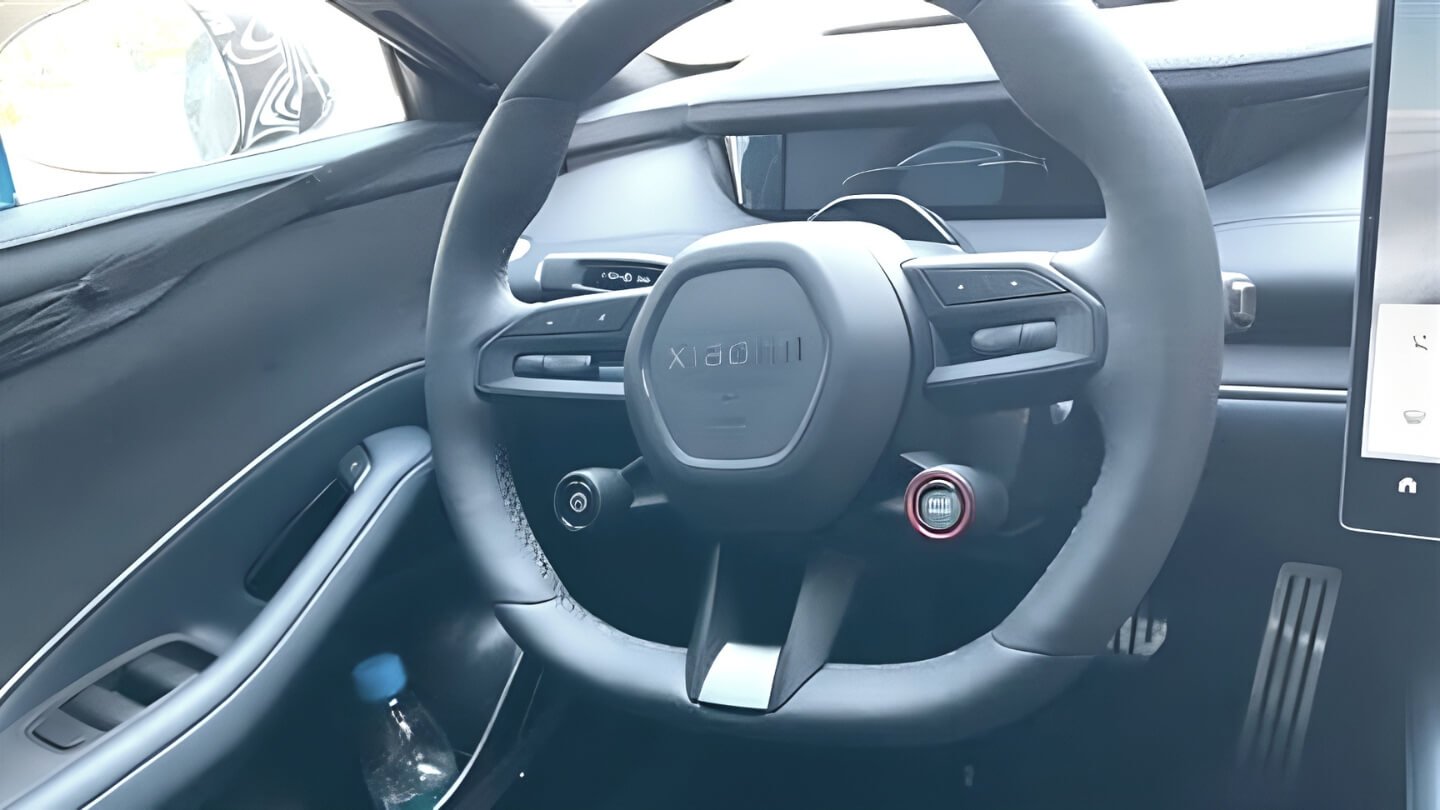 Additionally, the SU7 introduces a face recognition unlocking system, a novel feature that not only adds a layer of security but also personalizes the user experience. This system reflects Xiaomi's commitment to integrating smart technology into its vehicles, making them more user-friendly and technologically advanced.
Another significant innovation in the SU7 is Xiaomi's in-house developed operating system, HyperOS. This system is designed to seamlessly integrate the car with Xiaomi's ecosystem of smart devices, including smartphones. This integration ensures a cohesive and interconnected experience for the user, where the vehicle becomes an extension of their digital lifestyle.
In summary, the Xiaomi SU7 stands out with its impressive design, versatile powertrain options, and groundbreaking technological innovations. Its comparison with the likes of Tesla Model 3 and Nio's ET5 shows Xiaomi's ambition not only to enter the EV market but to redefine it with advanced features and superior performance.
Xiaomi SU7 vs Tesla Model 3
The Xiaomi SU7 and Tesla Model 3 cater to similar market segments but with different approaches. While the Model 3 focuses on established brand reputation and proven technology, the SU7 aims to disrupt the market with its advanced features and competitive pricing.
Design Comparison
Xiaomi SU7: The design of the Xiaomi SU7 is a blend of elegance and sportiness, featuring a low nose, peaked front fenders, and muscular rear arches. It measures 4997 mm in length, 1963 mm in width, and 1455 mm in height, with a substantial wheelbase of 3000 mm, indicating a more spacious interior.
Tesla Model 3: The Tesla Model 3, known for its minimalist yet futuristic aesthetics, has dimensions of 184.8 inches (4694 mm) in length, 56.8 inches (1443 mm) in height, and a width of 72.8 inches (1849 mm). Its wheelbase is 113.2 inches (2875 mm), which is shorter compared to the Xiaomi SU7.
Performance and Powertrain
Xiaomi SU7: The SU7 offers two powertrain options: a single-motor RWD version with 295 hp and a dual-motor AWD setup delivering up to 664 hp. The top speed for the base model is 130 mph (210 km/h), and for the high-end model, it's 165 mph (265 km/h).
Tesla Model 3: The base Model 3, with a single electric motor, offers 257 hp and a top speed of 162 mph (261 km/h). The Performance variant accelerates from 0-60 mph in 3.1 seconds, showcasing its quick acceleration capability.
Battery and Range
Xiaomi SU7: The SU7 features LFP batteries from BYD for the base model and Li-ion ternary batteries from CATL for higher trims. Specific details about the range and charging capabilities are yet to be disclosed.
Tesla Model 3: The 2023 Model 3 provides a range of 272 miles with a 50 kWh battery. It supports fast charging, capable of adding 147 miles of range in 15 minutes.
Technology and Features
Xiaomi SU7: Xiaomi integrates advanced technology in the SU7, including LiDAR for driver-assist features, face recognition unlocking, and its HyperOS operating system for seamless integration with smartphones and other devices.
Tesla Model 3: Tesla's Model 3 features a 15-inch touchscreen interface, Autopilot capabilities, and access to the Tesla Supercharger network, making it a tech-savvy choice in the EV market.
Market Positioning and Pricing
Xiaomi SU7: Positioned as a high-performance, technologically advanced vehicle, the SU7 is estimated to be priced at less than RMB 300,000, aiming to offer value in the high-end EV segment.
Tesla Model 3: The base Tesla Model 3 is priced under $50,000, targeting consumers seeking an affordable yet high-performance EV.
As Xiaomi ventures into the EV market, its competition with Tesla, particularly with the Model 3, will be a compelling aspect to observe, offering consumers diverse options in the evolving EV landscape.
Conclusion
Xiaomi's move is a clear indication of the company's ambition to expand beyond its established domain of consumer electronics and position itself as a key player in the automotive industry. The launch of the SU7 is not just a product release; it represents Xiaomi's vision of the future of mobility and its commitment to innovation and sustainability.
The decision to enter the EV market with a product like the SU7 reflects Xiaomi's understanding of the growing demand for environmentally friendly and technologically advanced vehicles. By leveraging its expertise in technology, particularly in software and smart device integration, Xiaomi aims to offer a unique proposition in the EV space.
The company's reputation for innovation and value-driven products could challenge the current market dynamics and push competitors to accelerate their own innovations. Xiaomi's approach to integrating cutting-edge technology, such as LiDAR and face recognition systems, sets a new benchmark in the EV sector, potentially influencing future trends in electric car design and functionality.
The competition with established players like Tesla is particularly noteworthy. While Tesla has been a frontrunner in the EV market, Xiaomi's SU7 presents a fresh challenge with its competitive pricing, advanced technological features, and a strong focus on user experience. This rivalry could lead to more choices for consumers and drive further advancements in the EV industry, ultimately benefiting customers and contributing to the broader goal of sustainable transportation.