Lucid Motors has been making waves with its state-of-the-art technology and luxurious design aesthetics. Lucid initially focused on battery technology, has transitioned into a formidable automaker, earning accolades for its debut luxury sedan, the Lucid Air.
Continuing its trajectory of innovation, Lucid Motors recently unveiled the Gravity SUV, a groundbreaking addition to its lineup. This all-electric, three-row SUV is not just an expansion of Lucid's offerings but a statement in the luxury EV segment. It promises an impressive blend of advanced technology, superior comfort, and exceptional range.
The Gravity SUV enters the market as a direct competitor to Tesla's acclaimed Model X. While both vehicles embody the pinnacle of electric luxury and performance, the Gravity SUV distinguishes itself with a potentially longer range, innovative design elements, and advanced technological features, all while maintaining a competitive price point. This introduction sets the stage for a detailed exploration of the Gravity SUV, its features, performance, and how it stands to reshape the landscape of luxury electric vehicles.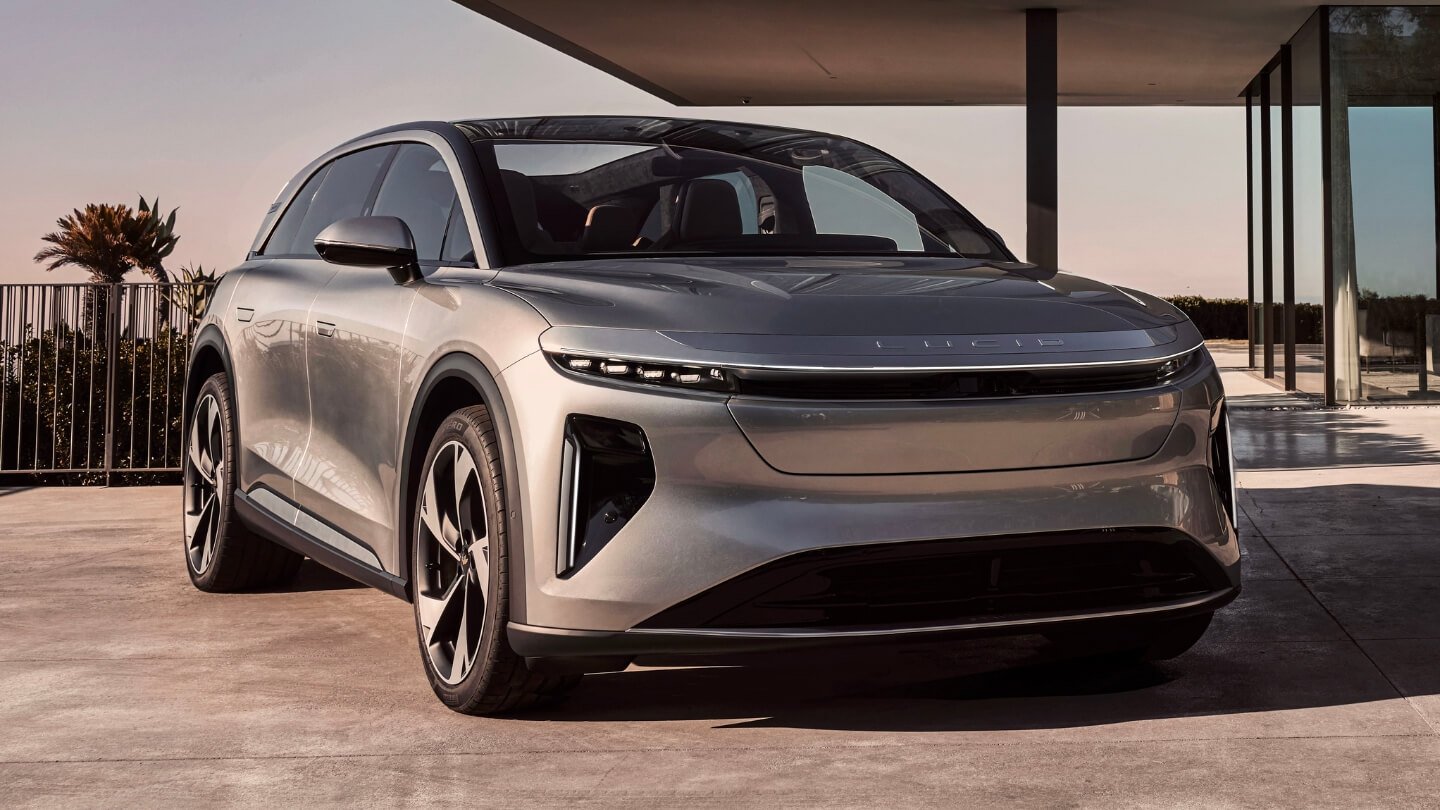 Lucid Gravity Design and Features
The Lucid Gravity SUV's design and features are a blend of luxury, innovation, and practicality, heavily influenced by the aesthetic and engineering successes of the Lucid Air sedan. This influence is evident in the SUV's sleek, aerodynamic exterior, which is not only visually striking but also enhances the vehicle's efficiency. Inside, the Gravity SUV sets itself apart with its expansive interior space. It offers an impressive 112 cubic feet of cargo capacity, ensuring that both passengers and luggage can be accommodated with ease.
In the realm of technology, the Gravity SUV introduces several groundbreaking features. Most notable is the 34-inch curved OLED display, which represents a significant leap in EV infotainment systems. This display, known as the "Clearview Cockpit," is designed for optimal visibility and user interaction, highlighting Lucid's focus on driver experience and technological innovation. Additionally, the SUV features an innovative frunk design.
Unlike traditional frunks, Lucid's version serves dual purposes – not only as a storage area but also as a unique lounge space. This inventive use of vehicle space is a testament to Lucid's commitment to maximizing functionality while maintaining luxury and style.
Performance and Efficiency
The Lucid Gravity SUV sets a new standard in the realm of performance and efficiency within the electric vehicle sector. It boasts a remarkable range, eclipsing the Tesla Model X with an estimated 440 miles on a single charge compared to the Model X's 348 miles. This impressive range is matched by equally formidable performance capabilities, including a swift acceleration of 0 to 60 mph in just 3.5 seconds and a robust towing capacity of 6,000 lbs.
In terms of charging and battery efficiency, the Gravity SUV incorporates advanced technology that enables rapid charging, gaining up to 200 miles of range in approximately 15 minutes. This feature is crucial for long-distance travel and reflects Lucid's commitment to convenience and practicality. The battery, despite being relatively compact, is designed to maximize range and efficiency, illustrating Lucid's innovative approach to electric vehicle technology.
Pricing and Availability
In the competitive landscape of electric SUVs, the Lucid Gravity SUV positions itself as a formidable contender, particularly when it comes to pricing. With a starting price under $80,000, it aligns closely with the Tesla Model X, which is priced similarly. This pricing strategy is notable considering Gravity's superior range and spaciousness.
Lucid will offer the Gravity SUV in various trims, including the Dream Edition, GT, Touring, and Pure, catering to a range of preferences and budgets. The anticipated release timeline points to production beginning in late 2024.
Moreover, being manufactured in the U.S., the Gravity SUV may qualify for federal tax incentives, making it an even more attractive option for potential buyers. This aspect could play a significant role in buyers' decisions, offering them a luxury electric SUV at a potentially reduced effective cost.
Conclusion
The Lucid Gravity SUV marks a pivotal moment in the luxury electric SUV market, challenging established norms with its blend of innovative design, exceptional range, and competitive pricing. It not only stands as a testament to Lucid Motors' engineering and design prowess but also signals a significant shift in consumer expectations for electric vehicles. Lucid's vision for the future of electric mobility, as embodied by the Gravity SUV, emphasizes efficiency, luxury, and accessibility.
This approach could potentially reshape the automotive landscape, pushing the industry towards more sustainable, technologically advanced, and user-centric vehicles. The Gravity SUV is more than just a new model. it's a bold statement about the future direction of electric mobility.