As the world transitions towards more sustainable transportation, the Volkswagen ID7 emerges as a significant player in the EV market. The new VW ID7 is an electric sedan, designed with cutting-edge technology that efficiently melds performance with remarkable aesthetics.
Volkswagen is known for delivering impeccable performance, reliability, and comfort, and has now firmly established its presence in the EV segment with ID7. The vehicle's advanced features coupled with the company's ambitious sustainability targets, further underscore its importance in the rapidly evolving EV market.
Volkswagen's journey into the EV market takes a monumental step forward with the commencement of production for its all-new, all-electric ID.7 sedan. Announced at an event on August 21, 2023, the new production line is located at the company's plant in Emden, Germany, a site that also produces the ID.4 model.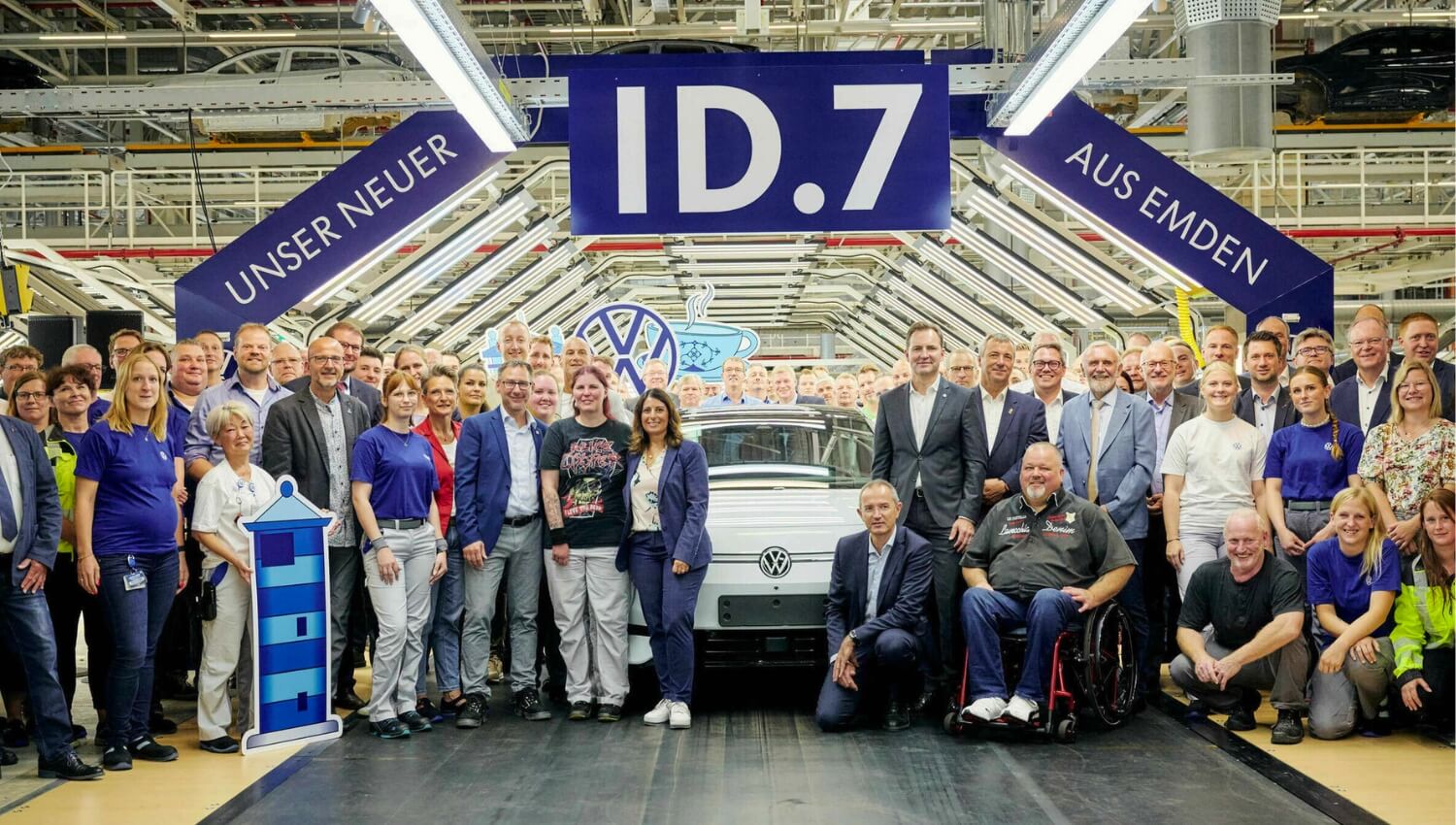 Volkswagen ID.7 Production Update
The symbolic start to the production follows a small run that was launched in June, marking an essential phase in Volkswagen's ambitious electric plans. With orders already being accepted in Germany, the first customer deliveries are anticipated to begin this fall. Further deliveries across Europe and North America are expected early next year.
The Emden plant has faced some challenges recently, with insufficient demand for the ID.4 leading to cancellations of shifts and other adjustments. The success of both ID.4 and ID.7 will play a vital role in the plant's future operations. Significant upgrades were made to the factory in Emden, paving the way for an exciting new era in the company's electric vehicle production.
Stephan Weil, Prime Minister of Lower Saxony celebrated the launch of the ID.7 as a significant step for the Emden location and a driving force in Germany's transition to electric mobility. Highlighting the irreversible trend towards electric driving, Weil praised the ID.7's role in enhancing driving pleasure and its positive impact on the climate.
Thomas Schäfer, CEO of the Volkswagen Brand emphasized Volkswagen's dedication to the electric future, noting the heavy investments in technology, transformation of locations, and development of new products like the ID.7. He also stressed the need for joint efforts across business, politics, and society to build an effective charging infrastructure and provide incentives for e-mobility.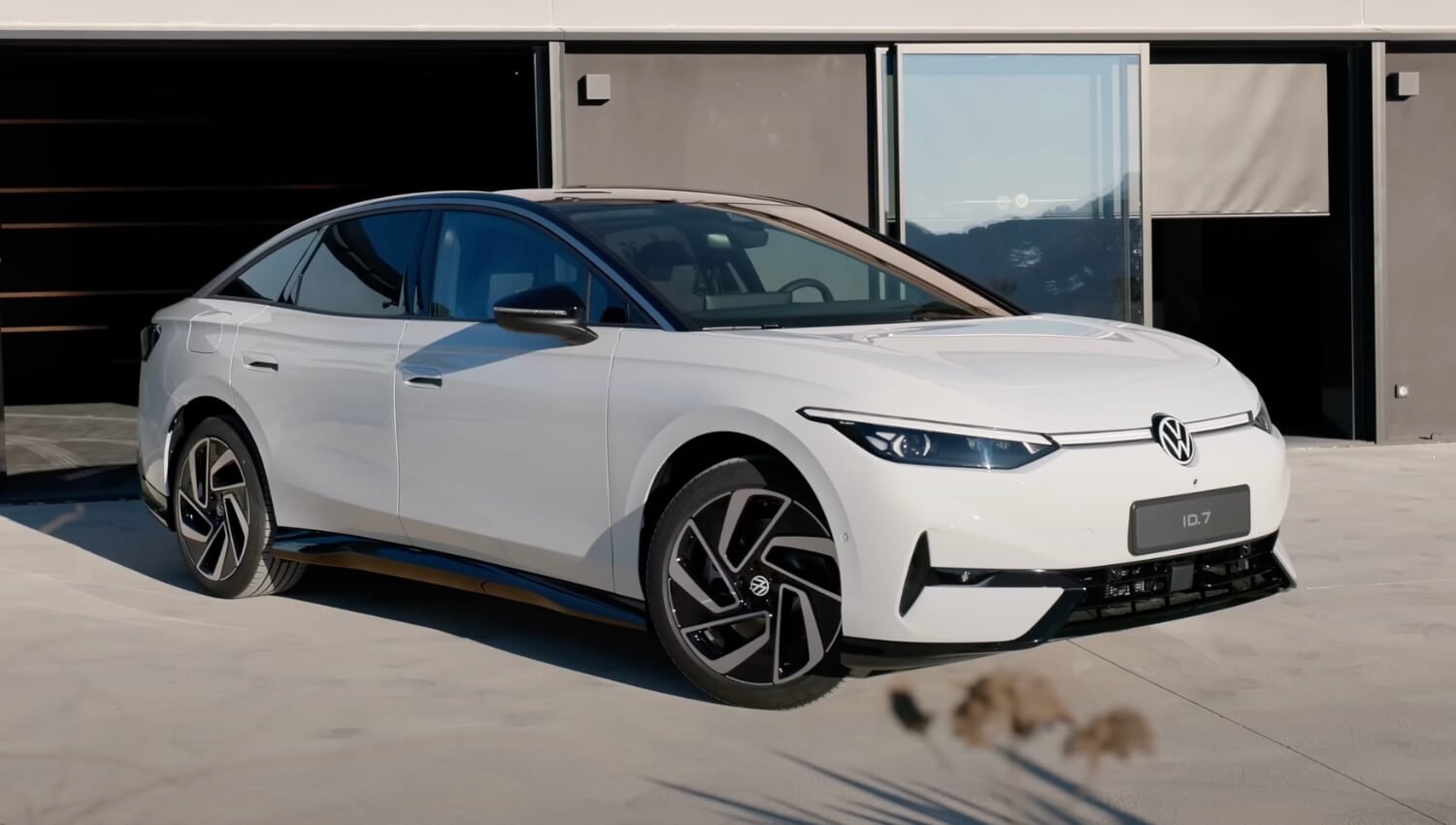 Volkswagen ID.7 Exterior
With a light strip that goes all the way through the front, the ID.7 sports a retro VW logo and a Matrix LED headroom unit. The aquamarine blue color adds a subtle brightness, but other options like white are also available for buyers.
Light Strip
One of the key external features of the ID.7 is a light strip that extends across the front of the vehicle. This, in combination with Matrix LED headlights, creates a futuristic and distinctive visual signature.
Aerodynamics and Efficiency
Designed with aerodynamics in mind, this sedan aims to be efficient. In the first test drive, the consumption figures were impressive, achieving some 4 miles per kilowatt-hour or some 15-kilowatt hours per 100 kilometers. This makes it stand out for great range, at least in ideal conditions.
Wheel and Size Specifications
The ID7 offers 19-inch standard wheels or optional 20-inch wheels an aerodynamic design. The wheels, while not overly extravagant, perfectly blend function and style, contributing to the ID7's overall efficiency and sophisticated appearance.
Colour Options
The vehicle exudes style and sophistication with its colour range. While its aquamarine blue variant adds a touch of vibrancy, the option of a glacier white model offers a classic, refined aesthetic that contrasts strikingly with the black roof and red signature at the back.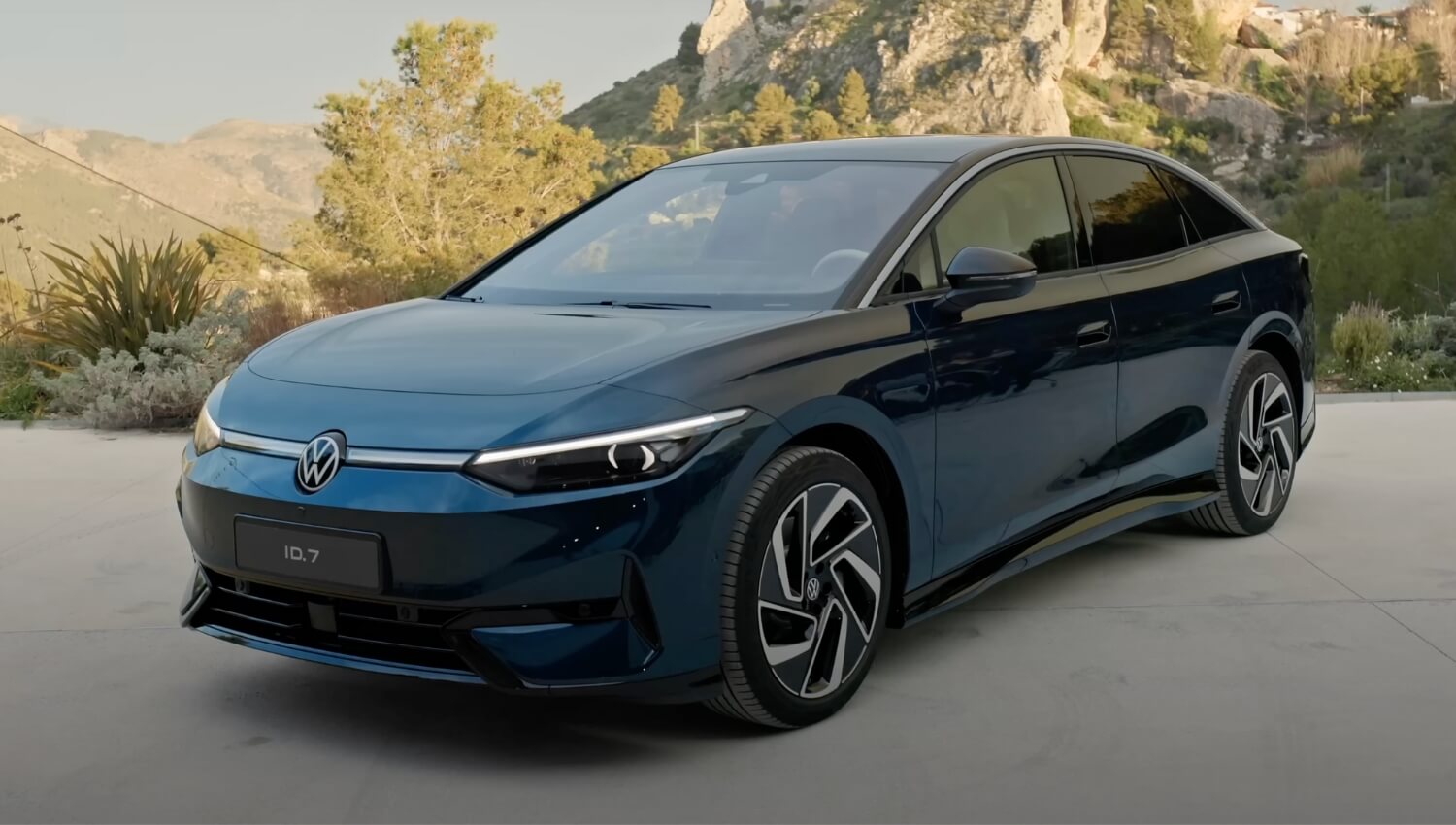 Volkswagen ID.7 Interior
The ID7's interior carries Volkswagen's timeless tradition of high-quality craftsmanship. Adding to the aesthetics is a dashboard featuring a unique combo of high-grade black leatherette and a blue accentuation strip that elevates the luxurious feel of the car's interior.
Seat and Cockpit Overview
Comfort is a priority with ID.7, which becomes apparent with the seat options on offer. Three different seat types are available: A base fabric seat, ergo active and premium seats which come with massage cushions for added comfort. The ergonomically designed seats have levels of support, reducing fatigue during long journeys.
Technology Features
ID.7 is equipped with a responsive, user-friendly 15-inch screen multiple vehicle controls and infotainment options for drivers' easy access and convenience. With temperature sliders and clear digital instruments, the infotainment system is more responsive. The Harmon Kardon sound system adds a base-intensive sound experience, and the charging menu offers a wide range of customizations.
Head-up Display
VW introduces augmented reality with a head, a standard feature in all ID.7 variants. This technology projects vital information onto the windscreen, keeping drivers informed about speed without having to take their eyes off the road. This adds an extra also enriching the driving experience.
A Luxurious Experience
With options like matte coverings, inductive chargers, and a new level of seat massage, the ID.7 offers a different luxury experience for Volkswagen. The steering wheel heating and astonishing seat massage make long journeys relaxing.
Volkswagen ID.7 Performance and Range
Volkswagen is offering battery options of 77 kWh and 86 kWh, leading to potential ranges of 500 to 570 kilometers depending on the battery size.
Recharging and Driving Specifications
Small 77 kWh battery support DC 170 kW fast charging, and the bigger one support DC 200 kW fast charging. Acceleration figures are something less than 7 seconds to go from 0-100 km/h or 62 mph. There are two suspension types – The standard and optional DCC Dynamic chassis control.
Unique Features and Driving Experience
The turning indicators are impressive, with a three-layer shape and a unique welcoming or goodbye signature. The rear-wheel-drive version starts with 286 HP, with an all-wheel drive coming later. The turning circle is remarkable, making the five-meter vehicle turn almost like it's on a standstill.
Volkswagen ID.7 Comparison
Comparing the Volkswagen ID.7 with other prominent electric vehicles in the market gives us a clearer picture of where it stands in terms of features, performance, and value. Here's an analysis based on the comparisons you mentioned:
Tesla Model 3 vs Volkswagen ID.7
Accessibility
Tesla Model 3: Known for its minimalistic design and advanced technology.
Volkswagen ID.7: Designed with easier access in mind, possibly with wider doors and lower sills, enhancing convenience, especially for older passengers or those with mobility issues.
Suspension
Tesla Model 3: Offers sporty handling, which might not be as comfortable for all passengers.
Volkswagen ID.7: Praised for better suspension, providing a smoother ride and enhancing comfort, particularly over rough road surfaces.
Mercedes EQE vs. Volkswagen ID.7
Interior Space
Mercedes EQE: Known for its luxurious and well-designed interior.
Volkswagen ID.7: Offers more cabin space, enabling increased comfort for passengers and additional storage.
Build Quality and Complexity
Mercedes EQE: Known for high-end materials and complexity, often associated with luxury.
Volkswagen ID.7: Has comparable interior build quality but feels lighter and less complicated, possibly making it more user-friendly and easier to maintain.
Conclusion
The ID.7's unique combination of accessibility, comfort, efficiency, and driving enjoyment positions it as a strong contender in the market. Its comparison with key competitors like Tesla Model 3 and Mercedes EQE has shown favorable aspects. Market dynamics, competitive pricing, and consumer preferences will play a crucial role in determining its ultimate success.
Volkswagen's Revival
Volkswagen appears to be recovering well from past setbacks and controversies, using the ID.7 as a platform to showcase innovation and commitment to sustainable mobility. The ID.7 could play a crucial role in reestablishing Volkswagen's image as a leading automaker, particularly in the EV segment.
Software Development Needs
Though the hardware and design of the ID.7 seem promising, there are indications that work still needs to be done with the software. This might include improvements in the user interface, navigation, connectivity, or other tech-related features. Software plays an increasingly significant role in modern vehicles, affecting everything from entertainment to safety. Swift improvements could further enhance the appeal of the ID.7.
The Volkswagen ID.7 impresses with its interior features, particularly the climate control and storage solutions, along with a well-balanced driving experience that offers both comfort and sportiness. Predicted to be a strong competitor in the EV market, it stands out for its efficiency and unique features like the cutaway model of the electric motor.
The production of the Volkswagen ID.7 marks an exciting chapter in the company's transition to electric mobility. Amid challenges and uncertainties, the ID.7's launch represents a resilient commitment to innovation and sustainability. The next few months will be crucial as the first customer deliveries roll out, setting the stage for a new era of electromobility.