Volvo shoot-off Polestar recently launched their second vehicle, the Polestar 2, which is their first all-electric car. It succeeds the Polestar 1, which was a hybrid electric vehicle, and production has begun on this new model. Polestar introduced it at the 2019 Geneva Motor Show, and they enter the BEV (Battery Electric Vehicle) segment by taking a shot right at the leader, the Tesla Model 3.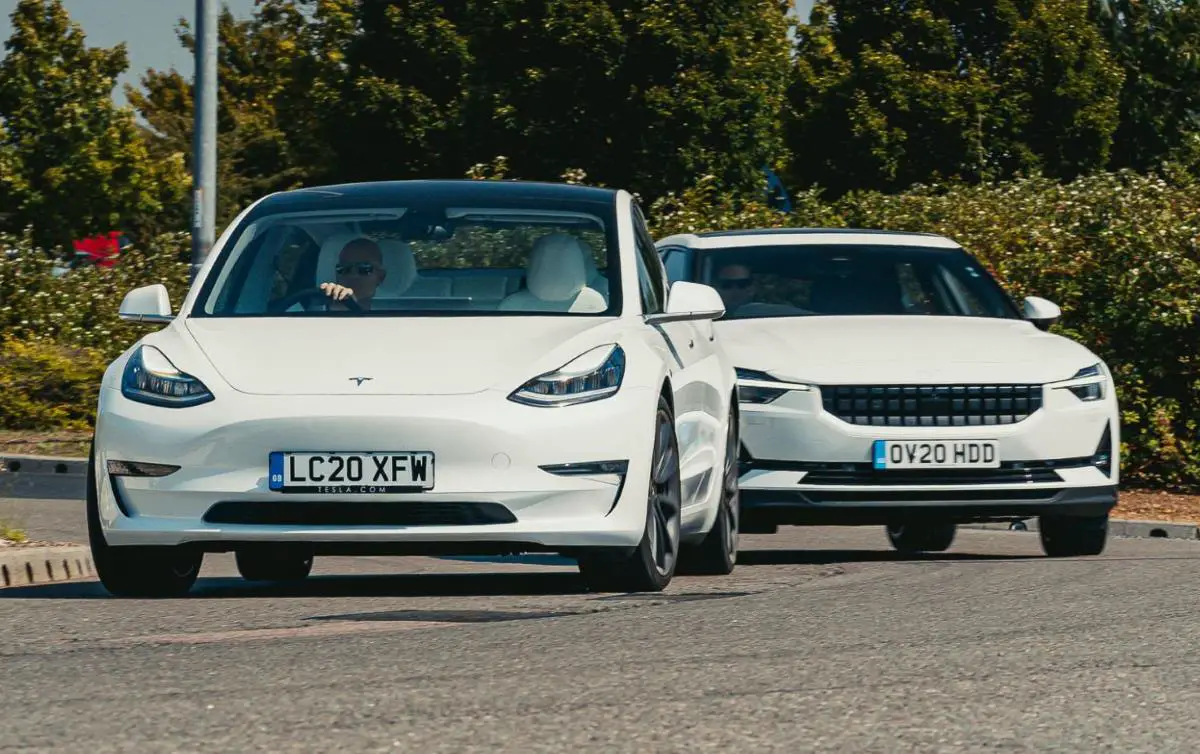 Fast Charging Test: No Match For Tesla Model 3 – Polestar 2, Model 3, I-Pace And E-Soul Charging Comparison
While the Polestar 2 might not manage to sweep the markets, it most definitely will turn heads. It has the acceleration, battery range and smooth ride to take on Tesla for city driving purposes, and comes in a close second for long trips over the highway. One thing that needs to be considered here is that this is Polestar's first BEV, and yet, it is a decent alternative for the Model 3, if not a "Tesla Killer". And if this car is any indication, then Tesla may get stiffer competition from across the Atlantic in the coming years.
One major factor that has helped Tesla trump the rivals is the fast charging hardware in their cars, and their Supercharger network across the USA and Europe. While acceleration and a smooth ride might certainly be factors that potential customers will look at, one question that takes precedence over the rest is – how much time do I have to wait for my car to get charged? Tesla's rivals may come up with cars that are more comfortable to drive around, but are they able to get them charged in time? With this question in mind, Norwegian EV evangelist Bjørn Nyland has carried out a statistical comparison of the charging speeds of four electric vehicles – Tesla Model 3, Polestar 2, Jaguar I-Pace and Kia e-Soul.
The Comparison
Nyland started off by plugging in the four cars, with an initial SOC (state of charge) of around 10%. His aim was to check the time that each car required to get charged up to 90%, a figure he reckoned is enough for long-range use. The graph below shows the charging power vs SOC curve for the four models.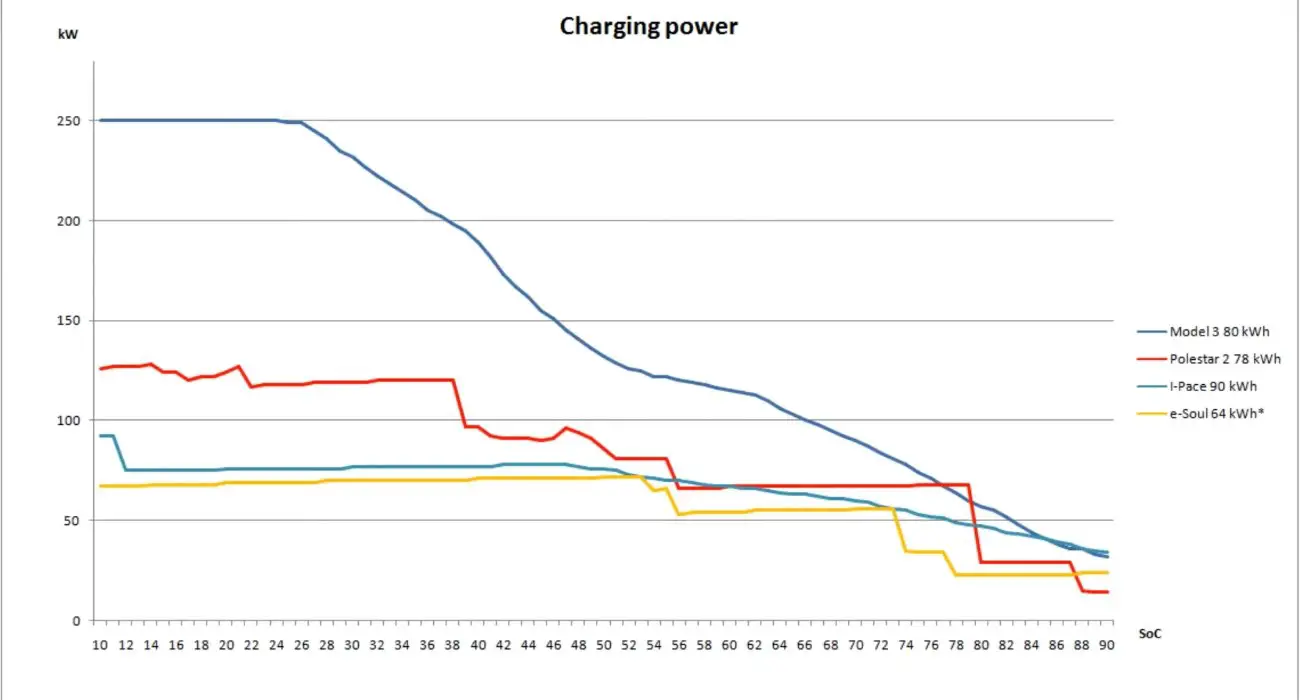 The Model 3 got going instantly, pulling in a constant charging power of 250 kW till it reached 25% before the power decreased gradually. It took 10 minutes to reach the halfway stage, and a further 8 minutes to reach 70%. This figure is crucial because, with a range of 322 miles (518 km), a Tesla Model 3 at 70% can go the same distance as a Polestar 2 can at 90%. The charging power falls below 50 kW once the 80% mark is breached, and the total time comes out to be 34 minutes.
The Polestar 2, on the other hand, kicked off at a power of 130 kW. This might be significantly lower than that of Tesla, but it is definitely greater than the other two cars that are being compared. It kept up around this charging power till it reached 37%, after which it saw a sudden drop. It hovers around the three-figure mark for power till it reaches 50%, which was scaled in a total of 18 minutes (the same time the Tesla took to reach 70%). After hitting the 80% mark in 36 minutes, it drops to 30 kW, but slows down considerably, taking a further 20 minutes to reach its goal. That makes it a total of 56 minutes.
The Jaguar I-Pace and Kia Soul have more or less similar charging characteristics. They both started at a power between 70 to 80 kW. The Soul reaches 50% in 24 minutes, which is a couple of minutes faster than the I-Pace. The Soul maintains a 55+ kW power till 75%, before dipping down to 36 kW. The I-Pace has a very gradual dip in charging power, going below 50 kW only after 82%. Both cars reach 80% in 50 minutes, and I-Pace finishes the race in 57 minutes. The Soul takes a few more minutes, thus coming in last with a time of more than an hour.
Charging For Distance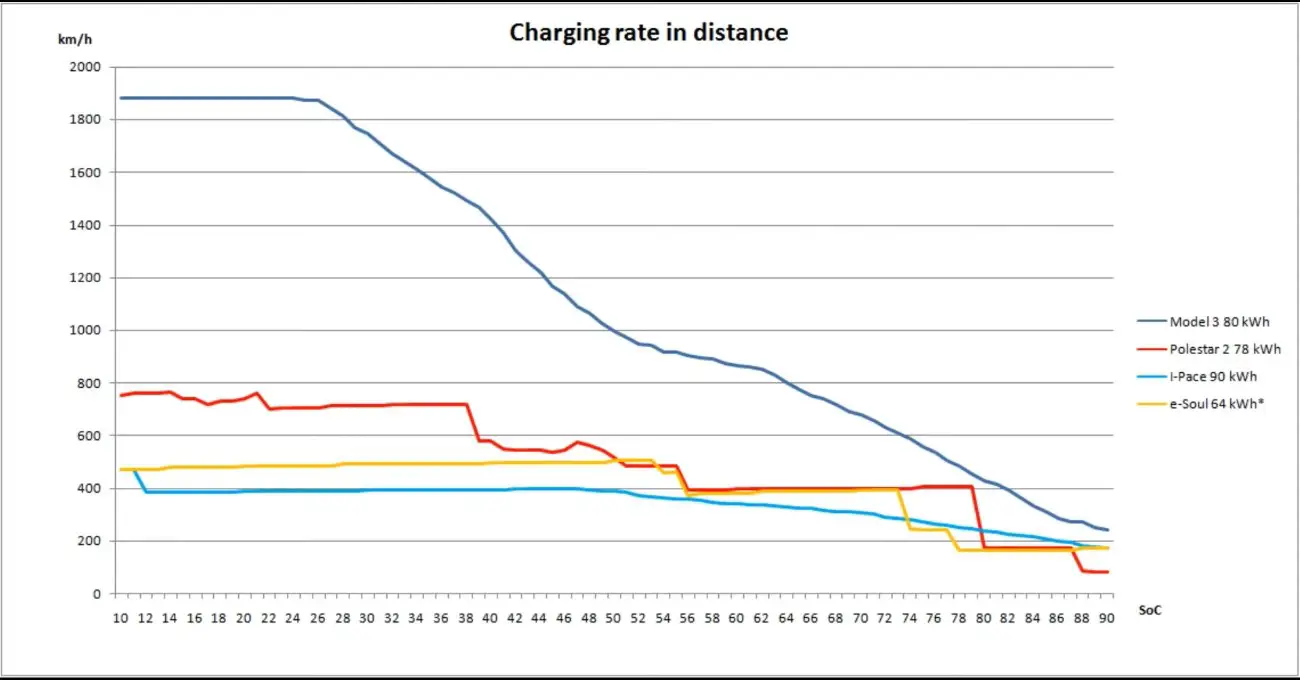 A Tesla Model 3 can charge the battery to run for around 140 km in just 5 minutes, and the range goes on steadily increasing as we increase the charging time, with a range of 460 km getting ready in 35 minutes. The Polestar 2 takes around 12 minutes, and the I-Pace and Soul take around 17 minutes to breach the mark set by Tesla in the first 5 minutes. Eventually, the 35-minute mark gets the batteries of the Polestar, I-Pace and Soul ready for a range of 310, 235, and 258 km respectively.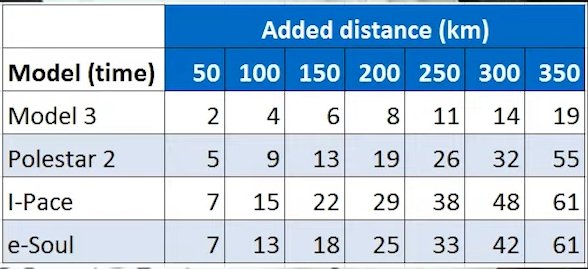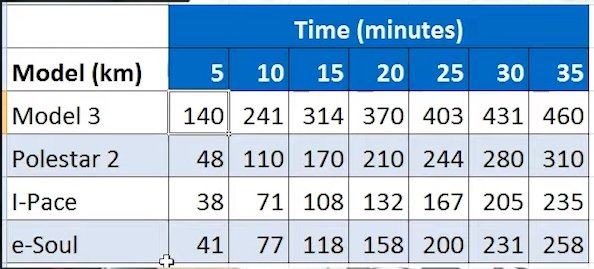 If 350 kilometers is considered to be the distance of a trip, then these four models show a huge difference in the charging time required. Model 3 is significantly ahead of the competition, taking just 19 minutes to get there. The remaining three in the same order as before taking 55, 61, and 61 minutes respectively to get ready for the long drive.
Conclusion
In conclusion, it is safe to say that Tesla is 'miles' ahead of the other three cars, quite literally. It gives a much better range in much lesser charging time, while the Polestar is a distant second. While the Swedish company might have sweated out Tesla with a comfortable ride, good acceleration, and great aesthetics, but when it comes to charging, the American company is a notch above the rest. That being said, with Polestar just having entered the contest, it may not be able to rub shoulders with Tesla yet, but it definitely has put itself on their radar.