Electric crossovers have taken the automobile industry by storm in the past two years or so. The market is slowly seeing a shift towards electric mobility, and for most people, crossover vehicles are the right buy. They are useful from a family car perspective, providing a lot of storage space, while also providing exciting performance for the driving connoisseurs. Tesla, which accounts for more than 75% of the American EV market, has been selling their Model Y crossover like hotcakes. While currently on number two among Tesla vehicles in terms of sales, Model Y will soon overtake mid-sized sedan Model 3 to become one of the most popular Tesla vehicles in the USA.
Make no mistake, however, as it has faced a lot of challenges recently. While quality issues seem to be never-ending, it is also facing stiff competition from South Korean, European and American rivals as well. The most recent of those is the newly-launched Hyundai Ioniq 5, boasting interesting dimensions and impressive features. The Volkswagen ID.4 is Model Y's biggest rival from Europe currently, and it will present a fresh challenge from a perspective of build quality and cost as well. And in Tesla's home arena, Ford presents its own challenger, the Mach-E. While it does boast of some impressive performance numbers, the biggest advantage it has is the Mustang emblem. So let's dive into this exciting contest, as four crossover vehicles, all very good in their own ways, attempt to woo the American market.
Hyundai Ioniq 5 vs Tesla Model Y vs Ford Mustang Mach-E vs Volkswagen ID.4
Exterior Dimension
Hyundai has taken a big step towards increasing passenger comfort and space while designing the Ioniq 5. A major factor in this is the long wheelbase that the Ioniq 5 has. At 118.1″, it is longer than Tesla's premium sedan, the Model S. In fact, the five-seater Ioniq 5 has a longer wheelbase than the seven-seater Palisade from the same company. This speaks volumes about the amount of space Hyundai has managed to offer in the interior. The Mustang Mach-E comes in a close second at 117″, while Model Y at 113.8″ and ID.4 at 108.9″ are far off.
Despite this, the Ioniq 5 is the second-shortest in terms of overall length. This is due to the very short overhang it has in the front and rear, owing to the use of E-GMP (Electric-Global Modular Platform). Model Y and Mach-E are longer, while ID.4 takes the last spot here as well. In terms of width and height as well, Ioniq 5 comes in second and third respectively.
Thus, with not-so-long overall dimensions and an extremely long wheelbase, Ioniq 5 finds the perfect middle ground between looking compact but feeling spacious. ID.4 makes up for the lesser length and width in larger height, while the Model Y and Mach-E seem shorter in height but longer overall.
Cargo Space
Hyundai falls short on cargo space while trying to improve interior space with the Ioniq 5. Its 1616-litre combined storage space is significantly lesser than the competitors. Model Y wins the battle here with 1925 litres, which is much more than the Ioniq 5. On the other hand, ID.4 pips the Mach-E in terms of rear cargo, but the Mustang takes the honours in the front cargo category, with Volkswagen offering none in that respect. Overall, Mach-E and ID.4 both offer around 1820 litres.
Battery and Range Comparison
The overall vehicular range is the Holy Grail for electric vehicles, and for crossovers, it becomes extremely important. Companies try to find the middle ground between providing segment-leading range and exemplary performance. Once again, in this contest, Model Y takes the win, as the other compete hard for the remaining spots.
Hyundai has said that Ioniq 5 will offer 290-300 miles (467-483 km) of range according to the European WLTP cycle. But the American EPA test is much stricter. Experts are predicting that the Ioniq 5 will have an EPA-rated range of 260-280 miles (419-451 km). Of course, that is still better than ID.4's 250 miles (402 km), even though the Volkswagen has a bigger battery. Mach-E offers close to 300 miles (480 km), which is the closest the competitors come to Model Y. Tesla offers 326 miles (525 km) in the Long Range variant of Model Y.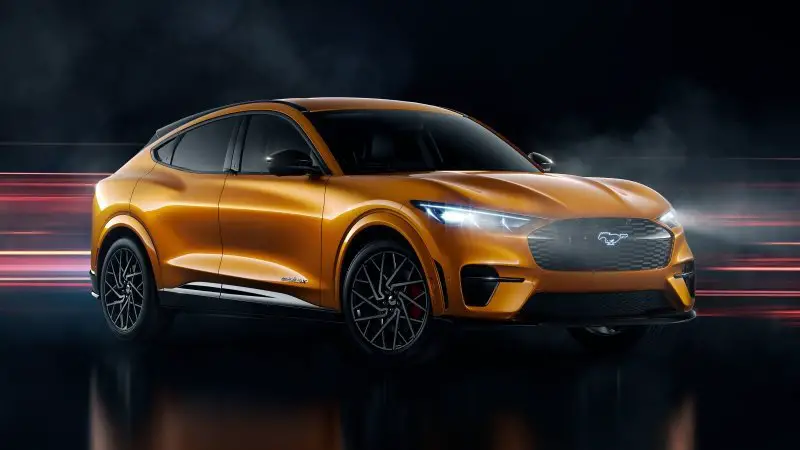 The range isn't the only major factor here – charging time is also just as important. Hyundai offers charging rates of up to 350 kW, allowing them to charge Ioniq 5 up to 80% in just 18 minutes. Model Y can charge up to the same mark in 20 minutes while having a 250 kW charging rate. Mach-E and ID.4 are slower, with 45 minutes and 38 minutes, and 150 kW and 125 kW respectively.
Performance
Ioniq 5 Long Range AWD shells out 306 horsepower and 605 N-m of torque. It can reach 60 mph (96.5 kph) in 5.2 seconds, which is quite impressive. Model Y Long Range, on the other hand, offers the maximum power (384 hp), but lesser torque (510 N-m) than the Ioniq 5. This results in quicker acceleration, and its timing stands at 4.8 seconds. Mustang Mach-E offers better power (332 hp) and torque (566 N-m) than Model Y, but it would come in third in an acceleration race, managing a timing of 5.5 seconds (estimated). Volkswagen hasn't released figures for torque and acceleration, but it offers 302 horsepower – once again, lowest among them all.
Of course, Model Y Performance and Mach-E GT are much more powerful, and they both can reach 60 mph (96.5 kph) in 3.5 seconds.
Pricing Comparison
Finally, the biggest factor when it comes to being the bestseller in the segment is the cost. The Ioniq 5 is expected to start at around $45,000, given that Hyundai already has a lower-priced EV in the form of Kona Electric. The Mustang Mach-E starts at $44,000, and its most expensive variant can go up to $61,000. The ID.4 makes up for a slightly lower performance with a cheaper price tag. It starts at $41,000 and goes as high as just $46,000. Owing to the removal of the Standard Range, Model Y now comes at a minimum of $48,990, making it quite expensive. The Performance version goes up to $61,000 as well.
Our Opinion
Based on numbers, you would say the Ioniq 5 hasn't done enough to sway people away from Model Y. Tesla offers better range, performance and fast charging as well. But the removal of the Standard Range has shot their minimum price upwards by almost $10,000. In comparison, other cars seem quite affordable. Of course, price isn't the only factor that will pull you away from Tesla. But if you have to pay the extra money and still face quality issues, well then there's some room for the others to squeeze in. Volkswagen, Hyundai and Ford are all proven companies in the industry for many years now, and they surely don't have as many quality issues as Tesla does.
And don't forget, Chevrolet is bringing the Bolt EUV with a much smaller price tag, and Nissan Ariya is on its way too, offering impressive specs. On the basis of all that, you could say that Model Y is ahead of its competition, but by a small margin. And with newer models lined up for this year and the next, the competition could get blown wide open.