Ever since Tesla announced a new vehicle in their lineup, the electric vehicle community has been excited. Tesla vehicles always deliver something unique, and through the different variants like Long Range+ and Performance, one can get different aspects of the Tesla experience. The major reason for excitement, however, is the new electric car's price tag. Tesla announced on Battery Day in September 2020 that this new car will have a price of $25,000. Considering the fact that Tesla's current cheapest vehicle, Model 3, costs around $40,000, this new car has sent a wave of elation through the industry.
And now, this electric car, unnamed yet, is expected to hit the markets as early as 2022.
Tesla's $25,000 Electric Car Coming Sooner Than Expected, 2022 Launch Hinted
A Preponed Launch?
An eco-assessment report at the Tesla Gigafactory in Shanghai recently provided a teaser about the expected launch of the $25,000 Tesla vehicle. The documents gave a hint that Tesla might be starting the production for a third vehicle at the Shanghai plant in 2022. The report also suggests that it will cost between 160,000 and 200,000 Yuan ($25,000 and $30,000).
The key factor for Tesla to start production of this vehicle at the Shanghai Gigafactory is Tesla's steadily growing sales in China. This new car was approved in September 2020, before Tesla announced it on Battery Day. Tesla also believes that they will complete the product verification in March 2021. The report also says that Tesla will base this new vehicle on the chassis design of Model 3.
Tesla "Model $25k" being accelerated to 2022 is ???? news: previous assumption was 2024-2025, and few TSLA valuation models include it.

With a $25k entry price Tesla can cover ~90% of the $5t automotive market by revenue (!).

It's the ultimate killer blow to legacy auto. https://t.co/doQX1h8hxV

— ????? ????? ? (@truth_tesla) January 8, 2021
Why Tesla Prefers a China Launch
China is a country with high population density. Many of the people residing there prefer a car with slightly smaller sizes – a small sedan, or even a hatchback. Moreover, the starting price of $25,000 makes it much more affordable than the Model 3 and Model Y. This is set to deliver huge sales for this new vehicle in China. Experts expect it to rival the Model Y in sales, once launched.
The other major factor is the highly rising electric vehicle market in China. China recorded close to 1.2 million electric vehicle sales in 2019. In the same year, the United States saw just 320,000 units sold. China's top two battery manufacturers, Contemporary Amperex Technology (CATL) and BYD account for almost a third of the global market.
Beijing's national policy has allowed many Tesla rivals to set up their own stall on the market. It is also one of the reasons that Tesla opened a Gigafactory in Shanghai. Amidst all this, it makes sense for Tesla to start production of their new car in China.
Why A $25,000 Electric Vehicle Is Exciting
$25,000 electric vehicles are like the uncharted territory right now. Most of the electric vehicles on the market are expensive, and this is because of the high cost per kWh for manufacturing. Battery manufacturing costs quite a bit, and hence the higher price range. But with more and more companies working on battery technology is helping a lot with research. This is driving down manufacturing costs. And so, the $25,000 electric vehicle is no longer a dream.
In the space of just 2-3 months last year, both Tesla and Volkswagen have announced $25,000 electric vehicles in their upcoming plans. Tesla is currently the biggest name in the world of electric mobility, and it has the advantage of being in the game for quite some time now. They have interesting bits of technology in their vehicles, and they are able to provide a high-class experience in even their cheapest car yet, i.e., Model 3.
Volkswagen, on the other hand, is probably the second-biggest company in terms of sales in the world currently, next only to Toyota. They have the means for mass production and have started investing a lot of money and resources into developing electric vehicles. And the fact that they have a car (ID.3) which costs lesser than the Model 3 makes this race for a $25,000 even more interesting.
A $25,000 price tag on an electric vehicle makes life difficult for some combustion vehicles. Many people want to switch to electric mobility, but their hands are tied by financial constraints. However, $25,000 is definitely an attractive price, and if you compare the total lifelong costs of an electric vehicle with that of a combustion vehicle, you end up saving a lot. Hence, these new and affordable vehicles are certain to tip some scales in favour of electric cars.
What We Know About The $25,000 Tesla
While no real design concepts of the $25,000 Tesla have been leaked yet, it is expected to be a small sedan. At least that is what Tesla had said on Battery Day. For all we know, Tesla might go ahead and make it a hatchback. That is a hot segment for the 'affordable cars' section. Tesla posted a teaser last year while hiring local design engineers in China.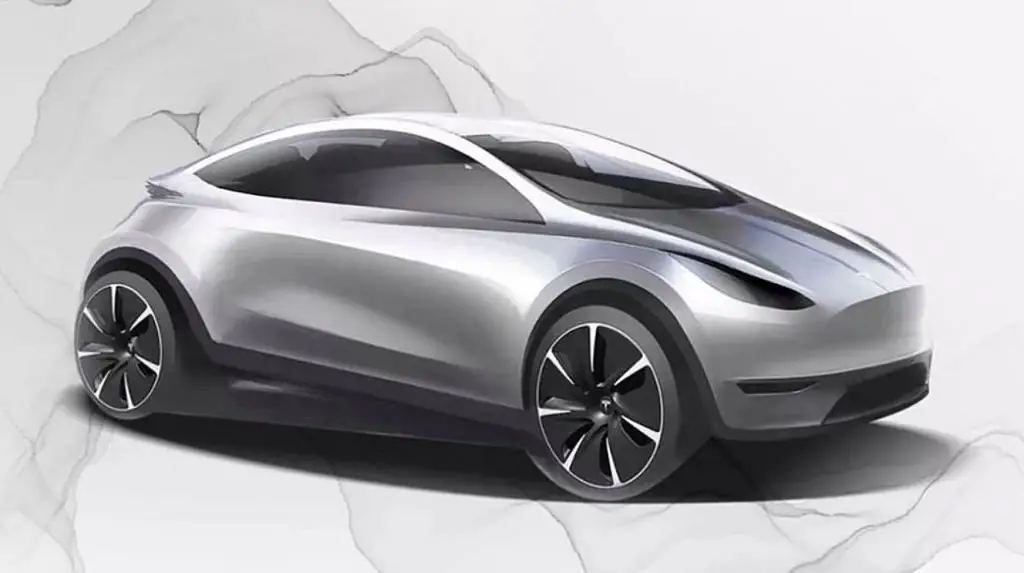 The fact that the price tag of this compact car tops out at around $30,000 is even more exciting. When Tesla announced the $25,000 car, it was obvious that that would be the base price. But the fact that you could buy a top-end Tesla at $30,000 is really interesting. This promises the entire Tesla experience at a price never seen before.
Our Opinion
This new timeline for the new compact car is very exciting, as is the pricing. The affordable car segment is very important from the point of view of sales and having an electric car manufactured by Tesla makes this segment richer. Tesla is also looking to launch its cars in India this year. This could be another big market for this compact car. And of course, the 2022 launch means that it is closer than we expected.