Tesla had unveiled the Cybertruck in November 2019 and since then, it has become an instant hit. Be it for the futuristic design or the range it offers as compared to the cost, the electric truck has received a lot of pre-orders. Currently, the construction of Gigafactory Texas is going on in full swing, with the Cybertruck expected to roll off its assembly line late this year. Now, Tesla has published a patent that reveals some additional features for the Cybertruck. This includes a built-in tonneau cover with solar panels and bulletproof armor glass.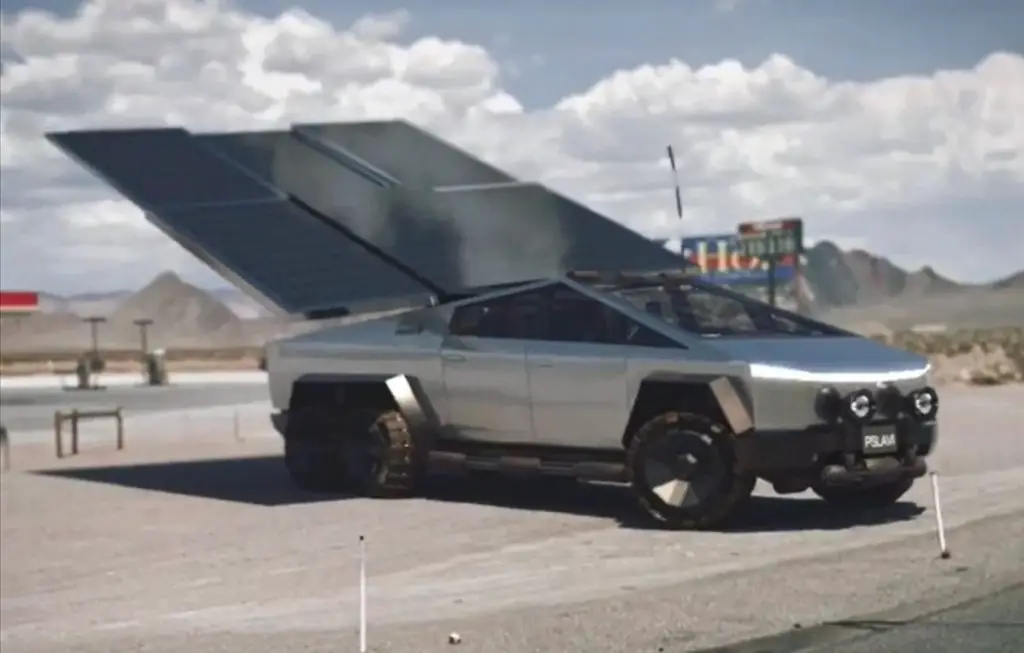 Tesla's Patents Reveal Intentions to Add Solar Panels & Bulletproof Armour Glass to Cybertruck
Solar Panels – A Boon for Campers and Travellers
The addition of solar panels is highly desirable for many potential owners of the Cybertruck. Since most owners will often use the electric truck for camping and adventure trips, the added cushion of extra miles will be valuable. Yesterday, Tesla published the patent "Integrated tonneau cover for a vehicle," connecting this invention to Cybertruck and possibly other vehicles. However, the present invention describes in detail the importance of covering the pickup truck bed. This cover can protect the contents from the harmful effects of weather conditions and safe from possible theft. However, these are not necessarily the only functions of the tonneau cover.
In one embodiment, Tesla describes that the tonneau cover can also have solar cells. This system will include 110 solar cells with a photovoltaic charging system and a battery.
When the tonneau cover is deployed to cover the bed and the solar electric cells that make up the slats are facing the sun, the battery within the electric vehicle can be charged by solar electric cells.
This patent more or less confirms that Tesla has intentions to add solar panels as an option for the bed. However, by browsing through the patent document, one cannot rule out Tesla using this feature for other vehicles. Furthermore, Tesla may apply it to other types of vehicles, which indicates the possibility of selling the invention to other companies.
What Cybertruck Offers to Avail Efficient Solar Charging
Solar panels on a vehicle are something that automakers have been working on for quite a bit of time. However, the biggest obstacle has been the limited surface area on vehicles, which can be exposed to sunlight. However, Cybertruck's boxy design means that most of its top surface is at a specific angle, which could be efficient for harvesting solar power.
Back in 2019, CEO Elon Musk had tweeted that Cybertruck will have an option with built-in solar panels that can generate power for about 15 miles or more per day. He also pointed out that adding fold-out solar wings could generate energy another 30-40 miles per day in the United States.
Will be an option to add solar power that generates 15 miles per day, possibly more. Would love this to be self-powered. Adding fold out solar wings would generate 30 to 40 miles per day. Avg miles per day in US is 30.

— Elon Musk (@elonmusk) November 22, 2019
In a podcast interview earlier this year with Joe Rogan, Musk mentioned something similar. He said that a potential Tesla van could implement a similar solar roof design. A large flat top would aid this, similar to what the tonneau cover offers.
The Famous "Bulletproof" Armour Glass
We all remember when Tesla's Chief Designer Franz von Holzhausen threw a metal ball at the Cybertruck's driver's door glass. This, after slamming the stainless steel exoskeleton of the Cybertruck with a sledgehammer. After claiming the glass was durable enough to sustain several blows without cracking, the window did smash with the signature broken spheres imprinted into everyone's mind who watched the event.
Musk later stated that Franz's initial sledgehammer hits damaged the base of the glass, weakening them to the point that the steel balls were able to easily break it. Later, he also released footage of Franz throwing the same metal balls at the glass right before rolling out the truck on stage. Now, 18 months later, Tesla has published the patent that explains the multi-layered design of the Cybertruck's glass. Tesla will use this to prevent owners from spending big bucks on new glasses after a scratch, crack, or chip.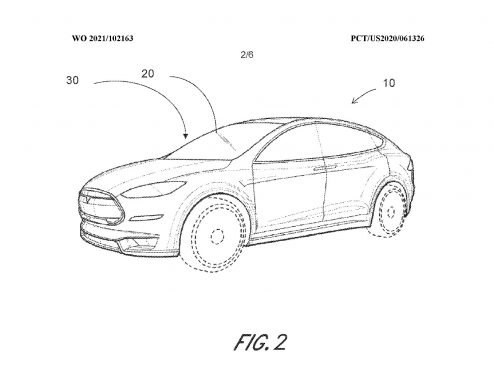 According to the patent, the combination of the "multi-layer glass stack" has about a 10% chance of failure with an impact of 2 J. Tesla's multi-layer glass stack comprises of the following: an inner-facing layer that has been chemically strengthened with high strength in flexibility. It measures between .5 and 1.1 millimeters thick and has an adhesive interlayer. This interlayer conjoins it to an outer-facing layer that has energy absorptive properties. The outer layer includes "non-soda lime, low-CTE, high densification glass" that measures between 2 and 5 millimeters thick. The two layers and then joined together by the energy absorbent adhesive. The outer layer is comprised of borosilicate, a low-melting-point glass made from silica and boric oxide. This is more resistant to thermal shock than any other common glass.
Our Opinion
When Musk joined Jay Leno in a Cybertruck ride a year ago, the former late-night TV show host asked the Tesla CEO why anyone would want bulletproof, armoured glass on their truck. Musk, at the time, answered the way he is known for:
"Because it's badass, and it's super cool. Do you want your truck to be bulletproof or not?"
Tesla is working really hard to make the Cybertruck a real attraction. The design and specs have already garnered a number of pre-orders (more than 650,000). Now, Tesla's patents are revealing features such as armored glass and solar panels that will attract more customers. Surely, with a number of electric pickup trucks already coming to the market, this segment is going to be rife with electric options.