Ford launched the electric version of their best-selling pickup truck, the F-150 few days ago. They call it the F-150 Lightning. The F-150 Lightning will go into production later this year and arrive on the market in spring 2022. By that time, it will already have several competitors. GMC Hummer will begin production this year as well, while Rivian R1T will mostly hit the market by the end of this year. There is also a Bollinger B2 pickup and perhaps the most-awaited electric truck currently, Tesla Cybertruck. Some of these are yet to be revealed, so we'll pit the F-150 Lightning against the Hummer and Rivian for now.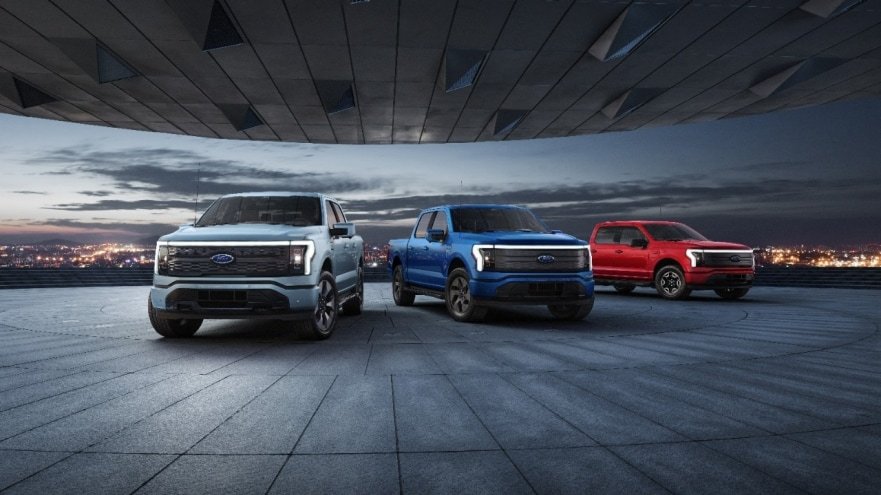 Performance
Despite the 563-hp output, the F-150 will accelerate to 60 mph (96.5 kph) in the mid-4-second range. Hummer and R1T both are expected to do it in 3 seconds. The 563 horsepower and 1054 N-m of torque are very good figures. But the Hummer claims 1000 horsepower and 1300+ N-m of torque. This makes sense actually, as the Hummer weighs more than 4000 kg. The F-150 weighs around 3000 kg. Rivian R1T will offer 754 horsepower from its four motors. The F-150 has only two motors in comparison, while the Hummer has a tri-motor configuration.
The Lightning has a 4535-kg towing capacity and 816-kg payload capacity. In comparison, R1T can haul up to 5000 kg behind it. GMC hasn't released the towing capacity figures for the Hummer, but given its overall stature, you can expect it to be higher than either of these.
Range and Charging
Ford hasn't talked about the battery capacity for the F-150 Lightning yet. But they estimate a 230 miles (370 km) range for the standard battery and 300 miles (483 km) for the extended battery. This is still less than the rivals, with Hummer targetting 350+ miles (564+ km). Rivian will start with a 300-mile figure, with extended-range models arriving later with 400 miles (644 km) of range.
Ford offers 150-kW DC fast charging for the F-150. This will charge the vehicle from 15% to 80% in 41 minutes. More importantly, the Ford Charge Station Pro runs two Level 2 chargers through one plug. This will improve speeds even when charging through a slower source. GM hasn't announced a specific plan for Hummer, but it will be able to take advantage of 350-kW DC fast chargers while switching from 400 volts to 800 volts. GM estimates adding 100 miles (161 km) of range in 10 minutes.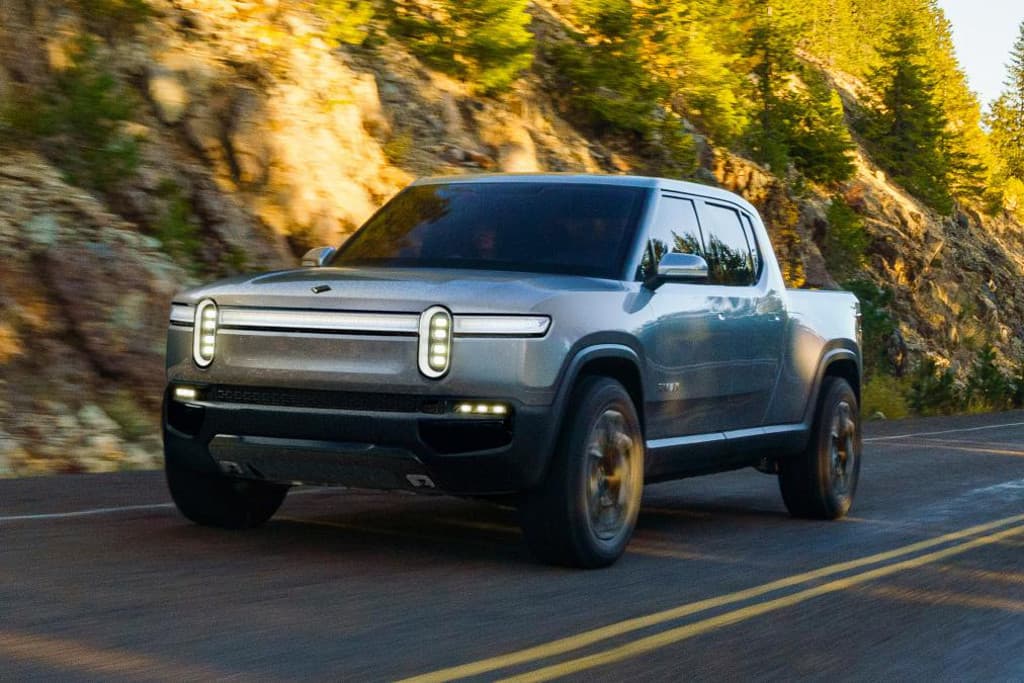 Finally, Rivian will have a charging network similar to Tesla. They will offer 200 kW charging rates initially, before amping it up to 300 kW or even more. They plan to have 3500 chargers by the end of 2023, all of which will use 100% renewable energy. 20 minutes of charging will add 140 miles (225 km) to any R1T adventure you are on.
Pricing
Lightning will start at $42,000 with a base variant, but that is probably a little farther away than the other three variants. You can get the XLT, Lariat and Platinum variants starting at $55,000, $59,000 and $70,000 respectively. Of course, this is without options. Additional features will take the price higher, with the Platinum maxing out at $90,000.
Hummer will release only one variant this year – Edition 1. That will cost you $112,595. Later (in 2024 probably), there will be variants available at prices as low as $79,995. Of course, by that time, this figure may go up as well.
Rivian will launch the R1T Launch Edition at $75,000, again the only variant available this year. Next year, the Explore edition will be available for $67,500. But with options such as Max Pack battery for $10,000, and the camp kitchen for $5,000, it is easier to see the R1T is Hummer territory rather than F-150's.
Why F-150 Lightning is a Big Deal for the EV Market
F-150 has a huge customer base in the United States. On the other hand, even with Tesla's impressive efforts to upscale production, the electric vehicle market is still yet to get going in terms of sales. Most companies have begun their respective paths towards electrification, but it will be some time before production rates of electric vehicles can be compared with their combustion counterparts. And this is exactly where F-150 comes in.
Going by current numbers, if even 1% of the current F-150 owners decide to go electric, it would outsell half the existing electric vehicle field. These are staggering numbers, but not surprising at all. The F-150 has topped sales charts in the United States every year for four decades now. That is a phenomenal achievement. According to an analysis, Ford generated $42 billion in revenue through their pickup truck roster, with F-150 leading the pack.
Our Opinion
Yes, electric vehicles cost more than gas-powered vehicles at the moment, but Ford has decided to rectify that by providing more power and torque in the F-150 Lightning than any other combustion model. Not to mention, it can power your camping site for a week. Of course, many of the figures Ford is claiming are untested yet. Like you haven't heard the words "10,000-pound towing capacity" and "single-charge range" in the same sentence. The effect of heavy loads on the range of the vehicle is unknown yet.
At the same time, the F-150 Lightning costs much lesser than its GM or Rivian rivals at the moment. And the fact that it has a 39-year chart-topping legacy will amount to more sales than a Crab-walking Hummer or 360-degree-spinning Rivian in its track mode.
Thus, the addition of a historically significant vehicle like the F-150 to the electric vehicle market will definitely make some waves.