In the automobile sector, with the ever-changing market scenarios and external factors, it is nearly impossible to predict the future of any company. And when you talk about Tesla, the unpredictability increases multifold. A company whose existence was threatened three years ago is now the most valuable car company in the world. And they have done this while producing just under half a million cars annually. Traditional automotive giants like Volkswagen and Toyota, who produce close to ten million cars annually, are a distant second and third.
Tesla has understood that this is a technological rat-race, which is why the annual sales aren't affecting the share price proportionally. However, this isn't some miraculous wave that Tesla has ridden to get on the top. They have followed a meticulous plan. And there are no extra points for guessing the mastermind behind this plan. That's right, Elon Musk had chalked up a 'master plan' for Tesla back in 2006. Interestingly enough, he wasn't the CEO of the company back then.
Elon Musk's Master Plan for Tesla
The first master plan that Musk wrote 15 years ago basically consisted of:
Creating a low volume car, which would necessarily be expensive
Using that money to develop a medium volume car at a lower price
Using that money to create an affordable, high volume car
Providing solar power
The reason for producing an expensive car first up was the lack of funds at Musk's disposal. He himself said at the time that starting an auto company in the USA is idiotic. And on top of that, if it is an electric vehicle company, it is idiocy squared. Hence, he wanted to use the money from selling PayPal into developing Tesla, and so, the Roadster had to be expensive to generate funds for research and development.
He then developed Model S and Model X as medium production cars, and put that money into the development of Model 3 and Model Y. Finally, Tesla launched Model 3 and Model Y, all while working on solar power. Thus, Musk was able to complete all objectives in the first part of the master plan. Yes, I say the first part, because he followed it up with Part Deux.
Master Plan: Part Deux
In 2016, Musk posted Master Plan: Part Deux via a blog on the official Tesla website.
Create stunning solar roofs with seamlessly integrated battery storage
Expand the electric vehicle product line to address all major segments
Develop a self-driving capability that is 10x safer than manual via massive fleet learning
Enable your car to make money for you when you aren't using it
Now, while all of these objectives haven't been completed, the wheels are in motion. Tesla Energy is producing the Tesla Solar Roof Tiles for energy generation and Powerwalls for energy storage as well. The energy department of the company may not have flourished as well as the automotive department, but it is growing steadily, especially in Australia.
The electric vehicle product line is being expanded for sure in recent times. Tesla had already launched the premium range models early on, but the mid-sized sedan and crossover SUV have arrived in the last four years. And most probably by the end of this year, Tesla will also have a pick-up truck (Cybertruck) and a class 8 truck (Semi) on its online configurator. And Musk is also going to use modified Model 3s and Ys in the Loop systems of The Boring Co.
The Autopilot, combined with the newly-launched Full Self-Driving (FSD) Suite, is moving the company slowly and steadily towards autonomous capabilities. And once Tesla manages to enhance this system to a certain level, they will start the RoboTaxi service as well. This covers points 3 and 4 in Part Deux.
What Next?
This brings us to the main point. What is next for Tesla? Normally, there is also some rumour regarding upcoming designs, or models, or new variants. Of course, last September, Musk had announced that a $25,000 electric vehicle is coming from Tesla. But that's it. There have hardly been any design leaks, let alone any figures. Which makes you think, is there any other source for predicting where Tesla is going next? After all, Musk is known for dropping some surprises in the weirdest ways. And we've already he's a meticulous planner.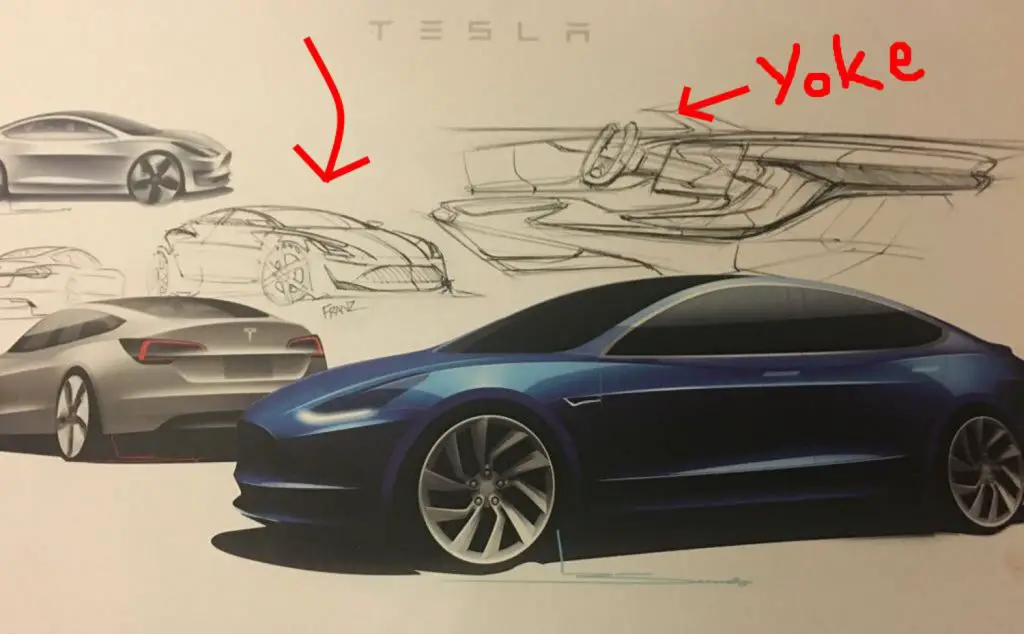 Model 3 design sketches pic.twitter.com/P5ucOBRUZ7

— Elon Musk (@elonmusk) April 3, 2016
All this thinking brings us to this particular tweet. Now mind you, all this is speculation. While displaying the sketches of Model 3, around a year from launch, Musk had tweeted this image. And look at what is at the top right of the image. A sketch from the interior of a Tesla vehicle with a – wait for it – steering yoke. A stalkless yoke steering, exactly what has been unveiled with the Model S refresh at the beginning of this year.
So we decided to scrutinize this image a bit more and found a small, yet interesting detail. Hidden towards the left edge of the image is the sketch of a vehicle. A small, unrecognizable vehicle. The only question that comes to our mind is – is this the next Tesla?
Of course, the image isn't quite clear, nor is the sketch of that particular vehicle. But it is worth thinking about. Tesla has announced the $25,000 vehicle for a possible 2023 launch, maybe even a 2022 unveiling. Then there is the second version of the Roadster, which has excited many with a possible 1.9-second acceleration and 620 miles (998 km) of range. But there could also be another vehicle, in the very nascent stages of development.
Our Opinion
The image is definitely thought-provoking. It's unlike Musk to not plan for the future. He probably has a Master Plan: Part Trois in the works. Or maybe it is even ready, waiting for Musk to release it once Part Deux nears completion. The $25,000 vehicle may also be part of this speculated Part Trois. Of course, we cannot say anything for sure until Musk does release this Part Trois. And knowing Musk, he most probably will.