Lucid Motors is riding on the current wave of marketing of their first car launch, which happened last week. The Air was launched with a total of 4 available variants which will be for sale next year, ranging from $72,500 to $161,500. The flagship variant, the Dream Edition, has already broken performance records, such as becoming the quickest electric production sedan ever with a 9.9-second quarter-mile timing, and a 0 to 100 kph timing of 2.5 seconds. To put things into perspective, Tesla Model S Performance has a better 0 to 100 kph time of 2.3 seconds, but in a quarter-mile, it fell short with a 10.4-second timing. In addition to this, the Lucid Air Grand Touring variant (the second-best that Lucid offers) has achieved an insane EPA-tested single-charge range of 517 miles (832 kms). In comparison, Tesla Model S Long Range Plus offers 402 miles (647 kms). It won't be an exaggeration to say that Lucid is definitely giving Tesla nightmares.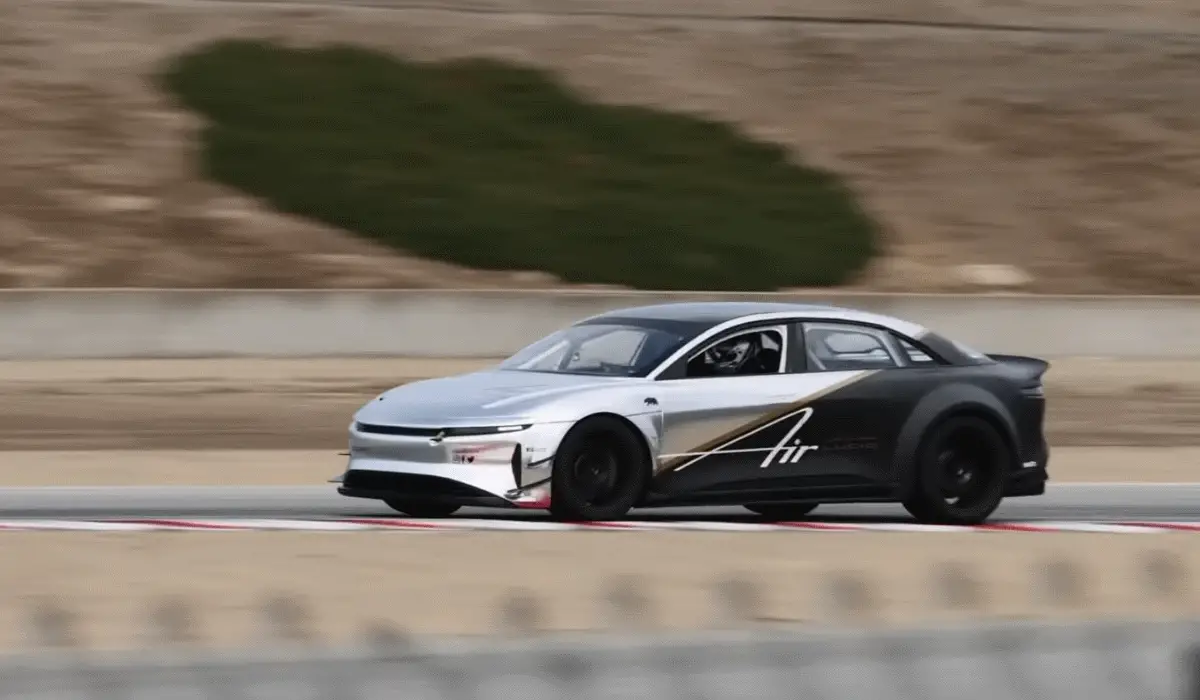 Lucid Air Beats Tesla Model S Plaid Record At Laguna Seca
Labeled as the 'Tesla Killer', Lucid Motors has a former Tesla employee at their helm. Peter Rawlinson, their current CEO and CTO were responsible for reconfiguring the initial design of the Model S back in 2009, and it has been a long journey for him, from putting Tesla on the map to leading a company that might nudge Tesla off their throne. And just yesterday, Lucid took another step in their attempt of being Tesla's biggest competition. The tri-motor variant of the Air, which is still in progress, was taking a test drive around the Laguna Seca, and reports suggest that it might have broken the Model S Plaid's lap record. While it is not official yet, the Lucid Air completed the lap in 1 minute, 33 seconds, which is roughly 3.5 seconds faster than the Model S Plaid timing of 1:36.55. Watch out Tesla, this company is taking a huge swing at you.
Lucid just beat Tesla!

Looks like they are testing their mysterious Tri-Motor powertrain and will announce official times after @Tesla Unveils Model S Plaid

Nothing official yet but we just saw a 1:33 that looked like a walk in the park.#LucidAir #Teslahttps://t.co/55elVX7iiO pic.twitter.com/pECxtrXY1Z

— The Kilowatts ?⚡️ (@klwtts) September 17, 2020
Lucid Air Tri-Motor Variant
The four variants that Lucid unveiled last week – the Air, the Touring, the Grand Touring, and the Dream Edition – come with a 1080 horsepower powertrain driven by two motors. And as if this figure was not enough, Lucid Motors are coming up with another motor on the rear axle, making it a total of 3 motors, that can churn out up to 640 horsepower each. Practically, however, the battery pack is not capable of providing all of the 1920 horsepowers to the tyres, so the figure comes down to just 1200 horsepower. Lucid is also making some changes to the e body of the vehicle, trying to make it even sportier than before.
Through this new configuration that Lucid is testing, they were able to casually wipe off the record for the fastest 4-door production sedan that was held by the Tesla Model S Plaid version. Not only that, the tri-motor variant might also have smashed the quarter-mile record held by their own flagship model, the Dream Edition. We recently reported that the premium version of Lucid Air became the first-ever electric production sedan to complete a quarter-mile in less than 10 seconds, making the run in 9.9 seconds, while Tesla's best managed a 10.4-second run.
This new Air variant, however, shaved six-tenths of a second off this record, going the distance in a mere 9.3 seconds, as reported by CEO Rawlinson. This five-seater sedan just made any acceleration performance of internal combustion engines obsolete. Even the Dodge Demon, the meanest of the ICEs in a quarter-mile, manages just 9.65. While this timing is also yet to be made official, it is enough to make some waves in the industry, and especially through Tesla's minds.
The biggest factor of Lucid Motors' giant strides in the past few months has been their efficient packaging. With an amazingly compact motor assembly and efficient powertrain, Lucid has been able to provide an immense amount of power with less weight and space being utilized. In this design, they were able to add an extra motor on the rear axle, making it possible to provide the car with infinitely adjustable torque vectoring, wheel slip management, and power delivery.
It was evident from photos that the Air Tri-Motor is a test mule and it is missing many interior pieces that will find their way into the final model. It was also fitted with a roll cage better suited to race around, and will most probably not be present in the final version. That is, if there ever is a final version. This could very well be a ruse plotted by Lucid to attract people towards the current Air model. If a future Tri-Motor model does make it to production, it will most probably be revealed by Lucid after the Touring and Grand Touring Editions are out for delivery.
The announcement of this lap record at Leguna Seca could not have come at a more exciting time. Tesla is expected to reveal the design of their own tri-motor powertrain, the Plaid Mode on Battery Day next Tuesday. Tesla keeps outshining its earlier models with newer releases, and it won't be a big surprise if the Plaid model breaks this new record set by Lucid as well. The Battery Day is a long-awaited event in the electric vehicle business, and Lucid might have carried out this test on the Californian racetrack to try and spoil the drama brewing at Tesla headquarters. Having taken some impressive shots at the industry leader, Lucid is looking well in place to even dethrone Tesla in the future.
Granted, they do not have the infrastructure ready to do that yet, but having seen how quickly they have progressed in the last couple of years, it remains a possibility. I have said it before, I will say it again – this Lucid vs Tesla battle is going to be the biggest of the modern automobile world, and it will take giant strides in improving electric mobility.