Volkswagen's electric vehicle charging network, Electrify America has received its first 60 powerpack batteries from Tesla. This comes almost 16 months after Tesla agreed to a deal with Electrify America to provide them with 100-120 Tesla Powerpack Batteries to be deployed across the US.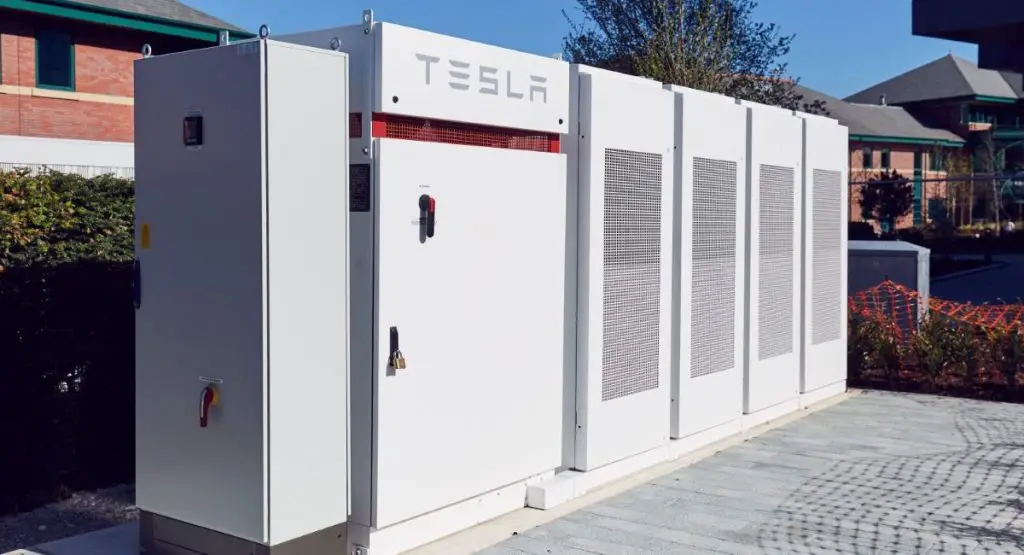 Tesla Provides Powerpack Batteries To 60 Electrify America Charging Stations
In an interview with Electrek earlier this week, Giovanni Palazzo, chief executive officer of Electrify America, confirmed that they already deployed the system at roughly 60 sites and they plan to have "100 to 120" charging stations with Tesla Powerpacks by the end of the year:
"Tesla batteries are super helpful, not only for reducing the impact of demand charges but also the impact on the grid".
Electrify America
Electrify America is a company that provides the largest open DC fast charging networks in the United States of America. The company is a subsidiary of the Volkswagen Group of America. It was established in 2016 after Volkswagen's emission scandal. It is an effort by the Volkswagen Group to rejuvenate their status and to put their emission scandal behind them. This is reflected in Electrify America's goals which state, 'Electrify America will be a catalyst for promoting Zero-Emission Vehicles (ZEV) adoption by offering transformative, customer-centric infrastructure and energy management solution.
The company has now started its transition to paying per kWh based pricing scheme. The departure from their current pay-by-time model was a consequence of California's decision to require EV charging stations to charge according to the amount of energy given to the vehicle, and not based on the duration for which the car was connected to the charging station. The California legislation applies to all newly-installed Level 2 chargers beginning in 2021, and to new DC fast chargers beginning in 2023. Chargers installed before 2021 can continue to use time-based billing until 2031 (for Level 2 chargers) or 2033 (for DC fast chargers). As of now, the company has expanded its pay per kWh network in over 23 states of America as shown in the graphic below,
According to the company's website, 'More and more DC fast chargers are being built across the United States. Electrify America expects to install or have under development approximately 800 total charging stations with about 3,500 chargers by December 2021. Our 50kW to 350kW chargers will be available at charging stations near highways, and 50kW to 150kW chargers will be available in metropolitan areas.
Of the 50 states, only 23 states have passed the bill similar to that of California. Electrify America has kept this in mind and has proposed new charging rates for both per kWh and also on the duration of charging. Giovanni Palazzo, chief executive officer of Electrify America said, "We're implementing the new pricing where we're allowed. The good news is, we are also creating a lot of awareness with the other states and I believe we're going to see some of those states following."
He also confirmed the charging rates per kWh. Electrify America Pass Plus membership; customers will pay $0.31 per kWh. Crunching some numbers we can come to the conclusion that, for those without the Pass Plus monthly subscription, which costs $4.00 per month, the cost jumps up to $0.43 per kWh. So basically, if you use the network at least once per month, it's most likely less expensive to subscribe to Pass Plus and pay the $4.00 monthly fee since the break-even point is only 33 kWh dispensed.
As for the pay per time scheme, the company has ditched its complicated three-tier system. They have adopted a much simpler, consumer-oriented two-tier system:
Power Level One – EV's that are capable of accepting up to 90 kWh
Power Level two – EV's that can accept more than 90 kWh
In addition to the revised charging rate, they have introduced two types of memberships, Pass and Pass Plus. The discount for Pass Plus members is now a flat 25%, regardless of if you are charging in a pay-by-minute with Pass Plus subscription. For Power Level Two users, it now costs $0.32 per minute for Pass members and $0.24 per minute with a Pass Plus membership.
Why is this collaboration necessary for Tesla
In December 2019, it was reported that 3 in 4 electric vehicles in the USA are Tesla. A whopping 78% of all-electric vehicles used by Americans are made by tesla as depicted in the graphic below,
Demand and Supply go hand in hand. Such is the case here, the higher the number of Tesla's in the market higher is the demand for charging stations. It is not a well-hidden fact that Tesla has been planning its way of increasing energy storage in superchargers. However, they haven't delivered one to date. Electrify America didn't waste any time and made the most of this situation. They struck a deal with Tesla in February 2019.
Giovanni Palazzo, chief executive officer of Electrify America, had commented on the announcement:
"Our stations are offering some of the most technologically advanced charging that is available. With our chargers offering high power levels, it makes sense for us to use batteries at our most high demand stations for peak shaving to operate more efficiently. Tesla's Powerpack system is a natural fit given their global expertise in both battery storage development and EV charging."
And today they have delivered part of their commitment with the deployment of 60 Tesla Powerpacks.
A smart move by Electrify America
Giovanni Palazzo has openly said that Demand charges are at a higher rate than electric utility charges when a user's electricity needs spike. It can be extremely costly for electric vehicle charging networks considering the nature of their electricity needs. Palazzo says that some utilities will charge them as much as $30 to $40 per kWh in demand charges. Tesla's Powerpacks will also burn a hole in their pocket. However, in the longer-term collecting a dollar from every customer from 100 to 120 such stations could prove extremely beneficial.