Kia has launched its first dedicated battery-electric vehicle, the EV6, in a show at Times Square. Unlike previous electric vehicles from Kia, which shared combustion versions, this will be its first purely battery-powered vehicle. This not only further populates the electric crossover segment, but also puts Kia on the fast track in its electrification plan.
Kia's Plan S Strategy
Kia has developed a dedicated battery electric vehicle platform in collaboration with Hyundai. A typical skateboard chassis with the battery pack at its base, they call it the Electric Global Modular Platform (E-GMP). The specialty of the E-GMP is its easy adjustability, which allows both companies to use the same platform for multiple segments. This helps Kia in its electrification plan, which they call Plan S.
According to Plan S, Kia will roll out up to 11 new electric vehicles in the next five years. Taking advantage of the E-GMP, Kia will target a number of segments in this strategy. Which specific segments it will target early on hasn't been confirmed yet.
Kia EV6: Powertrain
The E-GMP will be the core technology around which Kia will build its electric vehicle lineup. This skateboard chassis is slightly rear-wheel-drive-biased. However, it does support a second motor upfront for allowing an all-wheel-drive configuration. The platform that the EV6 uses is very similar to what the recently launched Hyundai Ioniq 5 does.
Kia has also designed an integrated drive axle, which combines wheel bearings and the driveshaft to reduce weight and improve comfort and handling. According to Kia, it is the world's first mass-produced component of this kind.
The drivetrain starts with a real-wheel-drive option with a 58 kWh battery. It includes a 160 kW rear motor. If you upgrade to the larger 77.5 kWh, the motor provides its full range of power, which gives a total output of 218 hp. For the all-wheel-drive option, Kia adds a 70 kW motor in the front for a total of 313 hp. This variant can run from 0 to 60 mph (96.5 kph) in 5.1 seconds.
Of course, to take on the topmost variants of EV6's rivals, Kia will also offer a GT version. Instead of using the motors in the lower-end variants, the GT version uses 160 kW and 270 kW motors in the front and rear. This variant gets an output of 576 hp and accelerates from 0-60 in less than 3.5 seconds.
Kia EV6: Battery, Range, and Charging
The Nickel cobalt manganese battery can offer up to 300 miles (483 km) of range on a single charge. The EV6 also sports the world's first patented multi-charging system, according to Kia. This system supports 400V as well as 800V DC fast charging and is capable of working with DC chargers rated from 50 kW to 350 kW. When configured at its fastest charging option, it can give 70 miles (113 km) of range in 5 minutes. That is a 10-80% recharging in under 18 minutes, giving up to 210 miles (339 km) of range. That figure is very similar to Hyundai Ioniq 5.
Of course, you can charge it using the onboard 11 kW level 2 charger from a household power outlet. This can take the car from 10 to 100% in around 7 hours, which is perfect for overnight charging.
Of course, in tandem with the 2021 fashion, it also offers bidirectional charging. The vehicle-to-load (V2L) charging transforms the EV6 into a mobile electrical source with 1900 W of power. This helps it charge anything that a 2 kW generator can, and it can do so for up to 36 hours. You could plug it into another vehicle, but this would offer a charge rate of only 1.1 kW. Kia opted for V2L instead of the more common V2G (vehicle-to-grid) because the software capabilities for off-grid connectivity weren't available yet.
Kia EV6: Interior Design
The EV6 has a modern look inside the cabin. The skateboard chassis enables a flat floor and allows for extra space inside. There are 2888 liters of passenger space and 784 liters of cargo room behind the rear seats. Folding the second row of seats doubles this space. There is also some more space in the frunk (front trunk).
The overall styling of the EV6 is decidedly different from the mega-hatchback style of the IONIQ 5.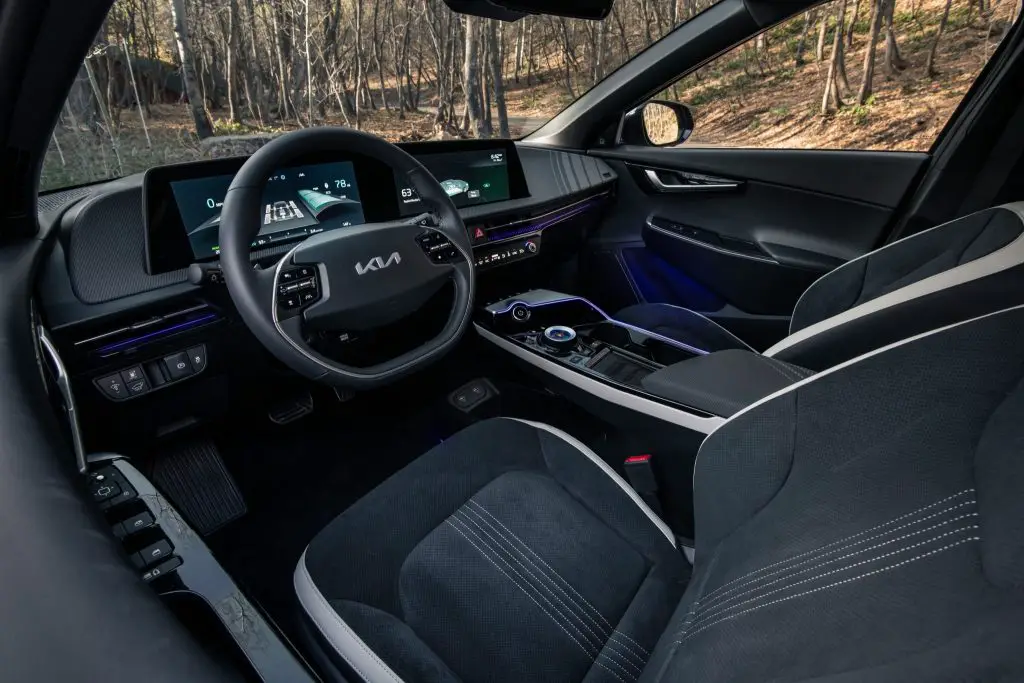 There is a panoramic dual integrated 12″ TFT center cluster and infotainment screen. It provides this nice and wide, curved display across the entire instrument panel. There is augmented reality and heads-up display system to project graphics directly onto the windshield. It creates a 3D image above the car's hood. There is also a surround-view monitor that uses four different cameras around the vehicle. This provides a 360-degree perspective which is helpful for parking in tight spaces. Other driver aids include blind-spot avoidance and forward collision avoidance — both of which use automatic braking to help avoid collisions.
Our Opinion
Now there is a general notion to compare every new electric vehicle with Tesla's cars. And the Kia EV6 will go up against Tesla's current star player – Model Y. While it may not directly challenge the Model Y stat-for-stat, the EV6 certainly stands out as a complete package. Quick charging (with the right equipment, of course) complements a decent range. The integrated drive axle is a new addition to the electric powertrain. It can power your house during an emergency. And it is quite sporty too.
All in all, EV6 seems like the perfect family car for someone who isn't very stubborn on having gut-wrenching acceleration and a very long range.