The Tesla-Lucid rivalry has a different dynamic than other rivalries. Both companies are electric vehicle start-ups, and both have undergone tons of obstacles in their early years. Tesla has fought through the hurdles, and now with a four-vehicle lineup, they are one of the most dominating brands in the electric vehicle industry. Not just that, they are also the most valuable automotive company in the world.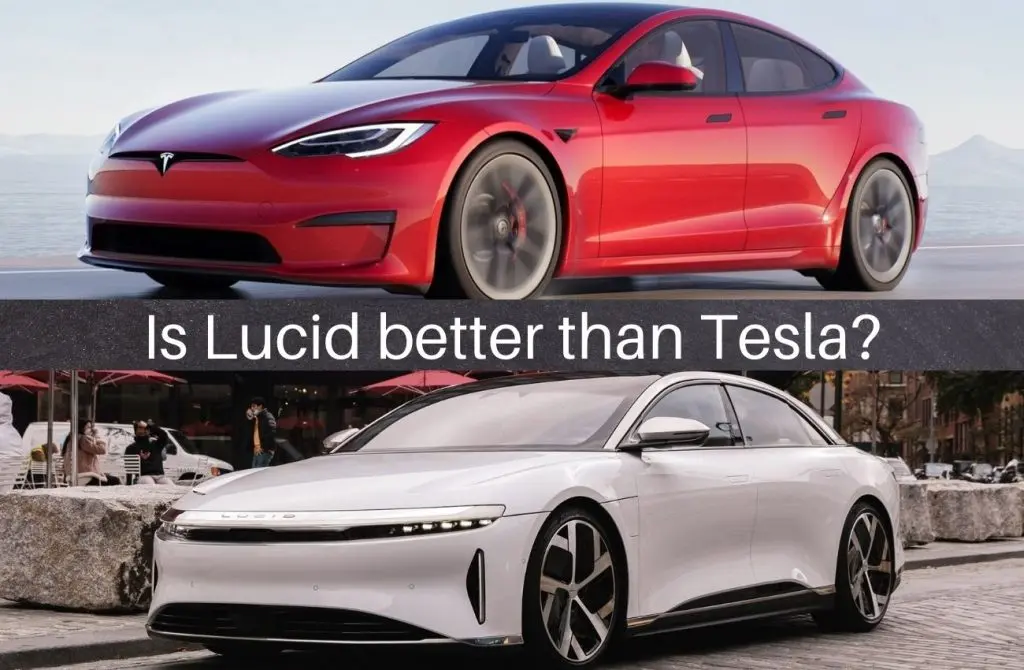 Is Lucid better than Tesla?
Tesla's claim to fame has been the vehicular efficiency they manage to provide at an affordable cost. The powertrain efficiency, combined with the other factors such as a low drag coefficient, helps them achieve better range than any of the competitors. Till now, the efficiency figures that they put forward were unmatched. But then came Lucid Motors.
The Lucid Motors Story
People who have read about Lucid Motors know that their CEO and CTO, Peter Rawlinson, is actually an ex-Tesla employee. Not just an ex-employee, he was the person who scrapped the initial design of the Model S, and completely revamped it. Tesla hired him in 2009, and in just three years, they were able to put forth a revolutionary electric sedan. He knows everything about designing an electric vehicle from scratch.
Lucid Motors started as a battery manufacturer in 2007 under the name of Atieva. In 2016, they rebranded and renamed the company as Lucid Motors. At the time, they announced their goals of manufacturing an all-electric high-performance luxury vehicle. Plans were to launch a $60,000-electric sedan and open a manufacturing plant in Arizona in 2017. Financial constraints, however, meant that they had to shelve these plans. In 2018, they received funding worth $1 billion from the Public Investment Fund of Saudi Arabia.
Renewed with financial backing, Lucid set about designing a premium sedan, one that could spell the endgame for Peter's creation – Model S. Last year, they revealed this car, the Lucid Air, and will start production this year.
Peter Rawlinson's Vision
As mentioned before, Tesla holds the efficiency card, which means it is tough to compete with them from a perspective of both cost as well as performance. But Lucid is led by an eccentric, charismatic guy, which seems to be the norm for these companies. Having previously worked on the Model S as Chief Engineer, he knows a thing or two about designing and manufacturing a premium electric sedan. Apart from electric vehicles, he has also worked as Principal Engineer at Jaguar Cars and Chief Engineer at Lotus Cars. It is safe to say that he has loads of experience in the industry.
And along with experience, he has a vision too. And that vision includes dominating the electric vehicle from a perspective Tesla probably hasn't thought of. Of course, if you ask him about it, he will deny wanting to compete with Tesla. In fact, he doesn't even consider Tesla as a rival. He has set his sights on German luxury brands, with the Mercedes S-Class, in particular, being on his radar. He wants that level of luxury in his vehicle, while also having record-breaking range and really good track performance.
To put things simply, he wants to attract consumers who are interested in electric mobility, but cannot stomach the fabrication inconsistencies (poorly matched body panels, shoddy build quality) and interface quirks (touchscreen failures) at Tesla.
All this seemed quite optimistic, but the unveiling of the Lucid Air has shut some critics up. Of course, you cannot get a record-breaking range, amazing track performance, and world-class luxury at a low cost. That is evidenced by the fact that the topmost variant of Lucid Air – the Dream Edition – costs $169,900. The 2021 Model S version has its topmost variant, the Plaid+, at around $132,900.
Why Lucid Is A Threat To Tesla
Peter Rawlinson's experience is the very first factor here. But just having a great leader doesn't get the job done. Tesla has achieved amazing efficiency, which includes a powertrain efficiency of 4 miles per kWh. To put things into perspective, Audi e-Tron has an efficiency of 2.3 miles per kWh and the Porsche Taycan has a figure of 2.4 miles per kWh. But then came Lucid Motors, with a powertrain efficiency of 4.6 miles per kWh.
The secret behind this efficiency is their 'drive unit'. This drive unit, which consists of the electric motor, inverter, transmission and differential, weighs just 74 kg. The power output of this drive unit is a staggering 670 horsepower, and that gives the powertrain a very good power-to-weight ratio.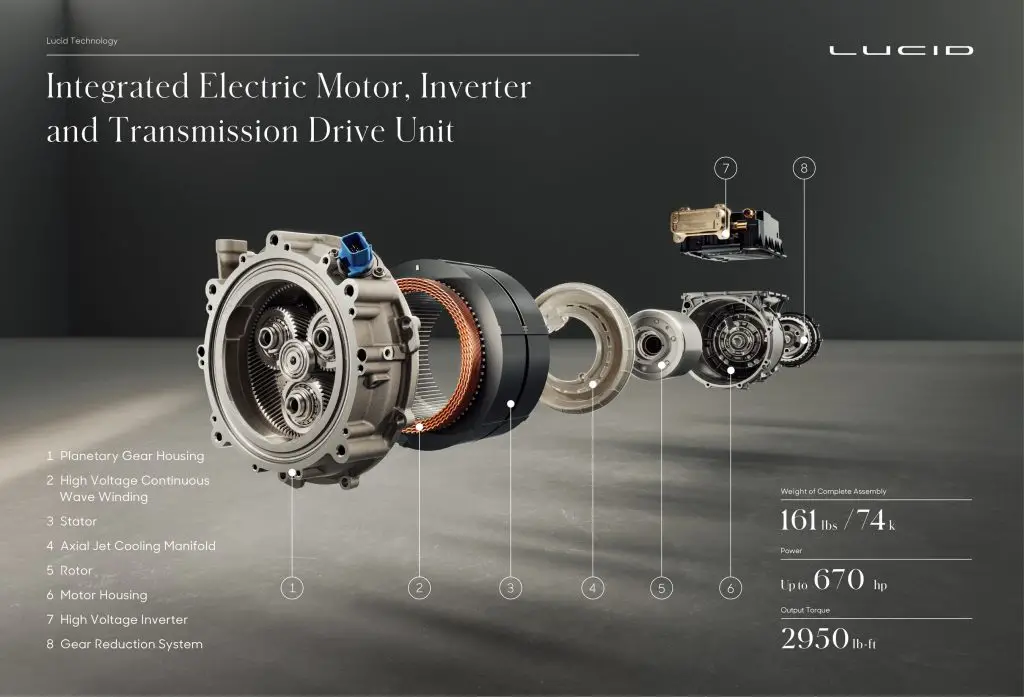 Then comes the battery. Tesla has a battery pack of around 85 kWh capacity. Lucid, on the other hand, has a battery capacity of 113 kWh, which gives the Lucid Air Dream Edition a staggering range of 517 miles (832 km). Add to that the 900-volt battery architecture, which allows them to minimize energy losses that occur due to large amounts of current. Tesla has a 400-volt architecture, while Porsche uses an 800-volt system.
Finally, Lucid Motors had started as a battery manufacturer, and in the 2018 Formula-E season, they supplied batteries to all the teams. So they have the battery technology. The 74-kg drive unit is an advanced piece of electric powertrain technology. And they have a very good team led by a person who knows a lot about automobile design and manufacturing.
Are Tesla and Lucid Really That Different?
The simple answer is no. What makes companies like Tesla and Lucid different from the others is their perspective. They have realized that electrification is going to be a technological race, and are planning accordingly. However, Lucid has understood that even in a technological race, their first car has to be technically competent with the market.
Tesla has built a reputation for their cars, and it has mixed reactions. While experts admire their approach towards bringing electric vehicles to the market, many people criticize them for the quality control issues they have come up with recently. Traditional automobile companies have huge production capabilities, while Tesla is just getting into the volume production business.
Lucid has been sitting and watching all this very closely. They have tackled the Tesla challenge of high efficiency with their drive unit, and the battery architecture has helped them beat Tesla in terms of range, at least on paper. The track records of the Lucid Air, at the Laguna Seca for example, have proven that they have delivered a vehicle with amazing performance capabilities. But they have also learnt from the Tesla experience and ensured that their first vehicle competes with luxury brands, especially from Germany.
While it remains to be seen what happens when Lucid go for volume production, one thing is clear. On paper, Lucid have matched Tesla in terms of specs for sure. If they manage to deliver them at higher production rates with no quality issues, then Tesla will definitely have reasons for worry. Or as Peter likes to put it, "Let's just say Elon is paying very close attention to what we are doing here."