Toyota President, Akio Toyoda, commented directly about a competitor on Friday, which is unusual for someone of his stature. He said that Toyota may be losing out to Tesla on market value, but the company should not be underestimated. The Japanese manufacturer has produced more than 100 million vehicles and it offers a wider palette of cars as compared to Tesla.
Tesla may be more valuable than Toyota, but Toyota knows how to build cars, says Akio Toyoda
These comments have come after Toyota managed to accelerate their profits in the July-to-September quarter. This came on the back of operating profits in North America and China rising by 61% and 33% respectively. As a result, Toyota was able to earn an operating profit of $4.9 billion during these three months, as compared to the $130 million in the previous quarter.
Tesla's Meteoric Rise
It is no breaking news that Tesla's share price has been increasing a lot over the past year or so. To put things into perspective, the Tesla share price exactly one year ago was $67.11, and today, it is $429.95. On 31st August this year, it had reached a price of $498.32, which clearly shows how much progress they have made. And this, despite the COVID-19 situation. Clearly, Tesla is doing something different than other companies, but it isn't restricted to the last 12 months.
The technological overdrive that swept most industries did not spare the automotive industry either. Tesla pulled out the right punches and is touted to be the next giant-killer in the industry. It was the big disruptor in the industry wanting some change, and its ingenuity was welcomed as a path-breaking change. And, it was led by a dazzling entrepreneur who won't stop at anything in his bid to electrify the entire world.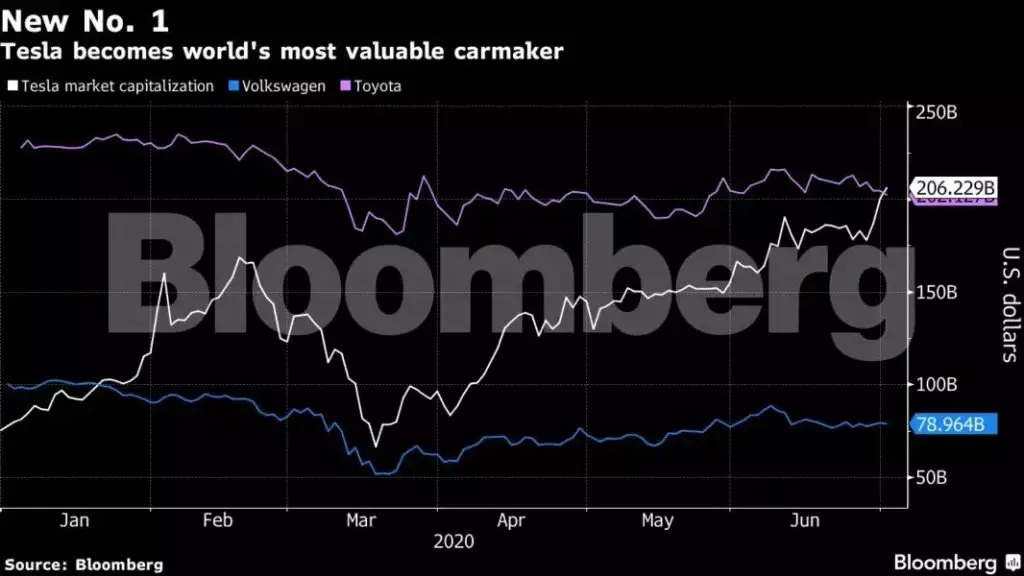 But the Californian automaker was not breaking the roof till about two years ago. It was growing gradually, eating into the market of the combustion vehicle manufacturers. But in January 2020, it proved its potential, by surpassing Volkswagen as the second most valuable automobile company in the world. And then, on 1st July 2020, it usurped Toyota Motor Corporation to become the most valuable automobile company. Volkswagen's market value in January 2020 was around $100 billion, while Toyota was worth $200 billion in July. A gulf of $100 billion was eaten up by Tesla in merely 6 months and doubled their value to sit on the throne.
Today, Tesla is valued at approximately $415 billion, while Toyota is sitting at $220 billion.
But Is Stock Price The Only Factor?
According to Akio Toyoda, the answer is no. Tesla may have made huge strides in the market value, but they sold only 367,500 vehicles last year. In comparison, Toyota produced 10.74 million units in the same period. This means that Tesla's production is just 3.4% of Toyota's. This is exactly what will make difference in the years to come, according to Toyoda.
Toyota has a much wider range of products for the customers to choose from, and that will be one of the factors going forward. Akio Toyoda compared the situation to that of a cooking scenario. He said that Tesla claims its recipe will become standard in the future, but Toyota has a real kitchen and chef ready. He was talking about the fact that Toyota's legacy in the industry will help them in the longer run, as will their already-high production rate.
Affordability combined with reliability and large-scale manufacturing is Toyota's USP. According to their president, the loyal customer base will stick to Toyota, as they try to adapt to the ongoing changes in the industry. At the same time, Toyoda mentioned that the Japanese giant should take a page out of Tesla's book.
Tesla's USP has been its ability to generate profits from BEVs (battery electric vehicles), software updates, and renewable energy. Toyota, on the other hand, were slow to make the change towards electrification. They stuck to the strategy of making affordable hybrids until battery costs come down. But the technology they used was older, and the pace at which Tesla improves its cars rendered Toyota irrelevant.
Toyota kept producing hybrid vehicles and hydrogen cars while Tesla already had a five-year plan in place. That is probably where they lost the crown to Tesla.
Toyota's Vision For Electrification
Of course, you cannot be the second most valuable automobile company in the world and be rendered irrelevant by just one company. They have also set their sights on electrifying their vehicle roster, and there seems to be a concrete plan in place.
This electrification phase will start in the first half of the 2020s. According to Nikkei Asia, Toyota aims to start selling 500,000 electric vehicles by 2025. By that time, Tesla aims to start selling "a few million cars a year" globally. By end of 2023, Toyota hopes to have produced 1 million electric cars.
This annual figure will increase multifold in the following five years, according to Toyota. They aim to ramp up electric vehicle production to 5.5 million cars annually by 2030. Their first target market will be China, followed by Japan, India, the United States, and Europe.
Our Opinion
It is quite unnatural for someone like Akio Toyoda to make direct comments at a competitor. But what he said is actually true. Tesla has ridden on the electrification wave and swept the market in its favor, moving past Volkswagen and Toyota in a largely successful year. But they haven't reached a position yet where they can boast about production numbers.
We had reported in July 2020 that Bavarian Minister Markus Söder had said that it isn't impossible to match Tesla's achievement. The major reason for this is that combustion heavyweights have plenty of resources. In comparison to Tesla, companies like Volkswagen, Toyota, Hyundai, and GM have huge production rates. Right now, it is impossible for Tesla to match them in this regard.
With a production rate of more than 10 million units per year, Toyota and Volkswagen have the means to ramp up electric vehicle production. And quite frankly, if these combustion vehicle giants all put their heads together into electric vehicle manufacturing, they have the resources to not just challenge Tesla, but also blow them out of the water.