AEHRA, the relatively unknown electric vehicle startup, has recently taken the automotive industry by surprise with the unveiling of its latest creation, the SLEEK all-electric, four-door GT. And it sure looks like a Lamborghini-inspired automobile!
Aptly named 'The Sedan,' this remarkable vehicle aims to redefine luxury electric transportation with its exceptional features and cutting-edge technology.
While AEHRA may not have been on everyone's radar until now, its ambitious vision to cater to the affluent market segment has been slowly gaining momentum. With their previous announcement of an SUV going largely unnoticed, AEHRA is determined to make a lasting impression this time around.
The Sedan not only promises an impressive 500-mile range but also delivers a striking design that sets it apart from its counterparts in the industry.
While the name may lack creativity, the Sedan's groundbreaking aesthetics undoubtedly make up for it, further solidifying AEHRA's arrival in the world of high-end electric vehicles. Here's what all we know about this not-so-believable startup!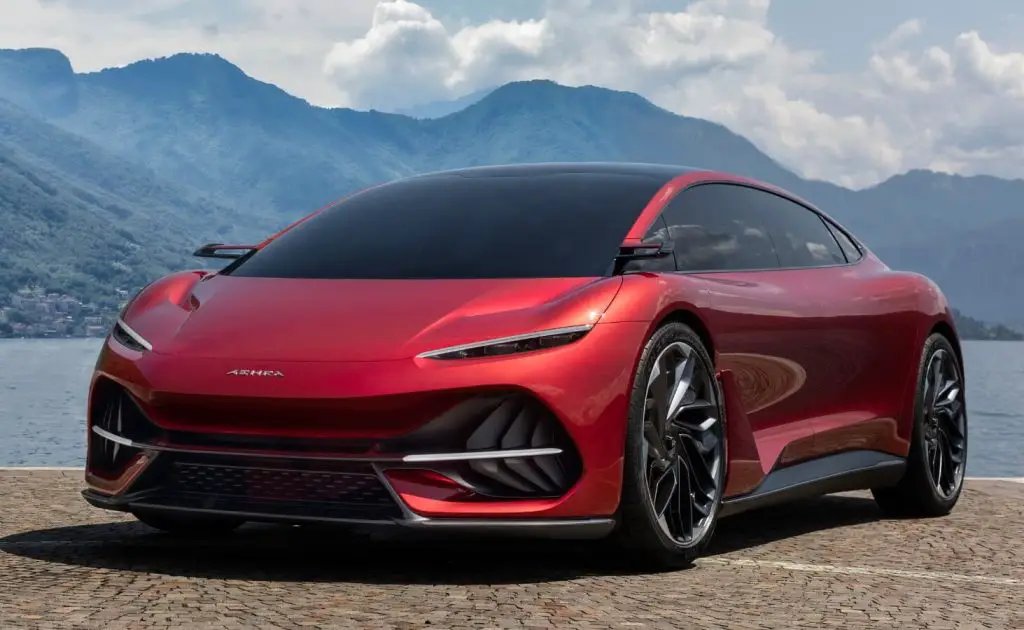 Everything About "The Sedan"
The styling of the Aehra sedan is likely to evoke varied opinions, with some individuals loving it and others disliking it. However, one aspect that is difficult to dispute is its distinctiveness, ensuring that it won't go unnoticed in a parking lot.
While specifications like horsepower and range are what we all look for first in a car but looks like AEHRA is on a mission to redefine the very essence of the EV looks and experience.
This ambitious endeavor begins with the introduction of two initial models. AEHRA's first electric vehicle, aptly named "The SUV," made its public debut in December, yet it managed to fly somewhat under the industry's radar, considering the abundance of concept EV showcases from various other startups.
However, AEHRA is determined to bring a fresh perspective to both the design and promotion of its EV lineup, a lineup that now welcomes its latest addition, "The Sedan."
In late May, the company provided a glimpse of its second model through tantalizing images, but it was on June 16 that the exquisitely crafted GT saloon made its official debut in Italy.
To truly appreciate its captivating design, it's certainly worth taking a closer look at AEHRA's remarkable creation.
Team Behind The Design
A distinct and unmistakable influence can be seen in the design of the AEHRA sedan, courtesy of the remarkable talent of Filippo Perini, AEHRA's head of design. Before joining AEHRA, Perini held the prestigious role of lead designer at Lamborghini, where he played a pivotal role in shaping the iconic aesthetics of numerous legendary models.
His creative vision brought to life automotive masterpieces such as the Murciélago LP 640, Aventador, Huracan, Centenario, and Urus. Perini's expertise in crafting visually stunning vehicles now graces the AEHRA sedan, leaving an indelible mark on its captivating design.
Assisting Perini is Franco Climatti, AEHRA's chief engineering officer, who brings an impressive 32 years of experience from his time at Ferrari.
With such a talented duo at the helm, AEHRA combines unparalleled design prowess with decades of engineering excellence, positioning itself as a formidable player in the realm of electric vehicles.
With its unique one-box shape and compact front end, the Aehra sedan possesses a standout appearance that sets it apart wherever it goes.
Battery Pack
Building upon the success of The SUV, AEHRA's upcoming Sedan will share the same mono-body platform. This sleek and luxurious sedan is anticipated to be powered by three all-electric motors, delivering an impressive combined output of 794 bhp.
Continuing the trend set by its SUV counterpart, The Sedan will feature a robust 120kWh battery manufactured by Austria-based Miba. This high-capacity battery will enable fast charging rates of up to 350kW, ensuring quick and convenient recharging.
Notably, the battery will also possess bi-directional capabilities, allowing it to not only draw energy but also provide power to external sources.
AEHRA has set an ambitious target for The Sedan, aiming for a remarkable range of 497 miles or 800km per full charge, providing drivers with an extensive driving experience plus no range anxiety.
Design
The AEHRA Sedan and SUV concepts exhibit a cohesive and distinct design language, but the Sedan takes on a bolder and more athletic appearance compared to its slightly older sibling.
With an aggressive front fascia reminiscent of a supercar, the Sedan commands attention. Its sleek and aerodynamic silhouette exudes a sense of dynamism, enhanced by a striking set of large rims (although the exact size has yet to be disclosed). However, the standout feature of the Sedan lies in its doors.
Equipped with a unique and captivating set of butterfly scissor doors, they leave a lasting impression and are likely to make it to the production version. Hazim Nada, the co-founder, and CEO of AEHRA, assures that the final iteration of the Sedan will remain "virtually identical" to the concept, solidifying the brand's commitment to delivering a visually stunning vehicle.
The Aehra Sedan is set to make a significant impact on the global stage, boasting an impressive three-meter wheelbase. This generous wheelbase indicates a spacious interior and a comfortable ride for passengers.
While AEHRA has kept the interior of the sedan under wraps, it is reasonable to speculate that it closely resembles the design and features of the SUV's interior. One can imagine that the sedan, like its SUV counterpart, boasts a spacious cabin with a notable highlight—the expansive and extendable infotainment system.
Price
AEHRA has remained tight-lipped regarding the pricing and performance details of their Sedan. However, based on the information available, we can draw some estimations. Considering that the SUV is expected to be priced around $160,000-$180,000 upon its release in 2025, it is reasonable to assume that the Sedan, slated for the following year, will fall within a similar price range, potentially reaching up to around $200,000.
This positioning would place the Sedan in the realm of high-performance electric vehicles like the Tesla Model S or Porsche Taycan Turbo S, targeting discerning customers seeking exceptional performance and luxurious features.
While specific pricing and performance figures await official confirmation, AEHRA's positioning in this premium price segment suggests that the Sedan will be a high-end offering with impressive capabilities and a price tag to match.
Who Is AEHRA?
It's no surprise if AEHRA hasn't caught your attention yet. The Italian electric vehicle startup made its debut in the industry last summer, with a compelling mission: to merge the elegance of Italian design and engineering with American customer service, giving rise to a new generation of ultra-premium EVs. Yes Yes, still hard to believe, and wrap your head around it.
This vision resonates with the background of its co-founder and CEO, Hazim Nada, who was born in the United States but raised in Italy.
From the very beginning, AEHRA has emphasized its commitment to reimagining design shapes and architectures. Nada firmly believes that most current EVs are still engineered with traditional design principles in mind, overlooking the full potential that today's electric powertrains offer.
With this perspective, AEHRA sets itself apart as a company determined to tap into the unexplored possibilities of luxury electric vehicle technology.
What To Expect In The Future?
As of now, the Sedan from AEHRA appears to be primarily a design study, and thus, technical details remain limited. However, the information shared by the company is intriguing.
AEHRA has stated that their electric vehicle will have an impressive driving range of nearly 500 miles on a full charge, attributed to cutting-edge technology developed in collaboration with Miba Battery Systems.
It's important to note that battery and charging technologies are constantly evolving, and advancements will likely occur in the three years before the Sedan's launch.
Nevertheless, AEHRA's commitment to delivering an impressive range suggests that the vehicle's performance in this aspect will continue to impress even as the technology progresses.
In a statement, Hazim Nada, the co-founder, and CEO of AEHRA, confirmed that the highly anticipated Aehra Sedan and Aehra SUV will begin reaching customers by 2026.
He made it clear that the company has distinct aspirations that differentiate it from brands like Lamborghini or Ferrari. While AEHRA shares a price target in the ultra-premium segment, Nada emphasized that their approach and offerings are unique.
He stated that AEHRA is venturing into unexplored territory, delivering something that no other market player is currently doing.
With a vision of offering extraordinary experiences and pushing the boundaries of innovation, AEHRA aims to carve out its path in the automotive industry, setting itself apart as a trailblazer rather than following in the footsteps of established luxury brands.
Bottomline
In conclusion, AEHRA's Sedan is currently positioned as a design study, leaving technical details somewhat limited. However, the information shared by Aehra has piqued everyone's interest. Especially regarding the Sedan's impressive driving range of nearly 500 miles on a full charge, thanks to the collaboration with Miba Battery Systems.
While battery and charging technologies are expected to evolve in the coming years, AEHRA's yet concept but exceptional range suggests that the vehicle's performance will continue to impress even on the technology front.
But will these models make it to production as promised? We will have to wait and watch to see what happens!