For the past two decades, the renowned automaker, Toyota, has held steadfastly to two core convictions. One is its Synergy Drive hybrid powertrain represented the pinnacle of automotive technology, and the future of transportation would be dominated by hydrogen-powered vehicles.
However, during this time, Toyota remained complacent as Tesla emerged seemingly out of thin air, igniting the electric vehicle (EV) revolution, while China embraced electric cars with passion.
Now, with seismic shifts occurring in the industry, Toyota finds itself at a critical crossroads, compelled to reassess its long-held beliefs and chart a new course to stay relevant in the rapidly evolving landscape of sustainable mobility.
In this blog post, we will explore the challenges and opportunities Toyota faces in adapting to the changing tides of the automotive industry and redefining its vision for the future. Is Toyota going to beat Tesla with the launch of new EVs with its massive production capacity? Let's find out.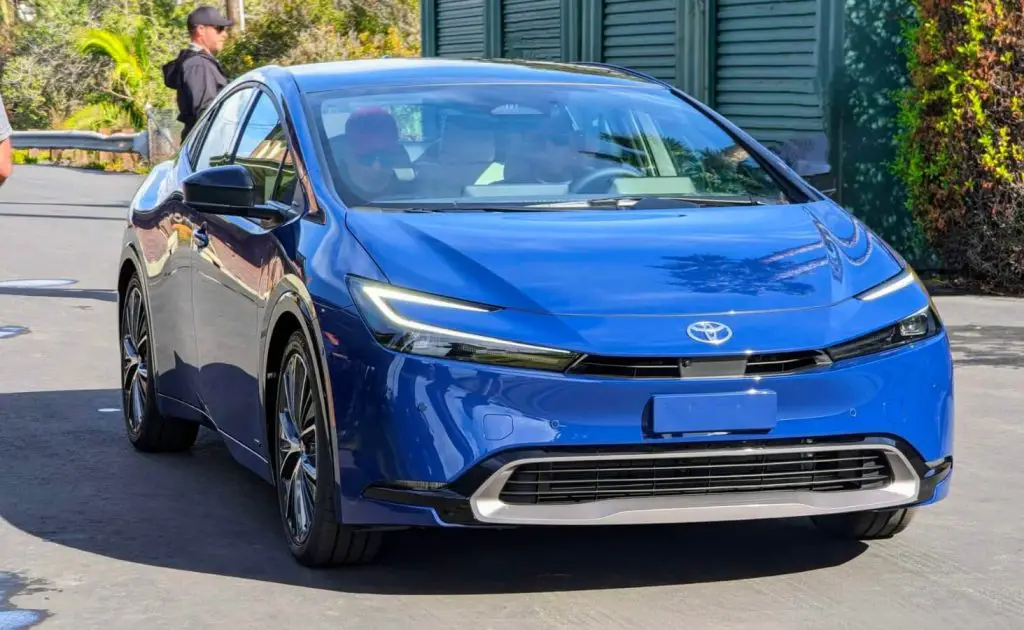 Toyota & Electric Cars
In the ever-evolving world of electric vehicles (EVs), Toyota stands at a crossroads, balancing its long-standing commitment to hybrid and hydrogen-based cars with the growing demand for all-electric models.
According to the automaker's recently disclosed technology roadmap, Toyota intends to incorporate a high-performance lithium-ion battery into its next-generation electric vehicles by 2026.
This breakthrough battery technology aims to revolutionize the EV market by offering accelerated charging times and an impressive range of approximately 600 miles (1,000 kilometers).
In the fast-paced race towards electric vehicle (EV) dominance, Toyota, once an industry leader, finds itself trailing behind its competitors.
While the automaker has made efforts to dip its toes into the EV market with models like the Prius Prime and RAV4 Prime plug-in hybrids, it is apparent that Toyota has been slow to fully embrace electric mobility. Like super-super slow!
New CEO New Future EV Plans
Toyota recently made a significant announcement, revealing a groundbreaking technological advancement in its all-solid-state batteries. This breakthrough addresses one of the key challenges in battery technology—durability.
This strategic move indicates a potential change in Toyota's EV strategy under the leadership of CEO Koji Sato, who assumed his role in April. In February, Sato expressed the company's intent to take a fresh approach and expedite the development of BEVs. And it definitely shows as Toyota takes the electrifying leap.
As a result, the company is now reassessing its plans to introduce these batteries in conventional hybrid electric vehicles (HEVs) and shifting its focus towards accelerating its development for battery electric vehicles (BEVs).
According to a manager of Toyota, Todd Retema, Toyota is planning to launch as many as 30 BEVs by 2030. Out of which there would be 10 new models ready to launch as early as 2026 for the global market.
Toyota's Manual Transmission Electric Car
Toyota has made an intriguing announcement that is set to add a touch of excitement to its forthcoming electric vehicles (EVs). The automaker has revealed plans to introduce a manual transmission in its upcoming EV lineup, a move aimed at enhancing the driving experience and injecting a sense of fun into electric mobility.
Leveraging Toyota's mechanical expertise, the company has already showcased a working prototype of a manual EV. Now, the focus is on further refining the cruising range and design of these EVs to meet the expectations of customers.
This unique combination of a manual transmission in an electric vehicle represents a technological feat achievable only by a forward-thinking carmaker like Toyota.
During a recent presentation on the company's next-generation EV strategy, Toyota's representatives, led by Kato, expressed their commitment to not only delivering improved range and stylish aesthetics but also providing customers with an exhilarating and "truly wow" driving experience.
Is Toyota Too Late To Choose Electric?
As other automakers accelerate their electric strategies, some may wonder if Toyota is too late to fully embrace electric technology. With its successful track record in hybrid vehicles and hydrogen fuel cell technology, Toyota has held steadfast to its vision, often polarizing itself from the electric vehicle movement.
Toyota, the automaker known for its hybrid prowess and previous bet on hydrogen, is finally making some electrifying moves in the EV market.
What To Expect In The Future?
While it may have played catch-up in the past, Toyota is now stepping up its game with innovations that can't be taken lightly. Brace yourself for some jaw-dropping numbers!
In the next three years, Toyota's next-generation lithium-ion batteries are projected to push the boundaries by surpassing a whopping 600 miles of range and offer numerous BEV options in coming years.
According to Todd, one BEV's materials can power six plug-in hybrid electric or approximately 90 hybrid vehicles. Todd said there would be a bigger impact on the reduction of carbon if Toyota could come up with a strategic plan to use all that limited material to make a large number of vehicles instead of only a few.
Toyota has been working with hybrid vehicles for about a quarter century now and that kind of gives them a strong footing in the industry. However, jumping into only BEVs would require them to make major changes in their manufacturing style.
This is why investing firmly in plug-in hybrids, for now, is actually a favorable decision for Toyota to come to a middle point going to EV way.
Todd too calls the plug-in hybrids to be a sweet spot or Toyota for now as he explains with an example of using it for daily commute relying on electric charging. But, not having to make 45 minutes to one-hour stops, when on family trips like from Michigan to Florida thanks to gas compatibility. This he terms as a no-compromise solution for automobile consumers and flexibility to drive according to their needs.
Bottomline
During the tenure of former CEO Akio Toyoda, Toyota faced criticism for its cautious approach to all-electric vehicles, as the company held onto the belief that electric cars were just one of the solutions, not the ultimate solution, to achieve its carbon-neutral goal.
This strategy remained steadfast until the close of 2022 when Toyota unveiled its latest Hybrid Prius models. Despite the industry's growing focus on all-electric vehicles, Toyota continued to prioritize its well-established hybrid technology as a key component of its sustainability strategy.
However, as the automotive landscape evolves and the demand for fully electric vehicles surges, it remains to be seen how Toyota's approach will adapt under its new leadership and in light of increasing market pressures. Can Toyota beat Tesla with better range and tech? We will have to wait some more for the real showdown!