Tesla is definitely adding to the festive times by bringing the referral program back on the Tesla app.
The Loot Box is live and active again!
Tesla referral program reintroduction first made a comeback with its launch in China, where the loot box is known as Treasure Box, a couple of weeks ago.
While Tesla has pulled back on offering free Supercharger miles, the excitement comes back rolling for many with the revamped referral program on solar systems.
The change, however, is that the referral program no longer entails vehicle referral prizes and cash like earlier. You can use the referral credits on the products like Tesla merchandise and other stuff that you can find normally on the Tesla app.
What all has happened? Let's find out!
The New Tesla Referral Program
The all-new referral program is back with exciting rewards and credit points that Tesla owners can redeem on the Tesla app.
The benefits vary from Tesla-branded merchandise to explicit in-vehicle OTA updates and additions such as the Full Self-Driving suite.
The newly revamped program is limited to solar products by Tesla and not applicable to vehicle referrals like in earlier times. However, the China referral scheme comes like the ancient version where referral benefits apply to Tesla vehicles.
The referral program in China comes amidst the news of Tesla being called out for diminishing demand for Tesla cars in the country.
Tesla made sure that they made a buzz around the globe by bringing huge cash prizes and vehicles under the referral program earlier. So much so that people could win Roadsters under the scheme. Those extravagant offers are nothing when compared to shot glasses and other merchandise you can find in the current loot box.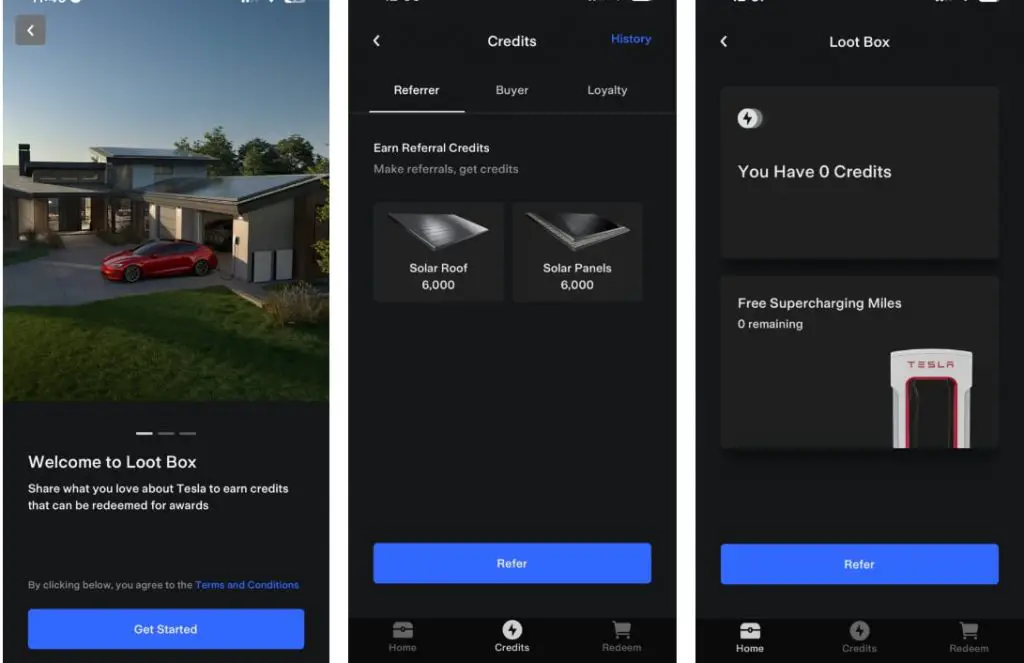 So what's new in the revamped version for North America Tesla referrals:
The new program is currently applicable to Tesla solar panels and solar roofs only.
Tesla has added the referral program page on the Tesla app under the loot box tab in Credits.
6,000 credit points each are offered on every referral-based purchase of Tesla solar roofs and solar panels.
Both those who refer and who purchase using the link get points in the form of buyer points and credit points.
The points automatically appear at the successful and approved installation of the solar system.
Tesla EV owners as well as solar system owners are both eligible for the program.
The points are valid for 12 months, but the validity will renew if you get new points credited during this period.
Ohio & Virginia people do not get to enjoy these referral benefits.
Tesla referral credits are non-transferable and non-redeemable for cash.
Vehicle Referrals? What Has Changed?
Earlier people have gotten several (Yes! Several) free Tesla cars gaining numbers on referral counts. Tesla's referral program worked multi-fold for the company where existing customers were helping build the business for them.
The program began with $1000 in the form of Tesla credits which were equivalent to the value and can be used on any product in the Tesla eco-system. However, the eco-system was not that large either at the time as even Model 3 was not launched. But that still meant people could buy Tesla cars with the credits.
Tesla up the ante with substantial prizes with time, like Tesla wall units, wheelsets, and even a stint where you could send your photos to space.
Photos into space? Yes, that is true.
From the dawning era of the Model 3 launch, Tesla multiple times played with the referral program. Sometimes promising too big things like Model Y every month, but many winners are still waiting for their high-value prizes.
Tesla put brakes on the program shortly after promising around 80 Roadsters to top players of the referral program last year.
The referral program got a bit extreme over the years when people started using advertising or pushing their referral codes on social media platforms. Tesla seems to now put a stop to these unfair practices by changing the way these rewards would work now.
Turning these huge referral rewards into more like perks.
The official website states that the referral program applies to all Tesla products. However, currently, only solar systems are covered under the program.
The statement goes on to say that they value their loyal customers and going to reward them additionally if they make a Tesla solar roof or panel system purchase with loyalty credit points.
At the current stage, it is not clear if Tesla would bring back the earlier kind where huge prizes were the key attraction of the referral program.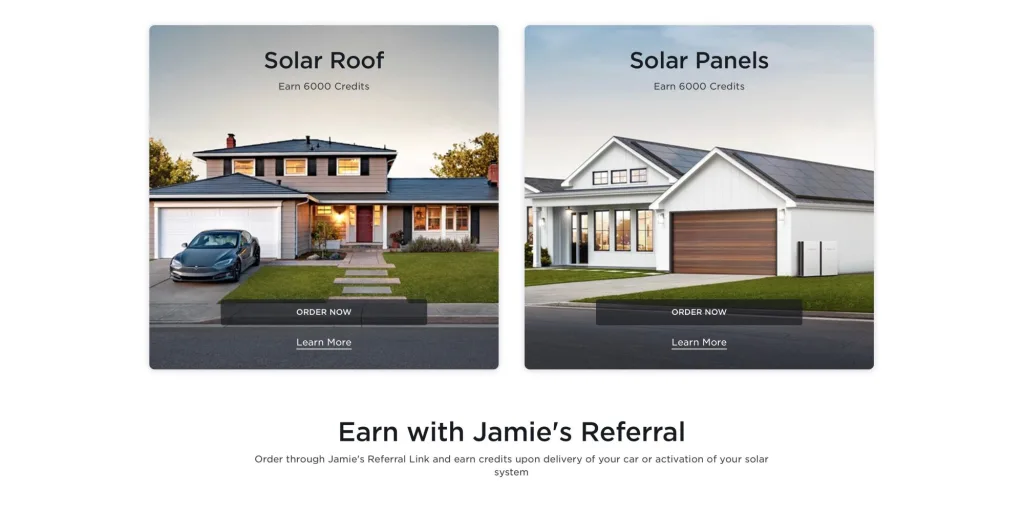 What is in the Loot Box?
The current products in the loot box are nothing short of fancy and have an edge to them. Think of meme-worthy Tesla sipping glasses or short shorts, available for purchase using credits.
You can also use 4,800 credit points to get Supercharger miles. There are many other inclusions on the loot box that are available for purchase using these reward points.
Following are some of the Tesla items that you can buy using credits:
11,000 Credits – J1772 Wall Connector
6,000 Credits – Wall Connector
5,000 Credits –CCS Combo 1 Adapter
4,800 Credits –2,000 Supercharger Miles
2,900 Credits – Model S/X/3/Y Pet Liner
2,000 Credits – Tesla Raven Lightweight Hoodie
1,750 Credits – Tesla Sipping Glasses
1,500 Credits – Wall Connector Color Matched Faceplate
1,469 Credits – Tesla Short Shorts
800 Credits – Powered by the Sun License Plate Frame
700 Credits – Let the Sun Shine or Other T-shirts
How Tesla Referral Program Makes More Sense?
There are many different types of referral programs that businesses use to drive sales and growth. Some companies offer monetary rewards or discounts to encourage customers to refer their friends and family.
Some offer free products or services as an incentive, while others create contests and challenges that incentivize buyers to send in referrals.
No matter what type of referral program Tesla is going to come up with, chances people are going to go wild. However, this time Tesla clarifies in terms and conditions to keep it organic and not commercialize the referrals like before.
Referral programs are a great way to get new business and improve your bottom line. Elon Musk definitely has an intelligent edge over other automakers highly relying on marketing tactics to increase sales.
Referred customers are more likely to make purchases, stay loyal to a brand, and promote your business to others. And because they are referred by trusted sources, they can help attract new customers and improve your reputation.
What to Expect in Near Future?
Tesla's referral program is exceptionally thought out to put the good words out and help Tesla make some serious business.
Over the years the referral program has seen a sugar rush kind of excitement with the referral program
Tesla might have stopped its referral program in 2021 for several reasons, but most importantly it was due to the fact it was putting stress because of the high value of the rewards.
While the referral program had been popular since it first launched, Tesla found that as time went on, more people started pushing for earning referral points with unfair practices. Some were even going out of the way to pay for earning referrals. Putting up huge billboards with referral links and whatnot.
The future is still uncertain, but Elon sure knows how to play with fire very well. The latest revamp is a great way to form a stable base for the referral reward system.
These referral programs are an effortless way to bring loyal customers even closer to the company.
Bottomline
In today's digital world, businesses are constantly looking for ways to drive growth and increase sales. One of the best ways to do that is through referral programs like the Tesla referral program.
Launching the program in China is clearly a strategy in an urgent shot to push sales in the country. Everywhere else, Tesla prices are soaring, but in China, Tesla is dropping their guards with steep price drops.
Why Tesla needs to revamp the referral program though is still a mystery but we strongly believe, the move is to standardize the whole program. The limited list of products in the loot box will make the referral valuable enough, but not so much that Tesla owners might look like some tricksters when referring Tesla to their friends and family.
Tesla knows its worth but at present, it appears that Tesla has mainly just changed the pre-existing program with solar installation cash rewards for the US.
But will it stay like this?
We don't think so. Given the references to vehicles on their referral pages, it's evident they definitely have so much more in store. But we'll wait and see how everything about the referral program pans out for Tesla!