Unplugged Performance, an aftermarket outfitter of Tesla parts and accessories, took to Twitter yesterday to reveal that a Tesla Model 3 Performance went through a nasty accident during a practice lap at the Pikes Peak International Hill Climb. While the driver Randy Pobst was unhurt, his car suffered quite a lot of damage, putting his hopes to compete at the main event on August 30th in doubt.
Today Randy took his first practice lap on the upper section way too hot, hit a huge dip, got airborne and here's the result. Most importantly, Randy is safe and our safety systems did their job. Heartbreakingly, our quest to break 10 minutes at Pikes Peak is unfortunately over. pic.twitter.com/wh7URW48z2

— UNPLUGGED PERFORMANCE (@UnpluggedTesla) August 26, 2020
Unplugged Performance's Tesla Model 3 Crashes At Pikes Peak, Driver Is Safe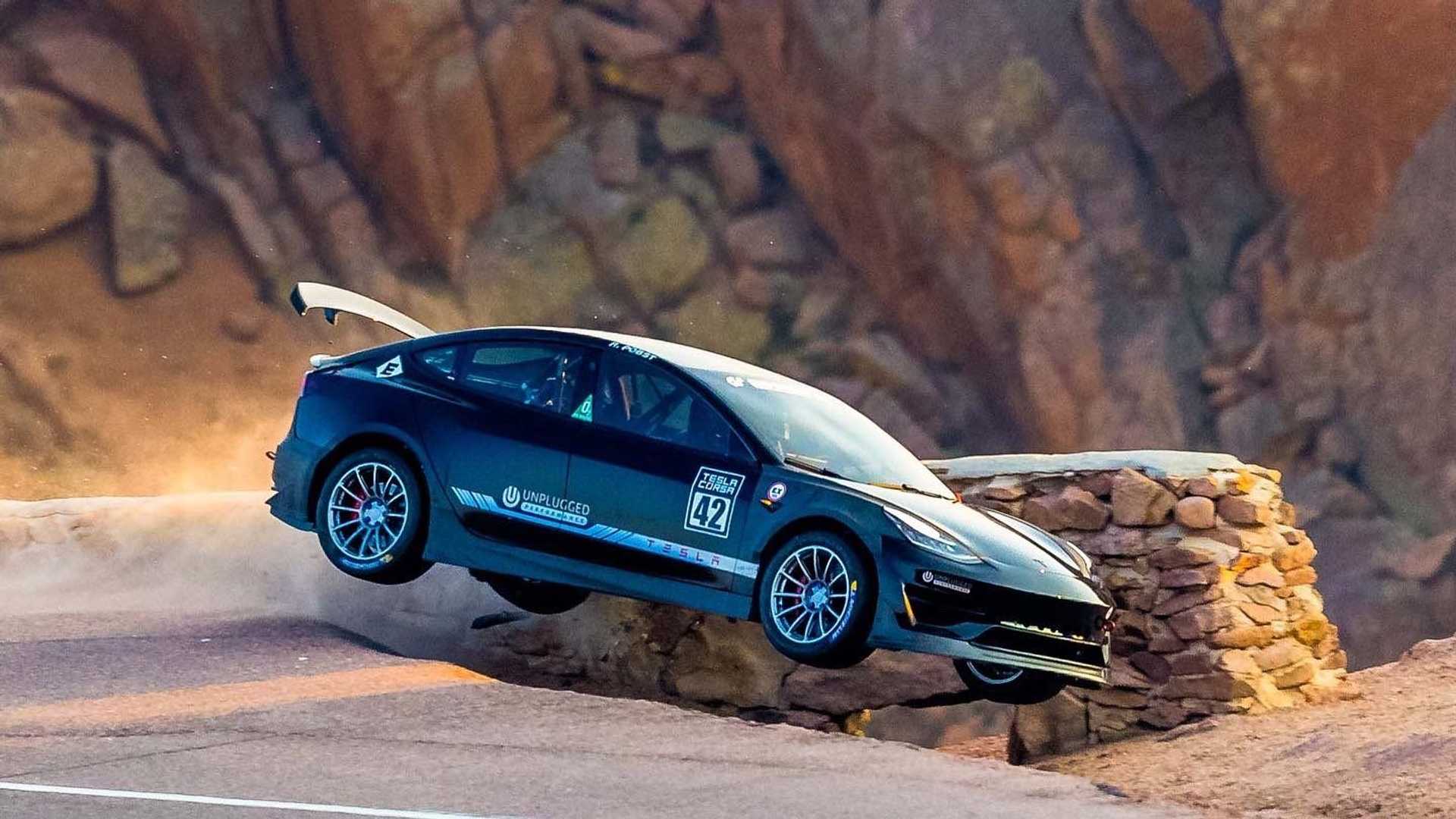 Pobst became the second racer in a Tesla to crash during practice after rookie Josh Allen lost control of his car and ended up sliding it across a ditch and into the tree range. Fortunately, he managed to avoid colliding with any of the pines, but the condition of his car was rendered undrivable for the main event this Sunday. With Pobst's car having suffered damage too, Blake Fuller might end up being the only driver behind the wheel of a Model 3. Back in 2016, Fuller had set the record in a Tesla Model S, and he hopes to break that record this year. The Pikes Peak Climb is supposed to be one of the most dangerous race tracks, and this year, it was going to be a fascinating clash between the three Teslas and three Acuras. However, that seems highly unlikely following the crashes during practice.
The Randy Pobst Crash
Randy Pobst is Tesla's star driver and a Pikes Peak veteran. He has driven around a variety of tracks and competed in many different races across the world. In one of his recent YouTube videos, he had mentioned that the Tesla Model 3 Performance that he was currently driving is one of the best he's ever driven. He was supposed to be one of the favorites at this weekend's event, but now, he is in a race against time to get his car back in shape.
According to sources, Pobst hit a small bump in a section of the high elevation upper track, nicknamed "Bottomless Pit". While Pobst is familiar with the bump and the car, due to an increase in the size of a bump due to erosion caused him to spiral out of control. Following the bump, the Tesla crashed into a stone bridge that is designed to keep the drivers and their cars from plunging to their deaths. It then ricocheted into a 10-yard deep gravel ditch. He said that, in hindsight, reducing the speed of the car more than he actually did could have helped to keep the car under control.
Following a proper evaluation, it is understood that the Tesla has a number of issues that need to be solved in 3-4 days time – bottom of the rear shocks are blown out, the wheels are bent and blown, the rear subframe is bent, rear-drive unit is caved in, rear driver door is damaged, rear driver quarter is damaged, the front end is smashed, rear brakes lines torn off, and most likely, the control arms are torn. It is definitely going to be a race against time for Tesla, with a matter of money and logistics involved as well. 
Randy Pobst
Unplugged Performance use newly delivered Model 3 Performance cars, which are then modified to adhere to the performance requirements for the Pikes Peak International Hill Climb. In the space of two weeks after delivery, they had gotten the vehicle track-ready, all set to break records. During the pre-Pikes Peak warm-up sessions, the Model 3 was being tested on the Laguna Seca by Randy Pobst, and it accidentally ended up setting the lap record for a four-door vehicle around the California track. The timing set by Pobst was 1:35.79, which was almost a second quicker than the previous record of 1:36.55, set by Tesla Model S Plaid. It was observed that even an amateur driver could beat the Model S record on worn tires, as well, thus proving the speed of the vehicle to be truly higher.
Following this, after some changes in the suspension settings before the first run at Pikes Peak, Pobst and his team decided to start off slow. However, it did not take him much time to get in his zone, and he realized that the car had also dialed in quickly. Needless to say, Pobst then decided to forego the initial plan and attacked the track at full potential, to finish in the first place of the Exhibition class with the timing of 4:15. Josh Allen and Blake Fuller came in second and third respectively in their Teslas.
Randy Pobst said the Unplugged Performance Tesla is the best car he's ever driven in his 6 Pikes Peak races. Today we finished 1st place in qualifying and 26 seconds faster than the second fastest car! Off to a great start! pic.twitter.com/trvvfsKdR3

— UNPLUGGED PERFORMANCE (@UnpluggedTesla) August 25, 2020
In the second run, Pobst pushed the car even further, managing to finish first again with a lead of 26+ seconds over the second-placed Fuller. Allen crashed out during this run. Coincidentally, the timing that Pobst set in the second run (4:12) was just 5 seconds slower than the winner of the Open Wheel Event, making it clear that both Pobst and his car were racing on a different level. He had set his sights on the win this Sunday, but this crash has put a spanner in the works. Whether the Unplugged team manages to get his car ready on time, or do their hopes rest only on Fuller now, remains to be seen.