Recently, there was a disturbing incident posted on social media called "rolling coal." An electric vehicle driver shared a video on Twitter showing three pickup trucks forming a roadblock and releasing harmful diesel exhaust on purpose.
Rolling coal is a bad practice because it's illegal and harmful to the environment.
People modify their trucks to emit way more pollution than regular vehicles, up to 100 times more! It's hard to understand why some do this, but it seems like they want to annoy others and show their opposition to environmentalism.
This behavior is dangerous and not right. We need to promote respect and understanding on the roads and find better ways to express our opinions without hurting others or the planet.
These truck drivers formed a roadblock with their pickup trucks and released harmful exhaust, a practice called "rolling coal." This behavior involves modifying trucks to emit way more pollution than usual, which is against the law and absolutely bad for the environment.
Surprisingly, these individuals seem to strongly dislike environmentalism and take out their anger on innocent EV drivers and cyclists. We'll try to understand their mindset and why they act this way.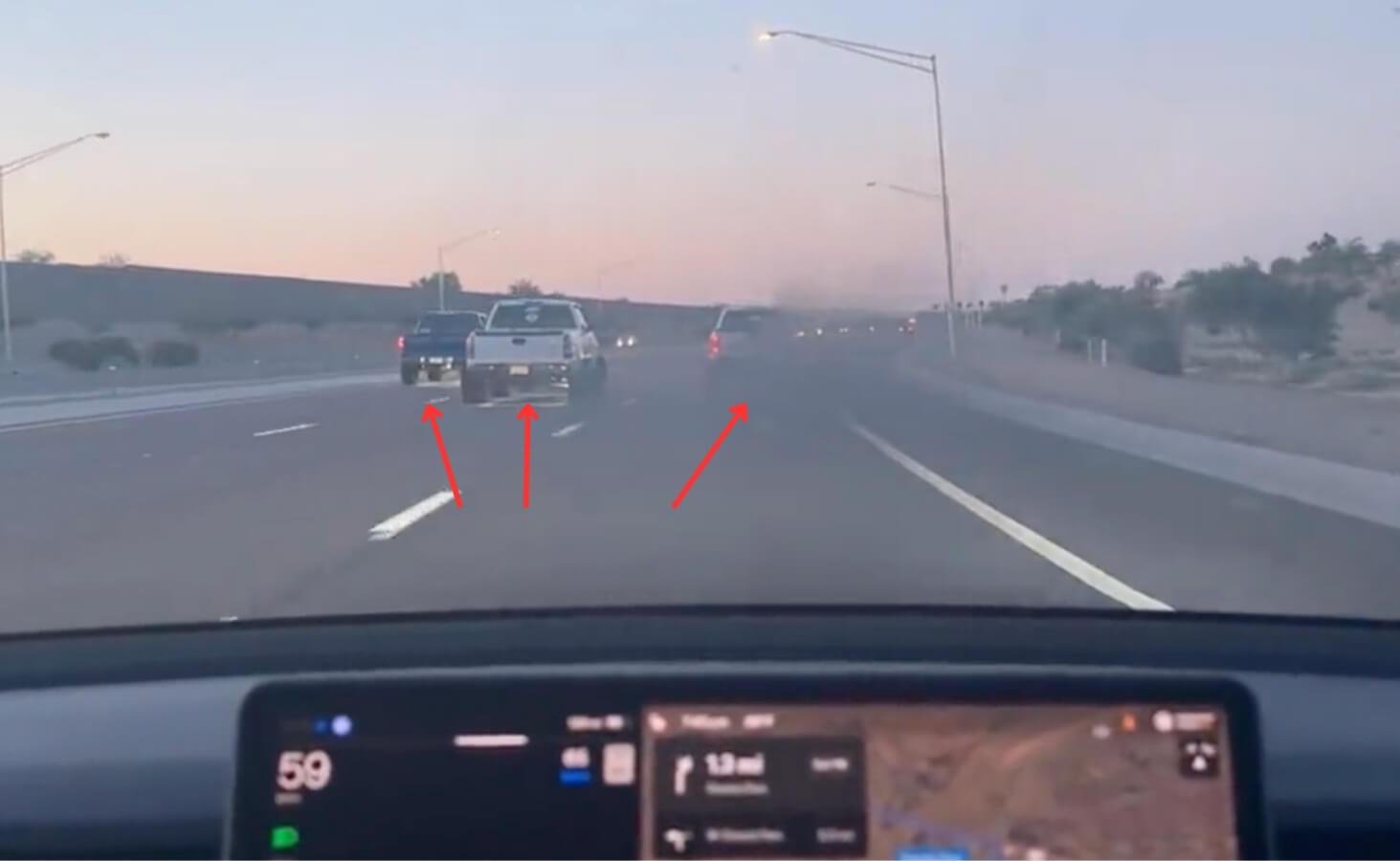 Rolling Coal On Tesla Model 3: What Happened?
Electric vehicles are gaining massive popularity as a sustainable and eco-friendly mode of transportation. Look at the soaring number of EV sales globally. However, not everyone is on board with this green revolution.
A disturbing trend known as "rolling coal" has emerged, where some drivers intentionally modify their pickup trucks to spew excessive amounts of diesel exhaust, targeting EV drivers and cyclists.
Taking my Model 3 out on a road trip and these 3 a**holes form a blockade in front of me and send all their fumes my direction. This should be illegal. Really wish I had a HEPA air filter right now…@WholeMarsBlog @jff024 @TheTeslaHoe @ValueAnalyst1 @DirtyTesLa @kylaschwaberow… pic.twitter.com/1X14rm3NuH

— Nathan (@NateWiki) June 7, 2023
One recent incident caught on camera by a Tesla driver named Nathan (@NateWiki) on Twitter has garnered significant attention.
In the video, you can see three pickup trucks blocking the way in front of Nathan's car. One of them purposely lets out lots of thick diesel exhaust.
The video captured by the brave Tesla Model 3 driver, along with his heartfelt explanation, sheds light on a truly concerning situation. While on a road trip, he found himself in a distressing encounter when three reckless individuals deliberately blocked his path and subjected him to their harmful fumes.
His frustration is understandable as he rightfully questions the legality of such behavior. What makes his plea even more poignant is his mention of the HEPA (High-Efficiency Particulate Air) filter, a feature that Tesla provides in their Model Y, Model S, and Model X with the Bioweapon Defense Mode, but curiously excludes from the Model 3.
Tesla's CEO, Elon Musk, previously explained that the size of the HEPA filter required for the Bioweapon Defense Mode is too large to fit in the Model 3.
It's crucial to note that Tesla vehicles equipped with HEPA filters offer a haven of clean air inside the cabin, irrespective of the outside air quality, once the Bioweapon Defense Mode is activated.
This innovative feature was introduced in the Model X and Model S in 2018 and later extended to the Model Y in 2020. However, the absence of this essential protection in the Model 3 raises questions about the safety measures available to Model 3 drivers.
Why The Anger Against Tesla Cars?
Tesla and Elon Musk is often crowned "the worst" or complete failure by people like these truck drivers but what some people fail to grasp is a simple concept.
If you don't like electric vehicles, that's totally fine – it's a free country, and everyone has the right to their preferences. However, it becomes a problem when individuals start bothering those who do appreciate and choose EVs.
Everyone should be able to make their own choices without unnecessary interference. Interestingly, EVs can even benefit those who stick to traditional gasoline-powered vehicles. As more people adopt EVs, the demand for gasoline is likely to decrease, resulting in a surplus of supply.
And guess what? High supply and low demand usually lead to lower gas prices – a win-win situation for all.
Why The Rolling Coal Trick Is A Threat For EVs?
Nathan's tweet showed us something really concerning. Those drivers who engage in "rolling coal" are not just causing pollution and being annoying, but they are also putting people's lives at risk.
The thick exhaust they release makes it really hard to see on the roads, as we saw in Nathan's video on Twitter. This is dangerous for all drivers, including Nathan and others who drive electric vehicles or any other vehicle.
It's important to deal with this problem seriously to keep everyone safe on the roads but the fact that these incidents are only increasing is quite concerning.
Rolling coal is when people illegally change their pickup trucks to release way more pollution than normal vehicles. The emission is sometimes 40 to 100 times more exhaust than a standard ICE vehicle.
They do this because they don't like the green change and want to show disrespect for those who support eco-friendly transportation. When they release thick diesel exhaust, it makes it hard for electric vehicle drivers and cyclists to see, leading to possible accidents and putting lives at risk.
It's a dangerous and harmful behavior that needs to be addressed ASAP.
Rolling coal is not only dangerous but also really bad for the environment and our health. When these modified trucks release lots of diesel exhaust, they add to air pollution, making climate change worse and harming the air we breathe.
The thick exhaust contains harmful stuff like particulate matter and nitrogen oxides, which can make people sick, causing problems with breathing and the heart.
Disturbing Incidents Caught on Camera
The Twitter video shared by Nathan (@NateWiki) has generated widespread outrage and calls for legal action against those who engage in rolling coal. Many users expressed their disgust and concern, emphasizing the need for strict penalties to deter such behavior.
One user questioned whether the video could be used as evidence for the prosecution, while another suggested that rolling coal should be considered a punishable federal crime. The sentiment among these users is clear: rolling coal is not only an environmental and public health concern but also a safety hazard that demands strict consequences.
Unfortunately, this is not an isolated incident. In Texas, a 16-year-old allegedly lost control of his truck while attempting to "roll coal" at a group of cyclists, resulting in six individuals being hospitalized.
Initially, the driver faced no charges, but public outcry eventually led to six felony counts being filed against him. Later there were no updates found on the news as it involved a juvenile driver.
In another incident involving another Tesla Model 3, the Tesla driver was chased for around 20 minutes when he was picking up food in April 2022. He managed to call 911 but got no help from the Police as they said it was nothing serious.
The Tesla driver then managed to find and wait in a Police station and even showed the police his onboard camera footage but they refused to see it. He posted the video online where one can clearly see how the two pickup trucks chase him in harrowing road rage throwing beer cans and other heavy things.
Plenty of such incidents pop up on social media and Google searches involving Teslas when you hit rolling coal on Tesla. These incidents serve as a stark reminder of the risks posed by rolling coal and the urgent need to address this issue.
What To Expect In The Future?
Rolling coal is not really legal but is widely seen happening in various states. People find different ways to do it, like using special switches, tuners, or big fuel injectors. Their goal is to put more diesel into the engine than it can handle.
The result?
Lots of exhaust from the unburned diesel fuel. It's like the engine is throwing a smoky fit! But all that smoke isn't good for the environment or anyone breathing it in but who cares.
The legal consequences for rolling coal vary from state to state. Some states, including Colorado and New Jersey, have enacted laws to specifically address this issue, considering it a violation of air pollution regulations4. However, many states lack specific legislation targeting rolling coal, making it difficult to hold offenders accountable.
The EPA is really serious about stopping those devices that cheat emissions control systems. They say it's against the Clean Air Act, and they're not just talking – they're taking action! Since 2020, they fined about 40 companies that make and install these tricky defeat devices.
Two Detroit firms got hit hard with a $10 million fine for selling and using these devices. The EPA is getting tougher on anyone trying to mess with air quality rules.
Efforts are underway to push for stricter regulations and penalties to deter this dangerous behavior.
To combat the issue of rolling coal, education and awareness are crucial. It is important to educate the public about the environmental and health impacts of excessive exhaust emissions and the need to transition towards cleaner and more sustainable transportation options, such as electric vehicles.
Bottomline
The lack of respect and the "I can do whatever I want" mindset seem to be taking control of every highway nowadays.
It's become a daily occurrence, there's always at least one person driving in the left passing lane, going slower than the speed limit, but stubbornly refusing to move over and let others pass. It's frustrating because not moving over is actually against the law, but it seems like it's never enforced.
The disturbing trend of rolling coal poses a significant threat to the environment, public health, and road safety. The intentional modification of pickup trucks to spew excessive amounts of diesel exhaust is not only an act of harassment but also a clear disregard for the well-being of others.
Stricter regulations, legal consequences, and public education are essential in combating this dangerous practice and promoting a cleaner and safer future for all. What do you think about the incident?
Do you think it is okay to punish EV drivers this way? Do share your views with us down in the comment section.