Tesla Autopilot is a very advanced feature that the Californian automaker installs in all its cars. It is a very useful driver-assist system, as it has a fair level of autonomous driving capabilities. However, Tesla has had its fair level of headaches when it comes to the way owners have used this feature. There have been a lot of crashes with the driver not paying sufficient attention to the road while the car was in Autopilot mode. What people do not understand is that the Autopilot mode is not a self-driving program, as it is not configured very well in urgent braking conditions. A bizarre incident occurred last month, where a Canadian man inside a Model S had apparently reclined his driver's seat and was spotted lying down while having his car on Autopilot at 150 kmph. Another such event occurred yesterday when a man uploaded a video on YouTube where he was sitting on the passengers' seat and his car was running down a highway on Autopilot.
The Tesla Autopilot Story
Tesla is considered to be the pioneer of the modern electric vehicle industry, with amazing hardware and constantly updating software present in their cars. The Supercharger network that they have built across the United States of America and Europe have helped them with a lot of sales worldwide. Another aspect of Tesla's success has been their use of Advanced Driver Assistance Systems (ADAS) in their cars. Their Autopilot feature, which consists of many assists like Navigate (gliding across slow-moving traffic), Autosteer+ (navigating along with tighter corners), and Smart Summon (summoning from the garage to the driveway). Through the use of these features, a Tesla driver can easily have his car get autonomously driven in ideal conditions.
However, it does not give drivers the liberty to let their attention wander away from the road. Even Tesla advises their users to have their hands on the wheel and eyes on the road, as emergency situations in the traffic require the driver to intervene. They have a clear message on their website as well, which says 'the current autopilot feature requires active driver supervision'. Despite this, many drivers take the system for granted to take the driving burden of their shoulders.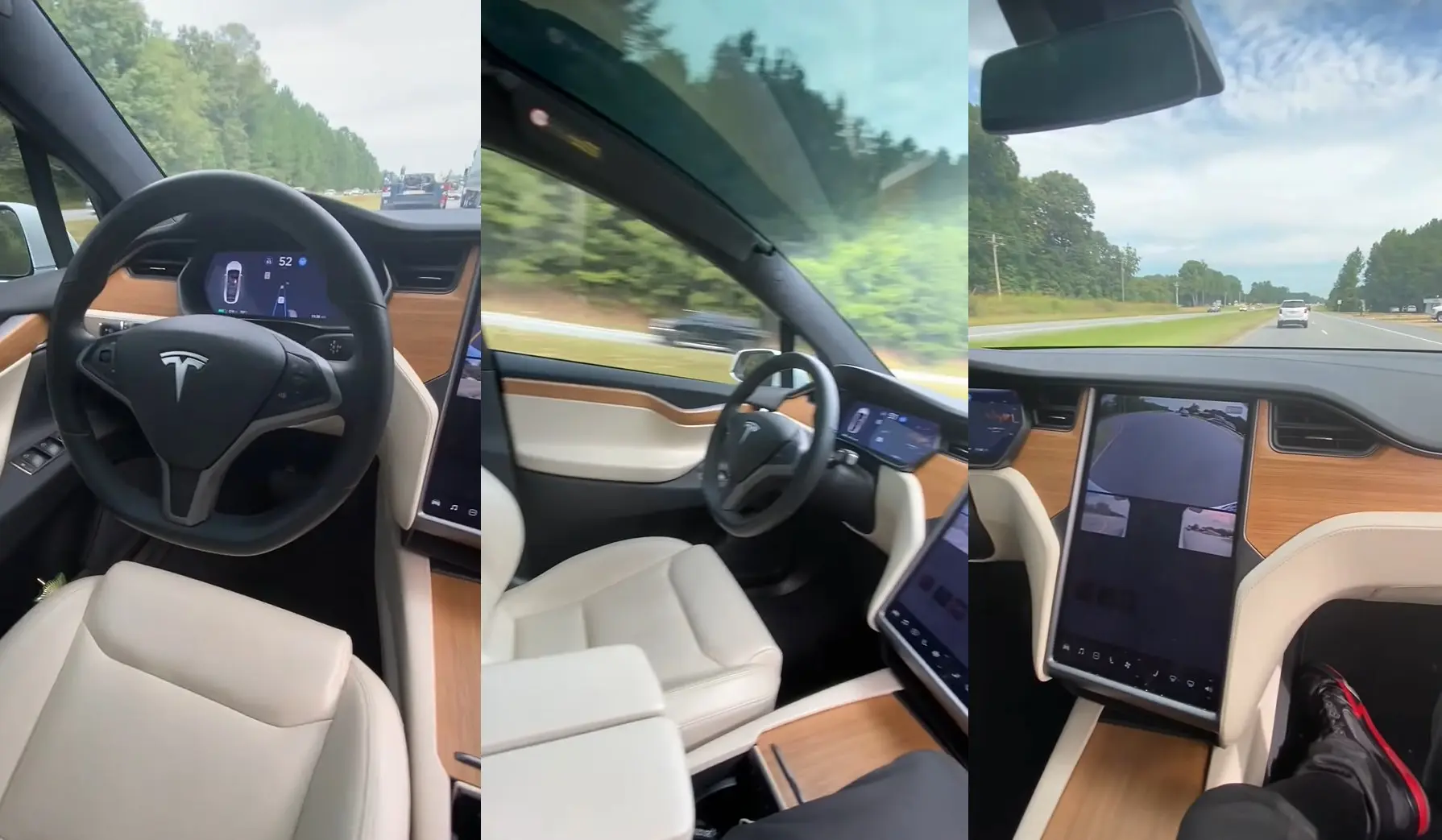 The video is one minute long, where the person shooting it is sitting in the passengers' seat. He put his Tesla Model X in Autopilot mode as it drove down a highway in North Carolina, in relatively moderate traffic. The video shows the car running behind another passenger car while having a large truck running in the adjacent lane.
The Canadian guy who allegedly slept in his reclined driver seat while his car was running at 150 kmph was arrested by cops right away. This North Carolina guy, however, managed to evade any authorities, and even tried to earn some cheap popularity points by uploading the video on YouTube. He already has 51K views on that post.
Tesla has tried to ensure that incidents like these do not happen by inserting a pressure sensor inside the steering wheel. The Autopilot mode can only be used when the pressure sensor gets activated. A small company made a hack for this, by introducing an "Autopilot Buddy", which is essentially a dead weight that you attach on your steering wheel. The National Highway Traffic Safety Administration (NHTSA) had banned the use of this Autopilot Buddy, but it was later reintroduced as a mobile phone holder.
Quite frankly, some disciplinary action should be taken against these drivers who carry out such stunts. By doing something ill-advised like this, they are putting not only themselves but also other people around them at risk. Autonomous driving has not yet reached a state where it can be regularly used by drivers without having to intervene at all. And even if it has reached such a state, automakers haven't carried out enough autonomous testing to allow drivers to do it. Until then, Tesla drivers are requested to keep their hands on the wheel and eyes on the road at all times, please!