The previous generation cars like Mercedes Benz E-Class, Audi A6 or any alternatives, even though these are old cars it does look so attractive. If we should ask you guys how many of you would like to buy a German car or a premium luxury car say from Mercedes Benz or the BMW, Jaguar, Land Rover or even Volvo most of you must have raised their hands. These cars are so attractive and obviously, there is a special feeling while driving these cars.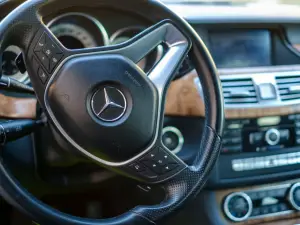 Should you Buy a Used Luxury Car
Mercedes Benz, Audi and BMW all have been in India since a long time now at least more than 10 years so there are a lot of old cars which are available for bargain. Buying a new one doesn't really make sense unless and until of course you do a business so you can depreciate the car but for those looking to buy it used firstly.
Buying New Luxury Car
Buying a new Mercedes, BMW or Audi, Now the range starts at around 40 lakhs for which you get a car like Audi A3, BMW X1 or of course or the Mercedes Benz CLA, A-class or the GLA, these cars are not truly German because they are front-wheel drive, they lack that feel which would expect from a German car because they're small and stuff. The minimum which we would recommend is a C-class for a Mercedes Benz, A6 for Audi. You cannot for the BMW X1 but go for the top version which gets all-wheel drive.
Maintenance Cost is High
If you want to buy used Mercedes, Audi, BMW, Jaguar or Land Rover should you buy one? These cars are very attractive you can look around to get a splendid deal a very attractive price but what we all fail to see is the maintenance, now these cars aren't cheap to upkeep they are very expensive to maintain and that is something you all need to consider because most of us really don't know that.
If you want to change its engine oil, it's really cost as much as say her diamond ring. well actually service is very expensive the minimum service cost is approximately rupees 50k so service starts at rupees 50k and it can go into lakhs for these cars. obviously if a car is costing 50 lakhs the service is also going to be more expensive.
There are two reasons for that firstly the kind of spares it uses the kind of oils it uses is very different from say regular Japanese or an Indian car so of course prices go higher there and the dealer also needs to survive he is going to sell so little units of say a Mercedes or an audio or a BMW how is he going to make money to survive because setting up a dealership is a very expensive service centre and all these is very expensive obviously they have to recover money somewhere and the service is one of the ways they recover money.
If you think that you're going to go and get this service outside all the best, you can do that of course nobody's going to stop you from doing it because most of the cars are going to be out of warranty. The ones we are going to buy so getting it serviced from an authorized dealer is not a necessity but even then, the service cost is going to be a minimum of 30 to 35 thousand rupees because of these things which need to be done the good part is that service is not very frequent it's around 15,000 kilometres or one year whichever is earlier so don't have to worry on that front but remember service is not cheap.
The other problem is god forbid if something fails on the car or a part replacement needs to happen or some accident repair needs to happen then you are loot. It's very expensive even after insurance you have to pay a certain part because insurance doesn't cover 100%. It is going to be very expensive so if you have deep pockets or if you're running a business where you can depreciate or you know claim all these expenses in your business.
There is absolutely no point going and buying a German car unless and until you can afford it and if you can afford it then, by all means, go for it but I'm just telling you that if you are looking at German cars like with your mouth watering just be careful before you buy one because service is not going to be cheap.
How the people going to buy these cars
Personally, not really anybody buys it as an individual and even then if someone is buying this car as an individual Mercedes, BMW or Audi all of them have these service plans which they offer so it starts at 2 years and can go up to 10 years for certain brands now in that what happens is you pay up front say too lengthy like and you're covered for two or three years all serviced and everything so you don't have to worry on that you just go drive your car the service is covered in the prepaid amount which you've already paid, it's a nice option too.
They have a limited service plan
If you go and buy something used or a second-hand car because there's also term that you know the car must be this old, you cannot really go and buy a service plan after four or five years because a company won't sell it to you and they know that things are going to fail at that point of time.
Failure Cost is High
Germany not the most reliable in the market small things can fail because they have so many electronics so there is a tire-pressure-monitoring system and it's a very advanced system, The XUV has it but it doesn't really work properly but in these cars, it works very well but when it fails you're completely screwed so out of all these brands which is the cheapest to maintain? well without doubt it's Volvo. Their cars are the cheapest to maintain and one of the most reliable, these cars supremely comfortable very luxurious feel, very stable and fun to drive to especially the BMWs but among them which is the cheapest to maintain it is Volvo cars and not only the most reliable they're also the cheapest of course because it is not a German it's a Swedish company now owned by a Chinese company.
Go for Japanese Cars
If any of you are having dreams of buying a German car drop them right now or work five times as hard to pick the bills of service or repair and spare parts. The reasons why the top-selling car in the USA is a Honda Accord in a Toyota Camry and all these Japanese vehicles because Japanese guys are much more reliable and they are also cheaper to maintain but that said nothing makes you arrive in style like a German car like a Mercedes Benz or a BMW or an Audi personally among all these I rang BMW at the top because they are the most fun to drive Mercedes-Benz cars are also very nice it's all these I don't like much I think they are glorified VW's.
Meanwhile, Jaguar and Land Rover, the problem with those two companies is that they're not very reliable quality and almost certain something or the other is going to rattle in fact that's not just in India because of the bad roads it's globally.
You can consider Volvo cars
Volvo is emerging and their new cars are fairly awesome. The Volvo S90 and XC90 are the best cars but they don't have much presence in the Indian market because they don't have a big wide dealership network.
Issue with tyres
One major issues with all these German cars is their tyres. All these German cars they come with low profile tires and these tires cost around 20k to 30k Rupees for one piece to be replaced, very expensive tires not a problem but the problem is they don't last and our roads are so bad. This so bad that you know you cannot comfortably head out of town thinking that everything is going to be fine.
Firstly the problem is that once you go into a bump now there's almost a 50% chance that you have ruined that tire because of the low side walls. it can easily catch a puncture and usually problem is not punches the problem is that they get cuts and when they get cuts now the tire is almost useless and if you're doing a long journey you have an extra tyre at the rear which is of not much use because you can't drive over 80 km/h so tires are another big issue with these cars whenever you take it out of town now you have to be really very careful and there are times where you can't be careful because all of a sudden a bump will come.
You can't do right left there's going to be traffic so if you are looking to buy one of these cars or probably you should have your own tyre shop or maybe change that as to even good profile.
Still if you want a car just for its name, go for Jeep Renegade or Jeep Compass, so this was our guide on used luxury car topic. If you have any questions regarding this post, let me know in the comment section below.
FAQs
Is It Good to Buy Pre-owned Luxury Cars?
Buying a pre-owned luxury car can be a good option for those seeking high-end vehicles at a more affordable price. However, it's important to carefully consider factors such as the car's condition, maintenance history, and potential warranty coverage. Conducting thorough inspections and obtaining vehicle history reports can help ensure a worthwhile purchase.
Does It Make Sense to Buy Used Luxury Cars in the US?
Buying used luxury cars in the US can make sense for certain individuals. Luxury cars often experience significant depreciation, allowing buyers to find well-maintained models at more affordable prices. However, potential buyers should consider factors such as maintenance costs, repair history, and extended warranty options to ensure a financially sound and satisfying purchase.
What Are the Disadvantages of Luxury Cars?
Luxury cars typically come with a few disadvantages. They tend to have higher purchase prices, costly maintenance and repairs, and more expensive insurance premiums compared to non-luxury vehicles. Additionally, luxury cars may require specialized servicing and parts, limiting options for repairs and increasing expenses. Lastly, their advanced technology features may be more complex, leading to higher repair costs and potential reliability issues.
Are Luxury Cars Better Than Regular Cars?
Whether luxury cars are better than regular cars depends on individual preferences and needs. Luxury cars often offer higher levels of comfort, advanced features, superior performance, and premium materials. They may also come with better build quality and cutting-edge technology. However, regular cars can be more affordable, practical for daily use, and cost-effective to maintain. Ultimately, the definition of "better" varies based on personal priorities, budget, and specific requirements.