California-based automaker Lucid Motors' CEO announced the plans to launch a $25,000 car. So far, Lucid has launched just one car, the Lucid Air. The Air is a luxury sedan that competes with the Tesla Model S and the Porsche Taycan. However, the carmaker has now stated its intention to launch an affordable EV in the future.
The Pursuit of making affordable EVs
Launching an affordable is on the priority list of almost every major player in the EV market. However, few of these companies have taken concrete steps in that direction. Tesla and Volkswagen are already supposed to be working on an entry-level EV. These cars will cost around $25,000 which will make them much more accessible. An affordable EV will allow more people to switch over to clean, green, zero-emission vehicles.
However, it is not as easy to build a car that will be sold at that price point. The amount of work that goes into developing technology for an EV is very high. Add to that the cost of the materials used in the construction of the battery and other components and it becomes very difficult to build an affordable EV. Most of the EV manufacturers around the world are trying their best to develop the mythical $25,000 electric vehicle and so far none of them have announced any concrete information about their respective projects.
What has Lucid said
Lucid's CEO Peter Rawlinson recently stated that the automaker will make vehicles "progressively more affordable in progressively increasing numbers." This means that Lucid is now aiming to increase the numbers of production and simultaneously make cheaper cars. This is a bold statement by the company. Lucid has had success in the markets. The company is now reportedly worth $24 billion. With the Lucid Air being quite successful and the Gravity SUV upcoming, they are looking fairly strong right now.
Lucid Air
However, they do not have any cars at the cheaper end of the market. The cheapest offering from the company being the base level Lucid Air, which begins at $69,900 is out of reach for the average Joe. In comparison, the cheapest car from Tesla, the Model 3, begins at $37,990. This makes it very difficult for Lucid to actually compete with Tesla in terms of sales numbers and market share. Thus, it is necessary for them to have a cheaper vehicle in their portfolio.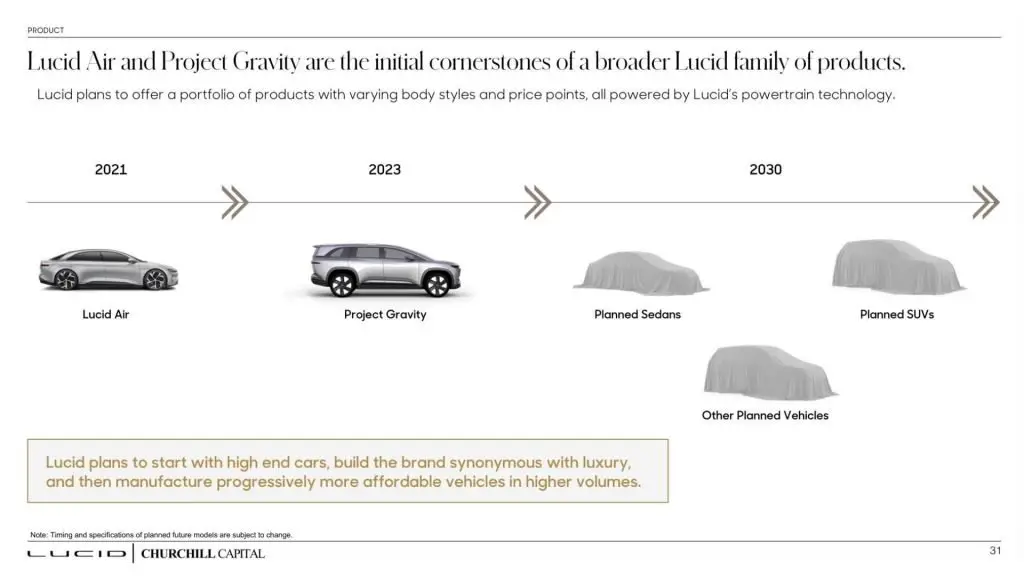 While this announcement is heartening, there are other aspects to this project. Due to the small size of the company, Lucid will require almost 10 years to launch an affordable vehicle. However, this time period can be reduced significantly if they are able to collaborate with a car manufacturer who has the means to produce parts and vehicles at a quicker rate. Since most of the big companies like Volkswagen, GM, BMW, Stellantis, and Ford have already started their individual EV projects, it seems hard for Lucid to find a suitable partner.
Either way, Lucid is definitely showing encouraging signs for the future, and this announcement is definitely a step in the right direction.
The importance of a $25,000 EV
EVs have been the future of automobiles for a long time. However, the future is now upon us. EVs are becoming increasingly popular. Consumers are getting more and more interested in cars having a green image. The success of Tesla is a big indicator of the shifting preferences of people.
However, EVs are still quite expensive. The cheapest EV with a decent range, good features, and good performance is the aforementioned Tesla Model 3. And even that car costs around $40,000. This isn't an affordable vehicle in any way. This is why the markets require a $25,000 EV. It would make EV technology accessible for a wider range of people and will make EVs more common. It will also open more people's minds to the prospect of owning an EV. Hence, the mythical $25,000 EV is absolutely necessary for the market right now.