The last couple of years have been really good for the electric vehicle industry. A lot of new vehicles are coming to the market and the public has a lot of choices. While battery technology is progressing at a rapid pace, there are still some things that companies need to address. One of them is the charging speeds. Now, many of the recent vehicles come with really good charging capabilities, with around 15% to 80% of the battery being charged in less than half an hour. While this is a decent speed compared to the older electric vehicles, it can be a little problematic if there is a waiting line.
This normally means you have to spend 30-60 minutes at the public charging station. Of course, you can combine this time with a lunch or dinner break. And that is exactly what some companies are trying to work with. If you offer a denser charging network, it gives the driver a lot of options for charging their vehicle. And they can base this decision on the available amenities around the charging station. That is exactly what food outlets like McDonald's have identified, and they have decided to take advantage of it.
McDonald's Comes up with a New Scheme
Popular food outlet McDonald's has come up with a new plan. They have a board outside their outlet in Firebaugh, California that reads:
Recharge with McDonald's while you recharge your Tesla.

Food delivered directly to your charge bay.
This is a rare example of a business directly catering to Tesla owners. It basically means that you literally don't have to get out of your vehicle for getting food. You get into the charging station, plug in your vehicle, and order food through the McDonald's app. The outlet, which is on the same premises as the charging station, delivers your order to your car.
Serving up Big Macs to the car @ the Tesla charging station in balmy Firebaugh. pic.twitter.com/dclwrlApxy

— Michael Dunne (@Dunne_ZoZoGo) June 25, 2021
The Need for Charging Stations to be around Better Amenities
As discussed earlier, the minimum time that you require for sufficiently charging your vehicle is around 20-30 minutes. Any lesser and you'll have to take more frequent charging breaks. Of course, any sort of waiting means your break gets prolonged. This is why it is necessary for companies to understand where to set up charging stations.
The location of the charging station needs to be such that there are sufficient amenities around to entertain the people. This includes restrooms, coffee shops, and restaurants. Furthermore, there needs to be a denser network of chargers along popular routes. This gives the people a lot of choices. On many of the popular routes, some EV owners have their preferred stations based on the amenities around them.
For instance, Highway 5 between Los Angeles and the Bay Area has around 6 Tesla Superchargers within the distance of one charge. One of these is the Firebaugh Supercharger. It is a relatively new charging station, and one of the biggest too, with 56 charging stalls. There are a few options to eat around the charging station, including a Little Caesars, a Subway, and McDonald's.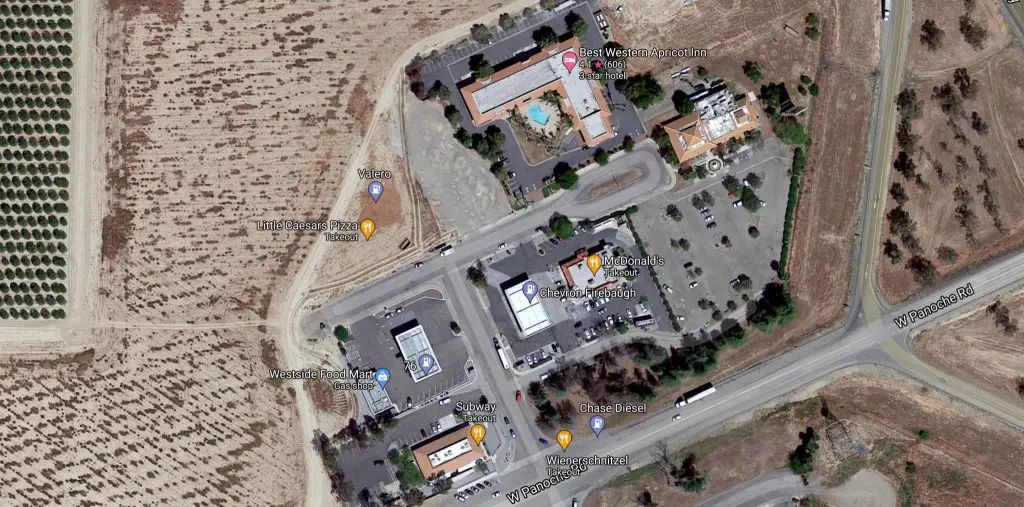 Plans for a Tesla Restaurant
In 2018, Elon Musk talked about Tesla's plans to open a restaurant near one of the Superchargers in Los Angeles. This would be an "old-school drive-in, roller skates & rock restaurant". Many thought Musk was joking about this, but sure enough, after a few months, Tesla applied for building permits for a restaurant and Supercharger in Santa Monica.
The project laid dormant for roughly three years until new building applications were submitted earlier this year. But those new plans didn't include a restaurant, although it did include what would become one of the biggest Supercharger stations in the world. Most people thought that the Tesla restaurant idea was dead now. But in April this year, Musk said he hoped to build a 50s diner there.
Our Opinion
This is something that companies will have to look into when selecting locations for charging stations. People will only drive into a charging station if they have certain amenities available nearby. This majorly includes food outlets and restaurants. Of course, as and how such complexes like the one at Firebaugh get developed, there will be more amenities coming up as well. This may include entertainment as well, for people who have to wait around 30-45 minutes for charging.
And of course, one may see a Tesla restaurant going up someday. But until then, you can enjoy a Big Mac sitting inside your Tesla while charging at Firebaugh.