For a long time now, there has been a question mark over the viability of electric aircraft. While the market has slowly accepted electric vehicles thanks to the improved reliability and range, there have been some major doubts over electric aviation. The biggest reason for this is the energy density of the current batteries. According to experts, batteries need to reach an efficiency figure of 400Wh/kg before people can even think about using them in aeroplanes. Even Elon Musk had mentioned something similar in the past.
Yesterday, Eviation unveiled the production version of what would be the world's first all-electric commuter aircraft. The company unveiled the prototype back in 2017, and now they have released a rendered image of the production version.
Eviation – Pioneering the Dream for Electric Aviation
Eviation is a company that has been working on an all-electric aircraft for quite some time now. The vision of the company is to change the way people travel regionally through affordable, sustainable aviation. Konstantin Ziman, the Chief Designer at Eviation, has turned to nature while designing this aircraft. Orca whales, who cut through the water with efficiency, elegance and speed, was the inspiration that Ziman has tried to imbibe here.
And with that inspiration, Eviation has brought "Alice" to the market. It is supposed to be the sustainable, affordable and quiet solution to regional travel. And since Eviation is pioneering a new form of electric travel, people are calling it the "Tesla of Aircrafts".
Eviation Alice – World's First All-Electric Commuter Aircraft
When Eviation unveiled the prototype four years ago, it boasted of a range of up to 600 miles (965 km). There would be a seating capacity of nine passengers, thus making it viable for short-haul airlines. Now, they are back with more details:
Alice, a nine-passenger, two-crew member aircraft, produces no carbon emissions, significantly reduces noise, and costs a fraction to operate per flight hour. Two magni650 electric propulsion units power this aircraft. These electric propulsion units come from magniX, the only flight proven electric propulsion systems at this scale. Honeywell has designed the advanced fly-by-wire system, and they are the market leader in such systems. The single-volume, high-energy density Alice battery system consists of currently available battery cells and is not reliant on future advancements. These proven technologies and design elements make it easy and reliable for pilots to seamlessly transition to flying the Alice. They will create a superior passenger flying experience, accelerating the aircraft's path to market.
You can watch a time-lapse video of the production version of Alice here:
Eviation has downgraded the range of the aircraft, though. The production version will now have 440 nautical miles (506 miles or 815 km) of battery-powered range. The speed at which Alice can cruise is 220 knots (253 miles or 407 km). It can reach a maximum height of around 9,7000 metres. It requires a take-off distance of 620 metres and a landing distance of 800 metres.
The maximum take-off weight is around 7,400 kg. The maximum commuter payload is more than 1000 kg, while for freight payload, it is more than 1100 kg. The Alice has a maximum power output of 640 kW (858 hp) through each of the two propulsion units.
Here is the entire specs sheet: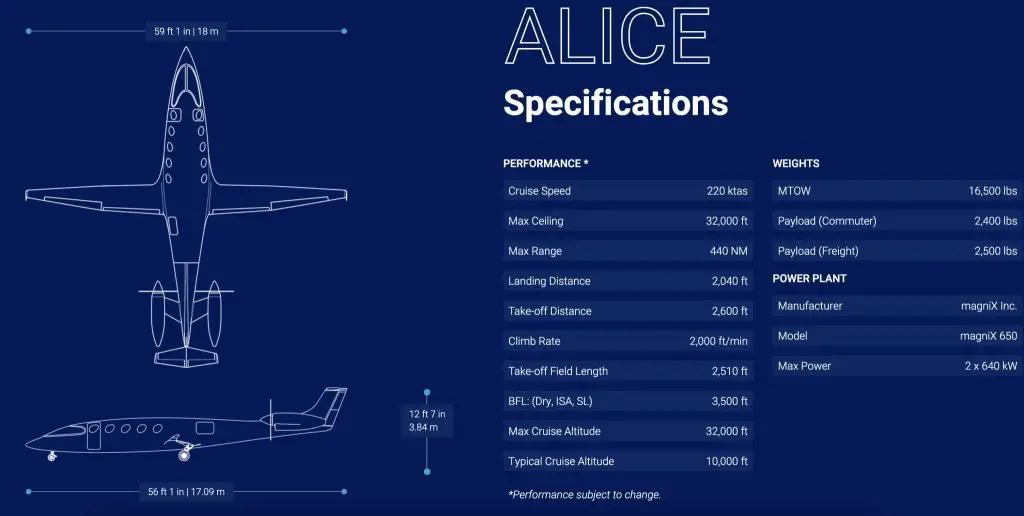 The Future for Electric Aviation
The initial range of more than 600 miles was promising, but the current figure is not bad either. Of course, Eviation hasn't released battery details yet. Hence, we don't know exactly how much efficiency they are targeting. Despite that, the Alice aircraft could prove to be useful on shorter routes. And the major reason for this is the lowered operation cost. Aviation fuel is quite expensive, and so, fuel savings will amount to a large chunk.
Eviation is planning on holding an inaugural test flight later this year, but commercial flights will take time. The certification process is a lengthy one, and one can only expect the Alice to go into service after 2024. Despite that, it will most probably become the first commercial all-electric aircraft.
Elon Musk has previously mentioned that 400 Wh/kg is supposed to be the magic figure for electric aviation. Tesla vehicles currently have somewhere between 250 to 300 Wh/kg of energy efficiency. Many battery manufacturers claim to have achieved this magic number, but there's a difference between producing a single cell module and volume production. Once that is breached, it will probably be only a matter of time before electric aircrafts become a reality.