Toyota has presented its ultimate near production-ready electric pickup truck prototype at the Japan Mobility Show. This new-age truck represents a Bosa Monaco Body which can sound heavy but it simply means its build-out for extra toughness. Kevin Hunter, the president of Toyota's design research center in California, shared some insights at the event. He emphasized the paramount importance of avoiding a toy-like appearance for the concept, asserting that Toyota was resolute in making it exude a robust and capable aura.
Although Toyota has not officially disclosed the battery size and driving range for their upcoming EPU truck, I will endeavor to provide an informed estimate in this article. Toyota is keenly aware of the competitive landscape in the fully electric pickup truck market, wherein brands like Rivian and Tesla have made significant strides. The introduction of the EPU reflects Toyota's relentless commitment to offering a midsize electric pickup truck for global consumers.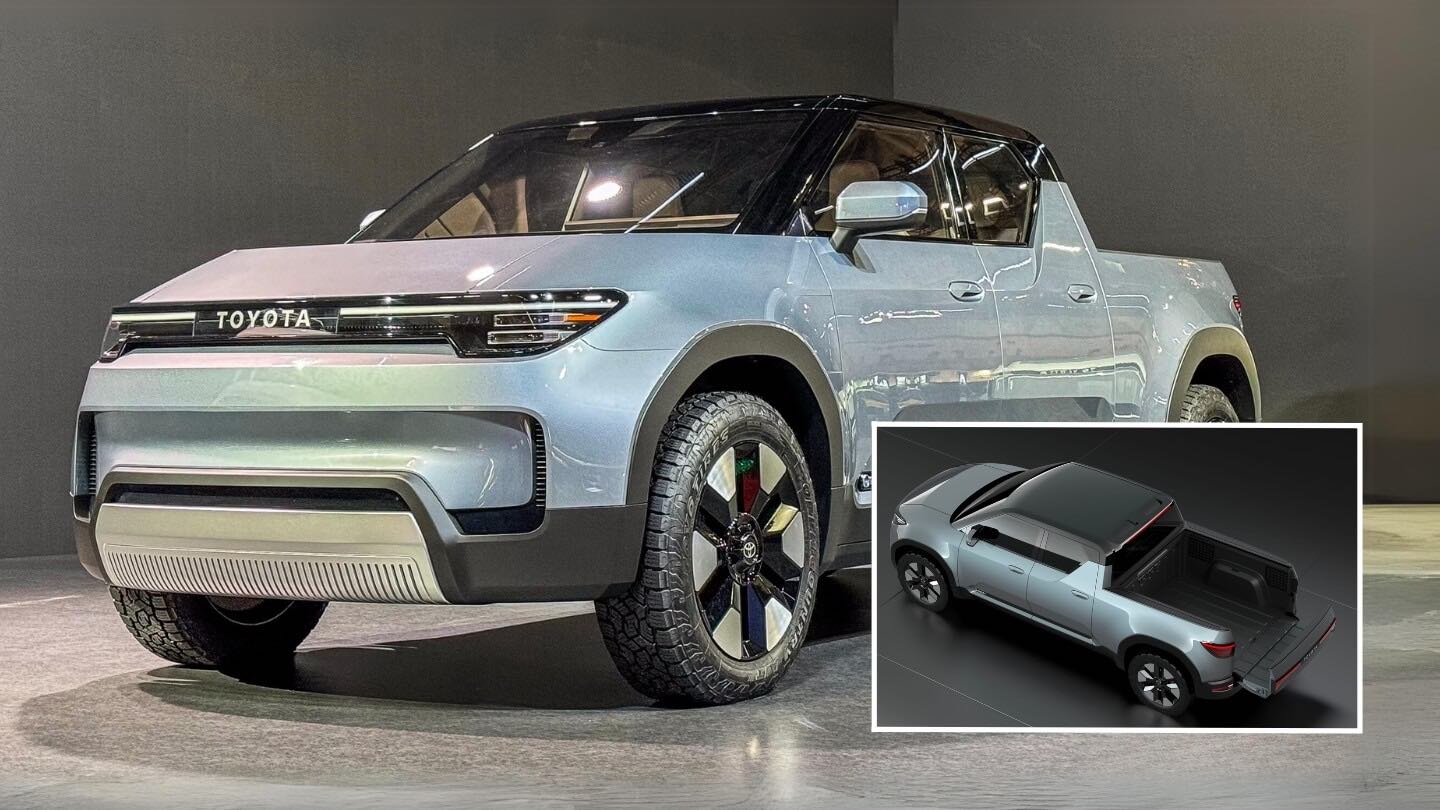 Specifications of Toyota EPU Truck
The Toyota EPU showcases a robust monocoque construction, characterized by its single-piece design, delivering exceptional durability and an aesthetically appealing battery electric vehicle. With a length of just over 16 feet and a double cab layout, the EPU offers both practicality and style. What sets the EPU apart is its adaptable deck space, thanks to the monocoque structure, catering to a range of applications.
This versatility extends to the seamless cabin integration with the deck, accommodating diverse preferences and lifestyles, including outdoor enthusiasts. Transitioning to the battery electric vehicle (BEV) aspect, electric vehicles are celebrated for their quiet operation, and the EPU maintains this advantage. Its smart design emphasizes a low center of gravity, enhancing maneuverability and ensuring a comfortable driving experience.
Exterior Dimensions
In terms of dimensions, the EPU slightly exceeds 16 feet in length with a 132-inch wheelbase, positioning it within the realm of smaller trucks, akin to the Ford Maverick. Measuring approximately 6 feet in width and less than 6 feet in height, the EPU targets a specific demographic of drivers. Adhering to the monocoque structure trend, akin to the Maverick, it boasts four doors and can accommodate up to five occupants.
Interior Dimensions
To unlock even more space, the rear seats and the front bed can be folded forward, unveiling a whopping 8 feet of cargo-hauling capability. As Kevin Hunter aptly put it, the EPU beckons a unique breed of buyer, distinct from Tacoma's typical audience. It embodies an exceptional level of functionality, meticulously designed to fulfill the utility needs of those seeking a pickup without venturing into the realm of extreme off-road features.
Delving under the figurative hood, Toyota has yet to unveil the specifics of the EPU's powertrain. However, one key detail has been disclosed: it is electric. Therefore, traditional internal combustion engines are not to be expected. The presence of off-road tires suggests a potential dual-motor setup, designed to conquer challenging terrains.
The information provided thus far represents only a fraction of the details available regarding Toyota's Electric Pickup Truck. Many more specifics remain undisclosed, awaiting their official release. Nevertheless, we are committed to looking deeper into the performance and capabilities of this new entrant, particularly in comparison to other prominent electric trucks such as the Ford F-150 Lightning and Tesla Cybertruck.
Comparison of Ford F-150 Lighting and Tesla Cybertruck
The Tesla Cybertruck is poised to offer consumers a versatile array of powertrain options. Upon its initial release, customers will have the choice of dual- and tri-motor configurations, both featuring all-wheel drive capabilities.
Powertrain
Tesla claims that the single-motor variant will exhibit commendable acceleration, achieving a 0 to 60 mph time of 6.5 seconds with a top speed of 110 mph. In contrast, the dual-motor Cybertruck is anticipated to demonstrate even more impressive performance, clocking in at 4.5 seconds for the 0 to 60 mph sprint and reaching a top speed of 120 mph. For those who wish for ultimate power and speed, the Tri-Motor model is the standout choice, offering an astounding 0 to 60 mph acceleration time of a mere 2.9 seconds and a top speed of 130 mph. The Powertrain covers eight years regardless of miles.
On the other hand, the Ford F-150 Lightning lineup will consist of models equipped with dual electric motors and all-wheel drive as standard. The power output varies based on the battery selection, with the Standard-Range battery configuration generating 452 horsepower, while the Extended-Range battery elevates the power rating to an impressive 580 horsepower. Torque figures peak at a substantial 775 pound-feet for both battery setups.
The F-150 Lightning's performance is particularly noteworthy, given its substantial weight. The Lightning Platinum, for instance, was found to accelerate from 0 to 60 mph in a remarkable 4.0 seconds and complete a quarter-mile run in just 12.7 seconds at a speed of 107 mph. The Powertrain also comes with a warranty of five years or 60,000 miles.
Features
The Cybertruck offers a multifunctional bed, spanning 6.5 feet in length with 100 cubic feet of storage, making it perfect for work or play. Tesla's Autopilot system elevates the truck to semi-autonomous capabilities, handling tasks like lane-keeping, adaptive cruise control, and lane changes, while the driver remains vigilant. What truly sets the Cybertruck apart is its impressive towing power, effortlessly handling up to 14,000 pounds for trailers, boats, or other vehicles.
The Ford F-150 Lightning boasts a powerful Frunk equipped with four 120V outlets and two handy sockets, ensuring your devices stay charged. Illuminating LED lights on the perimeter and in the trunk keep your nights well-lit and secure. With intelligent battery usage and installation, the F-150 Lightning can power your home for a minimum of three days and up to ten days when used efficiently. Additionally, the truck features the BlueCruise assistance driving system, delivering a remarkable 97% accuracy rate, making navigation on the roads of the USA and Canada a breeze. The towing capacity is an impressive prowess of 10,000 pounds capable of pulling a boat and a trailer.
Body
The Cybertruck's exoskeleton is a marvel of engineering, constructed from ultra-tough 30X cold-rolled stainless steel, ensuring durability that can withstand substantial impact without leaving a scratch. Safety is paramount with its bulletproof body, reinforced glass, and robust structure, making it not just a vehicle but your fortress on wheels.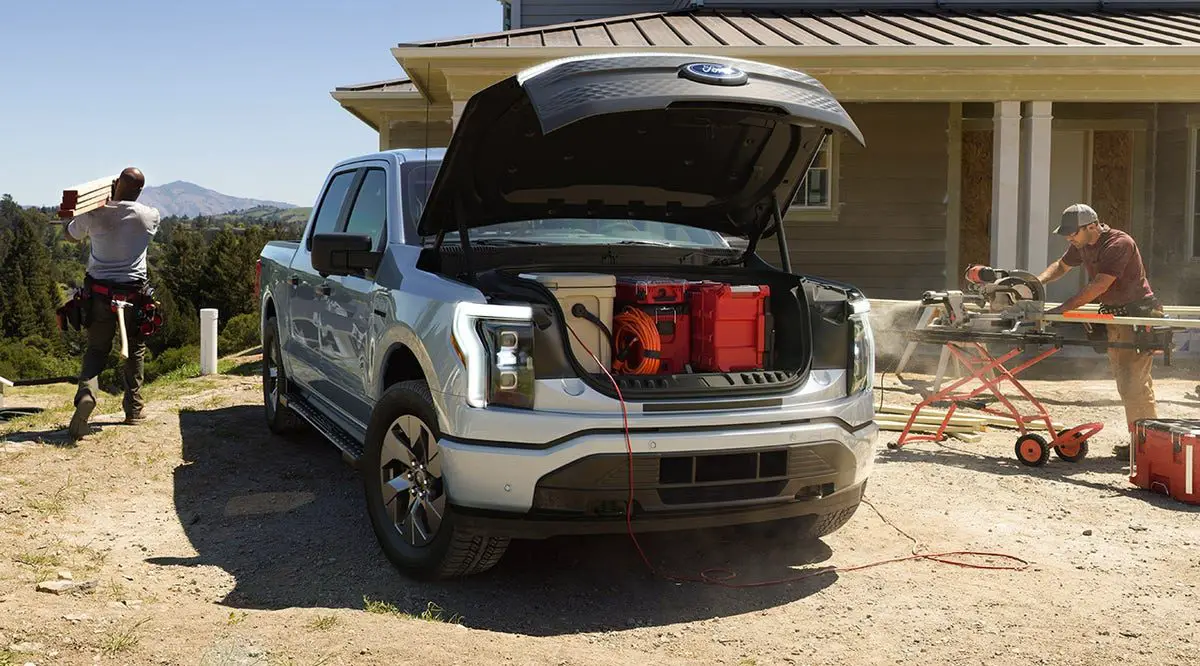 The F-150 Lightning is equipped with dual in-board motors and standard 4×4 capability, ensuring it can confidently navigate rugged terrain while upholding the esteemed standard of Built Ford Tough durability. Complementing its robust design is a high-strength, military-grade aluminum alloy body, accompanied by a novel independent rear suspension that enhances ride comfort, offering an unparalleled driving experience.
Specifications of Ford F150 Lightning and Tesla Cybertruck
Range

320 miles

500 miles

Dashboard

15.5-inch

17-inch

Towing

10,000 pounds

14,000 pounds

Motor

Twin electric Motor

Tri-motor All wheel Drive

Wheelbase

145.5 inches

149.9 inches

Overall length

232.7 inches

231.7 inches

Charging

80 amp AC charger takes 8 hours (15%-100%)

150kW DC takes 41 minutes to charge (15%-80%)

11kW takes 21 hours and 30 minutes to charge. 

250kW takes 44 minutes for 10-80% charge

Price

$49,995-$91,995

$39,900-$69,900
Toyota EPU: A Hit or Miss?
After looking at all the specifications and features of the two biggest competitors of Toyota, we will now try to compare the potential performance of Toyota in the market.
While renowned electric full-size trucks like the Ford F-150 Lightning, Rivian R1T, and the eagerly anticipated (albeit delayed) Chevy Silverado EV and Tesla Cybertruck have claimed their place in the market, there remains an exciting gap for a compact lifestyle pickup. This segment yearns for an electric counterpart to the Ford Maverick, offering a promising and untapped opportunity for major automakers.
The electric vehicle landscape is changing and this model showcased by Toyota is just a prototype before we know it Ford, Tesla, Rivian, and many more are ready to fill in the space of new upgraded models. We never know if Toyota is bluffing or if they are that eager to launch the product. Whatever will happen one thing is for sure, either we'll see more competition or we'll have these little stunts by other brands to challenge the hegemony.