Toyota, renowned as the world's largest car company, has often been perceived as an anti-EV automaker due to its cautious approach and reluctance to embrace the EV revolution.
Toyota maintained its course to focus on alternative options or rather specifically saying hydrogen path for its automobility future.
Instead of succumbing to the hype surrounding these vehicles, Toyota has consistently maintained its stance, emphasizing the need for battery technology to reach a certain stage before committing to the electric path.
However, recent revelations from the company's "Let's Change the Future of Cars" workshop suggest a shift in perspective.
After being called an EV-skeptic for ages, they've finally shouted from the rooftops that they're ready to join the party. Cue the confetti cannons and the techno beats because Toyota is projecting that by 2026, the long-awaited stage for electric vehicles will finally be here.
Get this: their battery-powered beauties are expected to cruise an eye-popping range of 932 miles (1,500 kilometers) by 2028. Oh, and here's the kicker—giga castings!
Yes, you heard it right. Toyota is now jumping on the Tesla train with their own Giga castings, proving that even the biggest skeptics can't resist a little electric charm.
In light of these revelations, let us delve deeper into Toyota's evolving stance and the significant implications it holds for the future of electric mobility.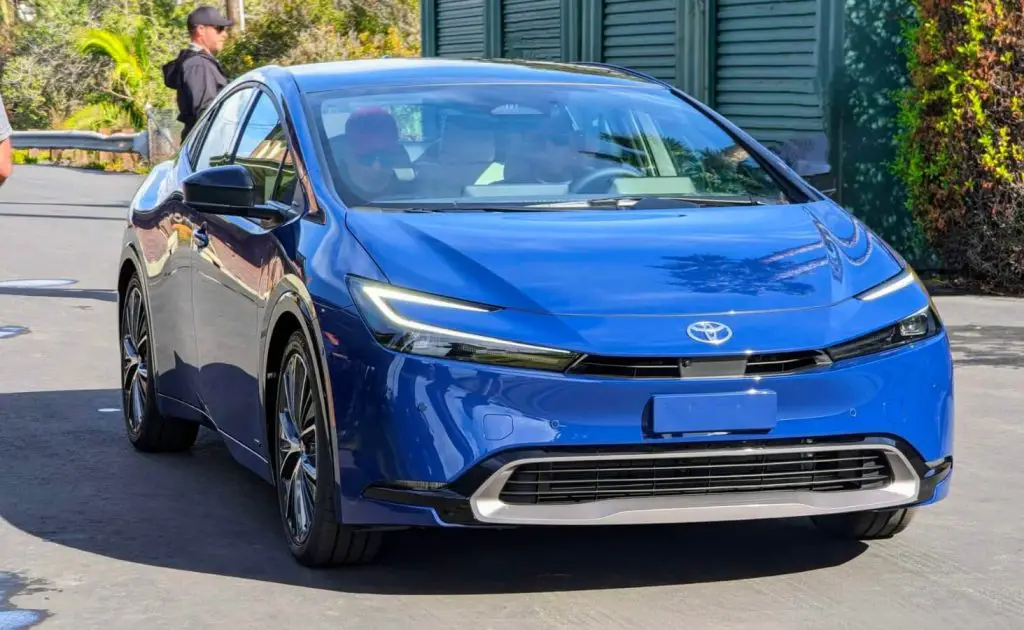 Toyota and Electric Cars
Toyota, the Japanese automotive giant, is making bold strides in the electric vehicle (EV) sector with plans to develop an EV powered by a solid-state battery that boasts an impressive range of nearly 1,200 km (750 miles) and a remarkably short charge time of only 10 minutes.
In comparison, Tesla's Superchargers can also provide approximately 200 miles of charge in 15 minutes. But, Toyota is aiming for a far better range boost.
Toyota's ambitious goals were revealed as part of its new technology roadmap, which outlines the introduction of high-performance lithium-ion batteries for their next-generation EVs by 2026.
With these groundbreaking developments, Toyota is cementing its position as a major player in the electrification revolution and pushing the boundaries of what is possible in the world of electric mobility.
Solid State Battery
Toyota is bullish on the potential of solid-state batteries, citing substantial benefits in terms of range, cost, and charging time. According to their claims, implementing solid-state batteries could result in a remarkable 20% increase in range while simultaneously reducing costs by 40%.
Charging times could be significantly improved, with sub-30-minute charging becoming a reality. To put these advancements into perspective, let's consider the current models in Toyota's lineup. The bZ4X, starting at $42,000, offers a range of 252 miles.
With a projected 20% improvement, the bZ4X would exceed 300 miles, placing it on the higher end of the market in terms of range.
As for the Lexus RZ, which starts at $59,600 and has a range of 220 miles, a 20% improvement would bring it to a competitive 260-mile range, aligning it with most vehicles in the market.
These estimations demonstrate the significant progress Toyota anticipates with solid-state batteries, showcasing the potential for enhanced electric driving capabilities at more affordable prices.
Although Toyota did not disclose specific information regarding the vehicles that will incorporate solid-state battery technology and their corresponding ranges, we will probably witness its implementation in a forthcoming Lexus electric vehicle.
This assumption is supported by a significant company reorganization that took place in March, with the aim of positioning Lexus as Toyota's flagship brand for electric vehicles.
Toyota Future Plans
As the race to commercialize solid-state batteries heats up, Toyota finds itself among the many automakers vying for a breakthrough in this technology. However, they are not alone in their quest.
In November 2022, Honda made waves with the announcement of a new polymer fabric designed to tackle the longevity issue plaguing solid-state batteries. While Toyota has unveiled ambitious targets for range and charging time, Honda has chosen to keep the details under wraps, leaving us curious about the potential achievements of their new batteries.
It's an electrifying competition where every automaker is eager to show what they have in store in their electric tech.
While the commercialization of solid-state batteries may still be a few years down the road, Toyota isn't sitting idle. In the meanwhile, the automotive giant has unveiled its short-term strategy to enhance battery technology.
Toyota plans to introduce a range of options, including high-performance packs, to cater to diverse customer needs. Among these offerings is a new, cost-effective "bipolar" lithium iron phosphate (LFP) battery, designed for the mass market.
With this approach, Toyota aims to provide immediate battery improvements and alternatives while keeping an eye on the promising future of solid-state batteries.
What To Expect In The Future?
Solid-state batteries have the potential to charge at a much faster rate compared to lithium-ion batteries. This could significantly reduce the time required for charging an electric vehicle, making them more convenient and practical for everyday use.
Another substantial benefit of solid-state batteries is their enhanced safety. Unlike lithium-ion batteries, which contain flammable electrolytes, solid-state batteries use a solid non-flammable electrolyte material. This significantly reduces the risk of thermal runaway and potential fire hazards, thereby improving the overall safety of electric vehicles.
While Toyota's breakthrough in solid-state battery research is certainly exciting, it's important to note that there are still challenges to overcome before this technology can be commercialized on a large scale.
One of the main hurdles is the mass production of solid-state batteries at an affordable cost.
Currently, the production costs for solid-state batteries are considerably higher compared to lithium-ion batteries. Toyota, along with other companies and research institutions, is actively working to address these challenges and bring solid-state batteries to the market.
If successful, the implementation of solid-state batteries with a range of over 900 miles (1,440 kilometers) could be a game-changer for the electric vehicle industry.
This can significantly alleviate the concerns regarding range anxiety, making electric cars a more feasible option for long-distance travel without the need for frequent recharging.
Bottomline
In the images shared by Toyota, the large cast parts appear to serve primarily as structural components, and their construction differs noticeably from those employed by Tesla.
While the exact details remain undisclosed, this strategic move signals Toyota's commitment to leveraging solid-state batteries in their luxury EV offerings, suggesting that we can anticipate exciting advancements and innovations in the Lexus electric vehicle lineup soon.
While there are still obstacles to overcome, the advancements in this technology hold great promise for the future of electric transportation.