For the US company Tesla to remain successful around the world in the years to come, they must introduce a small and affordably priced electric hatchback. This hatchback will compete with leading models such as the Volkswagen ID 3, Nissan Leaf, and Kia e-Niro.
Time and again Tesla did say they are going to launch a car that fits the entry-level EV segment.
Tesla already announced that they are developing a new Vehicle Platform which promises to create EVs at half the cost of their already popular models, such as the Model 3 and Model Y. This platform could be the answer for those looking for affordable and sustainable electric vehicles.
In order to remain the top electric vehicle brand in the world despite facing strong competition from established manufacturers, especially in Europe, Tesla is reinforcing their efforts after having achieved record-breaking sales in their 13-year history.
Tech enthusiasts around the world were expecting Tesla to launch a new car or at least something on the recent Investors Day 2023. However, apart from some "hints" there was nothing concrete to pin up the plan for the upcoming Tesla hatchback. Typical Tesla practices to keep the buzz alive until they like it.
Soon, Tesla might share more information about the upcoming platform, but they may have given us a sneak peek with their recent video posted on their official Twitter account. Let's find out what all we know about the £20K or $25K upcoming car.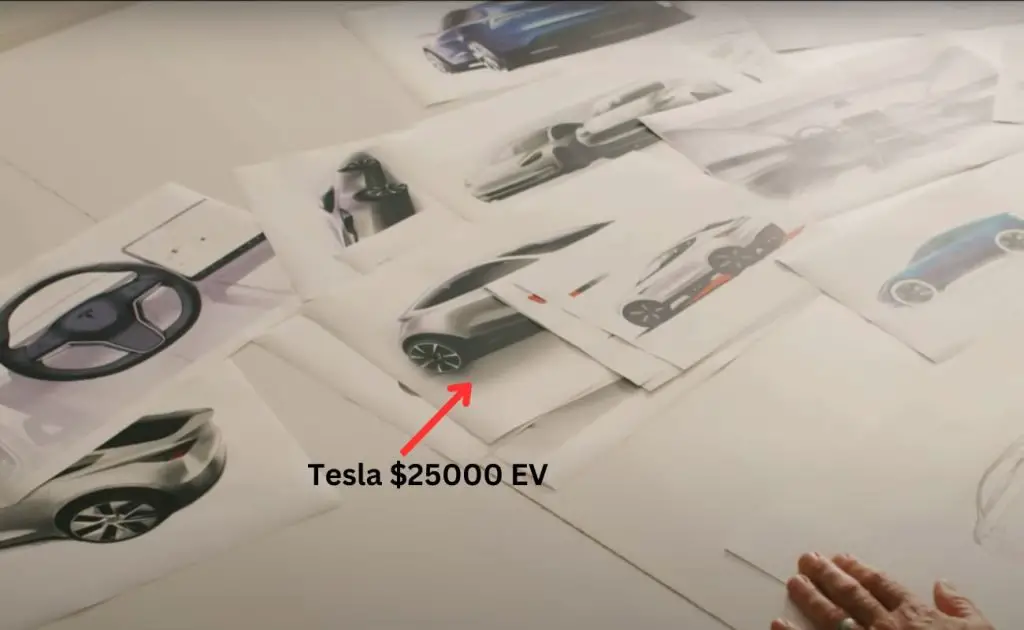 New Tesla Hatchback
Building on the enormous success of its Model 3 EV in Europe, where it constantly ranks among the best-selling electric cars, the new upcoming Tesla hatchback will represent the company's historic pivot away from the premium EV sector into the more approachable territory.
The latest video that was posted to showcase a marketing gimmick ahead of Investors Day 2023 includes nothing particular about the hatchback in question.
The video features Elon Musk, emphasizing the importance of transitioning to a sustainable future sooner rather than later. Even if one were to take the risk and assume that there is minimal environmental damage, Musk argued that it is reckless to take such an unnecessary chance.
The 22-minute video does not focus on this vehicle specifically but rather highlights the company's design and engineering achievements in general. Around the halfway point of the video, viewers will get a glimpse of this new model.
To be exact at 11:38. Hit the pause right there.
The newly released video is about Tesla's Engineering HQ in Palo Alto, where the company's long-awaited $25k Model 2 Hatchback made an appearance.
To be honest there are several sketches of multiple Tesla vehicles. Among these sketches is one highly anticipated $25k Model 2 hatchback design, albeit a somewhat discreet view.
You can see several sketches of Tesla models in the video but you can easily make out the recent silver EV sketch image from the Tesla China advertisement posts.
Expected Range
At this point, little is known about the Tesla hatchback's performance, as the automaker has not released any details regarding the motor. Considering its price and size, it's likely that only one electric motor powers the car.
Whether it is front or rear-wheel drive remains unknown. While Tesla has yet to produce a front-wheel drive car, it seems more probable that the hatchback will come in rear-wheel drive form.
With regards to range, details are scarce but Elon Musk previously noted that Tesla would not release any vehicles with less than 250 miles of range as this would be considered "unacceptably low". Hence, it is reasonable to assume that the upcoming $25k Model 2 Hatchback will come with at least 250 miles of range.
Expected Price
In the US, the starting price for Tesla's new model is estimated to be around $25,000, which equates to less than £18,000. However, as Tesla models are typically priced somewhat higher in other countries, a more realistic on-sale price would be closer to £20,000 – making it the most affordable model from the automaker by a significant amount. The current entry-level Model 3 starts at around £43,990.
Tesla's launch of the affordable new hatchback EV may signify a potential new era for the automaker. Hoping to make its mark in the low-cost EV market in a way it hadn't achieved since launching the original Model 3 with a sticker price of $35K at the time. Unfortunately, as with many of Tesla's ambitious projects, there have been some unavoidable hurdles along the way.
Expected Launch
Earlier, Musk confirmed that the Cybertruck, Roadster, and Tesla Semi Truck will launch in 2023, provided there are no further supply chain delays.
As for the $25k hatchback, there has been no official word so far, and it seems likely to have been impacted by the "Tesla curse". Analysts estimate that the car won't be revealed until 2024, with production beginning in 2025. Accept the latest sketch photos in the video, there is no legit information on the hatchback from Tesla so far.
Tesla In Europe
You can get laptop computers for anywhere between $500 and $2500, and phones for as little as $200 or up to $1000. The thing is, the more expensive versions don't always offer five times the capability of their cheaper counterparts.
In many cases, you'll still get a device with most (if not all) of the same features, just without all the bells and whistles of its more expensive counterpart.
Companies like Apple understand this concept well – they sell identical hardware to everyone but charge more for devices that come with software solutions that users want access to. Tesla is another great example – they're working hard to make cars more affordable by selling them with basic packages, then allowing customers to customize them as much (or as little) as they'd like.
Tesla prices in 2021 were roughly on par with other manufacturer models, but in 2023 they have seen significant changes and price cuts due to changes in production and service costs. These price fluctuations have been highly visible across the automotive industry and can pose a challenge for EV buyers.
In Europe, the electric car manufacturer is now offering further price reductions on inventory vehicles, providing customers with thousands of dollars in potential savings.
If Tesla can launch various segment trims in Europe, they can capture the market much better than in the current times.
What To Expect In Future
Tesla hasn't yet revealed the name of its upcoming hatchback, which some sources are referring to as the "Model 2." Elon Musk has since dismissed this idea, noting that it wouldn't fit in line with other Tesla vehicle names – the Model S through Y were all deliberately selected to spell out the word 'Sexy'.
Tesla for some time is seen struggling, but we think they are just gearing up for something bigger soon. In fact, Tesla again slashed the price of Model X and Model S in the US.
The Investors Day 2023 did have a slide with an upcoming Tesla car covered in a robe but had a few crucial information stated on the bottom. Tesla claims that the next Tesla drive will cost less than $1000 and an overall 50% reduction in other costs like factory footprint, etc.
Tesla can stay ahead of the competition in the electric vehicle industry by:
Continuing to focus on innovation and pushing the boundaries of what is possible with their vehicles.
Investing in increased production capabilities, such as upgrading factory operations and investing in new technology.
Expansion into new markets, such as developing customized EV solutions for other countries or regions.
Strengthening existing partnerships and creating new ones with companies who can further develop their technology or services.
Exploring alternative business models, such as subscription or shared ownership options that cater to customers' changing needs.
Several Tesla analysts did give an update on the $25k hatchback saying that the car will likely be unveiled in late 2024 and could begin production as early as 2025. They said that the company should be focusing on its current projects first, such as the Cybertruck, Semi Truck, and Roadster before shifting focus to the Model 2 hatchback.
If Tesla will launch the new car early they would risk stalling Model 3 sales and producing too much inventory. The pile-up can cause losses if they announce the new, lower-priced car too soon, an especially risky move during what is expected to be a difficult time for the automotive industry.
Bottomline
Elon Musk is doing everything to move away from fossil fuels and use renewable energy instead to power the existing grid. In an effort to increase the uptake of electric vehicles, Musk has outlined plans for Tesla to produce up to 20 million cars per year in the coming years.
In addition to switching from traditional fuel sources, Musk wants to implement heat pumps as a more efficient form of domestic heating. Heat pumps are said to consume three times less energy than fossil fuels. Additionally, he wants to replace coal with green hydrogen for steel production furnaces in order to reduce emissions from this process.
According to Tesla, it is certain that Autopilot will come standard in the $25k Model 2 Hatchback. Elon Musk has even confirmed that it will be "fully autonomous" needing minimal human intervention. Although this may suggest Level 5 autonomy, we can reasonably assume that a human would still need to be present in the driver's seat for safety purposes.
We don't have a date, but the news should come sooner as Tesla likes dropping such news out of the blue. Elon is famous for doing things abruptly.