With the price of a single Tesla ranging anywhere between $36,999 to $157,490. Being so expensive, it becomes essential to have enough data for insurance in case some damage occurs to the car. So to keep away vandals, thieves, and the safety of its cars Tesla has come up with the Sentry Mode. A unique feature that no car company in the world has yet implemented in their cars.
Sentry Mode basically is the feature that leverages the inbuilt cameras and sensors used for self-driving to detect potential threats. If someone is standing too close or leaning on the car, the center infotainment system will light up and display the message that the Sentry Mode is active and is recording the car's surroundings. For more critical and damaging instances like someone breaking into your car or tampering with the car, Sentry Mode activates the car alarm, increases the brightness of the center display, plays loud music, and alerts owners on their Tesla mobile app.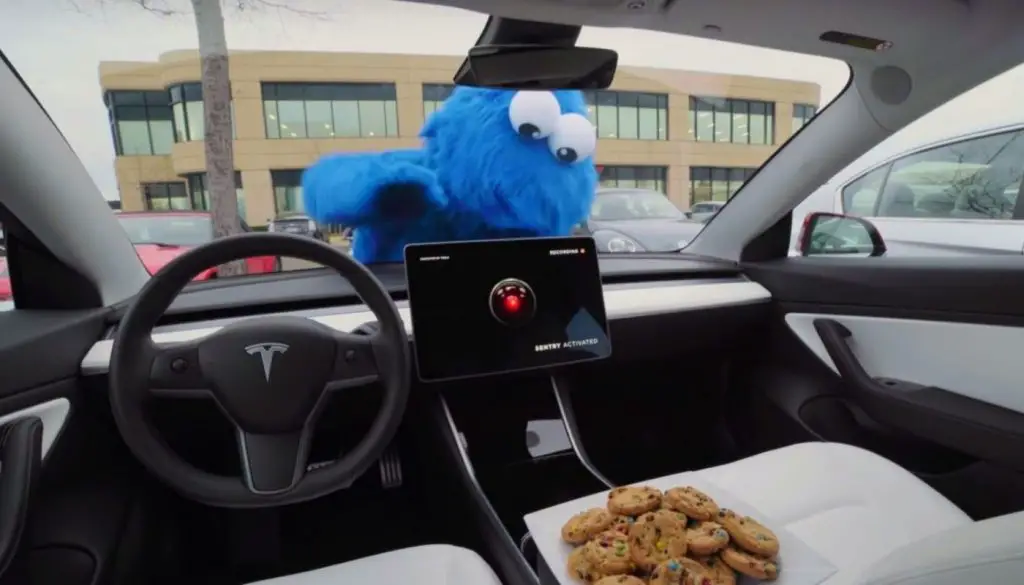 How to Set Up Sentry Mode in Tesla
Tesla Sentry Mode Setup
To enable the Sentry Mode in Tesla we first need an external storage device. Anything from a Pendrive to a hard disk can be used for this purpose ( Although we suggest you use a good external hard disk if you want to save more footage). Following is a step-by-step procedure to turn on the sentry mode in your Tesla.
Locate the USB port in the Tesla. It generally is located in the *. You may proceed to plug in the external storage device in the USB port.

Go into Safety and Security Settings.

Scroll down till you find a Format USB device. (Make sure you don't have anything important in this USB as it will wipe out everything)




After clicking on the Format button the TeslaCam logo will upper

right corner next to the LTE and Bluetooth.




Above the Format button, you have the option to turn on or turn off the Sentry Mode. You can turn this on and even choose the places where you don't wish to record any footage eg: Office, Home.




Whenever you want to save any footage, just click on the Dashcam button and it will automatically save the footage.



And that's about it, doing these steps will successfully start the Sentry Mode in your Tesla. Whenever you want to view the footage stored, just unplug the external drive and plug it into your computer.
Below are some TeslaCam icons you should familiarize yourself with:
Advantages of Sentry Mode:
Sentry Mode is a unique Tesla feature that ensures the car's security when kept unattended. 

The four cameras used for Sentry Mode don't really cover the 360-degree field of view, but they cover about 95% of the car's surroundings which is pretty impressive.

Sentry Mode is very reliable and doesn't consume much of the car's battery. An approximate 1-1.5% reduction in driving is found for 4 hours of Sentry Mode.

We have the option of selecting the clips that we want to store, thus making sure that the USB stick doesn't fill up easily.

Tesla also gives us the option of viewing the downloaded footage directly on the central display, which eliminates the work of unplugging the USB stick and viewing the saved footage on an external device.
Footage Size
1 Minute takes the following size on four different cameras of the car-
Front Camera- 28 MB
Back Camera- 28 MB
Right Repeater- 28 MB
Left Repeater- 28 MB
Total: 112 MB/minute. So, 1 hour = 6,7 GB approx.
Suggested USB drives and SSDs for your Tesla:
USB Drives For Your Tesla :
128GB SanDisk UltraFit USB – https://amzn.to/2Voy9Ql
256GB PNY USB – https://amzn.to/3hT63oc
SSDs For Tesla
500GB Samsung T7 – https://amzn.to/3ALOY8a
500GB SanDisk SSD – https://amzn.to/3k1QFbx
Tesla Sentry Mode FAQ
Does Sentry Mode use more battery?
Sentry Mode does seem to reduce the driving range of the car when turned on. An approximate 5 miles driving range is reduced in 4 hours of it being on which is quite negligible.
Does Sentry Mode record while driving?
Sentry Mode relies on cameras constantly recording activities around the vehicle once a proximity alert is triggered.
What is needed for Sentry Mode tesla?
A Formatted external storage device is the only thing you need for Tesla's sentry mode.
Does tesla Sentry Mode record audio?
Tesla's Sentry Mode and Dash Cam only record video, not audio.
Is Tesla able to see inside my vehicle using a cabin camera?
No. Cabin camera features are processed directly on the vehicle itself. Image and video data from the cabin camera only leave your vehicle if data sharing is enabled and a safety event occurs. Otherwise, this data is not saved to onboard memory and is not transmitted to anyone, including Tesla.
You can also watch the below video for your reference:
Conclusion
Sentry Mode is an absolutely fantastic feature by Tesla provided to add security to the car, a feature which is rarely seen inbuilt in cars. This mode allows the owners to have ease of mind when they have to leave their car unattended in an unknown place. Just one of the many perks of buying a Tesla.