Tesla has now started delivering cars that have a storage device for the Sentry Mode, or as it is also known, "TeslaCam". The new deliveries will now come with a 64 GB storage device. Sentry Mode is basically a surveillance system built inside the Tesla vehicles. It uses the Autopilot cameras around the car to record potential vandalism or theft incidents. Initially, Tesla owners had to connect their own storage device to store the video recordings.
Tesla starts providing a storage device for Sentry Mode for new deliveries
The new deliveries of the Tesla vehicles will now come equipped with their own USB storage device. It is a Tesla-branded Samsung Bar plus 64 GB. It is still unclear as to which cars will be receiving this with the delivery.
The Introduction of the Sentry Mode
The Sentry Mode was first unveiled by Tesla after thieves in the Bay Area started targeting Tesla vehicles. The thieves broke into a lot of Tesla cars and many valuables were stolen. Keeping this in mind, Tesla decided to use the Autopilot cameras for another function. This feature was introduced in Tesla vehicles in early 2019.
There was one issue with the Sentry Mode at that time though. Since the storage device had to be connected at all times when the Sentry Mode was on, it meant that the storage device was at risk too. Thieves could very well steal the storage device along with other valuables and run away with the recording of the theft.
The Improvement
Tesla recently launched the 2021 version of the Model 3, a refreshed variant. Among other things that were added, they also added an extra USB port inside the glove box which can be locked. This meant that the storage device can now be locked away, safe from the "potential robbers". Add to that the fact that Tesla is actually providing a USB storage device, and we know that customers will be happy. Of course, 64 GB of storage space may not be sufficient to store recordings, especially if you have set the cameras to record at high image quality. Owners also have the option of connecting a portable SSD.
The addition of the USB device was spotted in a Chinese ad for the Model 3 refresh on a YouTube channel.
The USB device can be seen in the video as shown in the close-up photo below: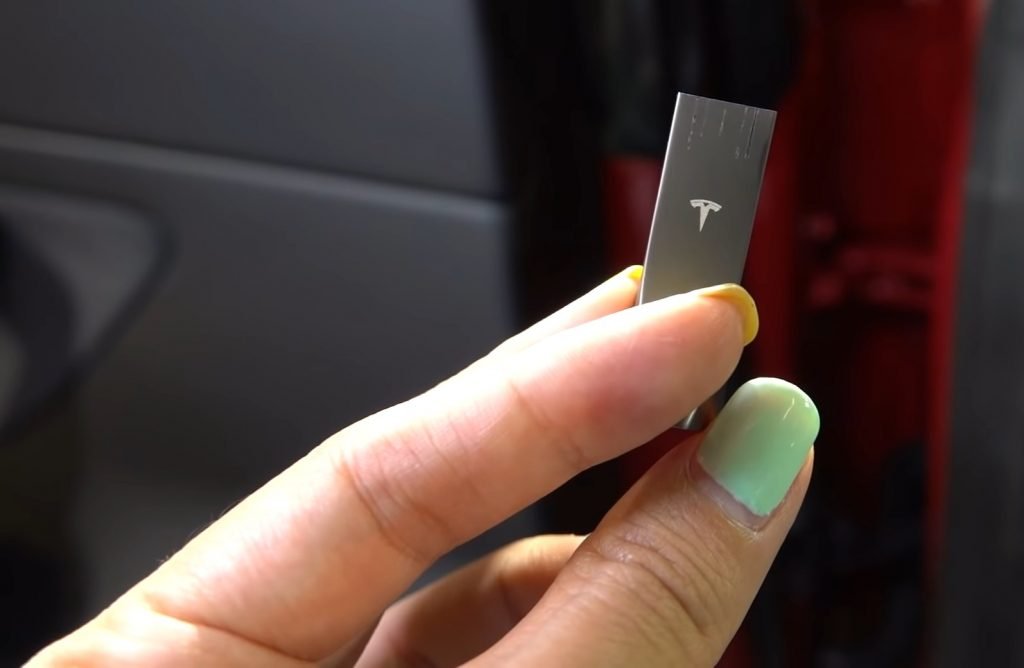 Our Opinion
It makes sense for Tesla to provide a USB storage device, rather than ask the customers to connect one of their own. 64 GB may not be enough, but then, something is better than nothing. And customers can always get a portable SSD of their own to counter the storage space issue. As of now, Tesla has provided a USB port inside a locked glove box. And they also have provided a USB storage device.