Tesla's trial of a new vehicle delivery system saw one lucky customer have his Tesla 3 delivered to his home by none other than founder Elon Musk. Needless to say, the new electric vehicle owner was ecstatic as he took to Twitter to share the 'unforgettable' day.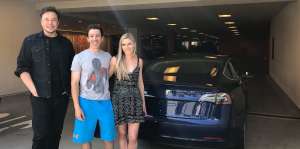 Over the past few weeks, Tesla is producing 5,000 Model 3 units in a week, even the parking lots full of Tesla Model 3 vehicles have been spotted around California. They are loading up vehicles coming out of the factory and going to stores and delivery hubs for customer deliveries.
When @elonmusk hand delivers your #Teslamodel3 😎👊🏼⚡️ thanks to the #Tesla team for an unforgettable day!! pic.twitter.com/Xr4MI7x8TM

— Devin Scott (@MichiganMan2007) 30 July 2018

In this, Elon Musk came personally to delivered a Model 3 to Devin Scott from Tesla's Marina Del Ray delivery center. Both Scott and Musk celebrated the occasion by posting photos on Twitter.
Elon Musk has also tweeted about this
The tweet was posted by Elon Musk, explaining the 'super convenient' delivery system. The system may also be eco-friendly as it saves on the usual plastic wrapping.
We tried out a new delivery system using an enclosed trailer straight from factory to owner's home, so super convenient & car arrives in pristine condition without wasting plastic wrap https://t.co/exNyhb0zOT

— Elon Musk (@elonmusk) 30 July 2018

Tesla has been working to speed up this process in a number of ways. One method that surfaced earlier this month is "sign and drive": instead of delivery appointments that take up to an hour as the employee explains the car, these new appointments cover the basic paperwork and leave drivers with a series of videos so they can leave with their car in just five minutes. Now Tesla is testing a way to alleviate the issue for local deliveries with a direct factory-to-customer delivery system, which Elon Musk personally tested with a Model 3 delivery.