This has almost become a tradition. Tesla has a vehicle in almost all of the major passenger electric vehicle segments. And it won't be bold to say that these cars lead their segment among electric vehicles. Model S has started to face a lot of competition recently, with Lucid, Porsche and Audi all targeting the luxury sedan segment. Model Y also has a lot of rivals now, with the electric crossover segment booming. But Model 3 did not have a lot of competition, until now.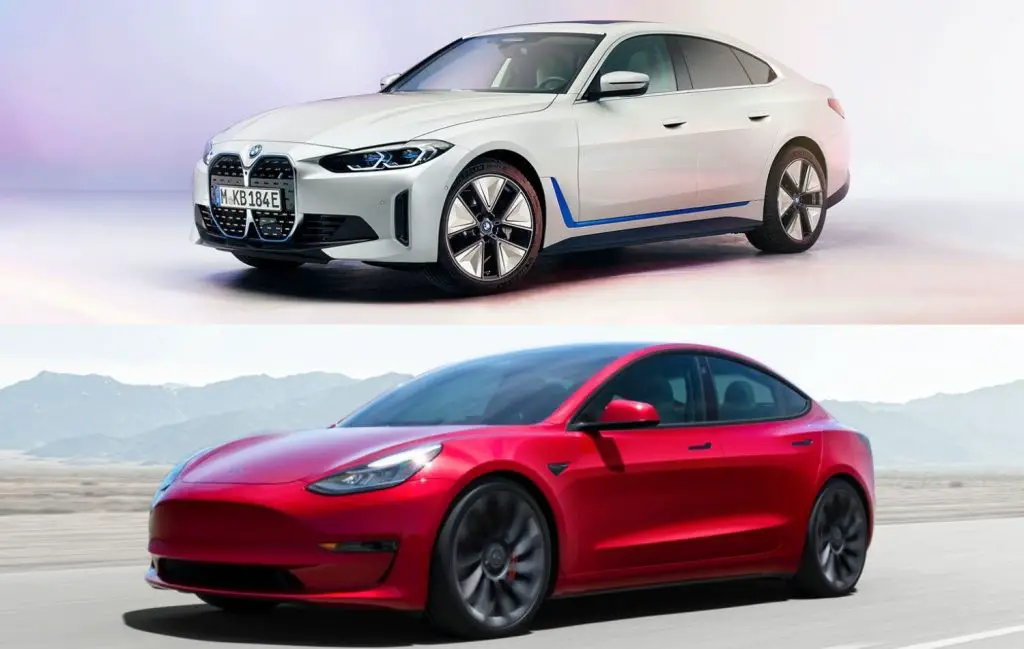 BMW i4 vs Tesla Model 3: Which is Better?
BMW unveiled the i4 last week and has also stated that they will launch it by fall 2021. That puts them three months ahead of the initial schedule. And one of the biggest challenges it faces is from Tesla Model 3. Model 3 had revolutionized the market with its impressive specs offered at a somewhat affordable price. Its Standard Range variant offers affordability, Long Range Plus takes care of your charging needs, while the Performance variant blows you away with its quick acceleration. But, there are some weaknesses BMW can exploit, and if they manage to do that, we may have an interesting competition on our hands.
Performance Aspects
Tesla Model 3 offers really good acceleration and range for a vehicle priced between $38,000 to $55,000. But BMW has also claimed some impressive figures for the i4. Model 3 Performance offers superfast acceleration from 0 to 60 mph (96.5 kph) in 3.1 seconds, while the Long Range Plus can do the same in 4.2 seconds. BMW will look to split the difference between these two Model 3 variants in terms of performance. The i4 will most probably have a sub-4 second acceleration timing.
It isn't clear yet as to how BMW will divide the various specs across different variants. There is also a possibility of having a high-performance model, like i4M or something, just as other BMW cars have.
In terms of range, BMW claims a figure of 366 miles (590 km) according to the WLTP (Worldwide harmonized Light-duty vehicles Test Procedure) cycle. However, this cycle is more forgiving than the American EPA test. Hence, if you want to compare the i4 with Model 3, the German electric vehicle will have to go through the EPA test. This test is expected to bring the range estimate down to 300 miles (483 km), which is still good. Model 3 offers 315 miles (507 km) with the Performance variant, while Long Range Plus goes 353 miles (568 km). BMW may fall short on challenging Model 3 in this aspect, but it isn't a bad number to start with.
Powertrain Design
BMW has confirmed that i4 will share the CLAR (Cluster Architecture) vehicular platform with the 3 Series and 4 Series, of course with a few modifications. CLAR is a modular platform that incorporates steel, aluminium, and optional carbon fibre. It is available with rear-wheel drive or all-wheel drive setups. This platform also allows the i4 to have a short overhang beyond both axles, which means that despite the longer overall dimensions, the i4 has an overall sleek look.
BMW will offer an 80 kWh battery pack for the higher variants, and later introduce a smaller battery option for an entry variant. This entry variant will most probably be combined with a rear-wheel-drive. Tesla also has a somewhat similar battery capacity, with 79 kWh in 2020 and 82 kWh in the 2021 version. Higher range through a similar battery capacity tells you a lot about how well Tesla has improved the efficiency in its cars.
Similarly, the CLAR platform allows i4 to have a maximum power output of 530 hp, which is more than Model 3 Performance's 450 hp. And yet, BMW says the i4 will accelerate in just under 4 seconds, while Model 3 Performance is a lot quicker. Of course, these figures are still estimates for the i4. Maybe BMW will update them closer to the launch. And of course, if rumours are to be believed and BMW brings a high-performance i4M variant, it will most definitely be quicker than 4 seconds. So Tesla could have a challenge on its hands.
Overall Exterior and Interior Design
The overall exterior design of the i4 has impressed many. Despite having larger dimensions than the Model 3, it has a sleek look. And with many people not really liking Tesla's exterior design (for almost any car), this competition is quite close.
In terms of interior, the i4 hasn't revealed its cards, but one can predict it on the basis of the i4 Concept. The i4 Concept's cabin looks richly appointed and features rose gold trim, white leather upholstery, and light wood trim. The overall dimensions mean one can expect a spacious feeling inside.
On the other hand, Tesla boasts of a rather simplistic design with minimalistic designs. The rear row can tend to be a little short on space, especially for taller people.
I'll leave this to the readers – BMW's rich, luxurious and spacious cabin vs Tesla's modern, simplistic and technology-ridden cabin.
Build Quality and Handling
This is one of the areas where BMW can definitely take on Tesla. After all, the tagline for the German automaker is "The Ultimate Driving Machine". In a press release, BMW said handling performance is a priority for the i4. Project manager David Alfredo Ferrufino Camacho said in a statement:
"Any electric vehicle is capable of fast straight-line acceleration. But that's not enough for us at BMW"
It is clear that BMW will definitely hope to achieve good vehicle handling in the i4, in order to compete with Model 3. This will include features such as a low centre of gravity, communicative steering, and suspension that is firm enough to body movement without compromising ride quality.
Is tesla better than bmw?
When it comes to the build quality of the vehicle, it won't be bold to claim that BMW can easily surpass Tesla. The German automaker has a legacy of building good quality cars for decades. Add to that the recent struggles Tesla has faced regarding quality control. The probability of a roof flying off or a glass shattering is definitely lesser in the i4 than Model 3. There are few things that can beat good build quality that comes from experience. And I feel Tesla is about to realise that.
Our Opinion
BMW is a luxury car brand. They will make the customers get a rich feeling, be it because of the interior, or due to the ride quality. Tesla focuses on tangible factors like quicker acceleration and better range, while also providing an immersive experience with in-car technology. It is a battle between your emotional connections with a car and the practical understanding of better specs. Tesla may be in the lead, but they definitely have BMW breathing down their necks here.