In Mid-October, we reported the launch of Tesla Model 3 2021. It was set to get a host of rejuvenating features. The refreshed Model 3 will have:
Better center console
New wheels
Several interiors and aesthetic changes which include cup holder with chrome trim, phone charger wrapped with fake leather, double-paned windows, powered trunk, graphite trim near the seat control, metallic finish steering wheel with heating option, etc.
Apart from these changes, there are some upgrades "under the bonnet." These changes will see model 3 reach 0-60 in 3.1 seconds, a tenth of a second from the previous model.
Another important boost will be seen in the range. The new Model 3 will have a new "efficiency package" resulting in a longer range. (20-30 miles extra range for all the variants of Model 3)
To avail of this increased range, Tesla had rolled out the 2020.40.7 software update. The aforementioned update included other improvements as well. Here's a brief summary of these improvements:
Improved Efficiency
Priority Bluetooth Device
Glove-box PIN
Speed Assist Improvements
Charge Port Inlet Heater
Tesla Rolls Out New Software Updates for Model 3 and Y – Speed Limit Offset, Software Locked Battery, Autopilot Set Speed & More
Within a month Tesla has provided another software update; 2020.44.10.1. Here's a Tesla owner going through these updates
2020.44.10.1 Software Update
The update is now available on the Model 3. The new software update is focused on various attributes of the car. However, Entertainment and Performance have been given a major boost. The software update will include the following:
2020.44.10 release notes ? pic.twitter.com/EaRyklOt8h

— InElonWeTrust (@Inelonwetrust__) November 7, 2020
Performance Updates
Autopilot Set Speed
The Autopilot Set Speed will now have multiple options. These settings can be set by adjusting Controls > Autopilot > Set Speed. The options include SPEED LIMIT and CURRENT SPEED.
SPEED LIMIT will set the cruise speed in accordance with the road's speed limit. This option will adjust the speed to the offset specified or current speed (whichever is greater). This offset can be configured to a FIXED value or in form of PERCENTAGE. The image below shows how the interface for the following looks like.
Another option is the CURRENT SPEED. The current Speed will set the cruise speed to the current driving speed.
Infotainment Updates
Spotify Improvements
There are some serious improvements in Spotify. Now, you can control Spotify using their logged-in devices. This will ensure hassle-free usage of Spotify. Tesla has made it easier to find and play content from your library. This will include collaborative playlists and podcasts; another way to enhance the user's experience. Spotify on Tesla will also offer continuous playback.
Media Sources
You can now have up to 7 media sources available at one touch. As per your preference you can reduce these sources to a minimum of 3. This can be controlled by Audio Settings > Sources to hide the sources that you do not use. Media search results will also exclude all hidden media sources.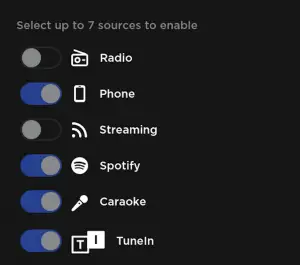 There are other subtle improvements to the UI. You can view the settings in multiple languages. There seems to be a small bug right now wherein it doesn't let you scroll down. But surely that will be rectified soon. Another interesting improvement is in the notifications panel. On tapping the notification, Model 3 UI will redirect to the manual. The manual, naturally, explains the alert in detail. I find this ingenious. Another low-key benefit of having a Smart car is that you can add such subtle features.
Hidden Feature
Hacker Green has a track record of finding hidden features in Tesla. He was the one to reveal the use of the mysterious in-car camera. Green also discovered the new 4D-radar Tesla is planning to add in the future. He is back with another potential leak. This one is quite interesting. Tesla has already increased the new Tesla Model 3's range using the efficiency package. However, Green claims that 2020.44.10.1 adds a new software locked battery type "336 miles".
Interesting development on model3/y front. firmware 2020.44.10.1 adds a new software locked battery type "336 miles" (current are 220 and 93) which implies that full battery would actually be bigger?

Another notable change is preparation for model3 with no radio tuner at all.

— green (@greentheonly) November 6, 2020
This range (540 km) falls right between the current Long Range (LR) with 568km of range and the Performance with 507km of range. The code is available in the update. However, it isn't active as of now. It is likely that this feature is in preparation for production change coming soon. The production change is in regards to a bigger battery. However, currently available battery capacities are 50 kWh, 62 kWh, and 70 kWh.
This wouldn't be the first time Tesla software will lock the maximum range on a single charge. In 2019, Tesla launched Standard Range Model 3 with just 150km of range in Canada. This was done in order to qualify for the federal iZEV rebate.
However, the "336 miles" locked feature looks to be applied for the safety of the cars.
Final Thoughts
Tesla looks keen on bringing about the right updates at the right time. They announced the range increase right around Lucid AIR's announcement. The ability to control the manufacturing of cars and its key components is benefitting Tesla big time. The new Model 3 delivery is right around the corner. To be Model 3 owners are getting various reasons to smile.