Tesla has announced today that its existing Model S Performance and Model Y will get a range boost. The new Model 3 2021 was announced as well and it is set to get a range boost as well. Model S performance is set to get a huge boost as compared to the Model Y variants. Tesla Model 3 2021 is set to get various features along with the range boost. Tesla finds a way to surprise their customers and potential customers. The battery day revealed the massive changes Tesla was about to bring about for their various goals; better batteries (the 4680), faster factories, huge single step cast parts, cheaper $25,000 electric car ("Plaid" Model S sedan).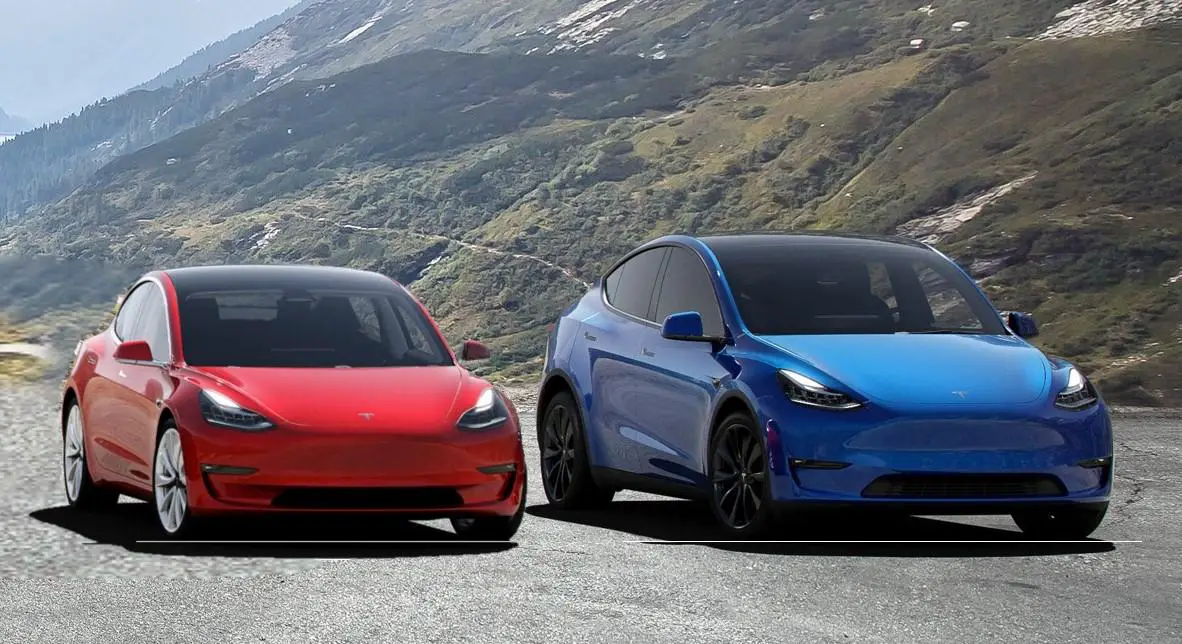 Tesla Increases Range Of Model 3, Model Y & Model S Performance
Within a month Tesla has announced the range boosts and the galore of new features in the Model 3 2021. As an outsider we can only admire what Tesla is doing, they constantly push their boundaries. These high demands from within serve as a catalyst for innovation from Tesla and its rivals alike. Let's briefly take a look at what Tesla has offered to its customers and potential customers.
Upgrades in Model S Performance
Tesla updates its online configurator (configurator is an online interface Tesla has created wherein a customer can design his/her own Tesla models including the payment options, range, battery options,etc. ), as expected it was to announce the change in their lineup but wasn't limited to that.
The Model S Performance has got a huge boost in range, which went from 348 miles to now 387 miles on a single charge. The overall trim of the car and other specs remain unchanged in the online configurator. We aren't sure whether the Model S Performance will get improved the energy density cells Panasonic is rumored to provide. However, Electrek has reported that their source familiar with the matter told that Tesla has updated its lineup with a new "efficiency package" for each model, resulting in a longer range. Tesla hasn't addressed the questions regarding this new "efficiency package". However, this new "efficiency package" won't affect the range of the Model S Long Range Plus, though that one was recently increased to 402 miles.
All said and done these numbers are the EPA estimates and Tesla is known for playing with them.
Upgrades in Model Y
Model S performance and the Model X 2021 weren't the only ones enjoying the range increase. The Model Y SUV as well gets a range increase. The range is less significant compared to the former. Both the variants of the SUV get this surge.
Tesla Model Y Long Range Dual Motor: now 325 miles up from 316 miles
Tesla Model Y Performance: now 303 miles up from 291 miles
The price of both the variants will stay the same despite the increased range.
The Model Y shares its interior with the Model 3 but it will not get the updated interior the model 3 2021 is set to get.
Tesla Model 3 2021
Over the last few months, we have heard a lot of rumors about a Model 3 update. It started when the improvements in Model 3 were leaked in China. Today, Tesla announced and confirmed that Model 3 2021 is rejuvenated with new features. It gets a whole host of new features in parts, range, looks, etc. The refreshed Model 3 will have:
New center console
New wheels
New interiors and aesthetic changes which include cup holder with chrome trim, phone charger wrapped with fake leather, double-paned windows, powered trunk, graphite trim near the seat control, metallic finish steering wheel with heating option, etc.
Apart from these changes, there are some upgrades "under the bonnet." These changes will see model 3 reach 0-60 in 3.1 seconds, a tenth of a second from the previous model.
Akin to the other models the Tesla Model 3 Long Range Dual Motors is getting a 30-mile range increase to 353 miles. The other versions of the vehicle also got range increase:
Tesla Model 3 Standard Range Plus: now 263 miles up from 250 miles
Tesla Model 3 Performance: now 315 miles up from 299 miles
As seen in the Model S Performance Tesla has updated its lineup with a new "efficiency package" for the new Model 3 as well, resulting in a longer range.
The Lucid AIR, officially launched this week, will have a longer range with a lower price tag. Some might associate these changes as a reaction to the official launch of Lucid AIR. I think Tesla had pre-assumed the Lucid AIR to have better performance and had the new "efficiency package" trick up their sleeve. Elon may have deliberately revealed this trick days after Lucid AIR's announcement. After all, in a cut-throat business timing is just as important as the product. Let us know what you think about these upgrades.