The electric vehicle industry was sorely missing the newfound rivalry between Tesla and Lucid. The two California-based automakers were going toe-to-toe back in September when Lucid Motors unveiled their first all-electric sedan, the Air. At that time, there were reports of how the Air Dream Edition beat the Model S in a quarter-mile race. Then, the same Air Dream Edition went past Model S Plaid's record run around the Laguna Seca. Even on Battery Day, Tesla took a dig at Air Dream Edition's 517-mile range, saying that the new Model S Plaid will have a range of 'at least' 520 miles. And don't forget the comparison between Tesla's Autopilot and Lucid's DreamDrive. Trust me when I say, Lucid has been one of Tesla's fiercest rivals in recent times.
Tesla increases Model S range again; this time beats Lucid Air
Both companies have always been going back and forth at each other, and this time, it is exactly that. When Lucid unveiled the base variant of the Air, they stuck to their 'under $80,000' promise, pricing it at $69,900. But they ensured that the range of this base variant was just higher than the Model S Long Range Plus. While the highest-ranked Tesla in terms of range is estimated to go 402 miles (647 km), Lucid Air's base variant can go 406 miles (653 km). This seemed a tactic just to throw a punch at Tesla, and here comes the counter punch.
Model S Range Increased…. Again!!
Tesla launched the Long Range Plus variant in February this year. This variant was solely focused on improving efficiency and built for those extra long drives. It was unveiled with a range of 391 miles (629 km). Later in June, they increased this figure to 402 miles. This figure was then challenged by the base variant of Lucid Air in October, and now, Tesla felt the need to give the Model S a boost.
The Tesla Model S Long Range Plus now has a range of 409 miles (658 km). This is out-and-out a response to Lucid's announcement of its base variant in October. Elon Musk had taken a dig at the pricing of the base variant as well. On 13th October, Tesla had announced a price reduction for the Long Range Plus from $74,000 to $71,000. When Lucid unveiled the base variant on October 14th, Musk tweeted that the Model S Long Range Plus would now be available at $69,420. Taking a shot at their latest competitor while also making a '69' and weed joke for the 12 year-olds, Musk sort of proclaimed that this is the new rivalry in the industry.
The gauntlet has been thrown down!

The prophecy will be fulfilled.

Model S price changes to $69,420 tonight!

— Elon Musk (@elonmusk) October 14, 2020
Current Model S Specs
Having reduced the price, Tesla has also increased the range now. It is not exactly a significant boost, just enough to take them past Lucid's figure. The increase was noticed by an Electrek reader, who found the Monroney sticker on a newly-produced Model S showing a range of 409 miles. The vehicle has a build date of November 2020.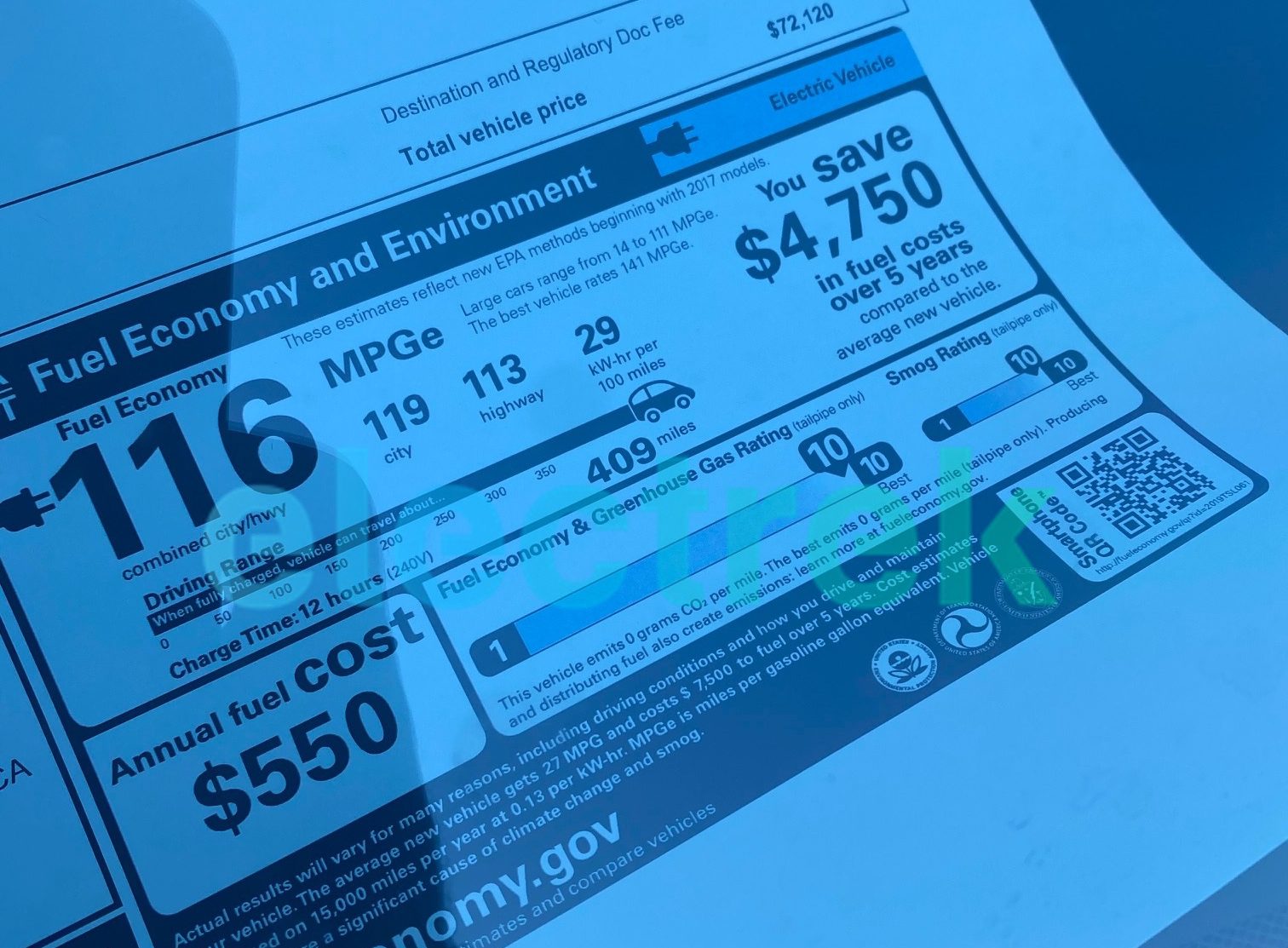 Tesla hasn't even mentioned the reason behind the boost. So we don't know if it is due to software or hardware improvements, or both. One thing that can be noticed, is that the updated MPGe is now 116 (119 for city and 113 for highway). This was 117 (121 for city and 112 for highway) earlier, so the fuel economy went down for city driving and improved for highway driving.
Normally, if the efficiency went down, but the range went up, it should mean that Tesla has increased the battery capacity. This cannot be confirmed right now, but it could very well be a possibility. Tesla did the same with the Model 3, giving it improved range by virtue of increased battery capacity. Nothing can be said for sure until Tesla confirms the same.