Outstanding performance in recent months has seen a meteoric rise in Tesla's share price. Without a doubt, Tesla currently is on the up and the investors couldn't be happier with what Elon Musk and his team are doing. Over the past 10 years, Tesla optimized its software, hardware, manufacturing with fluidity. This mindset of not being rigid, accepting, preaching, and practicing better processes will only help them in the long-term and some of the benefits are even evident now.
Tesla Will Become A $2 Trillion Company, $700B Annual Sales In 10 Years, Ron Baron
Ron Baron, an American Investor and mutual fund expert, owns approximately 1.6 million shares of Tesla and nearly 1.3 million shares of Space X as of the end of the third quarter of this year. In an interview with CNBC on their segment, the Squawk Box said that Tesla could be a 2 Trillion company in the future. He has stuck by his previous statement, back in February before the pandemic hit the world, Baron had claimed that Tesla will hit at least $1 trillion in revenue by 2030. However, how things have changed over the past 6 months have Ron believes that 2 trillion could be a reality.
The numbers to back Ron's statements
Ron Baron heavily invested in Tesla in the period from 2014 to 2016. He bought 1.6 million shares for $40 a share. During the interview, he reminded CNBC that he had expected the returns to be 20 times the investment in 10 to 15 years. Within 5 to 6 years the stock has already reached approximately $450 which 11 times what Baron had invested. The stock has had a volatile ride upward but is now trading around $450 a share, up more than 442% year-to-date. Baron said he's more focused on the business model of Tesla and not the short-term "yo-yo" movements of the stock.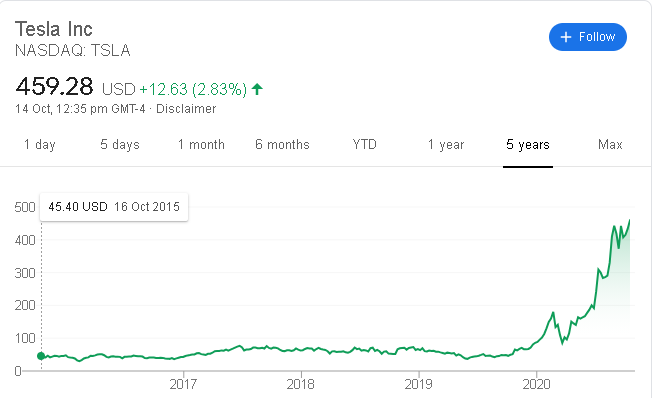 "What we worry about are not stock prices when we're an investor in a business, we worry about the businesses," he said. "The short term I can't have any clue what's going to happen. I do think that – it's now over $400 billion market cap, it was $40 billion when we started. I've said for a long time I thought it was going to be 1 to 2 trillion. With the developments that have taken place recently, I think 2 trillion is the right number."
This fluctuation can be looked at as the consequence of expansion. Tesla has established their Giga-Factories in three continents; The Giga-Berlin and Giga-Shanghai being the latest additions. Tesla has a plan to establish several Giga Factories within the United States. 3 factories are already active: HQ at Freemont, Giga Factory 1 in Nevada which produces Model 3 electric motors and battery packs, in addition to Tesla's energy storage products, Power wall, and Power packs, Giga Factory 2 in Buffalo, New York manufacture infinitely scaled clean energy generation and storage products – solar panels, solar roof, the power wall home battery, and the power pack battery system for commercial and utility-scale sites. Tesla has started working on another Giga Factory at Austin, Texas in July 2020. The Texas factory will produce model3, model Y, and the cyber truck. The expenses of factories don't go without the expenses of employees that run the factories; around 50,000 employees are working for Tesla now.
Given the nature of these heavy expenses, it was not a surprise to Ron that Tesla's stock hasn't been stable. These factories are expected to become profitable in the coming years. This will not only benefit Tesla in its aim of Green Revolution but also increase their revenue multifold. Ron Baron in June had said that he believes Tesla's stock to be valued at $2,000 to $3,000 in 5 years. He reiterated his belief by saying that the value has gone up 10 times in the last 3 to 4 years and will increase by 3 to 5 times in the next 10 years.
Fluidity of Tesla
We have always said Tesla has a certain fluidity about them that makes them unique. What exactly do we mean by this? Outsourcing components of a vehicle to other companies is a common sight in the automobile sector. Tesla currently outsources its batteries from Panasonic. Nvidia is responsible for developing chips for Tesla. However, Baron said investors are not considering various factors, such as what happens when Tesla switches to autonomous driving, ride-sharing, a more powerful (and more affordable) battery than others. For example, Baron expects Tesla's vehicle sales to increase by 50% annually and suppliers are lagging. For example, Nvidia had no plans to develop these chips fast their slow production rate is in alignment with the demands of their other car companies. Tesla didn't tolerate this slow rate and hence started in-house production of these chips. Also, he stressed that the California manufacturer is working hard to develop a new battery pack.
"The batteries are the critical point that's allowing – stopping the company from growing even faster. Getting enough batteries they make the money, investments in research for chips. They invest money for batteries because the battery companies aren't investing fast enough."
On Battery Day, Tesla announced their new 4680 battery and also confirmed that the production of these batteries is underway. This is the fluidity of Tesla. If they are not satisfied with anything they are ready to take the matters into their own hands and deliver.