Imagine the wheel coming right off in your hands when you want to steer your EV on the freeway. Picture the wheel slipping from your grasp as you attempt to maneuver your EV on the highway.
A frightening experience, isn't it?
In the latest scandal involving Tesla, a Twitter user recently posted an image and video of a Model Y that has had its steering wheel completely removed while driving. This occurrence is just one in a series of episodes highlighting Tesla's unreliable models, which have prompted many to question the safety of driving these vehicles on public roads.
In an alarming Twitter post, @preneh24 described the terrifying scene of being on a freeway with his family when he realized that the steering wheel had come off of their brand-new Tesla Model Y. To support his story, pictures, and videos were included to highlight where it was left dangling as they waited for a tow truck to arrive and help them out of this frightening situation.
Although Tesla's generous decision to finally replace the customer's Model Y, even though it has denied any liability for the steering wheel coming off, is incredibly kind and commendable.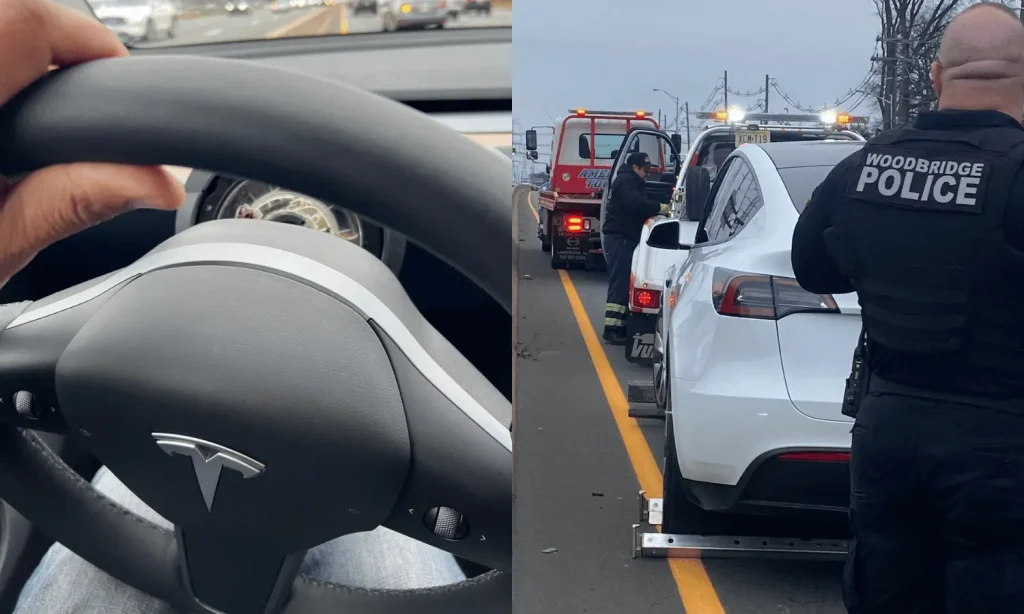 What Happened?
Prerak Patel and his family were in for a terrifying surprise when the steering wheel of their new Tesla Model Y came off only five days after delivery. He was driving his recently purchased Tesla Model Y down a highway in New Jersey with his family onboard when the unimaginable happened.
He was driving near Woodbridge Mall when its steering wheel detached. Fortunately for them all, they were able to pull over close to the divider safely.
On his Twitter page, Patel initially reported that he was traveling down the highway when all of a sudden, his steering wheel disengaged from its base. He tweeted that there were no cars following him and he was able to move onto the divider in time after the incident. He tweeted,
"@elonmusk @TeslaOwnersWW @BLKMDL3 Family was excited to receive Tesla Y delivery on 1/24/2023. Was driving on highway and all the sudden steering wheel fall off, was lucky enough there was no car behind and I was able to pull on devider #SafetyFirst #Fixit #TeslaModelY #help"
@elonmusk @TeslaOwnersWW @BLKMDL3 Family was excited to receive Tesla Y delivery on 1/24/2023. Was driving on highway and all the sudden steering wheel fall off, was lucky enough there was no car behind and I was able to pull on devider #SafetyFirst #Fixit #TeslaModelY #help pic.twitter.com/4UMokFA2cv

— Prerak & Neha Patel (@preneh24) January 30, 2023
According to Patel, it took law enforcement 10-20 minutes to reach the scene and have the Tesla towed off to the Tesla service center for repairs. Visuals of the steering wheel clearly show that although attached by electrical wiring, the wheel had completely detached from its column. To share his experience with others, he posted several photographs on Twitter.
Can A Steering Wheel Of An EV Come Off?
Even from the luxurious coziness of your high-end car's seat, it can be startling to discover that your steering wheel has suddenly moved away from its original position. Occasionally, this alarming occurrence is reported by drivers–making for an unsettling experience.
In 2020, an unfortunate Tesla Model 3 owner experienced the steering wheel falling off of their vehicle while reversing into his driveway after driving it for 340 miles. Fortunately, when Tesla collected and investigated the car, they confirmed that a missing bolt was to blame and returned it with its now properly attached steering wheel – all within 24 hours!
While Tesla has recently gained notoriety for issues with its vehicles, they are not the only car manufacturing giant to have faced such setbacks. Previously, Ford and Hyundai underwent recall campaigns due to a design flaw that caused their steering wheel bolts to be too short and subsequently become loose – an issue that could even lead up to the dangerous potential of the steering wheel falling off!
However, unlike other car manufacturers in similar situations before them, Tesla owners appear more vocal about both their cars' features as well as any defects discovered.
What Is Tesla Take On The Incident?
When he initially contacted Tesla service, the quote for repairment was $103.96 – however, due to Tesla's lack of customer support and consideration, he requested a refund or complete replacement of his Model Y instead.
Soon after, Tesla reached out and promised to cover all of the repair costs, in addition to buying back his Model Y and providing him with a brand new one.
It's almost unbelievable, yet a letter from Tesla to the owner declares that the said Tesla vehicle has no defect, non-conformity, or warrantable condition. Therefore, no foundation for any liability of Tesla, astonishingly enough but this statement stands true.
If a steering wheel unexpectedly detaching from its column doesn't constitute a defect, then what would? To demonstrate their appreciation of the customer's loyalty to Tesla, they have agreed to buy back the vehicle. The repair invoice also indicates that Tesla has replaced or added an additional bolt for extra security purposes.
It is clear that Tesla values their customers and wants them to continue enjoying safe driving experiences with peace of mind, but it takes time for them to take action sometimes.
What To Expect In The Future?
As the story unfolded, Tesla's service team performed a comprehensive inquiry into the Model Y incident while Patel contemplated who should be held accountable and how to manage this issue effectively.
Patel reached out to Twitter and shared a poll, inquiring whether he should accept the Model Y with its new steering or expect a brand-new car. The vote was overwhelmingly in favor of him receiving a fresh vehicle, leaving no doubt as to where people stood on this issue.
Unfortunately, it appeared the Tesla Service Center was going to impose blame on Patel and request payment for the repair that totaled more than $100. In response, he took to Twitter and contacted Elon Musk, attaching screenshots of his conversations with service representatives as well as their initial bill.
Luckily, they eventually retracted those charges in full – a happy ending? We hope so.
Such incidents are quite daunting and intimidating to again trust a particular model or make of a car. While Prerak Patel seems to be getting accustomed to the way Tesla is coming up with the replacement and offering him a loaner in the meantime.
Tesla has promised to prioritize the delivery of Patel's new Model Y, yet at present, they have not revealed an anticipated date. That said, it is only a matter of time before he can expect to receive his much-anticipated brand-new Tesla. Again.
Bottomline
After having his car towed away and the steering wheel fixed, Patel was understandably livid when Tesla charged him $103.96 for the repair. However, upon expressing his discontentment with this fee to Tesla, they refunded him in full.
Further expressing goodwill, Tesla chose to offer him the option for buyback and resolved the issue. Such incidents should not come to anyone's experience but are bound to happen as EV technology is fairly new. With time and advancement, there are going to be more robust and reliable EV automobiles on the road.
Most probably the ones that won't need a steering wheel at all!
Let's wait and watch.
We understand how intimidating this can be for any company. What do you think about it? Share your thoughts in the comments below!