SONDORS unveiled their electric bike, the Metacycle, in January this year, and the most interesting aspect is its battery. Of course, the vehicle's cost of $5,000 is also attracting the public, but the swappable battery is what has generated a lot of interest. The 80-mph (130  kph) bike had left some unanswered questions at the time of launch, but the company has now released a video about how the battery swap would happen.
The battery has a capacity of 4 kWh and weighs 24.5 kg. Moreover, the placement and packaging of the battery pack make it extremely easy to remove. It actually looks quite easy, as well. The video shows a keyed locking mechanism at the front of the battery area where vent holes are also located. The push-lock disengages the battery and allows the entire unit to slide out of the side of the bike.
This kind of mechanism makes it extremely handy for people who want to charge their battery off the vehicle. There can be situations where access to a charging station isn't possible, but if you're able to carry the battery with you, this problem may be solved. There is a handle on the top rear edge of the battery pack. This enables you to carry the pack around like a suitcase. Of course, a 24.5 kg-battery is quite heavy to just carry around.
SONDORS Metacycle
At the time of launch, SONDORS had shocked everyone with the $5,000-price tag. Commuter electric bikes tend to be quite expensive and in comparison, the Metacycle packs quite a punch for its cost. 80 miles (130 km) of range and a top speed of 80 mph (130 kph) seems quite decent for that price. Of course, you won't get all 80 miles at that speed. Optimal driving conditions and a roughly constant speed around 40-45 mph (65-72 kph) are required to achieve the claimed mileage.
The bike offers 8 kW nominal and 14.5 kW peak power through its rear hub motor. It is designed keeping mixed functionalities in mind – majorly for city driving, but also the occasional highway jaunt. And the idea isn't having a pleasure cruiser or roadster – it is an efficient solution made for relaxation. At least that's what SONDORS founder Storm Sondors said.
The SONDORS Metacycle is the newest extension of our mantra of 'Electric For Everyone.' It was a clean sheet of paper design where we considered how to make the best electric motorcycle for people who need an affordable, attractive transportation solution. We didn't design this bike for enthusiasts, or racers, or people who want a third or fourth toy in the garage. It's a fun, easy solution for real people who want to enjoy getting on the road every day.
Other Features
The total weight of the bike is around 91 kg and carries a distinctive aluminium frame. There is a hollow space around where a conventional fuel tank would go. SONDORS offers three different packages for using that negative space, a 3 kWh secondary battery, a Level 2 fast charger, or storage space. Of course, you can leave it unoccupied for a unique look as well.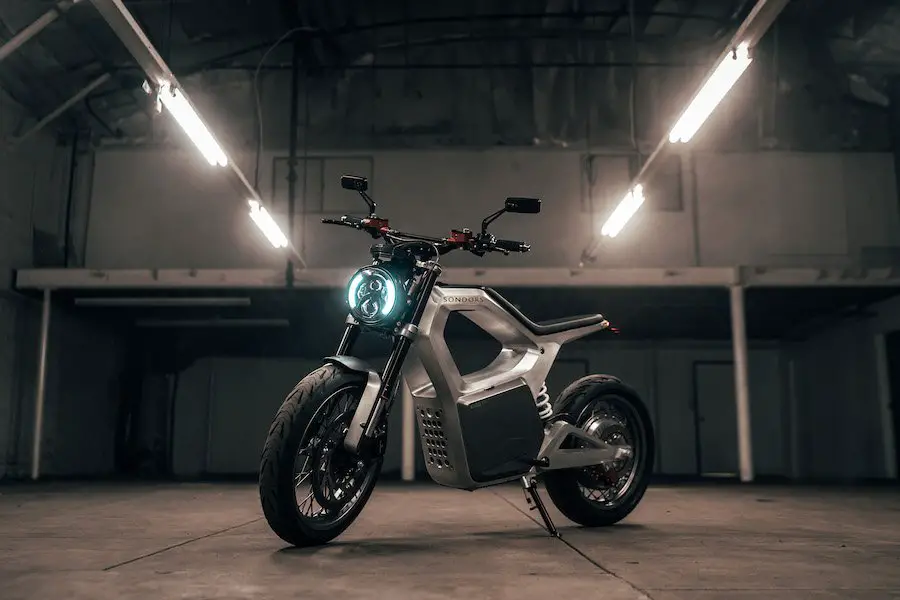 The inverted front fork looks like it belongs on a higher-dollar bike than this, and the Bybre hydraulic disc brakes, made by respected OEM Brembo, appear up to the task of stopping this lightweight commuter. There is a clear-topped box that holds the rider's phone and wirelessly charges it. The hub motor reduces both complexity and cost, while the somewhat lower capacity battery offers a decent commuting range while still keeping the price grounded. Anyone charging at home on a standard electrical socket will see a charge time of four hours, though public charging stations should do the job quicker.
SONDORS had expected the first batch of Metacycles to be delivered by Q4 2021. They would then follow it with pre-orders for subsequent batches carrying a 2022 estimated delivery. The company recently announced that production was actually running ahead of schedule, and has since opened up pre-orders for delivery in late 2021 again.