Prosecutors in Northern California have charged a driver with attempted murder for driving a Tesla that crashed and nearly killed him, his wife, and their two children on 2nd January.
Dharmesh Patel, aged 41, is facing charges that include special allegations of domestic violence and the intent to cause serious harm. He is suspected of trying to kill his 41-year-old wife and their two children, aged 4 and 7, by driving off Devil's Slide, a 250-foot cliff located about 20 miles south of San Francisco.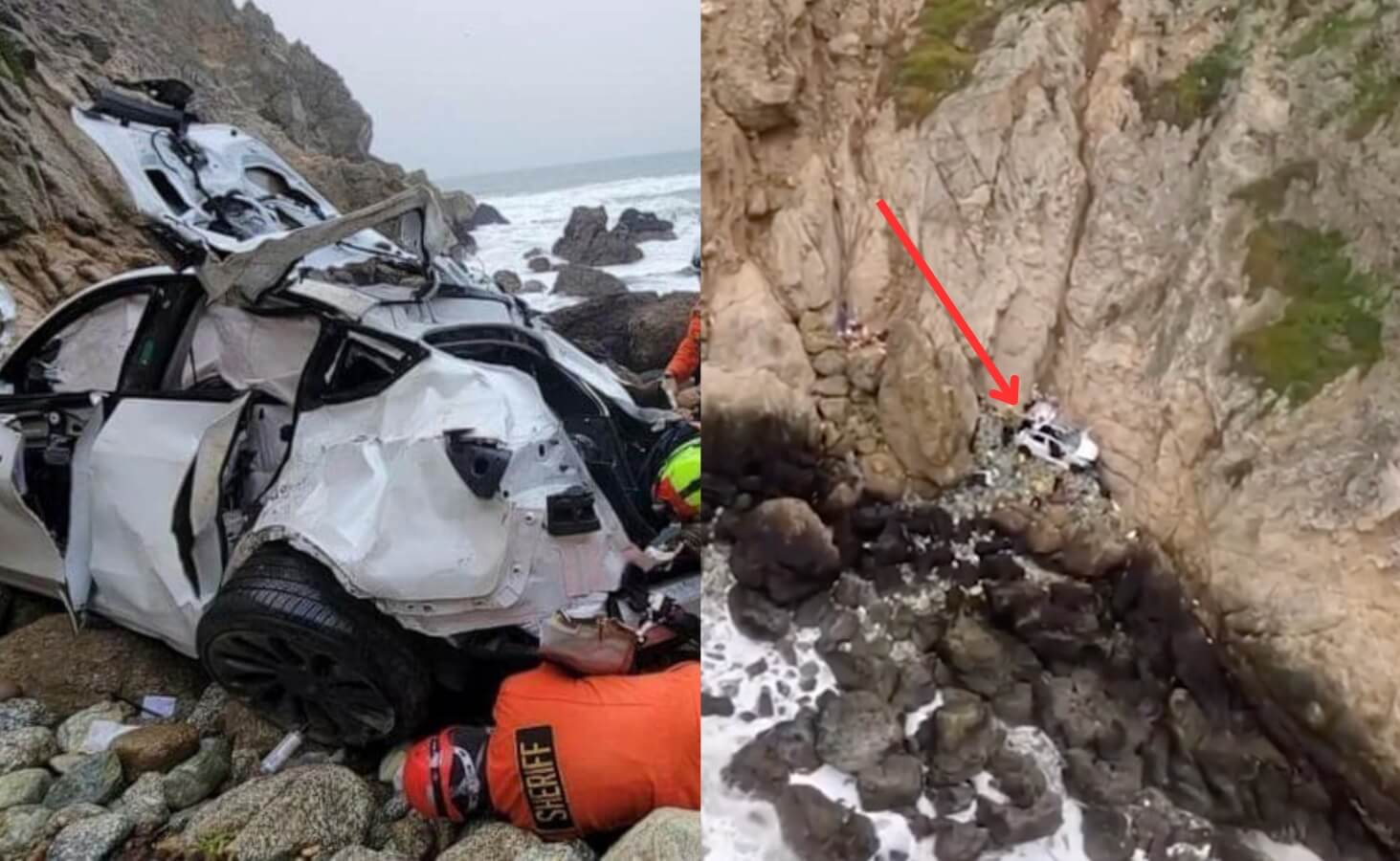 The Incident: Doctor Drives Family off Cliff in California
Following the incident on January 2, all four occupants were hospitalized with critical injuries. The family's survival was initially hailed as a "miracle" by rescue workers, as their Tesla sedan plunged down a well-known cliffside along the Pacific Coast Highway near an area called Devil's Slide, which is notorious for severe accidents.
After the incident, the family had to be rescued by firefighters who cut them free from the wreckage. While the parents were airlifted by helicopter, the children were carefully brought up the cliff using a rope system and a rescue basket. The following day, while still in the hospital, Patel was detained on charges of attempted murder.
Patel was admitted to the San Mateo County Jail after being released from the hospital. Patel was charged with attempted murder by the San Mateo County District Attorney's Office. Domestic violence and serious bodily injury enhancements are included in two of the three counts.
Miraculously, all of them survived, leaving authorities and San Mateo District Attorney Steve Wagstaffe relieved. He stated, "While I'm glad about their survival, it doesn't change the charges we have against him."
Legal Proceedings: Doctor's Plea, Bail Status, and the Diversion Program
Patel pleaded not guilty to attempted murder and claimed that he drove his Tesla Model Y off the 250-foot "Devil's Slide" on the Pacific Coast Highway due to tire issues. Additionally, Patel's attorneys requested a "mental health diversion" based on his struggle with major depression.
Wife Disagrees with Doctor's Explanation for the Crash
His wife, Neha, denies these allegations and asserts that her husband intentionally drove the family off the infamous stretch of roadway near Pacifica, outside of San Francisco. After the car overturned, Neha informed rescuers that her husband, Dharmesh Patel, who is a physician, had declared his intention to drive off the cliff.
She stated that he purposefully accelerated the vehicle. According to a three-page probable cause report by California Highway Patrol Officer Aaron Sapien, Neha also mentioned that her husband needs a psychological evaluation.
Witness Testimony
Witnesses stated that the Tesla did not show any signs of slowing down before it went over the cliff, and the police report did not indicate any malfunctions. San Mateo District Attorney Steve Wagstaffe clarified in January that the Tesla was not in autonomous mode at the time of the incident.
During a hearing on July 31, the judge will explain the process for Patel to apply for the diversion program, which could take several months. Patel will remain in custody as he is not eligible for bail.
Are Teslas Safe in Accidents?
With a combination of passive and active safety systems, as well as an automated driver-assistance mode called Autopilot, Teslas are exceptionally safe cars to drive. Since its introduction in 2008, this combination of characteristics has made the all-electric brand one of the safest luxury automobile producers.
From the scene, the fire department shared some horrifying pictures. However, you can clearly see that the debris is a white Tesla Model Y, one of the world's safest cars. Incredibly, thanks to the Model Y's maximum level of safety, all four occupants survived.
All Tesla models, including the Model Y, Model X, Model S, and Model 3, have received a perfect five-star rating from the NHTSA. However, in 2022, only the Tesla Model Y and Model 3 were rated and both received five-star ratings from the NHTSA. Additionally, the Model 3, like the Model Y, was recognized as an IIHS Top Safety Pick+ for 2022.
What Makes a Tesla Safe?
Tesla includes features that are exclusive to any other automobiles on the market, which helps explain in part why they are so safe. Tesla makes driving safely a standard feature, from their cutting-edge autonomous driving mode to a plethora of advanced driver-assistance technology.
One notable safety feature of Tesla vehicles is their strong and reinforced battery pack structure. These packs are positioned at the bottom of the car, providing both durability and a larger crumple zone compared to other high-end sedans.
The battery packs in Teslas are rarely damaged in accidents due to their placement. They are designed with advanced technology that contains flames to specific sections of the battery in case of a fire, while also redirecting heat away from the passenger compartment.
Thanks to the interconnected nature of Tesla vehicles, the company can remotely update safety software even years after the vehicle was purchased, and they continuously monitor real-world data from millions of miles driven. Tesla recently examined the frequency of accidents in their models using the Autopilot semi-autonomous driving mode.
Conclusion
The attempted murder case involving Dharmesh Patel and the horrifying cliff plunge of his family off Devil's Slide has left the public astounded. As the legal proceedings unfold, Patel's plea of not guilty and his wife's conflicting accounts add complexity to the case.
Meanwhile, the incident has highlighted the safety features of Tesla vehicles, with their robust battery pack structure providing remarkable protection in accidents. The ability to remotely update safety software and monitor real-world data further demonstrates Tesla's commitment to enhancing vehicle safety.
As the investigation continues, the attention remains on both the unsettling details of the accident and the continued advancements in automotive safety technology.