The Chinese automaker BYD has recently launched a new electric vehicle (EV), the Seagull, which has already garnered significant attention in the market. Priced at just $11,400, the Seagull hatchback offers up to 251 miles of CLTC range, making it an attractive option for environmentally conscious consumers looking for an affordable yet practical EV.
On its first day of availability, the Seagull reportedly received 10,000 orders, leading industry analysts to predict that it could become China's best-selling EV within the next six months.
In this article, we will delve into the features and specifications of the BYD Seagull, and examine the potential implications of its successful launch.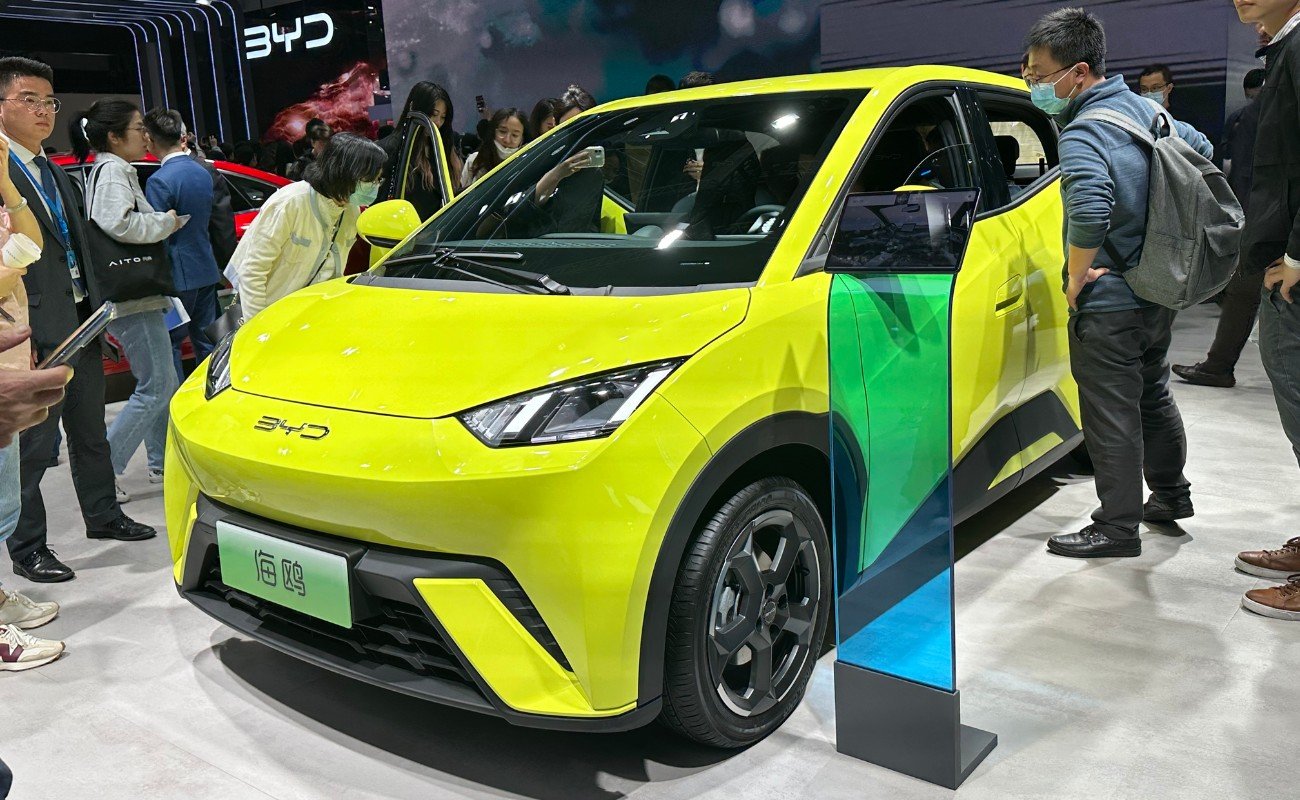 BYD Seagull EV Price, Performance, Range and Features
BYD's Ocean series just got a new addition to its lineup. Meet the Seagull – the brand's cheapest EV to date!
This sleek and stylish electric vehicle starts at an incredibly affordable price point of just $11,400 (78,800 yuan) in China.
Chinese electric vehicle maker BYD has made a splash at the Auto Shanghai 2023 by unveiling its latest offering, the Seagull subcompact EV. The B-segment hatchback is already generating significant buzz, with the company announcing that it has received 10,000 pre-orders within just 24 hours of its launch at the auto show.
The Seagull EV is a promising addition to the rapidly growing EV market, with features like a 405 km driving range and an advanced infotainment system that are sure to appeal to consumers. With such a strong response to the pre-sales, BYD is well-positioned to make a significant impact on the global electric vehicle market.
Stats
The BYD Seagull is a vehicle that sits comfortably between the city car and subcompact categories in terms of its size. With dimensions of 148.8 inches in length, 67.5 inches in width, and 60.6 inches in height, along with a 98.4-inch wheelbase, the Seagull is a compact and agile car that is well-suited for city driving.
It is smaller than its sibling, the BYD Dolphin, by 13.6 inches in length, 2.1 inches in width, and 1.2 inches in height. The Seagull's compact size and tight turning radius make it ideal for navigating through narrow city streets and parking in tight spots, while still providing enough interior space for passengers to sit comfortably. Overall, the BYD Seagull is a well-balanced vehicle that offers a blend of practicality and efficiency in a compact package.
The Seagull EV is an electric hatchback with five doors and four seats, boasting an energetic exterior design that includes a trendy floating roof. It has a sea-themed appearance that is accentuated by a fin-like shape that can be observed from certain angles.
The car appears to be around the same size as a 2015 Scion iQ when viewed without a person for scale. However, it is nearly two feet longer than the iQ, despite matching its dimensions.
An 80% charge can be attained in less than half an hour, which is significantly faster than many other electric vehicles in the market. This feature ensures that the car can be charged quickly during a short stopover, providing greater convenience and flexibility for the driver.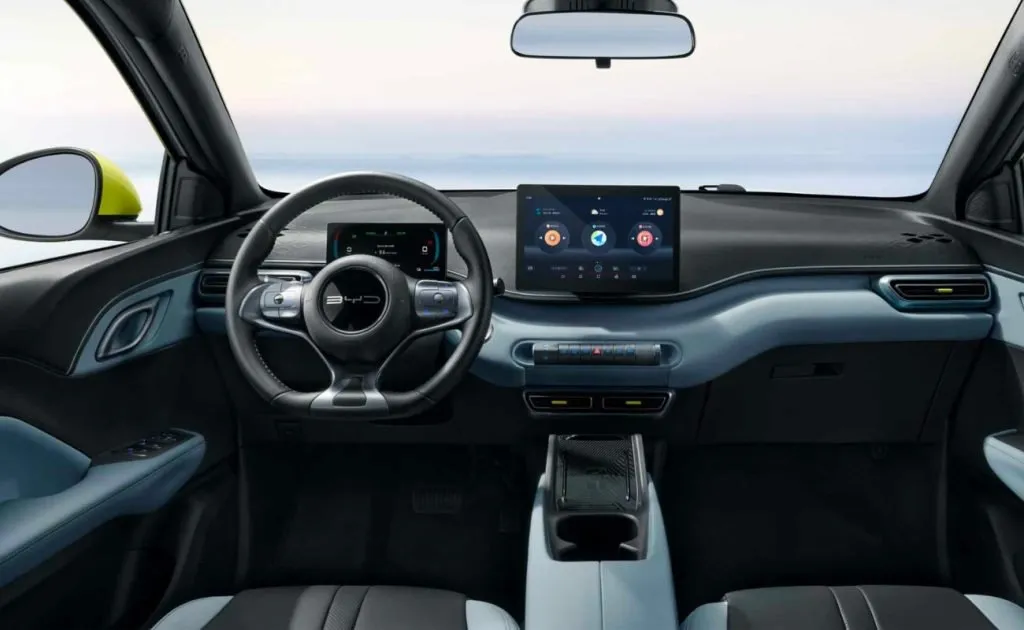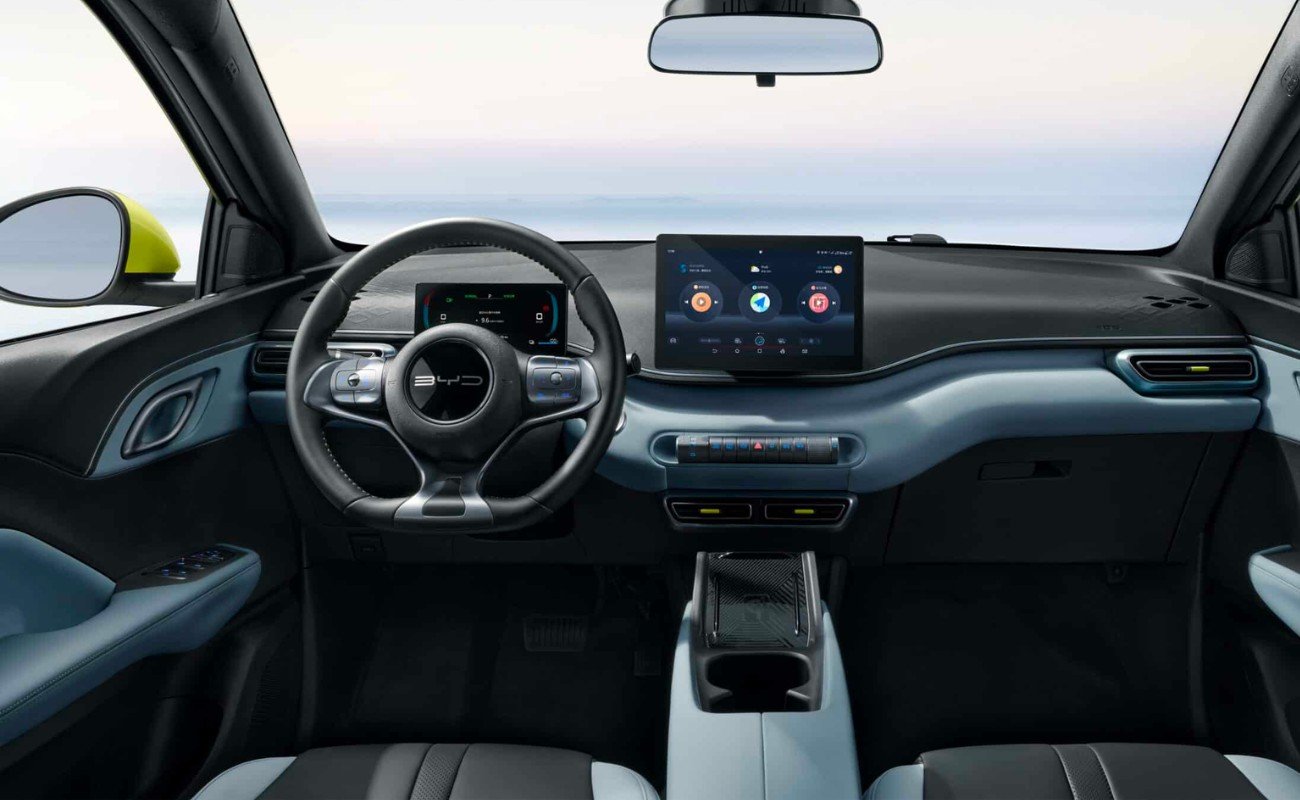 Design
The BYD Seagull EV boasts a unique tallboy design that's reminiscent of the compact Chevrolet Beat. The front of the car features sharp-looking headlight clusters with the "BYD" logo in the centre, giving it an aggressive and modern look.
The presence of a single wiper blade for the front windshield is a distinct trait, which adds to the car's streamlined design. The windshield-mounted camera is also noticeable, suggesting that it comes equipped with some of the advanced driver-assistance systems (ADAS) features.
The BYD Seagull EV is not only affordable and efficient, but it also comes with a host of impressive features that add to its aesthetic appeal. Inside the vehicle, you'll find a spacious and modern cabin that's loaded with tech.
The 12.8-inch infotainment screen and 5-inch instrument console provide all the information you need at a glance, while the flat-bottom steering wheel adds a sporty touch. The layered dashboard and motorized driver seat are both practical and stylish, creating a comfortable driving experience.
Performance and Range
The Seagull is an exquisite electric vehicle based on BYD's cutting-edge e-Platform 3.0, the same platform used for the Dolphin and Seal models. This tiny electric car features a robust front-mounted electric motor that delivers an impressive 55 kilowatts (74 horsepower), providing a thrilling driving experience.
Potential electric vehicle buyers who are considering purchasing a BYD electric vehicle have the option of choosing between two different BYD Blade LFP battery packs. The first option is a 30-kilowatt-hour battery pack that offers a range of 190 miles on a single charge, with a CLTC range. The second option is a larger 38-kilowatt-hour battery pack that offers an impressive range of 251 miles, making it ideal for those who require a longer range.
Equipped with a sizable battery, this car has the capability to travel up to 405 km on a single charge, perfect for longer travels. However, if outfitted with a smaller battery, the range will be reduced to approximately 305 km, still enough juice for routine travel.
The Seagull EV model is equipped with a 70-kW motor, which allows it to reach a maximum speed of 130 kmph. These two battery-pack options would ensure that the Seagull can take you to your desired destination without any potential range anxiety.
Will BYD Seagull EV Come to the US?
No there is no announcement on the EV to come to the US market as BYD is going to conquer the Chinese market first before going global. Smaller electric vehicles (EVs) are more efficient and popular for several reasons. They have lower weight and aerodynamic drag, which reduces the energy required to propel them. Also, smaller EVs have less powerful batteries, which means they can be charged more quickly and at a lower cost than larger EVs.
According to analyst Bill Russo, the Seagull by BYD offers a compelling price value proposition in the electric vehicle market. The base version of the Seagull starts at US$11,300, making it an affordable option for consumers in emerging markets as well as in Europe and the United States.
Russo believes that this price point will attract a broad range of consumers, making the Seagull a popular choice in China, with the potential for global success if BYD launches it in export markets. As a result, the Seagull has the potential to become one of the first mass-market electric vehicles on a global scale, offering an affordable and eco-friendly transportation option for consumers around the world.
Is the Future of EVs Dominated by Smaller Models?
Despite the benefits of electric vehicles (EVs), it is widely recognized that they may not be the best option for large vehicles. This is because larger EVs tend to become heavy and bulky, which can impact their efficiency and range. For example, the 9,600lb GMC Hummer is a prime example of a massive EV that struggles to maintain the benefits of electrification.
On the other hand, as EVs shrink in size, the advantages of electrification become more apparent. This is especially true when combined with a low price point, which makes them an attractive option for consumers. One such example is the BYD Seagull, which saw over 10,000 pre-orders in just 24 hours due to its affordability and small size. Ultimately, it seems that the success of EVs depends on finding the right balance between size, cost, and performance.
The smaller size of EVs makes them more affordable for many consumers, as they generally have a lower purchase price than larger models. Moreover, smaller EVs typically have a smaller environmental footprint, as they require fewer resources to manufacture and have lower emissions during use. Overall, these factors contribute to the growing popularity of smaller EVs as a more efficient and sustainable mode of transportation.
Bottomline
The launch of the BYD Seagull EV marks a significant milestone in the electric vehicle industry. With its advanced technology and impressive performance capabilities, the Seagull has the potential to become a game-changer in the market.
The electric motor powering the vehicle generates 74 horsepower, providing ample power for a smooth and efficient ride. The car comes with two battery pack options – a 30-kWh battery with a range of 190 miles and a 38-kWh battery with a range of 251 miles. This range is more than sufficient for most everyday commutes, and the car also has the added advantage of fast charging.
No wonder Seagull EV is already creating waves in the EV market and gaining so many orders in such a short amount of time. And let's not forget about its equally charming siblings, the Dolphin compact hatchback and Seal mid-size sedan. With such a diverse range of options, BYD is certainly making a splash in the EV game and might give Tesla a big competition. It's exciting to see how far the electric vehicle industry has come, and it's only getting better!