Tesla Model 3 is one of the most popular electric cars available globally and the best-selling model in the Tesla fleet. Keeping and maintaining an electric car requires some effort and money. However, not as much as traditional engine cars or even hybrid vehicles for that matter.
Safe to say, owning an electric car is cheaper than owning any other type of car. But how cheaper still stays a question with many.
A YouTuber with the name Cleanerwatt helps answer the question with a five-year ownership detail on his latest review video. The video is about maintaining Tesla Model 3 and Honda Accord Hybrid for five years and clocking 75,000 miles on them. Let's break down the math on both model's cost of ownership.
Model 3 And Honda Accord Hybrid Cost Of Ownership
Tesla Model 3 is the cheapest Tesla car one can purchase. Here the comparison is done between the standard range trim and all-wheel drive of the Model 3. Accord Hybrid EX-L and Touring variant are the closest to Model 3 in terms of performance and features.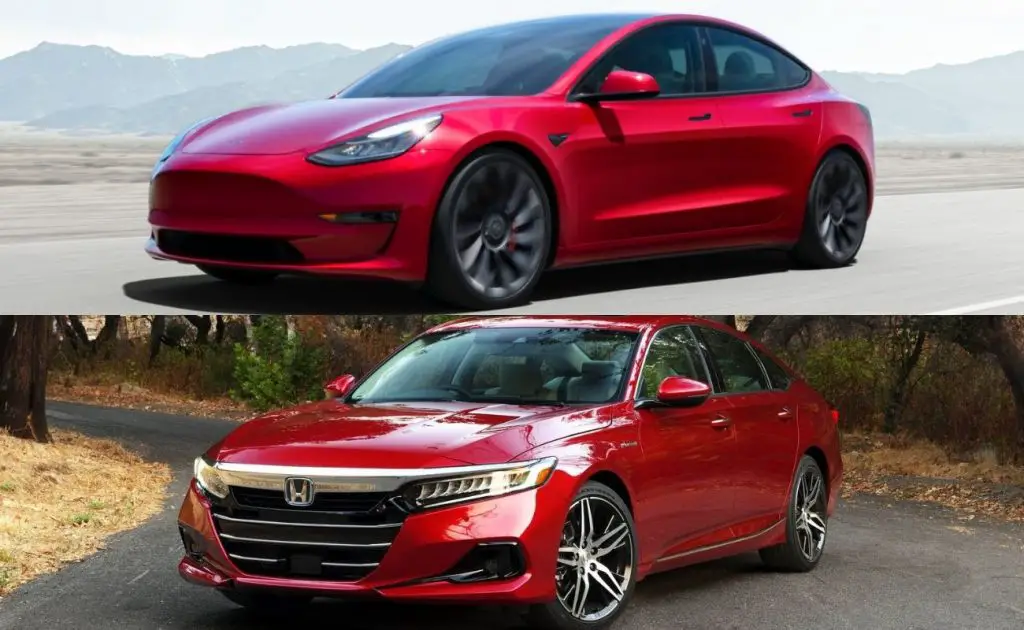 Price of Purchase
Clearly, we cannot relate to the older prices of the purchases of these cars. A lot has changed as global supply challenges and rising gas prices are constantly affecting the current prices. Tesla has increased the prices of its cars significantly.
Tesla is charging almost as much as $46,990 for the lowest model of the Model 3. However, the cost to purchase one was as much as $10,000 cheaper than what it is today.
Honda Accord EX-L starts at $38,432, and the other trim Touring costs about $41,500. Moreover, Tesla Model 3 all-wheel-drive costs as much as $55,690.
Tesla Model 3 said costs are without any other inclusions like taxes and fees. You decide to put a new color on your Tesla or do any upgrades would set you back with few another thousand dollars. Delivery cost alone would add about $1,200 to the purchase price.
Charging/Gasoline Cost
Cleanerwatt compares the cost of various factors of maintenance of these cars by calculating yearly costs. So, the per-year cost accounts for 15,000 miles on the respective variant from Tesla and Honda.
As per the available data on energy charging costs, the per annum charging would cost about $550 per year to a Model 3 owner. Honda Accord Hybrid would need about $1,350 to $1,500, as per the current cost of per gallon gasoline.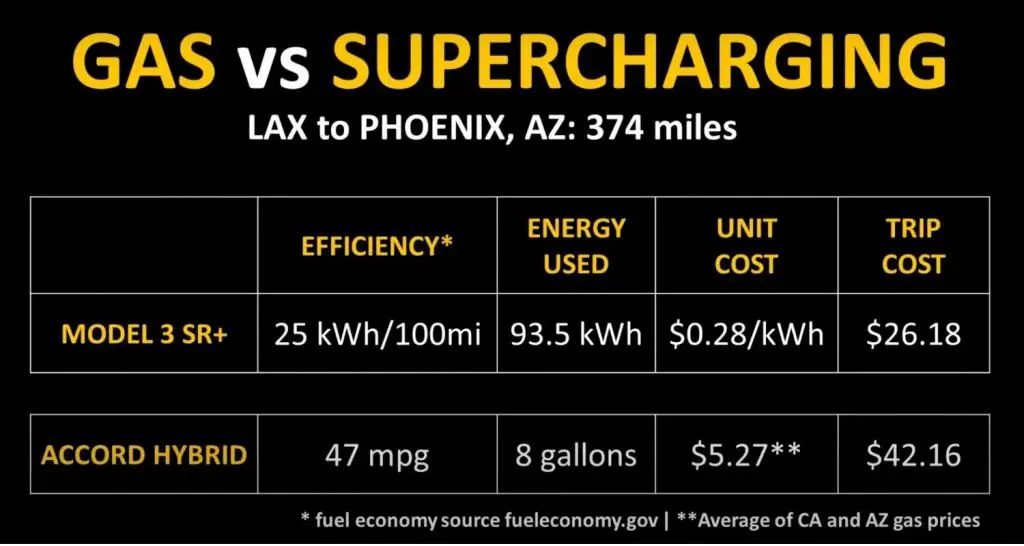 Model 3 does a lot better on the per-year cost of energy consumed by both the vehicles have substantial differences.
To explain this further, John in the video turns to the trip planner to calculate the real costs of both variants. Lax to Phoenix is 374 miles, paying about 28 cents every kilowatt-hour charging on Model 3 is way better than 42 cents on Hybrid.
Maintenance Cost
Maintenance cost varies for everyone based on where you take your car for service or if you do most of the things yourself, etcetera. Cleanerwatt uses the data from admins.com for Hybrid five years maintenance cost. He accounts for both cars at $1,200 for a five-year maintenance cost to cover any repairs and incidents.
Tesla Model 3 wiper blades replacements, tire rotation, cabin filter, and service appointments are covered in this cost. However, most of the repairs and incidents would be covered by a comprehensive warranty of Tesla.
Depreciation
Calculating depreciation is probably the most crucial yet complicated factor to calculate between the two makes. According to KellyBlueBook.com, 2017 Tesla Model 3 clocking 75,000 miles would lose about 35 percent of its value. Whereas the 2017 Touring trim would now be worth about 42 percent less in 2022.
The depreciation stats show how promising owning an electric car is in today's date. Model 3 from Tesla has seen around $10,000 rise in its sticker price. The world is shifting towards energy-efficient and sustainable options. Internal combustion engine or ICE vehicles depreciation value can drastically increase in coming times.
Warranty
Tesla offers a comprehensive 4-year, 50,000 miles general warranty, and Honda offers a 3-year r 36,000 miles general warranty.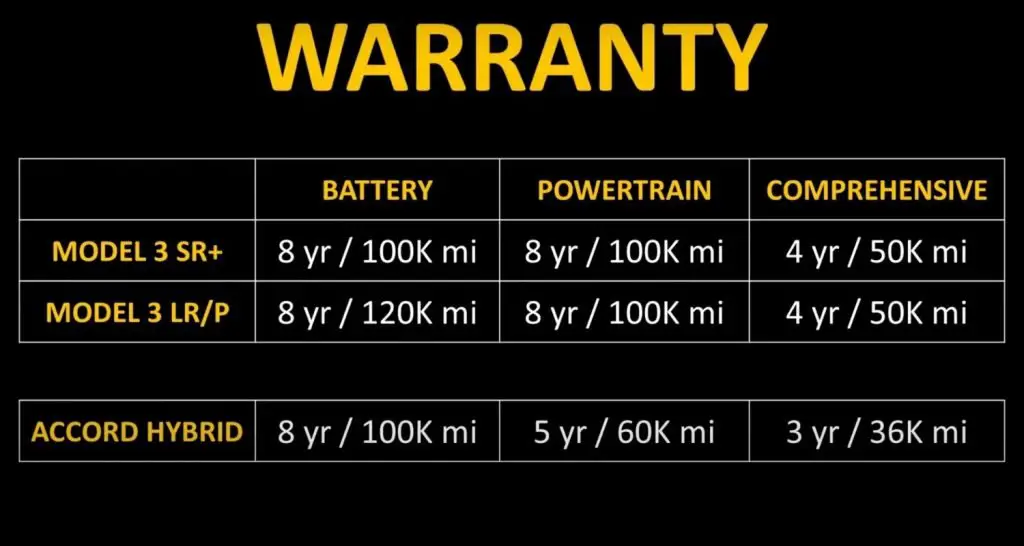 Total Ownership Cost of Tesla Model 3 and Honda Accord
Model 3 is a very popular and successful EV from Tesla, and Honda too is doing well with the long-going success with Hybrid variants of Accord. If you see the comparison of both makes, comes down to some integral factors.
The cost of owning a Tesla Model 3 RWD is about $10,000 more than the Accord Hybrid EX-L. Moreover, the AWD trim of Model 3 would require you to spend about $14,000 over the Touring variant of the Accord Hybrid. Model 3 still makes up for a lot of the extra thousands spend with other deciding factors.
Charging and gasoline prices are also very important factors as the price of gas is soaring high every year. Tesla Model 3 fairs on the energy consumption cost part. Moreover, if one installs some solar panels too that can help save a way lot more and potentially charge the EV for free.
Following is the total cost of owning these cars based on 75,000 miles run and excluding the initial purchase price of all the models:
Model 3 RWD is $38,016 or $0.51 cost per mile.
Model 3 AWD is $42,990 of $0.57 cost per mile.
Honda Accord Hybrid EX-L is $40,246 or costs $0.54 per mile.
Honda Accord Hybrid Touring is $42,772 or $0.57 per mile.
Final Verdict
The final rundown of the cost of owning both cars conclude on the Model 3 to be better among both. Calculating the total cost for Model 3 RWD accounts for $38,016, and AWD trim would cost $42,990 for five-year ownership.
Honda Accord Hybrid EX-L totals up for $40,246, and the Touring trim costs $42,772. Model AWD and Touring still share the total cost for five-year ownership. However, the RWD trim of Model 3 does a lot better than the EX-L variant.
Tesla Model 3 might look like a costly feat upfront but owning one is cheaper than owning Honda Accord Hybrid. Including incentives and state, benefits could definitely add in the favor of Tesla 3.
Comment down below to share your views on both the cars from Tesla and Honda. Which one do you think does better, Model 3 or Honda Accord Hybrid?