EVs are so damn costly…range anxiety is a serious thing…. electric cars are not safe…. ring a bell?
Yes, almost every one of you must have heard something similar or more about electric cars. But what makes EVs a better car for India if you compare it with the American automobile industry? Let's find out!
Whenever anyone asks about the feasibility of electric vehicles (EVs) in India, I always ask them to consider a few different things.
Firstly, have they ever been to India? If not, they should visit because it's nothing short of spectacular sights and people, much more than Chicken Tikka and slums.
EVs are steadily making their way into every household be it India or USA. However, when someone takes into account all the facts about EVs and tries to compare apples to apples (USA vs India), buying an EV in India becomes an instant no-brainer!
In India, the cost of electricity is much lower than in the US. This means that fueling an electric vehicle would be much more affordable.
Why Does Buying Electric Vehicles in India Make Sense?
With the recent and significant increase in demand for electric vehicles in India, the automobile industry is rapidly innovating its technology.
This includes changing how we charge EVs, which now needs to happen much faster than before. Moreover, the industry is exploring new technologies like smart charging, bidirectional charging, and not to forget battery-swapping solutions.
The EV market could become one of the biggest industries in the country if proper infrastructure is provided and it becomes affordable for everyone. Two prime reasons for EV buyers to make the shift.
USA vs India
Tesla dominates US electric automobile domain and India lacks in the number of automakers driving into the EV foray.
Elon Musk is still not in the mood to give in to the Indian government charging 100% import duty on Tesla cars. However, BYD proudly sells its E6 and plans to launch more. Fisker too is coming to Indian EV markets next year.
India has more than 54,252 electric cars on road so far and USA EVs number is in the millions. This difference can largely be attributed to government policies and incentives in both countries. However, India is fast pacing towards an electric future with
In India, the government offers generous subsidies for EV buyers and has set targets for EV sales. In the US, federal EV tax credits have recently been rolled back or exhausted by many automakers now. Moreover, getting state subsidies and incentives is no easy feat in the United States as there are no nationwide EV targets.
As climate change continues to be a pressing issue, governments need to support the adoption of electric vehicles. Let's hope that the US can follow in India's footsteps and make a push toward a more sustainable transportation future.
Like its international counterparts, India too is focusing on efficient and renewable energy sources to reduce environmental damage.
Here's a tear-down of how EVs are better for India:
EV Price
The price of an EV is a critical factor when consumers are making a decision. Prices for an EV in India range from Tata Tiago EV at $10,000 to $188,000 with Mercedes Benz EQS.
Since, Tesla, the leader in the EV industry, is yet to hit the Indian floor, let's compare the cheapest EV available in India and US to be fair.
Cheapest EV in India
Tata Tiago EV is the cheapest EV in India with a starting price of 8.49 Lakh or USD10,301 with a 250-315km range, 19.2 KWh battery, and about 3.6-hour charging time. Tiago can pop 114Nm torque and 73.75 bhp.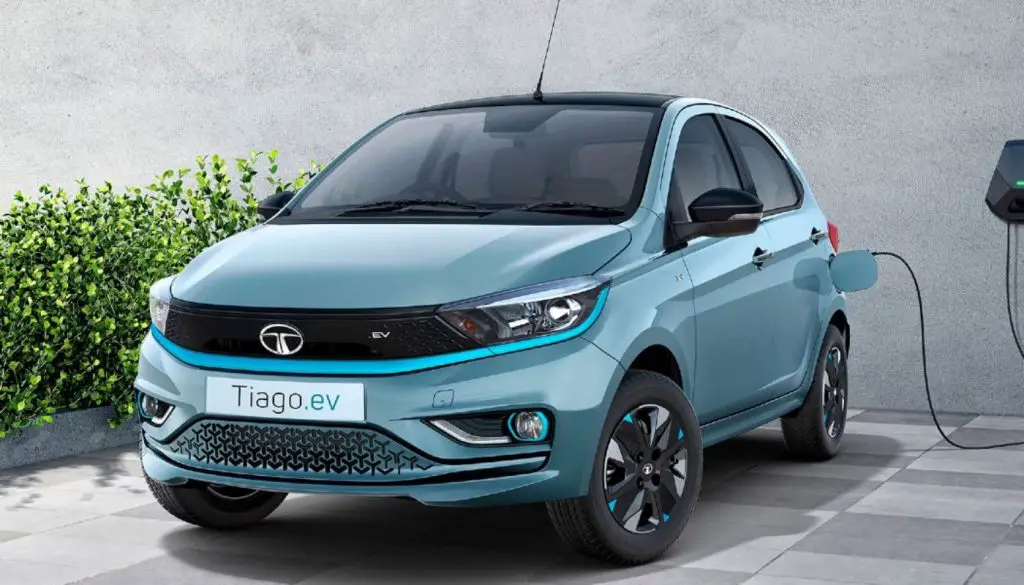 Cheapest EV in the USA
Nissan Leaf is the cheapest EV available in the US with a starting sticker price of $27,400 or roughly 22.58 Lakh with 147bhp, and a 40kWh battery pack.
That's right – in India, the average cost of an electric vehicle is around $10,000, while in the US it can be upwards of $30,000(accounting for the destination charges, registration, and taxes.
But why is this the case? One reason could be the fact that electric vehicles are heavily subsidized in India, with the government offering tax breaks and other incentives to encourage the switch to clean energy.
Charging
A car with a 30-kWh battery pack only needs one hour to charge up to 80% using a 50-kW fast charger, whereas it would take around eight hours to get the same percentage of charging from a slow/moderate charger (15 A plug) in India.
A Level 1 charger can take as much as 20 hours for Nissan Leaf to get charged. Model 3 can take even 36 hours in the USA.
A Level 2 takes around 4-8 hours and a level 3 or fast charger can charge Leaf in 30 minutes.
Charging time and everything is great but the USA leads the pack here with a massive number of public chargers across the United States. India, on the other hand, has merely 2633+ working charging stations.
Cost of Charging
Not only is it critical to consider the initial cost of an EV, but ongoing costs like charging your vehicle and with what equipment matter too. Home charging your EV will have different rates than using a commercial or public EV charger.
The cost of charging an electric car:
Cost to Charge = (CR / RPK) x CPK
CR = Car Range
RPK= Range Per kWh
CPK= Cost Per kWh
Normally, the cost to charge on a public network can vary for everyone or network to network. Home charging again differ based on the state charges in both USA and India.
The Nissan Leaf can cost anywhere from $3 to $10.56 for a full charge based on varying electricity rates in every state.
Indian make Tiago EV will cost INR 350 or $4.25 at public charging at INR 18/kWh coming down to INR 1.4 per km or $0.017 or less than two cents.
Maintenance
Because EVs don't have many parts that can break, you won't need to replace or repair them often. This makes it easier and cheaper to maintain an electric car.
In the US, the average cost of maintenance for an electric vehicle is lower than that of a gas-powered car. And in India, where labor and parts are less expensive than in the US, the cost of maintaining an electric vehicle is even more affordable.
Typically saying, an average electric car in India would have a running cost of approximately INR 1.2 to 1.4 every kilometer meaning a total of INR 18,000/year if you drive 15,000 kilometers every year.
The maintenance cost of the entry-level EV in India Tata Tiago for 3 years comes down to INR 15,892 or less than $200 approximately. (Based on the cost of the scheduled service by manufacturer)
Nissan Leaf EV costs $451 for the first three years of maintenance expenses. However, the true cost to own an EV in US and India would greatly vary on lot more factors.
Infrastructure
India has 2,633 charging stations compared to the 68,639 in the United States. The number is fast growing with continued expansion in the EV industry.
India recently There are two phases to the government's FAME or faster adoption and manufacturing of hybrid and electric vehicles scheme.
The first is to improve infrastructure for electric vehicle production in the nation, with a plan for 22,000 EV charging stations set up by public and private companies nationwide.
Availability
12 EV models are currently available for sale in the Indian market, the United States has about
Indian EV market includes about 12 electric models but the US has more than 60 electric models available for sale. Not to forget, numerous upcoming projects are in their final phase to production lines.
The primary setback on the way to electric driving is the availability of electric cars. EV automakers are not able to keep their production promises to fulfill EV delivery on time.
In fact, Tesla is among the worst when it comes to waiting time, lasting for a year or more. (Did you register for a Cybertruck yet?)
People want to buy EVs but waiting time is a big issue. Blame chips or anything, do customers want to wait for years? No. Across the US and Europe, people often have to wait up to 15 months or more for their EVs.
Subsidies & Incentives
India has recently announced the proposal to invest billions in the EV market, auto components, and infrastructure growth. Ministry Of Finance, India has reduced taxes from 12% to 5% and a tax rebate of INR 1,50,000 on the purchase of an EV.
The US offers up to a $7,500 tax credit for purchasing an EV. The main goal of this policy is to help India reach its Net Zero emission target by 2070.
Challenges for the Adoption of Electric Vehicles in India
India is struggling in front of more electric automobile-savvy countries like China, America, and even Europe. India needs to open up as many as 46000 more new charging stations to catch up with these countries.
Although more people are opting for EVs in India, the government and automakers are not focusing enough on the challenges. The challenges such as power grid strain and insufficient charging stations can deter the vision to go green by 2030.
United States has one EV charging station for every 19 EVs in the country. According to a whitepaper submitted by Alvarez and Marsal, the huge gap in the electric charging infrastructure is significant.
India has one for every 135 electric cars so far and would need a few thousand more in coming years to match the US pace. (btw China has one for every six!)
Challenges?
If car manufacturers want to stay afloat, they need to focus on selling cars rather than raising prices. With the current state of the economy, it is unlikely that manufacturers will be able to make a profit anytime soon.
The issues holding back the EV industry are:
High expenses for new businesses.
Still young technology that needs a lot of improvement and testing.
Obstacles to importing EV parts, chips, and supplies.
Employees and workforce that aren't properly educated
What To Expect In Coming Times?
EVs are the future! Why? Look around, the innovation and the war to be sustainable are enough to drive you to consider going green.
Now hang on for a second!
EVs are not all green (yet) but look at the brighter side. Will you be a part of the transitional journey to a greener tomorrow or stay stuck with ICE cars doing nothing but costing us huge environmental challenges?
Though electric vehicles don't produce emissions, the electricity to charge them often does. If we want to clean up our act, using renewable energy sources is the way to go.
In the next few years, we will see a significant rise in electric vehicles. People are beginning to care more about the environment and with gas prices persistently climbing, needing an electric vehicle has become a reality for many people.
Looks like the EV market is only going to continue growing!!