When temperatures plummet, charging your electric vehicle takes a bit more attention from its owner than usual – something to be mindful of in comparison with the warmer months.
Winter storms are becoming more frequent and severe due to climate change, and the winter storm that hit the eastern US in 2022 is a prime example. This powerful winter storm caused record-breaking snowfall, hazardous travel conditions, power outages, and coastal flooding along much of the eastern coast.
Kyle and Alyssa from the famous YouTube channel Out of Spec Reviews ventured out into the chilling winter weather to test their Tesla Model 3's deep frozen charging capabilities, leaving it at a supercharger station for two days in Colorado.
To test its effectiveness in extreme cold, Kyle left his Tesla Model 3 at a supercharger for two whole days. The temperature plummeted to an incredible -14°F (-25°C), but the experiment made some astonishing revelations!
Let's dig deeper to find out what happened afterwards!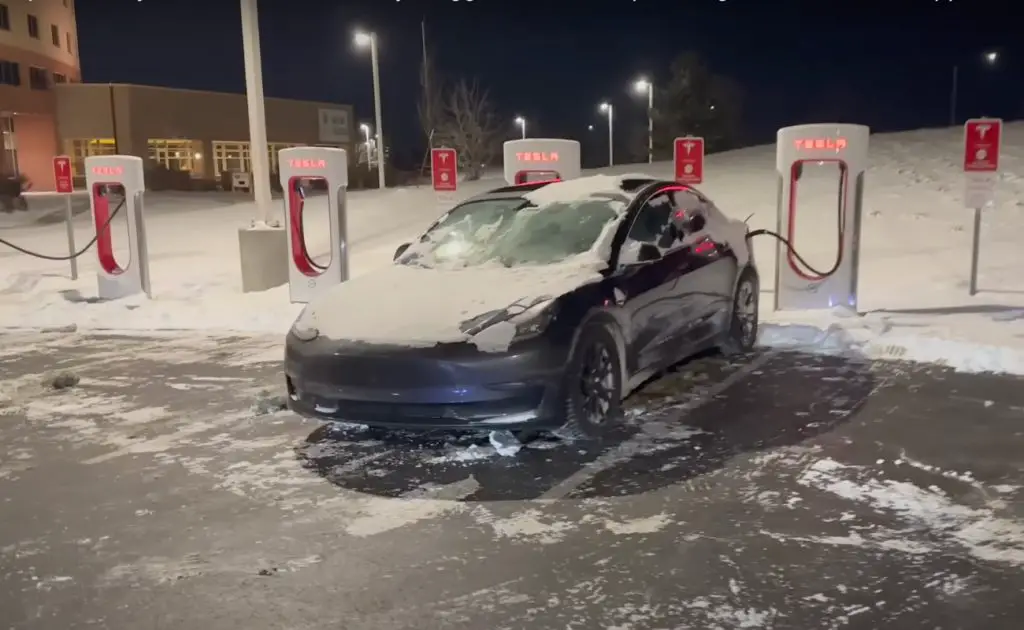 Frozen Model 3 Supercharging Experiment
To answer the question of how well electric cars endure cold weather, Kyle Conner from Out of Spec Reviews decided to run an experiment. He left his Tesla Model 3 in a Supercharger station located in Loveland, Colorado for two consecutive nights – under sub-zero temperatures!
So what happened?
Despite sub-zero temperatures, Kyle and Alyssa took the car to the charging station and boldly connected his car to a Supercharger with no prior preparation. His Model 3 was showing -9°, and it was -14° Fahrenheit (-25.5° Celsius) outside!
It was so cold that the first charging point they took their Model 3 to did not even latch to the charging port. It was frozen too!
Kyle then again took the car to another port and successfully connected his Model 3 to a supercharger.
The video shows that even after approximately 45 minutes of the Tesla Model 3 being linked to the Supercharger, not a single drop of energy had been absorbed into its battery pack. Instead, all electricity supplied by the charger was used for heating up the battery first.
The YouTuber kept tabs on his 2019 Tesla for every minute connected to the Supercharger. He even linked the logs on his YouTube channel to make sense of the ordeal and let anyone curious download and see for themselves.
After plugging in his Tesla, it didn't seem to be doing anything for 45 minutes. He later found out that the car was using all of its energy from the charger to warm up the battery before charging again.
Following this warming-up period, he only needed an additional 45 minutes for his EV's battery charge to go from 35% to 90%. That's not that bad.
EVs In Colder Weather
Kyle mentions at the beginning of the video that everyone to be cautious to not take the video otherwise. He said that some people may misunderstand the information and assume that electric cars can't be charged in cold weather.
But that is not actually true!
Tesla owners know that filling up the battery pack doesn't take over an hour; in fact, it's much faster than they may think. Those who haven't experienced owning a Tesla will be pleasantly surprised by how quickly their car can get back on the road.
When travelling long distances, your Tesla battery pack can be heated up automatically when your trip is navigating to a supercharger. This allows for faster charging when you arrive at the Supercharger since warm batteries charge quicker than cold ones!
Carmakers use sophisticated thermal management to ensure the battery maintains optimal temperatures, regardless of any resulting loss in charge. Additionally, they equip EVs with pre-conditioning that perpetually warms the battery before charging – effectively reducing charge time significantly.
This is achieved by utilizing the EV's smart systems to determine when it's plugged in, and remotely start warming the battery up to optimal temperatures.
Although many city dwellers without access to a home charger may live near a Supercharger, this video becomes particularly relevant for them.
People living in a high-rise or without access to covered parking spaces are subject to long-term exposure to their cars in harsh climates.
How To Charge EV In Harsh Cold Weather?
As an EV owner, you can take several steps to ensure that your electric vehicle charges faster.
Park it in the garage as much as possible, keep it connected when not on the move, and never permit its battery level to drop too low – simply following these tips will help you quickly charge your EV!
Tesla Cold Weather Package
To assist drivers facing cold or sub-zero temperatures, Tesla offers optional OTA weather packages that are tailored to different models and have evolved with the introduction of new features.
With these packages, you can enjoy heated seats, wiper blades, as well as other adjustments on your Tesla designed for optimal performance in icy climates.
Pre-Condition & Navigation
Charging an electric vehicle during the cold winter months requires more attention from its owner than charging in warmer temperatures.
Undoubtedly, the most important factor is battery preconditioning – essentially preheating the battery to a temperature that's optimal for charging. Tesla cars do that automatically while preparing the vehicle for a trip with Pre-condition and navigation.
Depending on your model and preferences, the pre-set departure will also activate the heated steering wheel and seats or power up the interior cabin heater.
Taking care of all these preliminaries makes for an incredibly pleasant and comfortable ride, particularly when it's still plugged in.
Infotainment Controls
No matter if you're utilizing scheduled departure or not, the cold weather button on your infotainment display will provide a wide array of options.
Even when you are at home and haven't left yet, you can use defrost options to defrost the windshield, heat door handles, wiper blades, side mirrors, etc. There is even an option of heating the wipers to clean your windshield and melt snow at the same time.
You can also use control features to check traffic conditions, plan your route, and find the nearest charging stations. And if you're a Tesla owner who doesn't take advantage of scheduled departure yet, activating these features will help you manage your charging and departure times.
Charging Port Heater
Model 3 owners have the advantage of opting for an upgrade that will automatically defrost and warm their charging port, taking away any need to remember or think about it.
If you use the scheduled departure or charging system, your Tesla is smart enough to read temperatures and defrost the charge port lock if necessary.
What To Expect In The Future?
With the mercury level dropping below the freezing point the weather conditions could be life-threatening for the Youtuber, but Kyle does the experiment anyway.
Can there be anything done in advance to make sure you do not have to struggle to charm in colder weather conditions? Well, it has already been done!
To ensure a successful overnight road trip, besides pre-conditioning the car battery, make sure to supercharge upon arriving when said battery is warm. Doing so allows for an optimal charge while still at a high temperature rather than cold soaking it throughout the night and trying to refuel it in the morning.
In another incident a radio show host, Domenick Nati shared his Model S charging story on TikTok, and it quickly went viral.
In the video, he expressed that he attempted to juice up his Tesla Model S at a Supercharger station – yet shockingly after two hours of charging, the state of charge actually dropped! The temperature was an astonishing 19 degrees Fahrenheit, or minus 7 Celsius!
Exhausting all other options, he plugged the car into his home charger and then a supercharger – yet it still wouldn't charge.
Sadly, even after charging his Tesla for approximately 15 hours, Nati had to cancel Christmas plans to go see his son open his Christmas presents due to the vehicle having no range left. Apparently, he was later approached by Tesla to help him fix the issue with his Model S.
There have been numerous incidents where Tesla owners are seen struggling to open frozen door handles. Some EV owners even asked Elon Musk to hire a designer who hails from a colder region.
Owners can benefit from using the scheduled departure timer on their Tesla app, especially during wintery months when their vehicle is plugged in. This tool would enable them to effectively plan for their trip.
The car will automatically pre-heat and condition the battery, bringing it to optimal operating temperatures. EV batteries require an environment similar to that of humans; hence, the car's heating works diligently to bring each cell up to a comfortable temperature.
Tesla might come up with some more new updates to tackle the ongoing issues with charging in oh-so-very cold weather.
Bottomline
When Tesla owners are headed on a lengthy trip, Navigate to Supercharger feature comes in handy. It not only provides them with directions but also preheats the battery pack en route to the charging station for their convenience!
Waiting in the cold for 90 minutes may seem a bit extreme, however, it's rare to come across someone who would replicate Conner's actions.
During Kyle's frozen Model 3 supercharger stint, it took almost ninety minutes to reach 90%; that's far too long for patience – and comfort – in inclement weather!
Charging an electric vehicle is a cumbersome process, particularly when temperatures are below freezing.
You can keep warm and powered overnight by utilizing a destination charger; if you need a little more juice, adding in some supercharging as soon as you arrive will top off your battery to the desired level. The combination of both methods is ideal for keeping your car charged throughout the night.
As temperatures plunge, the range of any electric vehicle will go down somewhat and recharging it will take significantly more time. Although this is not as big of a factor as some Tesla haters would make it out to be, potential EV owners might frame their views around this!
Contrary to what some may think, electric vehicles can actually manage inclement weather relatively well. The regenerative braking allows you to keep from slipping and sliding on the roads, plus many EVs come with all-wheel drive for extra traction in the winter months.
All in all, owning an EV isn't as evil or tricky as it's often made out to be. When your EV is completely iced up and defrosting isn't getting much done, you'll be grateful for any kind of help that comes your way.
What do you think about the dynamic behaviour of Tesla in such cold harsh weather when it comes to charging? Share your views with us in the comment section down below!